¡Muerte al bitcoin! La guía para entender el Ethereum
¿Qué es Ethereum?

El Ethereum es una gran red de computadoras conectadas a través de Internet, cada una almacenando una copia de una base de datos. Fue concebida originalmente por el desarrollador ruso Vitalik Buterin, de 23 años de edad. Esa base de datos es un registro de una serie de transacciones que se ha producido entre diferentes cuentas. En otras palabras, es un conjunto gigante de cuentas y un inventario de las transacciones entre ellas, y que además está abierto para que cualquiera pueda consultarlo. Este libro de contabilidad, en el lenguaje de criptomonedas, se conoce como cadena de bloques, porque las transacciones se agrupan en bloques y los bloques se encadenan uno tras otro para formar el registro mayor.
¿Por qué existen Ethereum y ether?

Las principales ventajas de las criptomonedas (de las que Ethereum es solo una de ellas) son que el dinero se puede enviar a cualquier parte del mundo en cualquier momento, casi instantáneamente, sin costo de transacción. No hay intermediarios, fronteras o instituciones financieras que vigilen las operaciones.
Dependiendo de la moneda, en teoría está garantizado el 100% del control del dinero. Debido a la tecnología criptográfica detrás de blockchains, las identidades detrás de las cuentas son prácticamente anónimas y una vez que se envía el dinero, se envía de verdad. Es imposible para cualquier persona o institución intervenir y decir, de hecho, vamos a aprovechar su dinero o revertir una transacción en particular (como su gobierno o banco de la calle puede). El dinero enviado es dinero enviado, y punto.
Fuente:GQ
Analyst Eyes 10% Bitcoin Price Expansion as Volatility Creeps Closer
If you've followed the price of Bitcoin (BTC) at all over the past few weeks, you know there is a large lack of volatility. In fact, for the past 20-odd days, the leading cryptocurrency has been stuck in an effectively 8% range — something that doesn't happen all too often.
This likely leaves you wondering — what comes next for the cryptocurrency market? More sideways price action or a spike?
Apparently, it's the latter.
Volatility Nears
Analyst CryptoHamster noted that a Bitcoin price breakout "is approaching", looking to the fact that the one-day Bollinger Bands (a technical indicator meant to determine ranges) have begun to heavily tighten.
Their observation comes shortly after prominent analyst Josh Rager wrote the following on Twitter: "With three weeks of sideways and the bbands starting to pinch, Bitcoin price could see some volatility soon."
Indeed, as the chart above shows, periods of tight Bollinger Band ranges have preceded large breakouts at least four times this year, implying that this time is going to be no different.
That's not all. Volume levels on BitMEX, the leading Bitcoin futures platform, have begun to fall to multi-month lows. Low volume in markets after a period of consolidation is often indicative of impending volatility.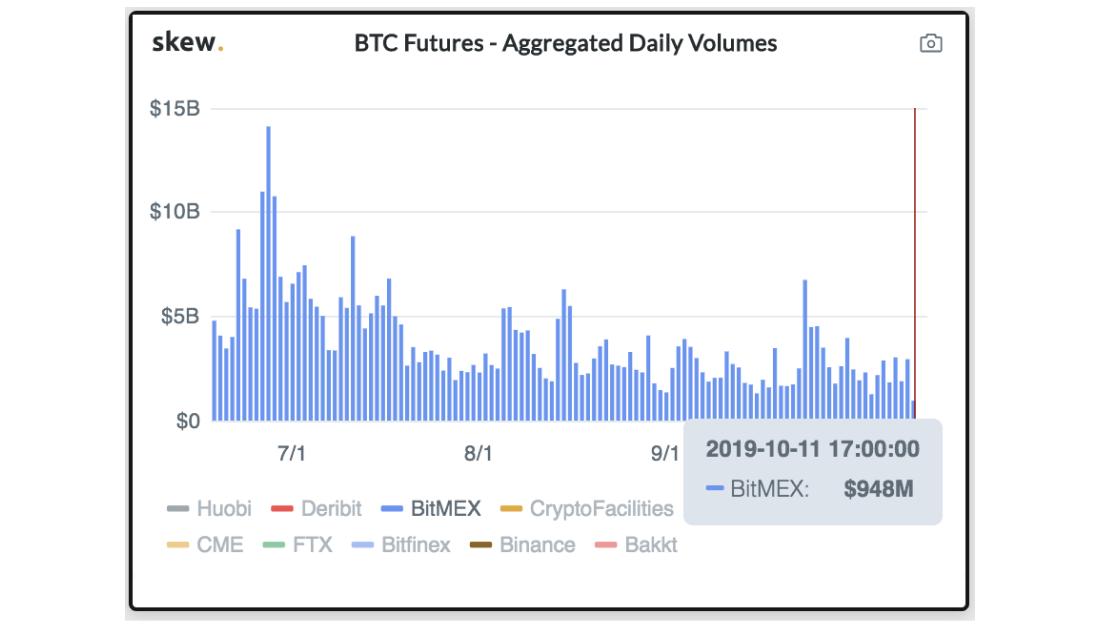 Chart courtesy of Skew.com
Bitcoin Price to Mount Higher
While the breakout could head in any direction, analysts are leaning bullish on Bitcoin at the moment.
Brave New Coin's Josh Olszewicz recently noted that the Tenkan and Kijun lines of the Ichimoku Cloud suggest that BTC has a higher chance of reverting to a mean (higher than current price) than establishing a lower low under $7,700. Olszewicz added that Bitcoin is trying to form an inverse head and shoulders/diamond bottoming pattern on its 12-hour chart.With this in mind, Olszewicz said that Bitcoin could feasibly rally by 10% from current levels to hit $9,300 in the coming days and weeks.
This isn't the only evidence that BTC's price may be ready to head higher once again. Analyst CL argued that Bitcoin ball is in the court of the bulls, noting that BTC is trading above its monthly time-weighted average price while funding is widely negative (a bullish sign) and this market has established higher lows.
Bitcoin (BTC) Price Hesitates But Fresh Rebound Seems Likely
Bitcoin price is currently trading in a range below the $8,400 resistance area against the US Dollar.
The price remains well supported on the downside near $8,200 and $8,150.
There is a new breakout pattern forming with resistance near $8,400 on the hourly chart of the BTC/USD pair (data feed from Kraken).
The price is likely to rebound above $8,400 and $8,460 as long as there is no daily close below $8,200.
Bitcoin price is trading in a range above the $8,200 support against the US Dollar. BTC needs to surpass the $8,400 and $8,460 resistance levels to start a fresh increase.
Bitcoin Price Analysis
In the past three sessions, there were mostly range moves in bitcoin below the $8,400 resistance against the US Dollar. Earlier, BTC price declined below the $8,200 support area and the 100 hourly simple moving average. A new weekly low was formed near $8,148 and recently the price started a decent upside correction. It broke the $8,200 and $8,300 levels to avoid any further losses.
Moreover, there was a break above the 50% Fib retracement level of the last slide from the $8,471 high to $8,148 swing low. The price even spiked above the $8,400 level and the 100 hourly simple moving average. However the upward move was capped and the bulls failed to gain momentum above $8,400. It seems like the 76.4% Fib retracement level of the last slide from the $8,471 high to $8,148 swing low acted as a strong resistance.
At the moment, the price is trading in a range below the $8,400 resistance area. Additionally, there is a new breakout pattern forming with resistance near $8,400 on the hourly chart of the BTC/USD pair. Above the triangle resistance, bitcoin price could face resistance near the $8,460 level. A successful close above $8,460 and a follow through above the $8,500 resistance might set the pace for a fresh increase in the near term.
Hourly MACD – The MACD is showing signs of ranging moves.
Hourly RSI (Relative Strength Index) – The RSI for BTC/USD is currently near the 50 level.
Major Support Levels – $8,200 followed by $8,150.
Major Resistance Levels – $8,400, $8,460 and $8,500.
Bitcoin developer Jimmy Song denounces hidden information; calls for transaction awareness
Recently, Bitcoin developer, educator and entrepreneur Jimmy Song released a Q&A video for Bitcoin Tech Talk #158, a video during which Song addressed several issues and concepts associated with Bitcoin.
The first one was Bitcoin Transaction Monitor, which provides data about any transaction entering the mempool in a visual manner, while also allowing them to be filtered by SegWit spending, Multisig spending, BIP-69 compliance and more. Also, fee rate estimates from various sources can be overlaid. Some possible future implementations include the archiving of historical data and providing a live visualization of incoming transactions.
Song commented that while making this information public would reveal private information about transactions, bad actors probably already use this information to weaken privacy or even completely depseudonymize transactions.
"Raising the awareness on what transactions can reveal is far more valuable than hiding public information. If I can build a Transaction Monitor that visualizes the data on your laptop, what can a motivated bad actor do with far more resources?"
Song also spoke about the transcript from a talk with Bitcoin Core developer, Cory Fields. He spoke about how Bitcoin might die and a few potentially catastrophic bugs. According to the transcript, Fields said,
"There was a Bitcoin Cash bug that I found and disclosed and it kicked off a discussion about responsible disclosure in these systems and how to do it generally. I was a little smug for a few months until we were effected by a similar bug in Bitcoin Core which potentially would allow for money printing out of thin air."
Song then spoke about a talk by Blockstream's Tim Ruffing, who addressed practical threshold Schnorr signatures. Though Shnorr signatures are easier to compute, are less CPU-intensive and were available when Bitcoin was created, it was under a patent at the time. The patents have expired since then and are something Blockstream is looking to bring in, along with Taproot in the future.
Song brought up an interesting article by Cane Island Alternate Advisors about how Bitcoin only saw certain prices once, such as $0.20 in November 2010 and $2.20 in April 2011. The article went into the details of what this could mean in terms of adoption.
When addressing the Lightning Network, Song spoke about payment points and deeper ideas such as discrete law contracts and multi-signatures. Another article in the newsletter proposed an increase in fee defaults to 5000+ for a healthier network and to move the noise floor up over time.
Song also introduced a blog post by Casa which put to rest concerns from users on Twitter revolving mainly around why their browsers showed a HTTP address when using their node from home and why their nodes have a default password which could potentially allow others to get access to it.
According to the post, using HTTPS for internal or home network connections involves certificate and browser challenges which make it impractical and potentially more dangerous. Further, it stated that Casa Nodes cannot be remotely accessed through SSH, and that a keyboard had to be physically plugged in to the node for someone to use the default password to gain access.