Stellar May Kick Ripple Out Of The Industry For Good As It Attracts More Institutional Interest In Recent Months
Whenever XRP news and Stellar Lumens news are in the same article, it's always about competition. However, in almost every case, Ripple comes ahead of Stellar. Over the last few months, Stellar has gotten the attention of many corporate entities. While Ripple has also made significant progress during this period, a research by Fundstrat revealed that corporate investors consider Stellar a promising network but they didn't say anything about Ripple. What the survey revealed is that institutional investors have more interest in Stellar than Ripple. The study also revealed that retail investors prefer Ripple to Stellar. We all know that institutional investors have the money and influence to drive adoption of a token. This leaves us with the big question; does Stellar have what it takes to kick Ripple out of business?
Stellar Lumens News Today – Stellar Vs. Ripple – Will Stellar Take Over Ripple? XRP News Today
Ripple and Stellar have a similar goal – to reinvent the payment settlement system and steal a share of SWIFT's market capitalization. However, the key difference between both networks is that Ripple targets the financial institutions while Stellar targets individuals. The native token for the Stellar blockchain is the XLM token while the native token for Ripple is XRP. Both blockchains and tokens have many use cases. However, XRP is way ahead of XLM per market capitalization and price.
Stellar (XLM) Price Today – XLM / USD
| Name | Price | 24H (%) |
| --- | --- | --- |
| | $5,083.75 | -0.16% |
| | $0.114424 | -0.81% |
During the Bitcoin bull run in the beginning of the month, Stellar (XLM) was able to break out of the descending triangle and went higher against the USD. Even if it may form another triangle soon, there are still technicals that show that the price will move higher against the USD as long as the price of Stellar Lumens (XLM) remains above the 21 month EMA. At the time of writing, it was trading at $0.115800. This means that it is up by 0.44% against the USD. It is down by 0.09% against BTC. The trading volume over a 24 hour period is $283,326,691 while the market capitalization is $2,235,270,271. XRP is trading at $0.327938. It is up by 0.01% against the USD and down by 0.50% against BTC. The trading volume over a 24 hour period is $1,003,443,864 and the market capitalization $13,705,229,246.
Stellar Lumens News Today – XRP News Today – Who Will Prevail Between XRP And XLM?
The research showed that investors prefer Stellar Lumens (XLM) for long trades but see XRP as a short-term solution. You see Ripple is a central change that provides quick solutions while Stellar provides long-term solutions to the same problems as Ripple. Those who believe in Stellar know that progress takes time. It has made a lot of progress over the last few years and has done well against Bitcoin and the USD.
XRP (XRP) Price Today – XRP / USD
| Name | Price | 24H (%) |
| --- | --- | --- |
| | $0.324701 | -1.18% |
The bottom line is that even if Stellar may have what it takes to overthrow Ripple, there is no reason why both networks can't coexist. If you're a digital asset investor who is doesn't know which token to bet on, you should consider dividing the capital and investing in both tokens.
What do you think about the Stellar Lumens news today and XRP news today? Share your thoughts in the comment section.
Pleasant Surprise: Binance Unknowingly Staked XLM & Made $775k
Permanent loss of funds has been an unfortunate reality for some in the early cryptoeconomy. Fortunately for Binance they've just experienced the opposite, having accidentally staked their way into a sum of nearly 10 million lumens (XLM), the native asset of the Stellar network.
On July 18th, the Malta-based cryptocurrency exchange giant revealed they "heeded the Stellar team's recommendations to change some parameters on both cold and hot wallets" back in the fall of 2018.
Stellar Binance
That's when the exchange began unknowingly staking some of their XLM holdings, the company explained on Thursday:
"Fast forward to this week, when we looked into the staking of Stellar for Binance.com, we discovered that we had already earned 9,500,000 XLM ($775,000 USD) worth of extra XLM tokens. All weekly staking rewards between then and now are documented on the blockchain […] and credited to Binance."
Turning a Plus Into a Bigger Plus
Having made a small war chest of lumens appear seemingly out of "thin air" as President Trump would say, Binance is turning that XLM trove into an even bigger positive by setting it aside for community rewards.
Specifically, the exchange plans to begin XLM staking support on July 20th and thereafter conduct snapshots of its users' XLM addresses for the ensuing 40-day period. Once that window closes, the users will receive their proportional staking rewards alongside a one-time bonus XLM payment from Binance's novel trove.
Notably, non-stakers who simply hold their XLM on Binance after July 20th will also receive portions of the bonus XLM payout.
"This recent support for XLM staking is the latest in a long line of moves we have done to always provide the best for Binance users," the exchange declared.
The lumens price enjoyed an acute boon as the quirky news made the rounds, with a single XLM token trading at $0.088 at press time for an intraday rise of around seven percent.
One of the harder hit tokens of the 2018 cryptoeconomy bear market, XLM is still trading 90 percent below its all-time price high of $0.93 — a mark the token hit back in January 2018.
Onward and Upward for Binance: First Stablecoin Nears

The addition of XLM staking support comes as Binance is on the verge of releasing its first in-house stablecoin.
This week, smart contract security startup Quantstamp revealed they had completed auditing Binance's inaugural stablecoin, the pound-pegged Binance GBP (BGBP), with satisfactory results.
As part of the audit, the security experts identified a handful of "low risk issues" in the token's code that the powerhouse exchange has since cleaned up. With the security review finished, the project is all but ready to be released.
On the news, Binance chief executive officer Changpeng "CZ" Zhao noted the BGBP would be released on two blockchains:
"As a dual issue token, BGBP is created on both Ethereum as an ERC20 token and on Binance Chain as a BEP2 token. We will eventually enable the two versions of BGBP to be converted freely and traded on Binance Jersey and Binance DEX."
The token appears to have moved from the drawing board to reality in short order. CEO Zhao had first floated the possibility of Binance developing its own fiat-pegged tokens in public comments back in the spring.
The BGBP will surely precede other Binance-backed stablecoins, though the company hasn't specified what fiat currencies may be next on the slate.
One thing is for sure: Binance is on a roll. The company just launched its new margin trading platform as part of its "Binance 2.0" campaign. The exchange has also recently announced plans for a cryptocurrency futures platform and Binance US, an operation that will cater to U.S. cryptocurrency traders.
Binance Announces Support for XLM Staking To Distribute 9.5 Million Stellar Lumens Earned
One of the largest crypto exchanges in the world, Binance Exchange, has announced that it has unintentionally earned reward from staking the stellar tokens and now the company has discovered the amount accumulating 9,500,000 XLM being credited to Binance.com.
According to the official blog by the company indicates that it has earned XLM worth about USD 775000 at press time.
Following an advice by the Stellar team back in August 2018, on how to earn staking rewards via changing different parameters on the exchange's hot (online) crypto wallets and cold storage (offline) wallets.
The Binance team followed the advice from Stellar team and managed to earn $775,000 worth of XLM tokens (at current market prices). The blog said:
"Back in August 2018, the Binance team heeded the Stellar team's recommendations to change some parameters on both cold and hot wallets. This change has allowed us to unknowingly earn staking rewards starting August 31, 2018. Fast forward to this week, when we looked into the staking of Stellar for Binance.com, we discovered that we had already earned 9,500,000 XLM ($775,000 USD) worth of extra XLM tokens."
Following the discovery, the Binance team is now planning to add staking support for XLM on its platform, and the leading exchange will also share the 9.5 million XLM it earned through staking.
curently, Binance's platform distributes NeoGas for NEO stakeholders, Ontology Gas tokens for Ontology investors, BitTorrent tokens for TRON investors, and VTHO ("VeThor") tokens for VeChain holders. Binance stated:
"When we discovered this, we made two decisions: to immediately add staking support for XLM and to share the XLM rewards we gained to the entire community, the blog reads"
The program will come into effect on July 20, when Binance will start recording daily snapshots of users' XLM balances. The minimum holding requirement to be eligible is 10 XLM, which is less than $1 at current prices. The staking rewards will be distributed to users on a monthly basis.
This might be one of the biggest deals for all XLM holders and for XLM token itself, this is because XLM coin at press time began surging its trading volume. At the time of writing, the value of XLM had shot up by about 14 percent over the past 24 hours.
Nevertheless, the token is currently trading at $0.088 against US Dollar and market cap at $1,732,801,168 by standing on the 10th largest spot on the Coinmarketcap.
With Binance jumping on board, it's likely that its competitors will also soon allow XLM holders to benefit from the inflation rewards.
What do you think of Binance's support of Stellar? Let us know your opinion about the developments in the comments section.
Stellar Lumens up by 10% over the hour; surges past Tron owing to Poloniex, IBM announcements
As the Libra bears eased off the cryptocurrency market, an unlikely leader emerged. Stellar Lumens [XLM], the second of the two most prominent bank coins in the market, surged by over 10 percent over the hour, as the market recorded a positive correction.
Following the second of two hearings for Calibra's David Marcus, Bitcoin dropped from $11,500 to under $9,500, while the altcoins experienced a bleed-over effect. The market was drowning in a sea of red, declining by over 15 percent on a 24-hour basis, while the collective market cap dropped to under $250 billion for the first time in over a month.
Source: CoinMarketCap
Stellar Lumens, despite not having the best year, rose by over 15% over the last 24 hours and 10% over an hour. Further, on the back of this massive surge, XLM stormed into the top 10 by ousting Tron [TRX].
Two prominent reasons were behind Stellar Lumens' bump in price. The first was Poloniex, the American cryptocurrency exchange, announcing that over 1.2 million XLM had been "distributed" to the exchange's customers owing to Stellar inflation rewards.
Over 1.2M Stellar Lumens have now been distributed to Poloniex customers via Stellar inflation rewards!

Learn more about @StellarOrg inflation on Poloniex here: http://ow.ly/rzv950uMwv8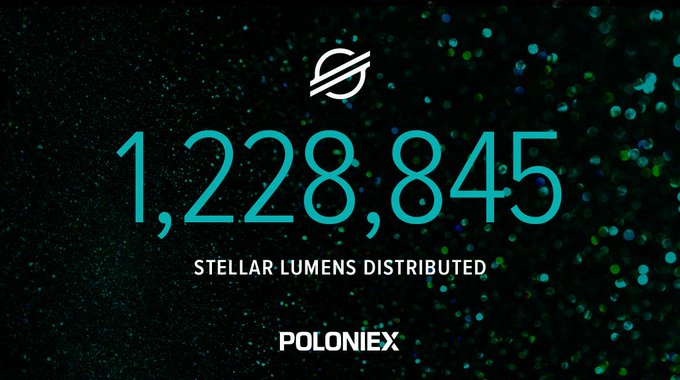 3212:36 PM – Jul 16, 2019Twitter Ads info and privacy17 people are talking about this
The other source of the Stellar Lumens pump came from its banking partner in crime, IBM. The American IT company's blockchain project, 'World Wire,' which operates on the Stellar protocol, has been an important catalyst to the XLM surge. And in this instance, an IBM blessing resulted in a Stellar Lumens pump.
According to CNBC, IBM recorded "better-than-expected" second-quarter earnings on July 17. This resulted in the shares of the IT company surging by over 4 percent, followed by an immediate correction. 2019 has been fruitful for the company for a multitude of reasons, with its share price up by a whopping 26 percent since the year began.
Source: Trading View
Post dropping down to $0.075 on July 17 while the lawmakers spelled hell for Libra and the cryptocurrency market, XLM began to rise. The coin initially rose to $0.083, followed by a massive pump which began at 0930 UTC on 18 July, leading to Stellar Lumens rising from $0.080 to $0.091. Despite a correction wave dropping the coin to $0.088, the price charts are in the green.
LATOKEN remains the largest XLM-traded exchange, with 14.55 percent of the trade volume in the XLM/USDT trading pair. Other top exchanges included Bit-Z, BW.com and Fatbtc.