After breaking above $7,500 for just a short period a couple of hours ago, Bitcoin (BTC) can be seen of hovering at $7,000.
As of writing time, BTC sees a -2.19% loss and is valued slightly above $7,000 at almost all major crypto exchanges, such as Coinbase, Bitfinex, Bitstamp, Bittrex and Gemini.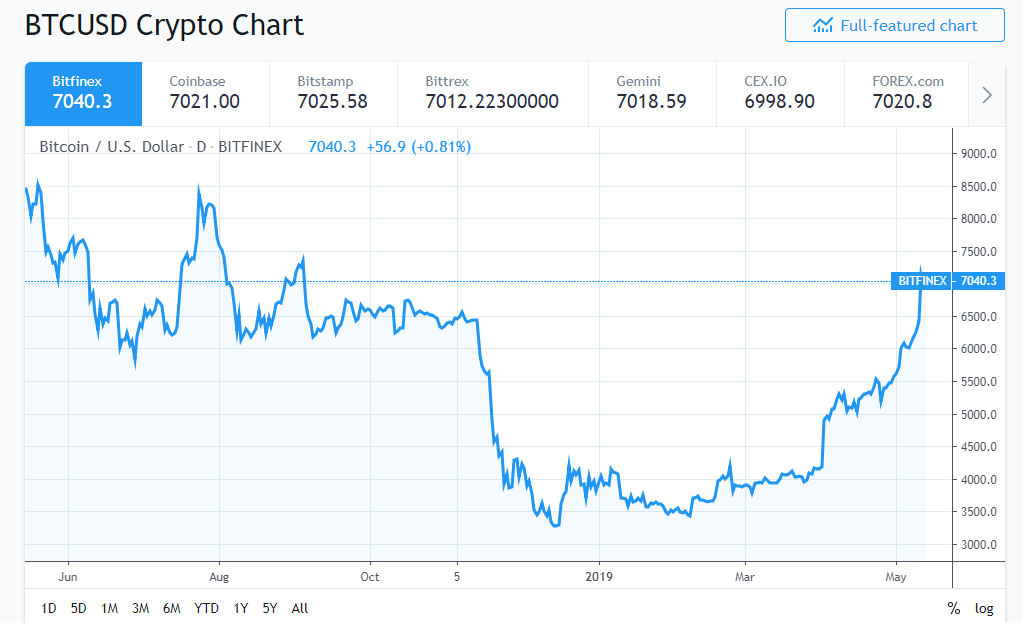 BTC/USD Chart provided by Tradingview
The largest cryptocurrency by market cap's move is followed by the other coins as red can be seen of dominating the top 100.
Top 10
In the top 10, only Binance Coin (BNB) and XRP are in green with 5.54% and 0.15% gain at $22.24 and $0.31 price point respectively.
The biggest loss is seen by Cardano (ADA) with -4.42% at $0.07, followed by Litecoin (LTC) with -3.75% at $86.04 and EOS with -3.39% at $5.38.
Top 100
In the sea of reds, iExec RLC (RLC) and DASH stand out in green color with the biggest percentage, which are 8.39% and 4.38% at $0.67 and $127.32 respectively.
The biggest loser in the top 100 is Factom (FCT) with -12.61% at $9.32, followed by TrueChain (TRUE) with -11.62% at $0.83 and Bytecoin (BCN) with -8.98% at $0.0009.
Total market capitalization is $212,008,814,812, which is $3 billion bigger than how it was 12 hours ago.
Stick with Chepicap for latest updates from the crypto market.
*All prices are correct as of writing time.