Bitcoin miners earn 8x more in transaction fee than all other cryptocurrencies combined. 
The past couple of days have been quite good in the crypto market. Despite the recent negative move, Bitcoin still manages to hold above $7,000, which analysts are convinced that it is now in "bull market territory".
The good days are also experienced by Bitcoin miners. On May 10th, Messari.io said them to earn more than 8 times of the combined transaction fees of all other cryptos listed on their website.
The website also mentioned that in the past 24 hours, Bitcoin accounted for almost $580,000 in fees.
Right behind the largest crypto by market cap is unsurprisingly the second largest crypto, Ethereum. Last Friday (May 10th) alone, ETH miners earned nearly $68,000 in fees, which is far behind what BTC miners earned.
The next crypto on the list even showed a larger gap from the aforementioned cryptocurrencies. Litecoin was only accounted for $1,100, while the other combined assets (Lisk, Bitcoin Cash, Monero, Dash, XRP, Dogecoin, and Ethereum Classic) were only accounted for less than $1,500 in fees.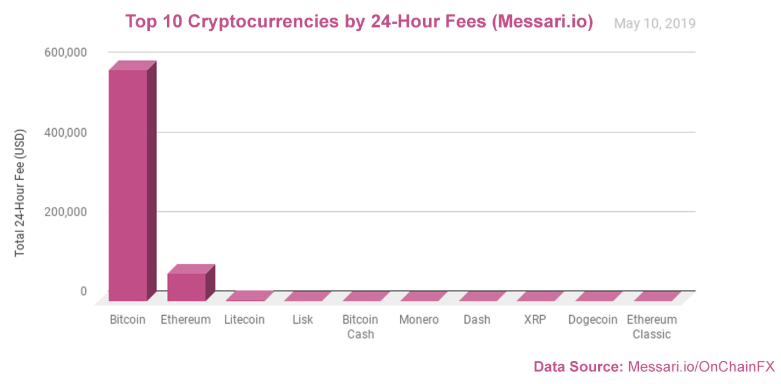 According to Longhash, Bitcoin's high transaction fee can be seen both as a loss and win, depending on the point of view.
The system was created this way by the pseudonymous Satoshi Nakamoto to avoid 51% attack and/or other means of centralization, while at the same time, users might feel "burdened" with the high fee and find other alternatives (altcoins).
Regardless, the fact that BTC is still dominating is said to be a "victory" in the ongoing battle to stay safe and decentralized.