Will Bitcoin (BTC) And Bitcoin Cash (BCH) Payments War Destabilize Market?
With bitcoin (BTC) back above $8,000 and set to accelerate higher, the last thing crypto needs is a fallout between the bitcoin developer and business community and the diehard Bitcoin Cash (BCH) believers.
Bitcoin fork BCH, whose supporters insist that it is truer to bitcoin's original mission of digital cash, fears bitcoin people want to shut it out of merchant payments. All this as BCH continues to track bitcoin as does the rest of the market, maintaining the outperformance margin opened up at the beginning of April.
In the two months to 19 May BCH has returned 121% compared to  BTC's 82% , as seen in the chart below.
That performance difference, however, is unlikely to be because the market assesses BCH to be a better product than bitcoin.
Bitcoin is still king by a very wide margin
Far from it, judging by the network fundamentals of BCH vis a vis bitcoin.
Although Roger Ver, a vociferous supporter of BCH, is able to point to its low fees on the network compared to BTC, that's not for a good reason.
Whichever way you cut it, be it transaction volume, hashrate, operating network nodes, bitcoin is still the king by some considerable margin.
Perhaps most dangerously for BCH, it is not very decentralised, with the secretive BTC top mining pool based in China recently accounting for more than 50% of the hashrate, although that has decreased now. At the end of April their was the case of an entity using the name "Satoshi Nakamoto" that had 40% of the hashrate.
BCH has made itself a six-monthly target for attackers
Then there's the six-monthly schedule of upgrades which seem to have turned into an opportunity for attackers to make mischief. That's what happened on 15 May, when a bug was exploited that led to empty blocks, 10 in all.
It didn't end there.
On the same day it has been speculated that there was an aborted attempt by short sellers to crash the price, with 179,202 BCH or BAB (the ticker on Bitfinex for Bitcoin ABC aka Bitcoin Cash) borrowed on Bitfinex to take a leveraged short position. The build up in BCH borrowing was spotted by redditor frozen124.
It didn't work out for the shorters as the price rose, but the timing was suspicious according to folks at coinspice.io who have been doing some digging around. The borrowing by the shorters took place 12 hours before the empty blocks attack.
Additionally, 110,000 that had been borrowed ended up not being used to take a position in the market, leading observers to surmise that whoever was behind the borrowing, was linked to the block attack and for some reason had decided against executing.
It was a costly miscalculation on their part because all that borrowing of BCH drove the interest rate demanded by the lenders to 30%, so the unallocated borrowing cost 79 BCH or $31,500 at the price at the time.
Someone's got it in for BCH.
Roger Ver sure thinks so, or at least the Bitcoin.com twitter account does:
Someone opened millions of dollars worth of shorts against BCH just before the scheduled network upgrade. This was followed by a failed attack on the network. Could these two things be related? 🧐https://t.co/orbc9Slq5R

— Bitcoin (@Bitcoin) May 15, 2019
For those new to crypto, bitcoin.com is controlled by Roger Ver and stands accused by bitcoin people of deliberately confusing the difference between the one and only original and the BCH fork.
But let's not take sides.
Payments Protocol – BCH and BitPay versus Bitcoin core?
Nevertheless, the network attack and the apparent co-ordinated but half-cocked shorting effort may partly explain the timing of an incendiary broadside against the Bitcoin "maximalist" community in an op-ed published on bitcoin.com by Tomislav Dugandzic,described as an "independent bitcoin cash (BCH) user and currency speculator".
Titled "Core vs Gavin – Bitcoin Payments Are Being Bulldozed for Political Reasons, Dugandzic is convinced that Bitcoin core are out to sabotage the way payments are processed for nefarious political reasons – a serious charge indeed.
At the centre of the brewing dispute is the Payments Protocol, which was some tidying done by Gavin Andresen and Mike Hearn in 2013 in the form of bitcoin improvement proposal 70 (BIP70).
The changes allowed a payer to be messaged by the receiver (merchant) and introduced code to specifically guard against "man in the middle" attacks where a bad actor gets between payer and receiver and inserts the fraudster's address.
For merchants, the payment protocol removed the inefficiencies with, to take one example, paying refunds.
In a nutshell then, BIP70 makes handling payments more efficient for merchants and provides a better user experience for payers.
It turns out that not all wallets are supporting BIP70 but most major popular ones do including those for Bitcoin Cash.
BitPay, the largest bitcoin payment processor and a handler of both bitcoin and BCH payments, imlements payments protocol and it says it has reduced errors in payments by 98.6%.
So that's all good. What's the problem?
BitPay is what Dugandzic describes as a BCH-friendly payments processor and it is this that he claims lies behind a "political" move by bitcoin core ( which controls the official bitcoin website, bitcoin.org) to stymie the prospects for BCH adoption.
Bitcoin developers have deprecated BIP70, which is coders speak that it is being to be phased out.
Something of a war has broken out between those who want to keep BIP70 and others who want to revert to the earlier BIP21 for handling URIs (Uniform Resource Identifiers) and encoding of payment request information.
Samurai wallet is focused on by Dugandzic as an example of the anti BIP70 crowd as it came up in a video featuring Andreas Antonopoulos, who could be described as bitcoin royalty as the author of the seminal The Internet of Money.
Antonopoulos is what Dugandzic sees as a typical (as in political) "Bitcoin Core advocate".
Here's a quote from the op-ed, which provides a flavour of how these disputes quickly turn nasty:
The Samurai wallet team tweeted that they approve of Bitcoin Core advocates "viciously attacking" Bitcoin Cash advocates and that Bitcoin Cash advocates are "lunatics" and "frauds." That's a pretty strong choice of words to describe a group of people that have a difference of opinion regarding how Bitcoin should scale.
Bitcoin will not bend the knee for you, your business, or anyone else. Bitcoin will not compromise. That's a feature not a bug.

You lunatics forked yourself off, now you can deal with the consequences and the "vicious attacks". https://t.co/5DGoppwcIZ

— Samourai Wallet (@SamouraiWallet) February 8, 2018
Thin line between welcome competition and senseless tribalism
For mere mortals these disputes can all seem arcane but unfortunately they are important tests of the maturity of the space regarding cooperation on standards and resolving disagreements over competing technology solutions in the absence of an industry policeman.
The way these issues are fought out does nothing to help crypto adoption, be it bitcoin, one of its forks or one of the myriad other competing crypto projects.
Those critical of BIP70 seem to be suggesting that it cedes too much power to the likes of BitPay, which some presumably think is too closely aligned with the BCH camp.
Confusion in the marketplace and at the level of users actually trying to buy stuff with bitcoin and Bitcoin Cash, is no good for anyyone.
The BCH price may well continue to outperform bitcoin and even catch up on the former's market cap, as it briefly seemed to be closing in on flippening BTC in November 2017.
But as BCH continues to motor, up 17% today at $425 it will be doing so probably more because of brand association with bitcoin rather than because of its technological superiority or, for that matter, the vitriol its supporters (and to be fair its detractors too) trade in.
Bitcoin has some weak points, like scaling. But governance and general inter-coin relations and its breakdown – which is how Bitcoin Cash came into being in the first place and then Bitcoin SV – is a headache for the crypto ecosystem, not just bitcoin or BCH, and it shows no signs of going away.
Tron, Stellar, Litecoin are not the over-hyped coins, claims a new report
In the report, cryptocurrencies such as TokenPay, Electroneum, Dragonchain, Telcoin, and DigiByte are termed as the most overhyped cryptocurrencies on Twitter.
An indicator reveals the hype game of few cryptocurrencies. Research platform "The Tie" shared a detail report on which cryptocurrencies are the most and the least overhyped on crypto Twitter.
TRX, XLM, and LTC are not overhyped
Often, crypto projects run the race of capturing most audience and users via bot accounts tweeting about them, increasing user engagement ratio to make it more genuine. Recently, The Tie, which offers valuable information for crypto traders created "Hype-Activity-Ratio." The validator affirms that the tool measures "the number of tweets each crypto has per $1million in trading volume."
Across the 450 cryptos, we investigated, there was an average of 1.02 tweets per $1M in volume, The TIE wrote. We used 30-day averages for the tweet and trading volumes.
According to the report, Tron, Stellar, Litecoin are not the overhyped cryptocurrencies. Tron which is currently ranked as the 14th largest cryptocurrency, Stellar being the 11th largest coin and Litecoin as the 5th most significant coins don't fall under most-hyped cryptocurrencies on Twitter.
However, The Tie claims that "While this metric is not perfect, we think it's a good tool for identifying massive outliers."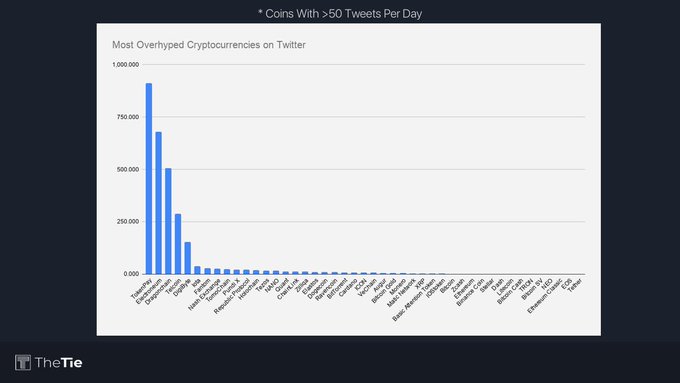 The Most and Least Over-hyped Cryptocurrencies
On the other hand, the platform finds Tether, EThereum Classic, EOS, NEO, and Cosmos as the least overhyped crypto, which has the very lowest number of tweets per $1 million trading volume. However, cryptocurrencies such as TokenPay, Electroneum, Dragonchain, Telcoin, and DigiByte are termed as the most overhyped cryptocurrencies on Twitter. Notably, the platform mentioned;
These tokens had more than 500 times more tweets per $1M in trading volume than the average crypto.
These tokens, Token Pay, Electroneurm, Dragoncoin, doesn't hold much trading volume, but the increased activity on Twitter made them the most overhyped cryptocurrencies – presumably, they are paying much to its army.
Moreover, the platform analyzed the "hype-activity-ration" of the few largest cryptocurrencies, including Bitcoin, Ethereum, Bitcoin Cash, and Litecoin. According to its logarithmic chart, these coins have relatively consistent Hype to Activity ratio. It outlined that the Ripple's XRP with its tags (such as #XRPthestandard, #XRPcommunity ) is significantly higher than the above most significant coins.
Adding a note on a social media manipulation, the report compared Coinbase's reach on Facebook v/s the reach of Tron CEO Justin Sun. It mentioned while Coinbase with over 30 million users has just 187k likes, Justin Sun's profile counts 6 million likes.
Although many within crypto can easily detect manipulative practices, this deception is aimed at new entrants into crypto who are often less informed.
Fidelity Adds XRP to List of Supported Cryptos for Charitable Donations
Fidelity Charitable has added XRP to its list of assets, allowing donors to make contributions using the world's third-largest cryptocurrency.
According to the announcement,
"The addition of Ripple expands the existing array of assets, including bitcoin, that donors can contribute into their donor-advised funds to fuel their philanthropy."
Cryptocurrency donations give people a way to increase their charitable giving since gifts are exempt from paying capital gains taxes. Instead, the 501(c)(3) charity receives the full value of a donor's contribution.
Crypto Donations to Fidelity Charitable
In the example above there are three key assumptions.
Assumes all realized gains are subject to the maximum federal long-term capital gains tax rate of 20% and the Medicare surtax of 3.8%. This does not take into account state or local taxes, if any.
Amount of the proposed donation is the fair market value of the appreciated property held more than one year that donor considers, as determined by a qualified appraisal.
Assumes a contribution of 100 bitcoin. Alex's tax basis is assumed to be $100/bitcoin. If Alex sold 100 bitcoin for $250,000, he would have $240,000 in capital gains and would pay $57,120 in tax.
The organization says there's also another upside to making donations using cryptocurrencies such as Bitcoin and XRP to Fidelity Charitable, which has a donor-advised fund program: participants can recommend how the contribution is invested and potentially grow it tax-free.
The organization has helped donors support more than 278,000 nonprofit organizations with more than $35 billion in grants. It hit a milestone last year with $1 billion in contributions from complex assets such as private stock, limited partnership interest, real estate and cryptocurrency.
The addition of XRP rounds out the organization's support for the world's top five cryptocurrencies: Bitcoin (BTC), Ether (ETH), XRP, Bitcoin Cash (BCH) and Litecoin (LTC).
Ethereum co-founder Vitalik Buterin: Blockchain "is much bigger than just Bitcoin"
People need to know that blockchain has transformed from being "just about Bitcoin."
Governments do have a regulatory role in the industry.
Vitalik Buterin is popular for the creation of Bitcoin's competitor Ethereum. The "skinny visionary" was a speaker at the Blockchain Futurist Conference. However, he was also interviewed by the Star where he shared a lot about the blockchain and the journey in the cryptocurrency field.
According to Buterin, people need to know that blockchain has transformed from being "just about Bitcoin." He says that blockchain is much bigger than Bitcoin and can take "a lot of different versions."
He explained:
"For bitcoin, the idea is that you have decentralized cryptocurrency running on blockchain and protected from corporate and state control that's not going to deflate on you and it's not going to get confiscated. The blockchain is just a tool to make that specific thing possible."
While comparing the above Bitcoin scenario to Ethereum, Buterin added:
"That's the bitcoin side. For Ethereum what we care about is taking the blockchain technology behind bitcoin that makes decentralized cryptocurrency possible and making it more general purpose so that other things can be decentralized in the same way."
Buterin also clarified that governments do have a regulatory role in the industry. However, there is a lot that needs to be done to understand initial coin offerings (ICOs) when it comes to securities categorization. "The regulators are definitely grappling. They are undecided in many ways," Buterin said. The founder also shared his opinion on how to improve scalability which will help speed up adoption.
"The main problem with the current blockchain is this idea that every computer has to verify every transaction. If we can move to networks where every computer on average verifies only a small portion of transactions then it can be done better."