What Satoshi Nakamoto Was Doing Before He Vanished
With the arrest of Julian Assange in London, some of us have been reminded that some crypto investors of an early statement made by Bitcoin creator Satoshi Nakamoto on the bitcointalk forums, where he commented on a PC World article that spoke about Bitcoin as a payments system for WikiLeaks.
Back in 2010, Nakamoto said, "It would have been nice to get this attention in any other context. WikiLeaks has kicked the hornet's nest, and the swarm is headed towards us."
The anonymous pseudonym that is Satoshi Nakamoto seems to be the kind of person (group?) that goes into matters with a calm and level head. The alleged Bitcoin creator was commenting on the fact that the spotlight on WikiLeaks was increasing and would eventually attract a lot of unfavourable attention to Bitcoin itself.
It seems that Nakamoto was hoping for Bitcoin to grow naturally and not attract unwanted attention through associations with a body like WikiLeaks, which has rustled governments and authorities. The website initially started accepting donations in Bitcoin and this seems to remove the need for payment platforms like PayPal.
One Reddit user:
"Wikileaks announced that they were accepting Bitcoin donations because they were kicked off of every other major payment platform. Wikileaks was all over the news for publishing confidential military documents and the first time many people ever heard of Bitcoin was when it was mentioned in association with Wikileaks."
Assange himself has even spoken quite bullishly on Reddit in regards to Bitcoin saying, "There's lots on bitcoin in my book – on my thoughts on it, and on WikiLeaks' history with it. [Google's] Eric Schmidt and I conversed for a while about it, and I also included a lot of notes to expand on my views. It's a fascinating and complex subject, so I can't possibly go through all of it."
The popular Edward Snowden took to Twitter to condemn the arrest and called it a 'dark moment'. You can see his tweet below:
Top BitMEX Trader Says He's "Patiently Waiting" for Bitcoin Price to Drop to $6,000 Level
One of the most successful BitMEX traders believes that Bitcoin is bound to experience another major correction
Cryptocurrency trader "Angelo฿TC," who rose to stardom after becoming the number one trader by notional profit on the BitMEX cryptocurrency exchange, has just taken crypto Twitter by the storm by saying that he's "patiently waiting" for the Bitcoin (BTC) price to hit $6,000 so that he can add more sats to hit long-term holdings. 
It's very rare when the "semi-retired" whale takes to Twitter, but he always causes a huge splash when he does. At the end of August, when Bitcoin was still hovering above the $10,000 level, he tweeted his friend's warning about "long capitulation" that would occur if Bitcoin were to break below $8,000. 
As reported by U.Today, the BTC price did experience a painful correction on Sept. 25, just two days after the much-anticipated Bakkt launch. After rebounding from the $7,700 level and witnessing several fakeouts, the top coin is currently trading sideways in the $8,100-$8,200 region.
Back in March, when Bitcoin was inching closer to its historic 20 percent green candle that was recorded on Apr. 2, "Angelo฿TC" stated said he had never been more bullish on Bitcoin.
He predicted that the BTC price could surge to $30,000 by 2021 given that crypto is only "a drop in the bucket" compared to already established asset classes, such as gold.
"The end goal for Bitcoin as an investment is a binary outcome. It goes to 0 or you 10x your investment. There is no in-between."
Still, $30,000 might be a very conservative figure. Commodity trading veteran Peter Brandt, whose tweets also attract a lot of attention on Twitter, recently predicted that the BTC price could shoot up to $50,000 after eventually bottoming out at the $5,500 level at the beginning of January.
Bitcoin Steady While Altcoins Take-Off: The Weekly Crypto Market Update
This week the market continued to stagnate, but we saw some promising signs in the altcoins field. While most of the attention is towards Bitcoin's price and whether the support will hold, traders have also moved to altcoins where we saw a lot of interest during the week.
Bitcoin's dominance declined since peaking at 72% and other cryptocurrencies finally managed to reclaim some grounds.
Despite the fact that during the past 3 months Bitcoin's price has shuffled up, its current point is still respectable, compared to the beginning of the year when it was trading in the range of low $3,000s.
Meanwhile, it's worth noting that big companies are abandoning Facebook's Libra, including PayPal, Visa, and Mastercard. There are growing fears that the project won't launch at all. However, Facebook has said that they will continue with their work so that Libra can see daylight and that there are no changes in their plans.
Overall, it was a positive week for altcoins which started to wake up from the crypto winter and it was a rather quiet one for Bitcoin.
Market Data
Market Cap: $226B24-Hour Volume: $52.2MBTC Dominance: 66.4% BTC: $8,336 ETH: $184 XRP: $0.29BTC Shorts (BFX): 8.7K BTC
BTC Longs (BFX): 25.3K BTC
Alipay Fires Back at Binance's CZ, Will Block Bitcoin Transactions. The official Twitter page of Alipay has responded to Binance's Changpeng Zhao who had previously confirmed that users can use Alipay to buy Bitcoin on Binance. According to the payment processor, however, this is not the case and all transactions associated with cryptocurrencies are immediately halted.
Sweden's Debt Collection Agency Is Auctioning Some Off. The Swedish Enforcement Authority auctioned off 4.59 BTC at a price of around $8,200 per coin. The entire thing was conducted online. The main reason for auctioning it off and not keeping it is the lack of existing infrastructure.
SEC Halts Telegram (TON) Sale: How Does It Differ From the EOS Case? The US SEC has halted the token sale of Telegram's TON cryptocurrency. This happened soon after Block.one was fined for conducting its unregistered EOS initial coin offering. However, there are some key differences between the actions of the Commission.
It's Been 10 Years Since the First Bitcoin Transaction: 5,050 BTC For $5. Ten years ago, the first Bitcoin market transaction took place. Back then, 5,050 bitcoins were sold for a grand total of $5.02. Now, these are worth upwards of $42 million. The network has also grown substantially ever since then.
US SEC Rejects Bitwise Bitcoin ETF Proposal. In a somewhat expected act, the US SEC has rejected the Bitcoin ETF proposal filed by Bitwise. The Commission said that it failed to meet the necessary requirements. More specifically, the main concerns were, once again, associated with market manipulation and illicit activities.
83% of Generation Zers Interested in Cryptocurrencies: KPMG Study. According to a study by big-four professional services company KPMG, approximately 83% of people from Generation Z are interested in cryptocurrencies. Moreover, it also appears that Millennials are intrigued as well as 71% of them said they are interested in the future of tokens.
Leading London Brokerage Provides Cryptocurrency Basket Including Bitcoin to Retail Investors. FCSM Group, a leading provider of online foreign exchange trading and other related services, has announced the introduction of a new cryptocurrency basket which includes Bitcoin, Ethereum, Litecoin, Bitcoin Cash, and XRP. All of the cryptocurrencies are weighted equally.
Grayscale Wins Approval for First Public Digital Currency Index Fund. Grayscale Investments has received a legislative approval to list its publicly-traded digital currency index fund. It's called Digital Large Cap Fund, carrying the ticker GDLCF. It will be available to all investors who have access to US securities. Source: cryptopotato
Analyst Eyes 10% Bitcoin Price Expansion as Volatility Creeps Closer
If you've followed the price of Bitcoin (BTC) at all over the past few weeks, you know there is a large lack of volatility. In fact, for the past 20-odd days, the leading cryptocurrency has been stuck in an effectively 8% range — something that doesn't happen all too often.
This likely leaves you wondering — what comes next for the cryptocurrency market? More sideways price action or a spike?
Apparently, it's the latter.
Volatility Nears
Analyst CryptoHamster noted that a Bitcoin price breakout "is approaching", looking to the fact that the one-day Bollinger Bands (a technical indicator meant to determine ranges) have begun to heavily tighten.
Their observation comes shortly after prominent analyst Josh Rager wrote the following on Twitter: "With three weeks of sideways and the bbands starting to pinch, Bitcoin price could see some volatility soon."
Indeed, as the chart above shows, periods of tight Bollinger Band ranges have preceded large breakouts at least four times this year, implying that this time is going to be no different.
That's not all. Volume levels on BitMEX, the leading Bitcoin futures platform, have begun to fall to multi-month lows. Low volume in markets after a period of consolidation is often indicative of impending volatility.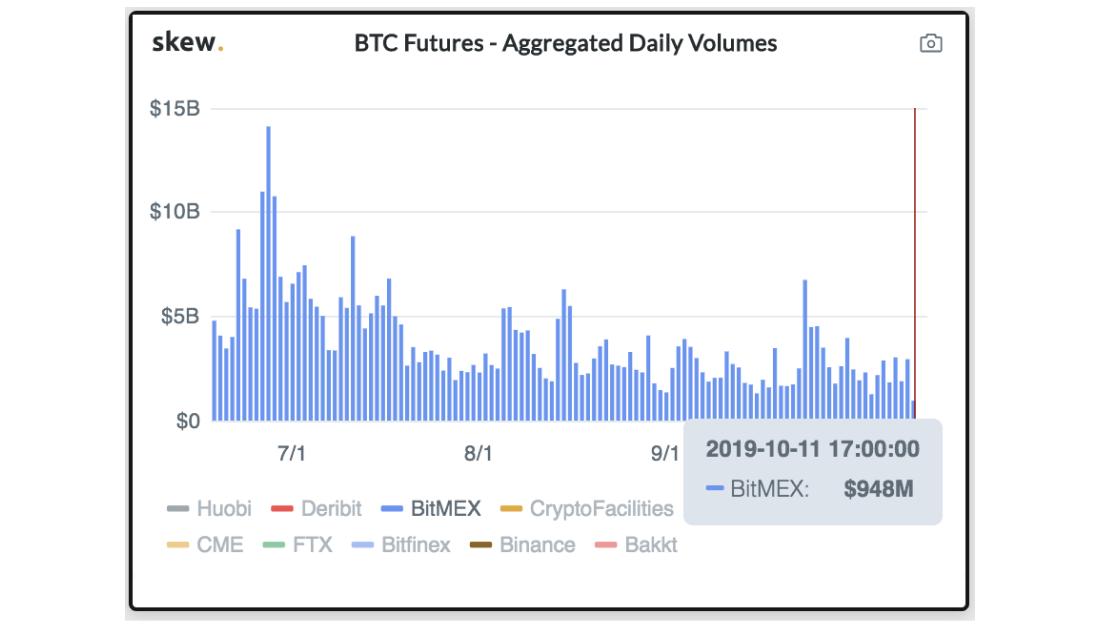 Chart courtesy of Skew.com
Bitcoin Price to Mount Higher
While the breakout could head in any direction, analysts are leaning bullish on Bitcoin at the moment.
Brave New Coin's Josh Olszewicz recently noted that the Tenkan and Kijun lines of the Ichimoku Cloud suggest that BTC has a higher chance of reverting to a mean (higher than current price) than establishing a lower low under $7,700. Olszewicz added that Bitcoin is trying to form an inverse head and shoulders/diamond bottoming pattern on its 12-hour chart.With this in mind, Olszewicz said that Bitcoin could feasibly rally by 10% from current levels to hit $9,300 in the coming days and weeks.
This isn't the only evidence that BTC's price may be ready to head higher once again. Analyst CL argued that Bitcoin ball is in the court of the bulls, noting that BTC is trading above its monthly time-weighted average price while funding is widely negative (a bullish sign) and this market has established higher lows.