Bitcoin has dipped $10,000 again, although is trading at $10,027 at the time of writing.
On the plus side, Iran effectively legalising mining of bitcoin, and the related rising geopolitical tension in the Persian Gulf, are helping to support prices.
However, the sheer weight of negative commentary in Washington surrounding Facebook's Libra has likely negatively impacted prices.
BitMEX hit by outflows as US regulators move in
So too has the revelation that BitMEX is under investigation by the US Commodity Futures Trading Commission (CFTC) for allowing US residents to use its Hong Kong-based exchanged. BitMEX is registered in the Seychelles.
As of yesterday bitcoin trading volumes on the crypto derivatives exchange had dropped by a third.
Crypto derivatives trading is mushrooming, helped by generous leverage of as much as 100x.
In the UK crypto derivatives based on contracts for difference – CFD trading – may soon be banned by the Financial Conduct Authority which is currently consulting on the prohibition of sale of such products into retail.
Previous falls into the sub-10,000 zone have quickly attracted a bid.
The ease of making heavily leveraged bets on bitcoin at venues such as BitMEX, which has become a favourite with Asian traders, is matched by the ease of entry for even the smallest of retail investors. For example, you can buy bitcoin with Pay Palhere.
Where to enter is the perennial problem of course. More on this further below. Bear in mind that Bitcoin trading is a high risk activity.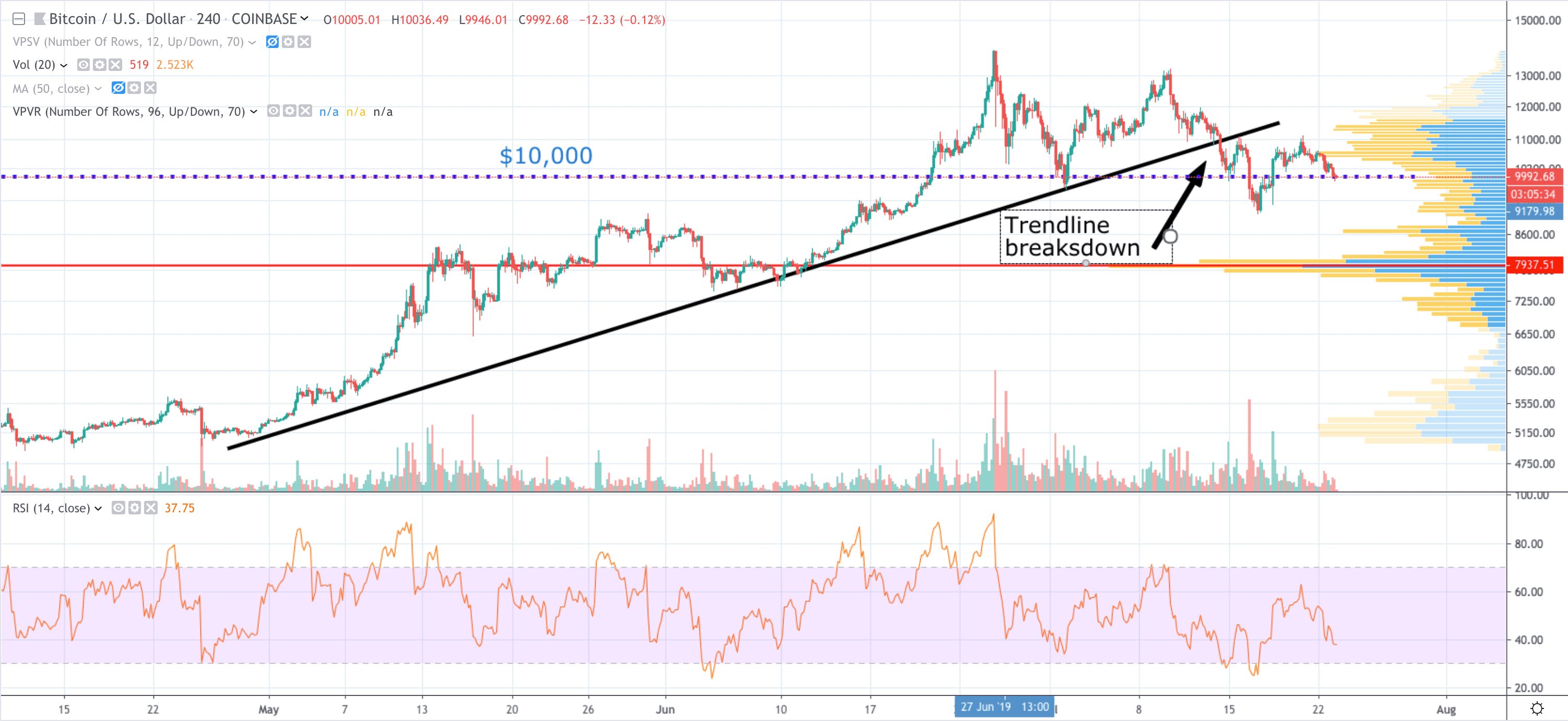 (BTC/USD 4-hour chart, 23 July 2019, Coinbase – chart courtesy TradingView)
Justin Sun – from crypto PR maestro to porn and gambling peddler?
Adding to the sour note at the start of the European trading session, was the breaking news Tuesday morning from China that Justin Sun has postponed lunch with Warren Buffett scheduled for 25 July because of health reasons, apparently "kidney stones".
However, a Chinese business outlet has thrown doubt on that version of events, reporting that the Tron chief executive cannot leave China because he is being investigated for illegal fundraising among other things.
In August 2017 Justin Sun conducted an ICO for Air Coin. That was followed a month later by the Chinese government banning ICOs and cryptocurrency exchanges in the country.
The 21st Century Business Herald also alleges that the company operates illegal gambling and pornography businesses.
Because of the charges Sun faces he cannot leave the country, says the Chinese business news site.
With the authorities breathing down his neck, Sun is clearly in no position to lunch with Buffett and the guests he was bringing along to persuade the Sage of Omaha as to the merits of crypto.
It is not clear whether the move against Sun is part of a wider campaign against the offshored exchanges and projects that target mainland China.
In Weibo comments reported by 21st Century Business Herald Sun said: "Only 5% of the crypto business is located in mainland China, subject to legal compliance. The remaining 95% of the business, the global mainstream digital currency crypto token TRON, three million users, 500 DAPP, the world's largest dapp platform. The transmission network BitTorrent, with a billion installed capacity, is mainly located in more than 100 countries around the world. You can't see it, it doesn't mean it doesn't exist.[translated]."
You can read Sun's full rebuttal such as it is, on his Weibo account, where he has posted from his iPhone X.
Specifically, he states: "The net money laundering is not true. The Tron foundation is located in Singapore and conforms to the local laws and regulations of Singapore.
TRON is down 15% to $0.0243. That may be an opportunity for some, and investors with itchy feet can buy Tron here. If you are new to Tron, you will need to consider the best Tron wallet storage solutions for your needs.
China crypto trading volumes much larger than thought
A recent China special report from Diar show that Chinese trading volume is much higher than hitherto assumed.
Indeed, if Diar's conclusion – with help from Chainalysis – are accurate then Bitwise's much amplified contention that most trading volume was fake, is wide of the mark.
Diar notes that 62% of Tether on-chain received by exchanges was for unregulated Chinese exchanges – unregulated by China that is.
"Mirrored trends of trading volume on trusted exchanges against Tether on-chain transactions value to unregulated Chinese exchanges should be taken into consideration as the Blockchain remains a publicly visible ledger as opposed to reported activity. The similarities speak volumes, so to speak."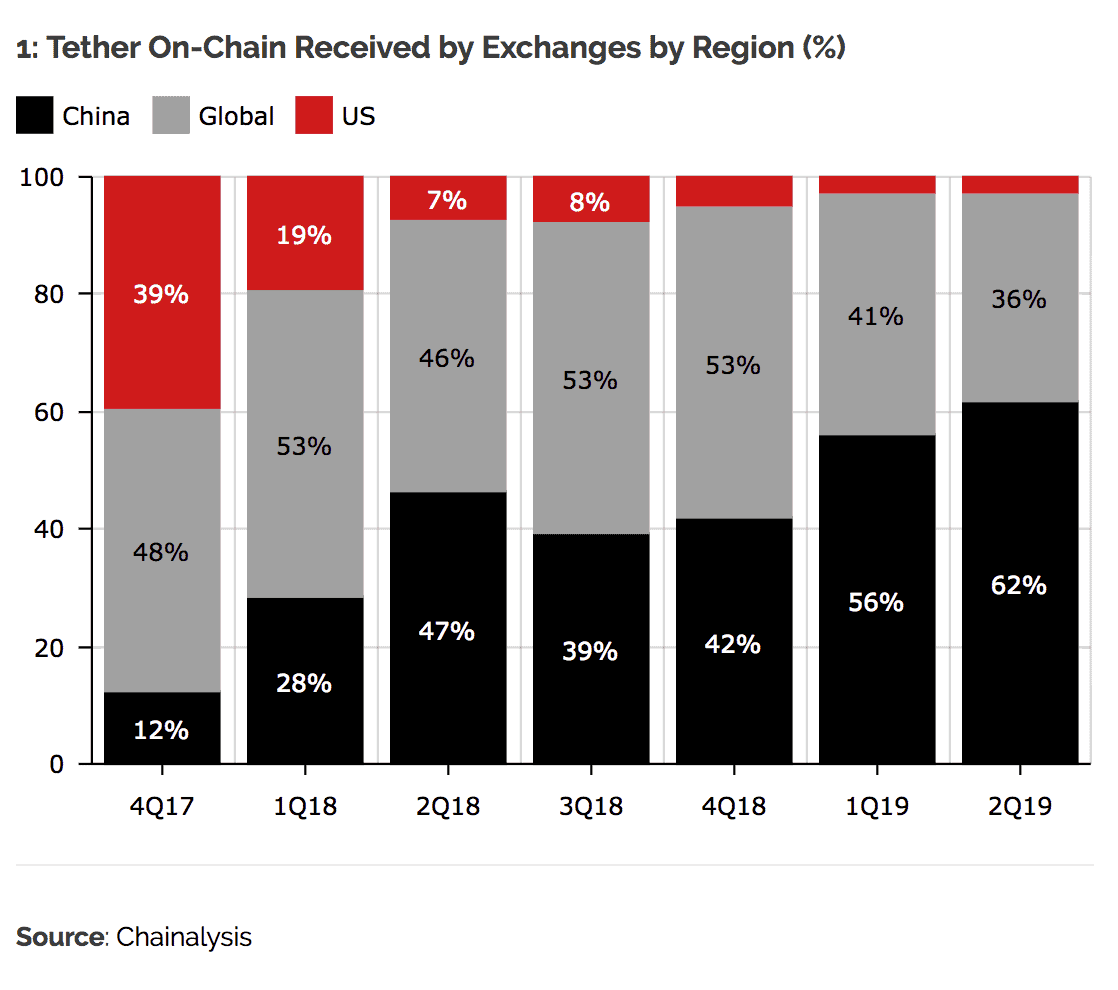 Bitcoin consolidating at $10,000 despite any overshoot to downside
A brief moment of more relaxed volatility had followed previously typically erratic trading for bitcoin with multiple 10% swings.
The priced fell to as low as $9,400 on 19 July only to rebound strongly the next day briefly touching $11,086.
BTC/USD realised volatility has hit levels not seen since the beginning of the deflation of the parabola from December 2017 into early 2018.
Skew (see chart below) measures btcusd price volatility at 127%. It was last that high at the end of February 2018.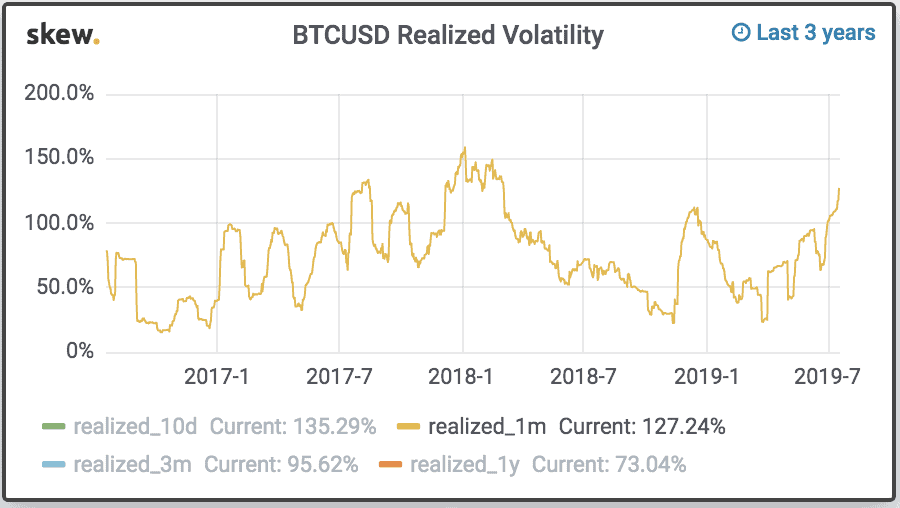 Two reasons may at least partially explain the heightened volatility: Libra and speed of rise and subsequent reversal from the year high at $13,800.
The last reason is akin to watching an oscillation with a reducing wavelength, that will eventually settle somewhere between the range established by recent highs and lows ($9,400-11,086).
With that thinking, the bottom of the current correction could still be around $10,000 despite over-shooting to the downside seen in the recent tests to find support.
Any movement below opens up the danger of a deeper correction but bulls are looking to see if 10k holds, as buy the dip responses kick in.
However, that view may be the overhang from the bullish slant of the past month or so. If that is so, then a more bearish prognosis will guide to future market trajectory that looks to strong support at $8,000 with resistance building at $10,000.
The point of control (red line – $7,963) created by the volume profile shows the price that attracted the most buyers and provides our support.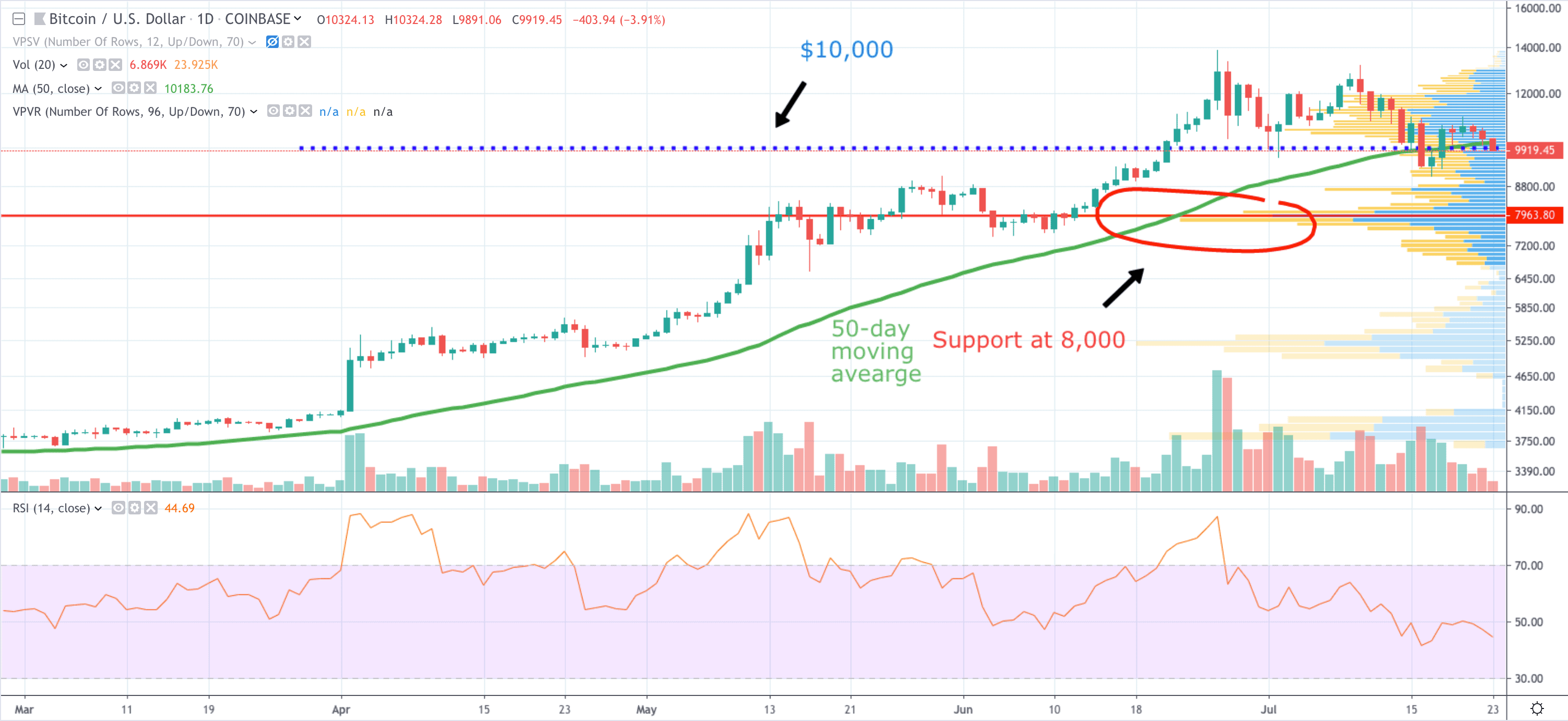 BTC/USD 1-day candle 23 July 2019, Coinbase. Chart: courtesy TradingView
Today's action is so far confirming that $10,000 remains the key support level, with swing traders set to buy the dip approaching – and possibly below – the $9,400.
That course of action remains balanced by the prospect of sellers showing up in numbers in the high $10,000s and the ability to break above the new solid resistance at $11,086 will determine whether the road ahead opens again more clearly.
The $11,086 test for now is the key for the ambitions of bulls to get back in touching distance of $13,000.
Bakkt testing physically settled bitcoin futures
In a nod to a recurring theme of the year – the institutional investor – a big step in further improving the onramps for such investors, there's welcome news from Intercontinental Exchange's Bakkt.
Bakkt said it has started testing its bitcoin physically settled futures product yesterday, which is a much-postponed milestone for the delayed project.
After self-certifying its bitcoin futures with CFTC, Bakkt is now waiting for a trust charter to be issued by the New York Department of Financial Services. No date has been announced for the launch.
Nevertheless, the news should be registered on the assets side of the market outlook balance sheet.
Physically settled bitcoin futures are expected to have a bigger impact on spot prices than the cash-settled instrument traded on the CME. In the case of the former, if a contract is held to expiry then the bitcoin has to be delivered, thereby generating demand in the spot market.