Is Stellar (XLM) Still A Worthy Competitor For Ripple's XRP?
Stellar has failed to hit the ground running in the second half of the year. The project has had little to report in terms of development and partnerships. This has been reflected in the price movement which has been largely bearish.
This slump has further had an effect on its overall ranking, seeing Stellar drop out of the top ten ranked cryptocurrencies by market cap. In addition, slow development has seen the project disregarded as a worthy competitor for Ripple's XRP.
Unlike Stellar, Ripple is having one of its best years in terms of partnerships and positive developments. Most recently, the company went into partnership with the second-largest money transfer company in the world, MoneyGram, seeing it utilize Ripple's xRapid blockchain product. This is expected to go a long way in the growth of XRP. As we have reported, Ripple is not stopping at that, the company continues to work on strategic partnerships to help grow XRP in usage and price.
Project Development Crucial For Price Growth
In contrast, it's been months since Stellar went into a strategic partnership that will accelerate its growth. For any project, this is a crucial aspect of ensuring the success of the project.
It further attracts investors and drives prices. In terms of development, there has been a slow down with hardly anything to report for months. This is also a fundamental aspect of ensuring prices rise. Investors are encouraged and motivated to keep holding the digital asset. Also though media exposure, the project can attract more investors.
This lack of engagement by the project has steadily shown in the digital assets decline in the last three months. Stellar has dropped from highs of $0.13 to hit a low of under $0.073 reached during the weekend when the asset went on a freefall.
Stellar has an all-time high of $0.938144 which investors continue looking forward to reaching in the near future. This will continue being unachievable if the project does not ramp up efforts to become a leading cross-border transactions solution worthy of locking heads with Ripple.
Tron, Stellar, Litecoin are not the over-hyped coins, claims a new report
In the report, cryptocurrencies such as TokenPay, Electroneum, Dragonchain, Telcoin, and DigiByte are termed as the most overhyped cryptocurrencies on Twitter.
An indicator reveals the hype game of few cryptocurrencies. Research platform "The Tie" shared a detail report on which cryptocurrencies are the most and the least overhyped on crypto Twitter.
TRX, XLM, and LTC are not overhyped
Often, crypto projects run the race of capturing most audience and users via bot accounts tweeting about them, increasing user engagement ratio to make it more genuine. Recently, The Tie, which offers valuable information for crypto traders created "Hype-Activity-Ratio." The validator affirms that the tool measures "the number of tweets each crypto has per $1million in trading volume."
Across the 450 cryptos, we investigated, there was an average of 1.02 tweets per $1M in volume, The TIE wrote. We used 30-day averages for the tweet and trading volumes.
According to the report, Tron, Stellar, Litecoin are not the overhyped cryptocurrencies. Tron which is currently ranked as the 14th largest cryptocurrency, Stellar being the 11th largest coin and Litecoin as the 5th most significant coins don't fall under most-hyped cryptocurrencies on Twitter.
However, The Tie claims that "While this metric is not perfect, we think it's a good tool for identifying massive outliers."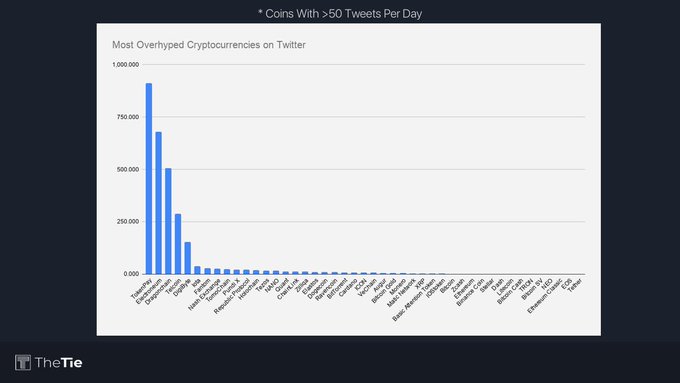 The Most and Least Over-hyped Cryptocurrencies
On the other hand, the platform finds Tether, EThereum Classic, EOS, NEO, and Cosmos as the least overhyped crypto, which has the very lowest number of tweets per $1 million trading volume. However, cryptocurrencies such as TokenPay, Electroneum, Dragonchain, Telcoin, and DigiByte are termed as the most overhyped cryptocurrencies on Twitter. Notably, the platform mentioned;
These tokens had more than 500 times more tweets per $1M in trading volume than the average crypto.
These tokens, Token Pay, Electroneurm, Dragoncoin, doesn't hold much trading volume, but the increased activity on Twitter made them the most overhyped cryptocurrencies – presumably, they are paying much to its army.
Moreover, the platform analyzed the "hype-activity-ration" of the few largest cryptocurrencies, including Bitcoin, Ethereum, Bitcoin Cash, and Litecoin. According to its logarithmic chart, these coins have relatively consistent Hype to Activity ratio. It outlined that the Ripple's XRP with its tags (such as #XRPthestandard, #XRPcommunity ) is significantly higher than the above most significant coins.
Adding a note on a social media manipulation, the report compared Coinbase's reach on Facebook v/s the reach of Tron CEO Justin Sun. It mentioned while Coinbase with over 30 million users has just 187k likes, Justin Sun's profile counts 6 million likes.
Although many within crypto can easily detect manipulative practices, this deception is aimed at new entrants into crypto who are often less informed.
Fidelity Adds XRP to List of Supported Cryptos for Charitable Donations
Fidelity Charitable has added XRP to its list of assets, allowing donors to make contributions using the world's third-largest cryptocurrency.
According to the announcement,
"The addition of Ripple expands the existing array of assets, including bitcoin, that donors can contribute into their donor-advised funds to fuel their philanthropy."
Cryptocurrency donations give people a way to increase their charitable giving since gifts are exempt from paying capital gains taxes. Instead, the 501(c)(3) charity receives the full value of a donor's contribution.
Crypto Donations to Fidelity Charitable
In the example above there are three key assumptions.
Assumes all realized gains are subject to the maximum federal long-term capital gains tax rate of 20% and the Medicare surtax of 3.8%. This does not take into account state or local taxes, if any.
Amount of the proposed donation is the fair market value of the appreciated property held more than one year that donor considers, as determined by a qualified appraisal.
Assumes a contribution of 100 bitcoin. Alex's tax basis is assumed to be $100/bitcoin. If Alex sold 100 bitcoin for $250,000, he would have $240,000 in capital gains and would pay $57,120 in tax.
The organization says there's also another upside to making donations using cryptocurrencies such as Bitcoin and XRP to Fidelity Charitable, which has a donor-advised fund program: participants can recommend how the contribution is invested and potentially grow it tax-free.
The organization has helped donors support more than 278,000 nonprofit organizations with more than $35 billion in grants. It hit a milestone last year with $1 billion in contributions from complex assets such as private stock, limited partnership interest, real estate and cryptocurrency.
The addition of XRP rounds out the organization's support for the world's top five cryptocurrencies: Bitcoin (BTC), Ether (ETH), XRP, Bitcoin Cash (BCH) and Litecoin (LTC).
Ethereum co-founder Vitalik Buterin: Blockchain "is much bigger than just Bitcoin"
People need to know that blockchain has transformed from being "just about Bitcoin."
Governments do have a regulatory role in the industry.
Vitalik Buterin is popular for the creation of Bitcoin's competitor Ethereum. The "skinny visionary" was a speaker at the Blockchain Futurist Conference. However, he was also interviewed by the Star where he shared a lot about the blockchain and the journey in the cryptocurrency field.
According to Buterin, people need to know that blockchain has transformed from being "just about Bitcoin." He says that blockchain is much bigger than Bitcoin and can take "a lot of different versions."
He explained:
"For bitcoin, the idea is that you have decentralized cryptocurrency running on blockchain and protected from corporate and state control that's not going to deflate on you and it's not going to get confiscated. The blockchain is just a tool to make that specific thing possible."
While comparing the above Bitcoin scenario to Ethereum, Buterin added:
"That's the bitcoin side. For Ethereum what we care about is taking the blockchain technology behind bitcoin that makes decentralized cryptocurrency possible and making it more general purpose so that other things can be decentralized in the same way."
Buterin also clarified that governments do have a regulatory role in the industry. However, there is a lot that needs to be done to understand initial coin offerings (ICOs) when it comes to securities categorization. "The regulators are definitely grappling. They are undecided in many ways," Buterin said. The founder also shared his opinion on how to improve scalability which will help speed up adoption.
"The main problem with the current blockchain is this idea that every computer has to verify every transaction. If we can move to networks where every computer on average verifies only a small portion of transactions then it can be done better."