Bitcoin Price Continues to Track Bullish $3,200 Bottom Fractal
When asked about the drawbacks of Bitcoin, many people cite the cryptocurrency market's immense volatility — multiple days a year, BTC and its ilk have 10%+ days.
Case in point, the Bitcoin price tumbled off a cliff in late September, falling from the lofty price point of $10,100 to $7,700 in a week's time. This move, as made evident by over $500 million in BitMEX long position liquidations in an hour, caught many investors were their pants down.
But Bitcoin's price action in this scenario may not be as random as it seems. In fact, some have argued that the chart structure formed after the precipitous drop shows that bears are running out of steam. And quick.
Bitcoin Bottoming Fractal Gains Credence
If you've perused Crypto Twitter at all over the past week or two, you likely would have noticed the incessant mentions of a Bitcoin price fractal.
(A fractal, in the context of financial assets and their respective charts, is a certain historical chart formation/price action repeating on a smaller scale at a different time or for a different asset.)
Their fractal thesis, as hinted at earlier, is that Bitcoin's 20% drop seen a few weeks ago is structurally similar to November's dramatic drop from $6,000 to $3,000.
While some have laughed off the similarities of the movements as pure coincidence and mental gymnastics, the fractal has continued to gain traction.
Smartcontracter, a popular Twitter analyst, recently posted the chart below. As can be seen, the price action seen over the past few weeks and back during the capitulation phase of the last bear market are effectively identical. What's more, the moving averages and trend lines on the charts are in similar formations and territories.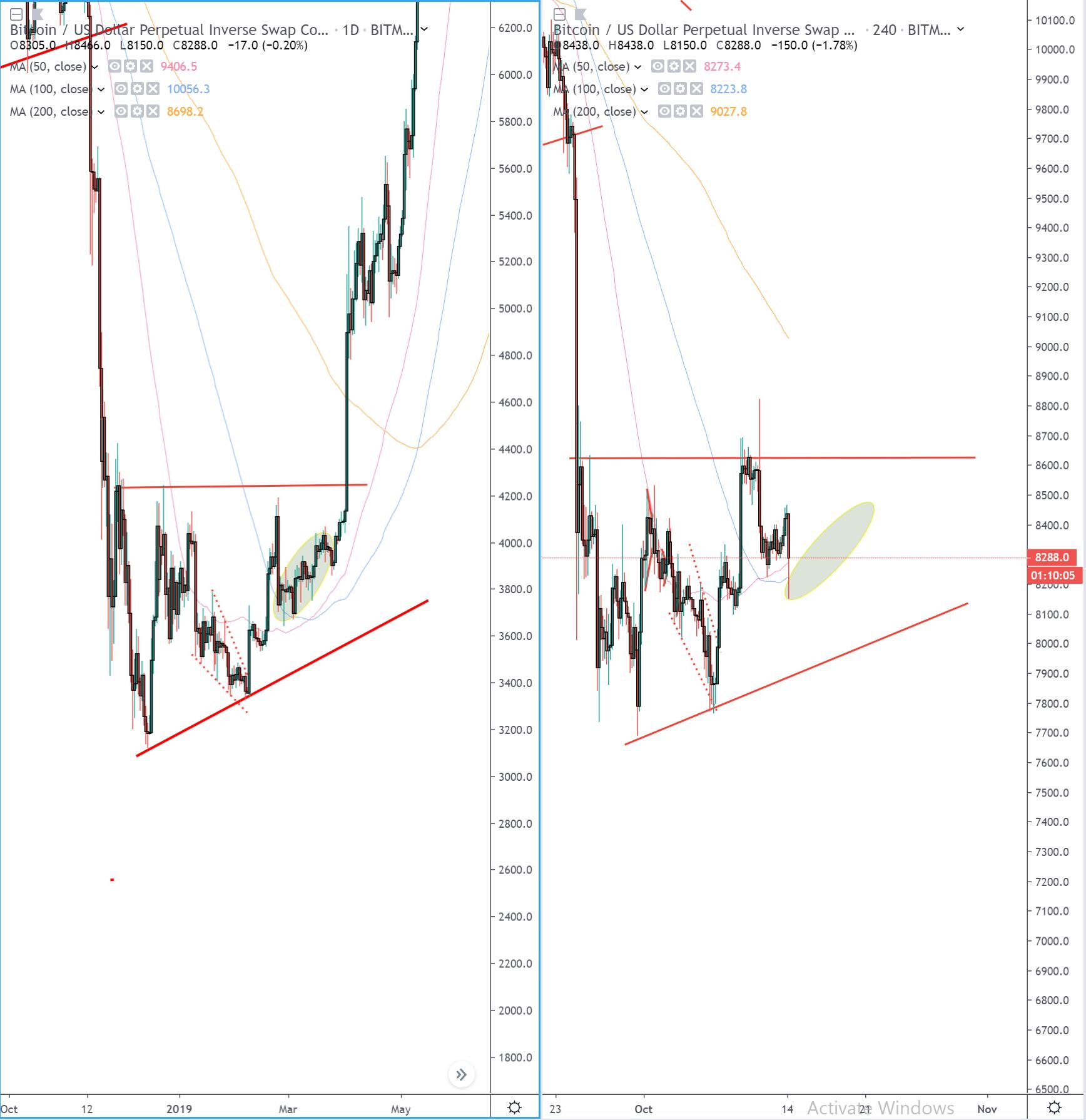 As Smartcontracter explained: "I really feel we have lived and breathed this before. When you compare the 2 scenarios to scale, even all the moving averages are in the same places."
That's far from the end of it. Back in December 2018, analysts were mentioning harrowing price targets, eyeing $2,000 (or even low). Now, analysts are calling for moves down to $5,000 or even lower — again, a sign that a fractal is playing out in the current.
Should this fractal play out in full, Bitcoin will rocket back towards $10,000 by the end of this month.
Others have further corroborated this analysis. Truenomic recently drew even more apparent parallels between the current Bitcoin price action and what took place at the end of the bear market. Referencing the charts below, he wrote:
"In addition to the fact that bitcoin moves in cycles, many movements on the chart are repeated on completely different time frames, because these are ordinary patterns. I have gained confidence in the similarity of these two situations, so at the moment I'm bullish."
Why Is the Bitcoin Price Still Suffering?
Bitcoin's gains are short lived, and the world's number one cryptocurrency is now trading where it was during late September when Bakkt initially failed to make a solid impression on crypto traders.
Bitcoin and Its Comrades Are Suffering
As it would seems, positive blockchain comments from Chinese president Xi Jinping and Bakkt ultimately picking up and attracting several bitcoin futures contracts trades weren't enough to keep bitcoin where it was. The $9,000 proved difficult for the currency to maintain, and resistance levels appear are inherently winning.
But it's not just bitcoin that suffers. Ethereum, the second-largest cryptocurrency, is down to $175 at press time. Just yesterday the currency was trading for $180, and Ethereum seems to be experiencing more losses than even BTC, but bitcoin cash – the little "brother" of everyone's favorite digital coin – has incurred some of the highest losses to date. At the time of writing, it is trading for just over $236 when bitcoin cash, just weeks ago, was trading for $300 even.
The currency has thus lost nearly $70 in a relatively short period of time, and Ripple's XRP – the world's third-largest cryptocurrency – is trading at 25 cents, meaning it's lost more than five cents since reaching its late October trading figure of $0.30.
The strange thing is that there doesn't seem to be any real reason for the drops. Crypto continues to make headway in developing nations, where it is largely used as a means of paying for goods and services. In addition, regions such as Switzerland – as covered yesterday by Live Bitcoin News – are replacing many of their traditional financial services and institutions with those of blockchain and crypto.
With so much being done to cement crypto's place in the financial world, why aren't prices higher? What are we doing wrong?
One explanation is that this could just be a case of "end-of-year" blues for most forms of crypto. As we likely recall, the final months of 2018 saw bitcoin trading at a serious low. Roughly $3,500, which was about 70 percent lower than where it had ended 2017. One holiday season proved bitcoin good, worthy of numerous gifts and praise, while another proved it naughty and dropped hunks of "digital coal" in users' stockings.
Some New Projects Aren't Hitting the Right Mark
At the same time, there are serious projects out there that ultimately serve against the morals and properties of standard crypto. China's plans for a state-backed cryptocurrency, for example, go against BTC's decentralized and independent nature, while companies like Google are looking into developing new checking account systems that undermine the stamina and protocol of enterprises like cryptocurrency exchanges.
Bitcoin is being hit from all sides, so while it's retaining its reputation and moving up the financial ladder, it seems its price is not quite strong enough to undertake further bullying.
On February 1st 2028, Bitcoin Will Hit $1m… Allegedly
It's estimated that BTC could hit $1 million on precisely February 1st, 2028. 
The million-dollar target comes from Timothy Peterson's 'Never Look Back' analysis.
There have been multiple analysts that have predicted bitcoin to reach a million dollars. However, a few have gone a far as to predict a specific date. 
By looking into the history books, we can see the bitcoin price action over the years and how it's changed over time. It's estimated that BTC could hit $1 million on precisely February 1st, 2028. 
The million-dollar target comes from Timothy Peterson's 'Never Look Back' analysis.
He explains that bitcoin is keeping up its ever-growing 'Never Look Back' price. So in laymen terms, this is a price floor that is never crossed as adoption increases.
$1 million bitcoin
When the 'Never Look Back' price was plotted on a logarithmic scale, a strong trend emerged over bitcoin's decade-long history. Specifically, if we take it back to high school, the chart shows a long line of positive correlation.
Peterson said:
"Bitcoin has a relatively unnoticed and — for most — unknown characteristic. I call it the "Never Look Back Price." The NLB price is the last time bitcoin was at a particular price level. Once it reached that price, it only proceeded up, it never retraced to that value again."
Peterson's 'never look back' price represents the primary adoption of bitcoin. It represents the "hodlers of last resort."
People have got on the bitcoin bandwagon and hold it for the significant long term. This is why it won't drop back below a specific level.
"This group's behavior is not just long-term focused, it is infinite-term focused. These people are the bitcoin adopters. This group provides a floor value for bitcoin's price."
Bitcoin Visits Critical Long-Term Trendline; Break Below Could Lead to Massive Losses
Bitcoin (BTC) has continued to consolidate around its key near-term support at $8,000 and both its bulls and bears have remained deadlocked as it fails to gain any decisive momentum in the time since its recent drop down to its current price levels.
Analysts are now noting that Bitcoin is currently trading at a key trendline that could significantly influence its near-term price action, with a break below it potentially leading to further losses.
Bitcoin Consolidates Around $8,000 as Bulls and Bears Remain in Deadlock
At the time of writing, Bitcoin is trading down marginally at its current price of $8,150, which marks a slight climb from its daily lows of $8,000 that have been visited on multiple occasions over the past several days.
Although this price level does appear to be a strong support region for the cryptocurrency, its slow grind downwards that has ensued in the time since it lost the upwards momentum that was gained during its meteoric rally to $10,600 may point to an underlying weakness amongst the cryptocurrency's bulls.
Analysts are noting that Bitcoin may still be able to post a decent rally so long as it is able to hold above its key near-term support level, but they are also noting that a break below this level could spark a sharp sell-off.
The Crypto Dog, a popular cryptocurrency analyst on Twitter, spoke about this in a recent tweet while referencing the chart seen below.
"$BTC at daily support. I expected a bounce before now, but not stressing (yet). Above POC – bullish. Below – re-evaluate," he explained.
Reaction to Parabolic Trendline May Give Insight into BTC's Future Price Action
One important factor to keep in mind is that Bitcoin is currently trading at its parabolic trendline, which could spark a massive movement in either direction, depending on whether BTC's bulls or bears prevail in their current battle.
Mr. Anderson, another popular cryptocurrency analyst on Twitter, spoke about this in a recent tweet, telling his followers that a hold above this trendline could spark an "explosive" movement, whereas a dip below could send BTC reeling significantly lower.
"$BTC: back for a retest of the previous parabolic trend line. As discussed over a month ago… A weekly break of this diagonal will likely bring on a new "playground" for PA. Whereas as a hold can lead to explosive behavior and continuation within this level," he explained while pointing to the below chart.
The coming few hours and days will likely determine where Bitcoin trends for the coming weeks and months as 2019 draws to a close.