5 Takeaways on Ethereum 2.0 From Vitalik's 'Beast Mode' Blog Posts
Moving ETH from the Ethereum 2.0 blockchain to the old ethereum blockchain may be possible in the early months (or years) after launch, new research suggests.
Due to changes in data storage structure, recalling data to applications will become more expensive on the new network.
Ethereum will soon lose the ability to execute transactions atomically. This could change the way developers and traders manage their dapps.
Ethereum 2.0 may possess only about half the transaction capacity as originally planned.
---
Things are moving fast for the upcoming ethereum 2.0 project.
Aiming to get the broader public up to speed about changes being planned for 2.0, founder Vitalik Buterin wrote four blog posts about its launch during the platform's annual developer conference, Devcon.
Tentatively planned for launch sometime in the first quarter of 2020, 2.0 is expected to move the world's second-largest blockchain platform away from a proof-of-work (PoW) system of transaction validation to proof-of-stake.
Proof-of-stake (PoS) is widely expected to be more scalable and energy-efficient than PoW blockchains like bitcoin.
In preparation for the historic upgrade, Buterin is currently educating users and application developers about what's in store come 2020 and beyond.
Coupled with one additional post written shortly before the Devcon conference, Buterin's five blog posts addressing concerns and long-held unknowns about the ethereum 2.0 network have become highly popular reads in the cryptocurrency community.
For those of us without time to dissect even one of Buterin's blog posts, let alone five of them, here's the TL;DR in layman's terms.
1. Moving ETH from the ethereum 2.0 blockchain to the old ethereum blockchain may once again be possible in the short term.
As the current ethereum 2.0 design stands, it's likely to be years before the old ethereum PoW chain is fully merged into the new PoS network (see below).
Meanwhile, transfers of ETH between the two chains will be disabled.
This is because the added complexity of creating a two-way bridge, according to ethereum 2.0 developer Preston Van Loon, presents "a security risk" to both chains.
"We could see a scenario where one blockchain gets messed up by another and we have to do a hard fork to recover funds or there's a flaw where someone can print money," said Van Loon, team lead at Prysmatic Labs.
Enabling transfers requires a secure method of ensuring ethereum's PoW network is synced about the veracity of claims on the PoS network.
"The assumption is, in the first few months of the ethereum 2.0 chain, it's going to have a limited number of [transaction validators, also called 'stakers'] and potentially will have lower security than the current Ethereum 1.0 chain," said Ben Edgington, blockchain protocol engineer at ethereum venture studio Consensys.
"That potentially provides an attack vector. If someone wants to generate free money on the Ethereum 1.0 chain, they could try to attack the ethereum 2.0 chain and then persuade the Ethereum 1.0 chain of their [fake] funds," said Edgington.
In a recent blog post, Buterin suggests two possible ways to create a "bridge" between the two blockchains. He admits that "both of these proposals would require emergency remedial action on the Ethereum 1.0 side if the ethereum 2.0 side breaks."
To reduce such risks, Buterin suggests voting periods enabling "human intervention" to reverse transfers from the Ethereum 1.0 network.
These suggestions are presently just proposals. Other Ethereum 2.0 researchers like Danny Ryan have presented similar solutions to creating a secure bridge between the two networks.
For now, the group has not added a bridge to the roadmap design for Ethereum 2.0.
Vitalik Non-giver of Ether✔@VitalikButerin
Danny Ryan proposing adding a two way bridge between eth1 and eth2 sooner than planned before (new proposal: between phases 1 and 2) using ideas from https://ethresear.ch/t/two-way-bridges-between-eth1-and-eth2/6286 …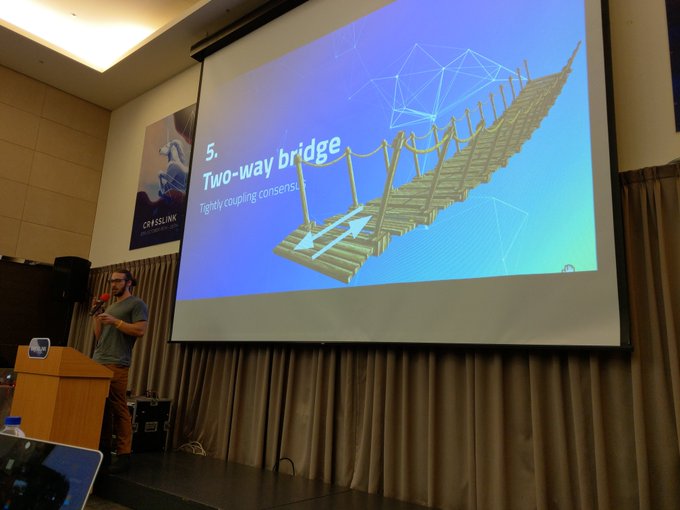 32411:07 PM – Oct 18, 2019Twitter Ads info and privacy92 people are talking about this
2. Ethereum 2.0 may function as its own separate blockchain from the original ethereum blockchain for years before the two are fully merged.
The beacon chain is the "heartbeat" of the new PoS network. This blockchain will act as a central command center to receive data about confirmed transactions from all other mini-blockchains (also called shards) in the Ethereum 2.0 network.
In Phase One, shards will be launched to link to the existing beacon chain. In Phase Two, developers will roll out execution environments for different types of decentralized applications (dapps) on each shard.
Thereafter, the full infrastructure of ethereum 2.0 will be configured such that the present ethereum mainnet can safely and securely be merged into the new network fully.
Edgington suspects moving to phase two could take three to four years to complete.
"Ethereum 1.0 and Ethereum 2.0 can run alongside each other and continue in that configuration for as long as we like … It's not time-critical."
What is critical is the security of assets on the current ethereum mainnet chain.
Blockchain researcher Mihailo Bjelic says a complex system such as Ethereum 2.0 should not replace the present ethereum mainnet until developers are sure of its reliability.
"It's better never to launch Ethereum 2.0 if it's not safe," he said. "The responsible decision if you cannot ensure the security of the system is just to scrap it."
In a second blog post, Buterin says he expects the transition, if and when it happens, to be smooth.
"If you are an application developer or a user … the changes and disruptions that you experience will actually be quite limited. Existing applications will keep running with no change," Buterin wrote.
3. Recalling data about the ethereum blockchain will become more expensive than before.
Dapp developers recalling and accessing data from the new ethereum network will face increased transaction costs. But Buterin offers advice about limiting the pain of these increases.
"If you are a developer, you can eliminate the largest part of disruption from gas cost changes by proactively making sure you don't write apps with high witness sizes, ie. measure the total storage slots + contracts + contract code accessed in one transaction and make sure it's not too high," Buterin wrote.
The cost increases are due to changes in how the ethereum state – that is, the full account of transactions and accounts on the blockchain – is stored in a PoS network.
"The way that state is stored is completely changing in ethereum 2.0. If I run a contract today [on ethereum], the state is on my hard disk or it's on the hard disk of the node I'm talking to," said Edgington, adding:
"In Ethereum 2.0, everything is stateless. … I can store the bits of state I'm interested in locally or there will be providers like Infura who specialize in providing state. The idea is that a marketplace will spring up whereby people store the data on behalf of others."
4. Ethereum will lose the ability to execute transactions atomically.
Perhaps most importantly for dapp developers: the next major iteration of the network will break the ability for transactions on ethereum to occur atomically, meaning all at once.
Developers will no longer be able to execute transactions between different applications such that, if one transaction fails, the entire series of transactions can be recovered immediately. This is only possible on ethereum today because all dapps live on a single, shared blockchain network.
Ethereum 2.0 will break up the transaction load into different shards. Theoretically, dapps creating new ethereum transactions will similarly be dispersed and hosted on differing shard networks. This introduces a new dynamic for transaction execution on the ethereum blockchain such that one shard network cannot know the full state of a different shard network instantly.
"If I execute a transaction on Shard One and then I want to transact with something on Shard Two, it takes a whole block before Shard Two knows what happened on Shard One," said Edgington.
According to Edgington, this introduces "a layer of complexity" to dapp programming that is not entirely unfamiliar in the traditional computer science world.
"Databases do this all the time. There are locking mechanisms so that I can temporarily lock the resources I am interested in and a release it later when I'm confident that everything has happened," said Edgington.
Mihailo Bjelic said this "asynchronous communication" is the industry standard for when working with database systems.
"It's easier to reason about and envision any possible attack vectors or flaws in the code," said Bjelic. But dapp developers will need time to adapt:
"Every time you introduce a new developer paradigm you have this thing called a learning curve and developers don't like it."
Indeed, some in the ethereum community are concerned about the negative impact this change will pose to dapp composability, or as Buterin describes in his post, "the ability of different applications to easily talk to each other."
"[Losing] atomicity will discourage a lot of these activities, and make it harder to attract [cryptocurrency] traders," Loi Luu, the CEO of ethereum-based token exchange platform Kyber Network, wrote in response to Buterin's blog
Large-scale dapps requiring the capacity of multiple shards will become harder to manage, said Dieter Shirley, CTO of blockchain gaming startup (and CryptoKitties creator) Dapper Labs.
"Moving tokens between shards is no problem. … But when we're looking at something like CryptoKitties, it is much more than just some tokens," he said.
"Sharding doesn't make anything impossible. It just makes it hard enough that certain things won't get done."
5. Ethereum 2.0 will only possess about half the transaction capacity as was originally planned for launch.
Buterin's fifth post about Ethereum 2.0 suggests a stark reduction in the total number of shards at launch.
The new network was originally envisaged as having an estimated 1,024 shards, but Buterin recently proposed a mere 64. The main benefit, he said, will be faster and simpler communication between shards in Ethereum 2.0.
"This provides enough functionality to … allow users to hold coins on shards, use those coins to send transaction fees, and move those coins between shards as easily as they move them within a shard," Buterin wrote.
This would reduce the burden of cross-shard communication for dapp developers, according to Edgington.
"In the previous Ethereum 2.0 design, if Shard One wanted to know the status of Shard Two, it had to wait like 64 slots, which is roughly six and a half minutes. Under this new design, shards can become aware of the other state of a shard within one slot, so around six seconds," Edgington said.
It will also reduce the number of complexities in the overall Ethereum 2.0 network, according to Bjelic.
"You're taking such an operational risk [launching 1,024 shards] which have not yet been battle-tested," Bjelic said. "It's easier intuitively [with 64] because there are less cross-shard messages to transfer across the network."
But the overall capacity of the ethereum 2.0 network at its outset will be sizably reduced.
"We're targeting about half the transaction throughput of the former design," said Edgington.
Van Loon says that the benefit of increased cross-shard communication speeds is entirely worth it, though:
"We don't need 1,024 times the capacity of Ethereum right now. 64 times would be a huge increase and, if we could do faster cross-linking between shards, I think the tradeoff is really worth it. … We can grow this number later as time goes on."
Ethereum 2.0 is a work-in-progress
All said, ethereum 2.0 is still a work-in-progress and Vitalik Buterin's word is not law.
"Just because Vitalik posts something doesn't mean it's set in stone. The whole reason this is put out there is to encourage discussion with the community," said Zak Cole, founder and CEO of blockchain startup Whiteblock. His company is assisting in ethereum 2.0 protocol development. "It helps get everyone informed and understand[ing] exactly what is happening."
Cole has reservations about the proposals recently put out by Buterin, including the idea of creating an intermediary two-way bridge between the Ethereum PoW and PoS chains.
"It seems pretty risky to me," Cole said. "It's going to require additional changes to the ETH 1.0 chain. … I don't think we should mess with the ETH 1.0 chain."
Disagreements between researchers and constant changes in direction doesn't worry Bjelic. The eternal state of any complex software is eternal evolution.
"There is no final version of any software. You will always to keep improving," he said.
Still, Cole said having a rough understanding of "what the future is going to look like" is important.
"You don't start building a skyscraper without a blueprint. You don't start building the first floor until you're sure what the top floor is going to look like," he said.
Van Loon said successful public blockchain development requires good communication between researchers and dapp developers.
"Uncertainty breeds fear," he said. "Something Vitalik learned at Devcon is that we need to start putting these ideas out in writing more frequently and more consistently."
Ethereum Price Analysis: ETH Trading Above Key Supports
Ethereum price is struggling to surpass the $192 and $194 resistance levels against the US Dollar.
ETH price is somehow holding the key $182 and $180 support levels.
There is a major bullish trend line forming with support near the $184 level on the 4-hours chart (data feed from Coinbase).
The price could start a sharp decline if it fails to stay above the $182 and $180 support levels.
Ethereum price is showing a few bearish signs below $192 against the US Dollar. However, ETH price is still trading above the main $180 support area.
Ethereum Price Analysis
Recently, Ethereum price made another attempt to surpass the $192 and $194 resistance levels against the US Dollar. The bulls struggled to gain strength and ETH price formed a high near the $192 level.
Later, there was a bearish wave below the $190 and $188 levels. Moreover, there was a break below $185 and the 55 simple moving average (4-hours). Similarly, there were strong bearish moves in bitcoin, but ETH remained supported above the $182 level.
A low was formed near $183.78 and the price is currently correcting higher. An immediate resistance is near the $186 level. It coincides with the 23.6% Fib retracement level of the recent decline from the $192 high to $183 low.
The first key resistance seems to be near the $188 level. It represents the 50% Fib retracement level of the recent decline from the $192 high to $183 low. Besides, the main resistance for Ethereum price is still near the $192 and $194 levels.
Therefore, a successful close above $194 is needed for a strong upward move towards the $200 and $210 levels. On the downside, there are many supports near the $182 and $180 levels.
More importantly, there is a major bullish trend line forming with support near the $184 level on the 4-hours chart. If ETH fails to stay above the trend line, the next key support is near $180. Any further losses may perhaps start a major decline towards the $175 and $170 levels.
Ethereum Price
Looking at the chart, Ethereum price is clearly trading above key supports near $182 despite the recent decline. If the price fails to stay above $182 and $180, there could be a sharp decline. Conversely, a clear break above $194 could start a strong increase in the coming days. The next resistances are near $200 and $208.
Technical indicators
4 hours MACD – The MACD for ETH/USD is slowly moving in the bullish zone.
4 hours RSI (Relative Strength Index) – The RSI for ETH/USD is currently rising towards the 50 level.
Key Support Levels – $184, followed by the $180 zone.
Key Resistance Levels – $188 and $192.
Tether Says Its Stablecoin Is 'Fully Backed' Again
USDT tokens are now fully backed by Tether's reserves, the stablecoin issuer said Thursday.
Tether published a response to what it described as "a flawed paper" written by John Griffin, a professor of finance at the University of Texas at Austin, and Amin Shams, an instructor the Ohio State University which claimed a single address on the Bitfinex exchange was responsible for manipulating the bitcoin market in late 2017, sparking the bull market. The paper was an update to a version first published in the summer of 2018.
Tether pushed back on this claim, saying in Thursday's statement that "the revised paper is a watered-down and embarrassing walk-back" of the first version.
Perhaps more intriguing, however, was the claim that "All Tether tokens are fully backed by reserves."
Whether or not USDT is fully-backed has long been a point of contention. The company has promised an audit of its stablecoin reserves (though it has not delivered one, and has since dissolved its relationship with its auditor), produced a third-party report saying it likely had more funds than outstanding tokens, and had a bank write a letter vouching for its holdings. (The latter two reports both acted as snapshots, only assuring the crypto community that on specific days, Tether's obligations did not exceed its assets.)
Tether's backing is even the subject of an inquiry by the New York State Attorney General's office.
Nevertheless, Tether maintained that its tokens were fully backed until April 2019, when general counsel Stuart Hoegner wrote in an affidavit that USDT was backed by "cash and cash equivalents … representing approximately 74 percent of the current outstanding tethers."
At the time, Tether held $2.1 billion in assets, with 2.8 billion USDT tokens issued on the Omni blockchain. According to a block explorer, this number has fallen since then to 1.775 billion. However, a further 2 billion USDT is in circulation as an ERC-20 token.
Tether's "Transparency" page says the company currently holds more than $4.6 billion in total assets, including $4.56 billion in U.S. dollars, $44 million in euros and $3.3 million in Chinese renminbi (amounts are converted).
In an email to CoinDesk, Hoegner said the outstanding tokens are currently backed by reserves, adding:
"According to the website and our terms of service, our reserves include traditional currency and cash equivalents and, from time to time, may include other assets and receivables from loans made by Tether to third parties. The 74% figure refers to particular assets at that point in time, not the aggregate reserves."
He declined to detail the breakdown between Tether's actual cash holdings and the cash equivalents, saying "we generally do not share the asset mix."
'Lack of understanding'
As for the actual paper that Griffin and Shams hope to see published in the Journal of Finance, Tether's statement Thursday said "the authors demonstrate a fundamental lack of understanding of the cryptocurrency marketplace and the demand that drives Tether token purchases."
The paper itself said its analysis "for the single largest player on Bitfinex" found that "the 1 percent, 5 percent and 10 percent of hours with the highest lagged flow of Tether by this one player are associated with 55 percent, 67.2 percent and 79.2 percent of bitcoin's price increase over our March 1, 2017 to March 31, 2018 sample period."
The paper went on to say:
"This pattern is not present for the flows to any other Tether exchanges, and simulations show that these patterns are highly unlikely to be due to chance; this one large player or entity either exhibited clairvoyant market timing or exerted an extremely large price impact on Bitcoin that is not observed in the aggregate flows from other smaller traders."
However, the paper suffers from having incomplete data, including insufficient data on capital flow or transaction timing, Tether said Thursday. As a result, the paper cannot "establish a valid sequence of events" for the claimed manipulation.
"Furthermore, the authors now admit that the patterns of trading they observed could be consistent with the market purchase of Tethers, as opposed to the issuance of unbacked Tethers. Importantly, the authors do not possess or reference any data disputing that Tether has sufficient reserves to back up Tether token issuances in circulation," the statement said.
While the paper notes that "some in the blogosphere and press" have expressed doubts on whether Tether is fully backed, it adds that "the cryptocurrency exchanges largely reject such concerns." However, it later says its model and results "are generally consistent with Tether being printed unbacked and pushed out onto the market."
The paper has received skepticism and pushback from the crypto industry, with Tether skeptic Bennett Tomlin calling it "inconclusive."
dYdX Protocol Registers All-Time High for Its ETH Lockup while DAI Lockup Amount Falls by 43%
Decentralized Finances (De-Fi) are one of the emerging use cases of blockchain technology which has registered significant market exposure in last year. De-Fi is an Ethereum based protocol that allows users to hold up their Ether using smart contracts and earn interest rates in the form of DAI, a decentralized stable coin that is not backed by any entity.
dydx protocol is a decentralized margin trading and derivatives platform that allows users to lock up their Ether in smart contracts and uses can earn interest on it or draw DAI based on the locked amount. As per a recent study conducted by DeFi Pulse, a Twitter handle which tracks the major happenings in the defi space reported that dydx protocol has registered a 16.6% increase in the amount of Either locked in the smart contracts pushing the total amount to an all-time high.
However, the analysis also showed that there has been a significant decline in the DAI holdings which dropped to 43% dropping from 3.4 million to 1.2 million in just 48 hours.
While Bitcoin cultivated the idea of decentralized currency and peer-to-peer financial networks, the management of transactions and all trading happens via centralized exchanges with tons of surveillance tools. All the exchanges are heavily centralized which has been the cause of many mishaps in the past, even the so-called decentralized exchanges have started to ask for KYC details under a government crackdown.
Thus, De-fi promise to create a truly decentralized and trustees network where human interference would be minimal and every aspect would be governed by pre-set protocols and codes.