Bitcoin Capitulation Overblown? Key Metric Suggests BTC Predictions Off-Base, Says Crypto Influencer
While some in the crypto community warn about the potential perils of Bitcoin miner capitulation, others point to Bitcoin's current hash rate as evidence that those worries are unfounded.
Twitter user Hodlonaut, a self-identified "permabull," pointed to the rate's chart on Monday, telling his 17,000 followers that miner capitulation has been "canceled."
Miner capitulation happens when Bitcoin mining ceases to be profitable. When miners sell off their holdings and turn off their rigs, it can accelerate a bear market.
Some crypto prognosticators say smaller miners may capitulate after the next Bitcoin halving, which cuts their mining rewards in half in May of 2020.
When viewed through the lens of blockchain.com's 12-month graph, the current hash rate appears to be in a bit of a plateau.
Analysts are still very divided on whether or not Bitcoin's upcoming halving has been priced into the cryptocurrency's market value.
Dovey Wan, a founding partner of San Francisco-based Primitive Ventures, a crypto asset investment holding company, says
miners could react badly if the price doesn't double during the upcoming halving.
Bitcoin mining difficulty, a measure that shows how long it takes for miners to add new blocks of transactions to the blockchain, was down throughout November. Mining difficulty adjusts itself based on the length of time it has taken miners to find the previous 2,016 blocks. If it took less than two weeks, difficulty is increased, and if it took more, difficulty is reduced.
On November 7th, Bitcoin's mining difficulty decreased by 7%, the first significant reduction in difficulty in 2019, according to stats from btc.com. Since then, it increased by 2% on November 21st and then lost about 0.75% on December 5th.
Bitcoin Hash Rate Hit a New ATH, And It's Crucial Leading Up to Halving
The Bitcoin network hash rate has reached an all-time high at 126 quintillion hashes per second. By comparison, this time last year, the network was hashing at just 38 quintillion hashes per second.
However, of more considerable significance is what this indicates. And that is a trend towards increasing miner confidence. As such, concerns over miner capitulation, in the run-up to the halving, show few signs of credibility.
Bitcoin Hash Rate Continues To Exceed Expectations
Following Bitcoin's stellar form of late, news of the network's hash rate reaching another all-time high should come as no surprise.
Over the weekend, the average daily hash rate peaked at 126 quintillion hashes per second. Putting paid to any notion that miners are cautious about the coming halving this May.
Hash rate is a term that refers to processing power on the network. As Bitcoins get mined, transactions need to be "hashed" before being added on to the blockchain ledger.10 BTC & 20,000 Free Spins for every player in mBitcasino's Winter Cryptoland Adventure!
Every one of these hashes is created by successfully completing a complex mathematical puzzle.
The hash rate is a measure of how many times the network can attempt to complete this puzzle every second.
And so, a high hash rate indicates good network health, as well as being a metric of how secure the network is. This is because hackers would struggle to control more than half of the Bitcoin network, to perform a 51% attack, when the hash rate is so high.

hodlonaut@hodlonautNew Bitcoin
Hashrate ATH: 126.13 EH/s
126 Quintillion hashes per second
(When we hit our price ATH in December 2017, hashrate was 13 EH/s)1,0474:16 PM – Jan 18, 2020Twitter Ads info and privacy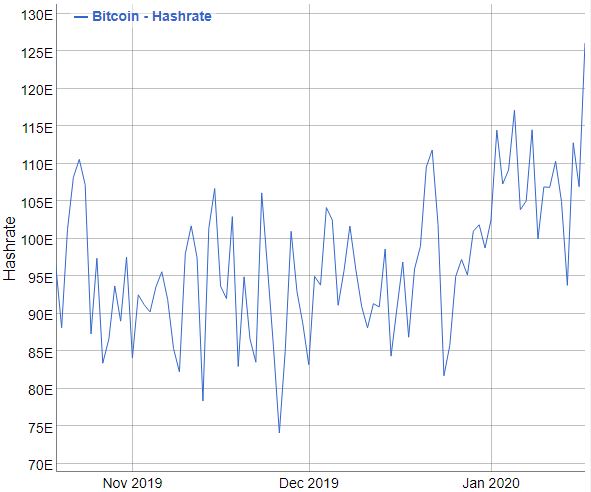 Mining Difficulty
With that, as more miners compete to complete blocks, mining difficulty increases. And to stay profitable, only those with access to cheap electricity and the most efficient mining equipment can afford to stay in the game.
Mining Difficulty
With that, as more miners compete to complete blocks, mining difficulty increases. And to stay profitable, only those with access to cheap electricity and the most efficient mining equipment can afford to stay in the game.
Add into the mix the coming halving, when miners will receive half the reward (6.25 BTC) for completing a block, the rational expectation is for a mass exodus of miners.
However, the trend towards higher and higher hash rates, suggests that more miners are joining the Bitcoin network, and this doesn't look like a scenario that will play out.
Why is this? After all, if mining profitability gets cut in half this May, why do miners continue to prop up the network, and in greater numbers?
Should the Bitcoin price fail to gain any significant traction after the halving, Bitcoin mining, at current rates, would be unsustainable in the short term.
This can only mean that miners are expecting a significant upswing in the Bitcoin price. Whether that will happen or not is anyone's guess. But based on increasing hash rates, it's clear that miners believe so.
Bitcoin On The Brink Of Massive Rally And Only 1 Thing Is Holding It Back
Bitcoin is climbing steadily above $8,800 and $9,000 against the US Dollar. BTC price could start a massive rally towards $10K and $11K if there is a daily close above $9,300.
Bitcoin price is gaining momentum above the $9,000 resistance area against the US Dollar.
A new 2020 high is formed near $9,185 and the price could continue to rise.
There was a break above a crucial declining channel with resistance near $8,475 on the daily chart of the BTC/USD pair (data feed from Kraken).
The pair is now facing a

significant resistance near $9,300, above which it could test $10,000.
Bitcoin Price Could Revisit $10K Soon
In the past few days, there were steady gains in bitcoin above the $8,000 and $8,200 resistance levels. The recent rise gained pace after BTC surpassed the $8,500 resistance area.
The daily chart suggests that the price broke many important hurdles near $8,400 and $8,500 to enter a positive zone. The first main hurdle was the 50% Fib retracement level of the downward move from the $10,579 high to $6,423 low.
More importantly, there was a break above a crucial declining channel with resistance near $8,475 on the daily chart of the BTC/USD pair. Bitcoin price settled above the $8,500 resistance and the 100-day simple moving average.
Latest News and Top Headline for Bitcoin, January 19th, 2020
Bitcoin breaks and settles over the $9k level
Bitcoin (BTC) to explode further in the coming days
Bullish Bitcoin price predictions 2020
Bitcoin News Today – The past couple of hours have been really bullish for Bitcoin (BTC). The digital currency began to break out of a consolidation pattern that has held BTC price below the $9k level for about two days. Some minutes ago, the world's largest digital currency by market cap broke over the $9k level and topped out at $9,120, posting more gains as the close of the weekly candle approaches.
Bitcoin (BTC) has corrected slightly since then, returning to $9,088 at the time of writing. Nevertheless, analysts are saying that this breakout, which helped Bitcoin (BTC) to break over its multi-month high, is a precursor to even more gains in the next couple of days.
Bitcoin (BTC) to Explode Further in the Coming Days
CryptoDude – a popular crypto analyst on Twitter – pointed out on Saturday that the $9,080 mark is a crucial level from a high timeframe perspective of BTC. If the digital currency is able to hold gains over the major hurdle on a weekly basis after Sunday night's candles close, it will show that there is a macro reversal on the horizon. That will push the price of Bitcoin (BTC) back to the $14k level seen mid-2019 and possibly beyond, especially with the impending halving event.
Bitcoin (BTC) Price Today – BTC / USD
Another crypto analyst – CryptoBirb – pointed out that the latest increase has allowed BTC to break over a flat channel that the digital currency has traded in for almost one week now, which formed a low of $8,555 and a high of $9k.
According to the analyst, the breakout of the channel could push the price of Bitcoin (BTC) up by 4 percent from where it is currently. A four percent increase right now would push BTC to USD price to $9,400.
More Bullish Bitcoin Predictions
A digital currency trader who is known as Filb Filb recently said that he expects the price of Bitcoin (BTC) to make a raid soon on the previous hurdle point of $9,555. He pointed out that this is where the price of the digital currency topped out in October and early November last year in the wake of the now-infamous 40 percent "China pump."
If Bitcoin gets to that level, it would satisfy textbook market trends of assets visiting support and hurdle points several times before establishing a direction. Filb Filb called the 40 percent increase in the price of BTC to almost $10k, then the subsequent plunge by 35 percent towards the $6k level to interact with the miner's bottom range. As such, this trader has a prestigious track record.