Following the crypto purge on Google's YouTube, the EOS co-founder Dan Larimer is concerned this could be just a beginning of censorship by key players on the market
As U.Today has written earlier, for the past few days, many crypto bloggers have suffered from the so-called crypto purge when their crypto and old ICO-related videos were removed and they were prohibited from posting new content for one week. Among the victims were also top analysts and crypto bloggers.
Now, the situation has reversed, allegedly proving to be a mistake, as YouTube stated, however, the crypto community is already doubtful whether they should keep working with centralized monopolists, like YouTube or Amazon.
Dan Larimer's concerns of future censorship from techno giants
A co-founder of EOS, Dan Larimer, has tweeted that the world is heading for the future in which the existing technological giants are going to turn it into an Orwellian dystopia. Start buying paper books again, he says, since a 'in a digital world book burning is too easy'.
Referring to the recent attack on crypto bloggers on YouTube, he says that today YouTube tells us what content to post and tomorrow Amazon may start telling us what to read or what books to write. He says:"Get your books now before they are banned."
YouTube apologizes to crypto bloggers
After several days of banning crypto videos and making them as 'harmful and dangerous content', the YouTube team has reversed their policy and apologized saying that what has happened was a mistake.
All banned videos have been returned and strikes taken off the bloggers' accounts.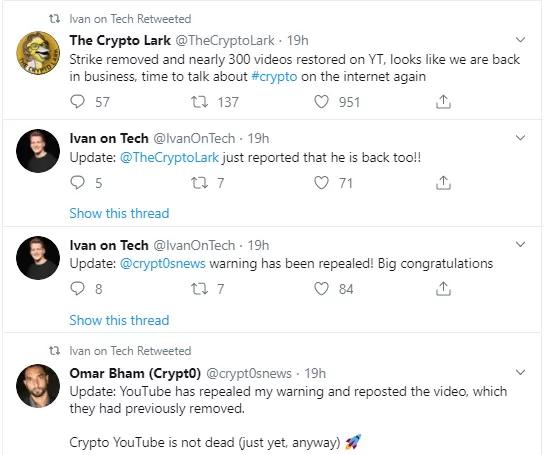 Image via Twitter
However, the crypto community, including the CZ of Binance, Justin Sun and Misha Lederman, the BeatzCoin CCO, among many others, are now certain that YouTube needs decentralized alternatives ASAP.
One of such platforms has become the EOS-based 'Voice' social media app, which is going to launch trials early next year.
VibraVid and BitTorrent's BLive are also encouraging video content makers to migrate to their platforms.