Crypto analysts are getting positive on the current Bitcoin fundamentals, saying that as per the charts, community is actively buying on the dip .
At press-time, Bitcoin is sitting at the $7,339 mark (as per CoinMarketCap), having mostly traded sideways for a month already.
The crypto analyst and trader Scott Melker says that since the Bitcoin price hit the $14,000 high and then began descending, each monthly candle on the chart has shown a strong sell-off (a large upper wick).
However, he continues, in November and December, there have been also large lower wicks, which means the community is actively acquiring Bitcoin while the price is still low enough.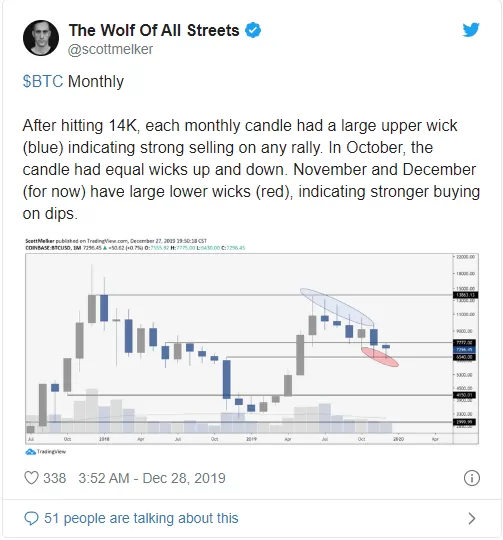 Image via Twitter
Another trader, @BTC_JackSparrow, says he feels irrational bullish Bitcoin hopium.
However, he admits the charts are demonstrating some contradictory signals at the moment.
As the May 2020 and the Bitcoin halving are drawing closer, investors are beginning to accumulate Bitcoin and many have been doing it for a long time already, buying the dip. Various bold forecasts say that the BTC price may surge over its 2017 ATH and rise from $50,000 to $1 mln.