Stellar Lumens News Today – Headlines
The SDF releases horizon v0.22.1 with protocol 12 support
Stellar's achievements this year
The major partnership of Stellar this year
Stellar Lumens News Today – The digital currency and open-source payment system, Stellar Lumens (XLM), successfully released the new horizon v0.22.1 with protocol 12 support. As the year draws to a close, Stellar Lumens (XLM) is changing hands at $0.04657 and it is currently the 11th largest digital currency by market cap, with a market cap of $934.1 million.
At press time, the total number of XLM tokens in circulation is 20 billion from the maximum supply of 50 billion. The Stellar Development Foundation cut the total maximum emission to 50 billion by burning their 55 billion XLM token on November 5 this year. The burn of the tokens resulted in a growth of about 20 percent in the XLM price.
Stellar (XLM) Price Today – XLM / USD
Name
Price
Bitcoin
$7,403.09
1.23%
Stellar
$0.046
0.832%
The Achievements of Stellar So Far This Year
This year, the SDF released some vital updates for their platform. The first update from the Foundation was lightning on Stellar. It was a road and technical spec for the Stellar Development Foundation. After this update, the Foundation added SDK for the Stellar network. On May 9, the Foundation came up with ZkVM – a new design for confidential, fast smart contracts.
On May 15, the Foundation released a news ticker for the astronomical community. On May 30, the Stellar Development Foundation released protocol 11 support, which is a public network upgrade. Lastly, the Foundation came up with a major update for SDF and its city on October 10. They released the new horizon v0.22.1 with protocol 12 support, which converted into high capital growth for SDF. Prior to the update, the SDF released horizon v0.21.1, which added some more features to the blockchain network.
Stellar's Major Partners of 2019
The partnership between Stellar and IBM is one of its most significant partnerships. On March 18, IBM announced the launch of world fire and the "limited production," which was a worldwide payment system platform that connects various banks through the Stellar digital-asset network. In the announcement, the firm laid more emphasis on cross-border settlements.
Letter of intent to issue stablecoin, which six international banks signed, the major objective behind stablecoin, is to create cryptocurrencies that do not experience fluctuation in value, until now only two currencies are added in the world wire network: Stronghold USD and Stellar Lumens (XLM).
Stellar has achieved quite a lot this year. The blockchain network has secured many strategic partnerships this year and more partnerships are awaiting the network in 2020. Many analysts and crypto commentators believe that next year would be really bullish for Stellar as it has a lot to unfold.
Stellar Lumens (XLM) Price Prediction and Analysis in March 2020
We will be taking into account several market opinions and Stellar Lumens' past prices with the intent of projecting an XLM price prediction for March 2020.
Stellar Overview
Stellar is a blockchain project forked from Ripple in 2015, created mainly for executing fast and near-zero cost transactions between banks, payment systems, and people.
XLM is the native coin of the platform, which is currently ranked as 14th according to a market capitalization of $1,407,186,137 with $460,061,019 worth of XLM being traded in the past 24-hour period. There are 20,197,010,738 XLM coins in circulation out of a total supply of 50,001,803,906 XLM. The current price of Stellar is $0.069673, with a decrease of 2.61% recorded in the last 24-hour period.
Stellar Lumens (XLM) Price Prediction: Analysis
The last days of January saw a mild price drop, which brought the XLM price to $0.0606. February started with an uptick, moving the price of Stellar from $0.0606 to $0.0650 by 7.31%.
Then, the coin experienced a marginal price drop but then, it started rising and reached $0.0737 with a surge of 19.64% on February 9th. The coin continued to rise incrementally each day, until on February 12th, XLM broke a new resistance level of $0,081834. That day, the coin closed at $0,080040.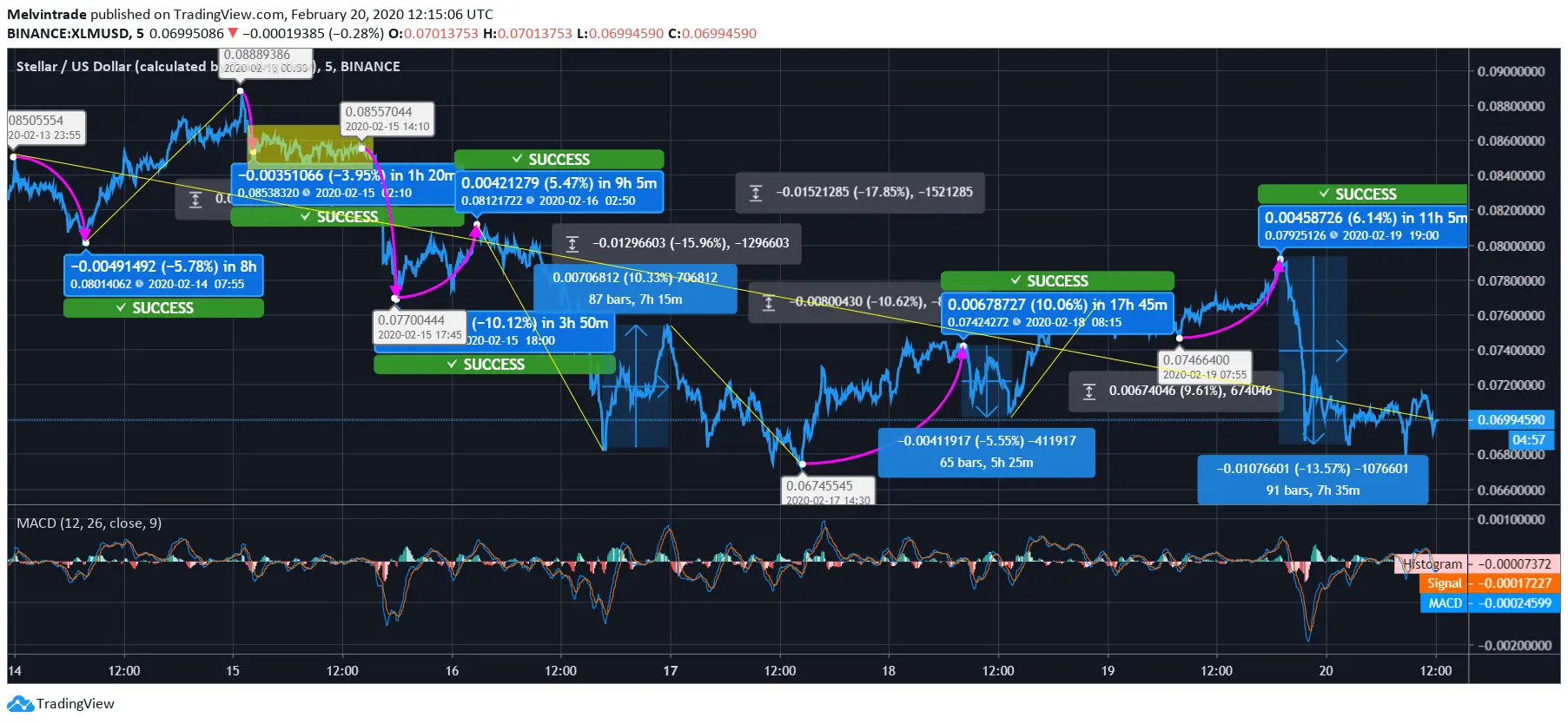 The next day, the coin peaked at $0,086677 but closed at $0.082. February 15th saw the coin rise to $0,087270 at the start of the day, but XLM started losing value fast towards the end of the day, closing below $0.080 level at $0,079246. The coin continued to drop until it reached a closing price of $0,070720 on February 19th. There were some signs of recovery the next day, as the coin closed at $0,071169.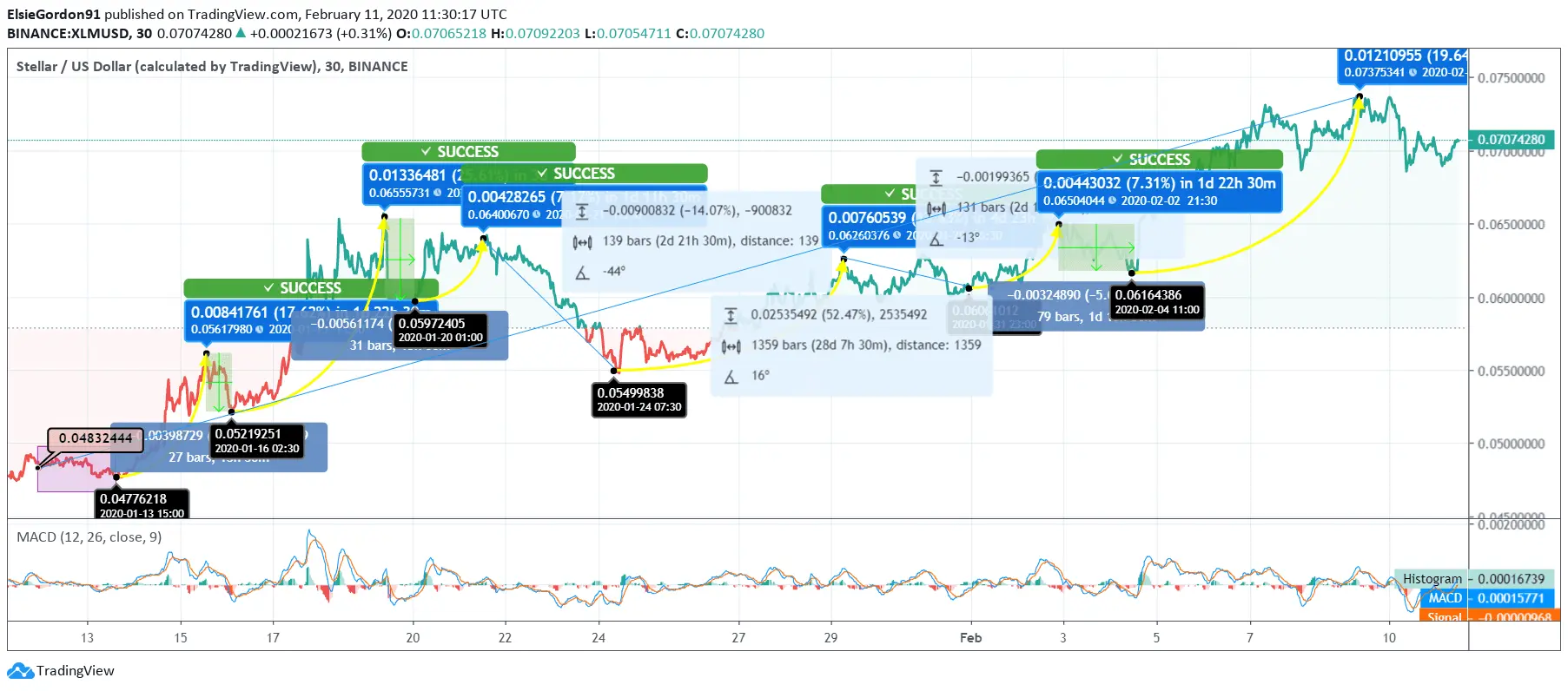 Today, February 24th, XLM is trading at $0.069673, with a slight decrease over the past 24-hours.
The calculated pivot, resistance, and support levels by WalletInvestor are:
Resistance Level (R3): 0.0751
Resistance Level (R2): 0.0735
Resistance Level (R1): 0.0723
Pivot Point: 0.07072
Support Level (S1): 0.0695
Support Level (S2): 0.0679
Support Level (S3): 0.0667
Developments
SDF will be working together with the policymakers and influencers to educate them about the potential of the current financial system, advocate for electing an effective policy, which would enable blockchain technology to flourish in the United States.
Sydney Ifergan, the crypto expert, stated on Twitter: "Stellar Lumens XLM, should get to the root of the risks and rewards when it comes to transiting from the traditional system to a novel one like the just evolving cryptocurrencies and cross border transactions."
Blockchain Association has been so far educating legislators on Blockchain and its benefits. The legislators have reportedly grasped "the specific challenges and opportunities of the Stellar Development Foundation. They've proven a unified voice in pursuit of a digital future that's transparent, inspiring, secure, and equitable," -said Candace Kelly of the SDK.
Stellar posted: "We've joined @BlockchainAssn to ensure that the vision for Stellar and its ecosystem has a central place in the public dialogue. SDF's General Counsel, Candace Kelly, shares more about this exciting partnership."
Stellar Lumens (XLM) has been added by the cryptocurrency ATM startup, CoinFlip, to its list of cryptos. Users can go to any of the ATMs and purchase XLM, stated co-founder and CEO, Daniel Polotsky.
CoinFlip has a network of 450 ATMs in gas stations and convenience stores which are located all over the United States, where customers can buy cryptos with credit cards.
The company also has 40 two-way ATMs, which enable users to sell their crypto for USD cash.
Stellar Lumens Price Prediction: Market Opinion for March 2020
As always, we will be featuring a list of some of the crypto sites that made their own XLM price prediction for March 2020, in order to better illustrate the market sentiment for Stellar.
TradingBeasts
TradingBeasts estimated that XLM would be trading at around $0.0822848 at the start of March 2020. They forecasted the maximum value for the coin to be $0.1009976, while the minimum price is projected at $0.0686784. Moreover, the site projected that XLM would close the month at $0.0807981.
Digitalcoinprice
Digitalcoinprice forecasted that in March, XLM would be trading at $0.14567119, with a change of 100.61%.
Previsionibitcoin
Previsionibitcoin projected that Stellar would be changing hands in March at around $0.103375.
Longforecast
Longforecast has calculated that XLM would be trading at $0.062 when March begins. The highest price expected is $0.089, while the lowest value has been projected at around $0.051. The average price for the month was assessed at $0.064. They expect the coin to close the month at $0.055, change for March -11.3%.
Gov.capital
Gov.capital's XLM price prediction for March 1st is that the coin will be trading at an average price of $0.0536, with the least possible price being $0.04556 and the best possible price of $0.06164.
Calendar date
Regular
Least possible price
Best possible price
2020 March
2020 March 01, Sunday
0.0536
0.04556
0.06164
2020 March 02, Monday
0.05067
0.0430695
0.0582705
2020 March 03, Tuesday
0.0486
0.04131
0.05589
2020 March 04, Wednesday
0.0591
0.050235
0.067965
2020 March 05, Thursday
0.0666
0.05661
0.07659
2020 March 06, Friday
0.0564
0.04794
0.06486
2020 March 07, Saturday
0.0534
0.04539
0.06141
2020 March 08, Sunday
0.05029
0.0427465
0.0578335
2020 March 09, Monday
0.0425
0.036125
0.048875
2020 March 10, Tuesday
0.0485
0.041225
0.055775
2020 March 11, Wednesday
0.0467
0.039695
0.053705
2020 March 12, Thursday
0.0474
0.04029
0.05451
2020 March 13, Friday
0.0436
0.03706
0.05014
2020 March 14, Saturday
0.0438
0.03723
0.05037
2020 March 15, Sunday
0.0298
0.02533
0.03427
2020 March 16, Monday
0.0317
0.026945
0.036455
2020 March 17, Tuesday
0.0249
0.021165
0.028635
2020 March 18, Wednesday
0.0156
0.01326
0.01794
2020 March 19, Thursday
0.0299
0.025415
0.034385
2020 March 20, Friday
0.0352
0.02992
0.04048
2020 March 21, Saturday
0.0417
0.035445
0.047955
2020 March 22, Sunday
0.0352
0.02992
0.04048
2020 March 23, Monday
0.0315
0.026775
0.036225
2020 March 24, Tuesday
0.0326
0.02771
0.03749
2020 March 25, Wednesday
0.03084
0.026214
0.035466
2020 March 26, Thursday
0.0276
0.02346
0.03174
2020 March 27, Friday
0.0235
0.019975
0.027025
2020 March 28, Saturday
0.0279
0.023715
0.032085
2020 March 29, Sunday
0.0222
0.01887
0.02553
2020 March 30, Monday
0.0178
0.01513
0.02047
2020 March 31, Tuesday
0.0225
0.019125
0.025875
WalletInvetsor
WalletInvestor projected that Stellar Lumens would begin the first day of March with an estimated price of $0.0781, with a possible minimum value of $0.0725 and a maximum value of $0.0827.
Coinpredictor
Coinpredictor's XLM price prediction for March is a loss of -27.3%, which would bring the coin at a value of $0.046652.
30rates
30rates issued their own XLM price prediction for each day of the month of March (without the weekends), with the average, minimum, and maximum values for every day.
03/02 Monday $0.053 $0.061 $0.057
03/03 Tuesday $0.056 $0.064 $0.060
03/04 Wednesday $0.058 $0.066 $0.062
03/05 Thursday $0.061 $0.071 $0.066
03/06 Friday $0.067 $0.077 $0.072
03/09 Monday $0.063 $0.073 $0.068
03/10 Tuesday $0.065 $0.075 $0.070
03/11 Wednesday $0.066 $0.076 $0.071
03/12 Thursday $0.065 $0.075 $0.070
03/13 Friday $0.069 $0.079 $0.074
03/16 Monday $0.070 $0.080 $0.075
03/17 Tuesday $0.073 $0.083 $0.078
03/18 Wednesday $0.072 $0.082 $0.077
03/19 Thursday $0.076 $0.088 $0.082
03/20 Friday $0.077 $0.089 $0.083
03/23 Monday $0.074 $0.086 $0.080
03/24 Tuesday $0.077 $0.089 $0.083
03/25 Wednesday $0.076 $0.088 $0.082
03/26 Thursday $0.077 $0.089 $0.083
Bitverzo
Bitverzo predicted that XLM would open March at $0.028359, with a minimum value of $-0.068721 and a maximum expected value of $0.130335.
| Date | Average | Low | High |
| --- | --- | --- | --- |
| Sunday, March 1, 2020 | 0.028359 | -0.068721 | 0.130335 |
| Monday, March 2, 2020 | 0.024524 | -0.063168 | 0.126896 |
| Tuesday, March 3, 2020 | 0.018268 | -0.068232 | 0.120851 |
| Wednesday, March 4, 2020 | 0.018260 | -0.072066 | 0.116800 |
| Thursday, March 5, 2020 | 0.013134 | -0.074837 | 0.116053 |
| Friday, March 6, 2020 | 0.011625 | -0.080163 | 0.112712 |
| Saturday, March 7, 2020 | 0.010625 | -0.082830 | 0.108042 |
| Sunday, March 8, 2020 | 0.007840 | -0.080522 | 0.109047 |
| Monday, March 9, 2020 | 0.004215 | -0.085591 | 0.105108 |
| Tuesday, March 10, 2020 | -0.001701 | -0.084957 | 0.098107 |
| Wednesday, March 11, 2020 | -0.001269 | -0.095651 | 0.097738 |
| Thursday, March 12, 2020 | -0.005884 | -0.098026 | 0.091481 |
| Friday, March 13, 2020 | -0.006845 | -0.094429 | 0.091933 |
| Saturday, March 14, 2020 | -0.007284 | -0.103435 | 0.088108 |
| Sunday, March 15, 2020 | -0.009523 | -0.107057 | 0.087683 |
| Monday, March 16, 2020 | -0.012639 | -0.104350 | 0.085345 |
| Tuesday, March 17, 2020 | -0.018101 | -0.104089 | 0.078991 |
| Wednesday, March 18, 2020 | -0.017280 | -0.106138 | 0.081522 |
| Thursday, March 19, 2020 | -0.021579 | -0.114955 | 0.081088 |
| Friday, March 20, 2020 | -0.022293 | -0.116114 | 0.075459 |
| Saturday, March 21, 2020 | -0.022551 | -0.114886 | 0.076383 |
| Sunday, March 22, 2020 | -0.024658 | -0.115853 | 0.072744 |
| Monday, March 23, 2020 | -0.027673 | -0.118492 | 0.072348 |
| Tuesday, March 24, 2020 | -0.033040 | -0.120864 | 0.072531 |
| Wednesday, March 25, 2020 | -0.032101 | -0.121882 | 0.065980 |
| Thursday, March 26, 2020 | -0.036226 | -0.125891 | 0.066035 |
| Friday, March 27, 2020 | -0.036676 | -0.131988 | 0.066700 |
| Saturday, March 28, 2020 | -0.036541 | -0.134540 | 0.063324 |
| Sunday, March 29, 2020 | -0.038094 | -0.126070 | 0.055372 |
| Monday, March 30, 2020 | -0.040358 | -0.132798 | 0.058231 |
| Tuesday, March 31, 2020 | -0.044747 | -0.133152 | 0.059156 |
Stellar Lumens Price Prediction: Verdict
With this, we conclude our XLM price prediction for March 2020. We hope that the information we have presented in this article will be advantageous to you in forming your own trading predictions.
Stellar Lumens (XLM) Price Rally Toward $3 Predicted by 'Five-Year Ascending Channel': Trader
Extremely bullish predictions mostly come from Bitcoin (BTC) maximalists excited by halving narrative. Here's a story about a man expecting XLM to surge 4,285% in 2020
Brian Goldberg, host of the Inside Stellar podcast which addresses the events and trends of the Stellar (XLM) blockchain, conducts an interview series titled 'Stellar people building Stellar projects'. Yesterday he sat down with amateur technical analyst and trader Yannick Laplante from Canada. The two discussed basic technical analysis tools, the first steps of a digital assets trader and 'the elephant in the room' – crypto price predictions.
Descending channels, ascending channels
Yannick Laplante told the anchor that he got involved in cryptocurrency in 2017, investing in Bitcoin (BTC) as advised by his business partner. Then, instead of just HODLing, he decided to start exploring the underlying mechanisms of blockchain and cryptocurrencies. Losing a significant portion of his investment in 2018, he shifted to technical analysis.
Image via Twitter
Now, as a daily trader and Stellar (XLM) ecosystem enthusiast, Mr. Laplante prefers investing in early-stage Stellar-based products. Speaking on the dynamics of the Stellar Lumens (XLM) price, he is ultra-bullish. He explained that he utilizes 'channels' as a simple technical analysis tool.
Every asset can stay either in an ascending or descending channel, which means that in macro business cycles, the price of this asset is likely to go up or down respectively. 
For Stellar Lumens (XLM), Mr. Laplante sees an ascending channel with clear evidence of future growth. The coin entered this channel in 2015-2016 and if it continues then the
price prediction for this year would be new all-times-high with $3 in six months (…) In 2021-2022, Stellar (XLM) could reach hundred dollars.
It should be remembered that at printing time the asset is selling at $0.07 with an ATH of $0.87 confirmed on January 3rd, 2018.
Bloody correction
By the way, this splendid rally may be followed by a very severe correction within which the asset could lose up to 50% of its gainings. So, Mr. Laplante highlighted that he is investing in Stellar (XLM) not only due to the price speculation but also because he shares the values of the Stellar Foundation and appreciates the manner in which it is managed.
In contrast, he criticized the idea and technology behind Bitcoin (BTC), admitting he doesn't 'believe Bitcoin is the future of money'. He also named some promising projects from the Stellar (XLM) ecosystem that mostly address the sphere of real-world asset tokenization.
Future Forecast For Stellar Lumen XLM 2020 | 2025 | 2030
Total market cap behaviour
After swift moves down, then up, market has entered a boring sideways action for almost a week.
It all begun as market started losing its ground and tumbling way below $200 billion market cap, it bounced back up to $210 and finally settled at the $200 billion level.
One note: below numbers for total market cap are from Tradingview and has a discrepancy of around $8 billion to CMC data.
The total market cap almost dropped to our predicted zone of $162 billion – it stooped all the way to $170B before bouncing back up (data by Tradingview). In the jolt up, market touched on the $205 billion zone and bounced off it to another low at $191 billion before getting comfortable at the current $198 billion.
Right now, it is heading to its resistance of $205 billion, a Fib382 zone that already proved to be sturdy level as the price tried to crack it on November 28th and 29th.
I would argue that total market cap chart is the most important one to pay attention to as it is a leading force and direction picker for all coins, bitcoin included.
As you can see below, Fear & Greed Index is back in the fear zone, nearing the extreme fear area. It is still very possible that we actually do drop another $30 billion of value before we can talk about an actual reversal.
Stellar Price Analysis – XLM/USD
Cryptocurrency markets tend to move in a lockstep, with all coins mirroring the action of the whole market, which is led by bitcoin.
It has been very quiet around XLM recently, since their relatively unsuccessful price jacking move where they burnt 50 billion tokens and moves the price less than 25%.
Stellar seems to be heading down to its support at $0.053 which is the first. In case we see a bigger bloodshed, XLM could drop to local bottom of $0.051.
Stellar in the news
Below is a summary of the most important news around Stellar in the last month:
Coincheck announced that it hast listed Stellar Lumens (XLM) from November 12, 2019. The exchange was the first to list XLM in Japan.
While answering questions on his AMA, Cardano CEO Charles Hoskinson addressed Stellar's recent burn where the Stellar Development Foundation [SDF] burned about 55 billion XLM. Hoskinson elaborated on why he believes that Stellar made a mistake by doing so. He thinks that Stellar lost permanently all that value that could have been spent for protocol development for community development.
---
Below is the long term price prediction for Stellar Lumen.
2018 was a tough year for the crypto world. The market is slowly recovering and expectations for 2019 and 2020 are high. Today, the Stellar price prediction is under the microscope. Will Stellar Lumens be one of the 2019 winners?
Stellar (XLM) Facts and Background
In order to be able to deliver a well-founded Stellar price prediction, it is important to include various factors. These include
How advanced is the project and what benefits does the end product or platform offer the customer?
Number of users and transactions. Growth is closely linked to trading volume.
Price development over the past year and the current trend.
Were there any new features, updates or partnerships?
Stellar is an open source and decentralized blockchain platform with the native currency Stellar Lumens (XLM). It is essentially a global payment platform supported by Stellar Lumens as a digital asset. The great advantage of this platform is that the user can make fast, secure and extremely cost-effective payments between a very large number of currency pairs. In this respect Stellar is convincing, it offers a real benefit to the customer.
Stellar was able to win many new customers despite the generally unfavourable market development of 2018. As the descriptive infographics of Stellar Expert show, the number of registered accounts in January 2018 was about 244,000. Within almost 2 years, i.e. at the turn of the year 2019/2020, there were slightly more than 4 million accounts. The number of customers has thus increased more than 15-fold, and the trend is still rising. In general, everything at Stellar seems to focus on expansion and growth. The company currently has a lot of new jobs to offer. Most of the vacancies are in the engineering sector.
Stellar is growing strongly
The years 2018 and 2019 were full of events for Stellar. At the beginning of the year, XLM started at about US$0.39 and reached a peak of US$0.89 just a few days later. This peak, however, was short-lived and the price slowly fell again by March. On March 8, 2018 Stellar announced a new partnership with Keybase. This led to a brief upswing in April. The next months were calmer for Stellar. In July, the company hit the headlines again. Stellar XLM became the first blockchain product in the world to be recognized by Sharia law. During the year Stellar announced several more partnerships. The most important cooperation was probably with IBM's Blockchain World Wire. IBM has many strong partners and an extensive network from which Stellar can also benefit.
The partnerships have helped the XLM to assert itself against strong competitors such as Ripples XRP and to continuously evolve. But Stellar has several other advantages. For example, Stellar's Smart Contracts are better and safer. Here the company has learned from Ethereum's mistakes. The Stellar Smart Contract is much more robust, more efficient and virtually immune to tampering.
Stellar forecast 2019: What the experts say
The above points provide an overall positive sentiment for the Stellar forecast for 2019. Various platforms and algorithms say the following:
Monetize.info: The platform bases its forecast especially on the influence of partnerships. As is well known, they are expanding the customer base, which will increase the transaction volume. As a result, this leads to more growth and an increase in share prices. On this basis, Monetize predicts a price increase to 2 to 3 US$.
Investing Haven: The increase is expected to be even stronger. Analysts forecast a rise to US$ 4 by the end of 2019.
The Oofy: According to their calculations, Stellar Lumen will not exceed US$0.3 by the end of 2019. They believe that the crypto currency will end the year with US$0.28.
Stellar price prediction 2020 to 2025
Long-term forecasts are always difficult. Especially in a market as volatile as this one. Although Stellar has held up well so far and is still in the top 10 crypto currencies by market capitalization, the price fluctuates strongly again and again. Some cautious estimates are based on the following developments:
Atomic Wallet: Here, too, one believes in the influence of partnerships on price performance. Stellar has important partnerships with SatoshiPay, HashCash, Mobius and many banks. According to Atomic Wallet, Stellar Lumens could therefore rise slightly to US$0.60 by 2020.
Economic Forecast Agency: The Stellar forecast is strongly based on mathematical and statistical calculations based on historical price trends. They come to a similar conclusion and predict a price increase of up to US$ 0.64 in 2020.
TheOofy: The analysts on the website base their predictions on Stellar's growth rate in the past. As a result, Stellar should experience a positive price development. By November 2025, the price could then be US$1.20.
Conclusion
In general, the Stellar forecast looks very positive. Because the platform meets all requirements to be successful. They survived last year's bear market comparatively well and suffered fewer losses.
It remains to be seen how well they will ultimately assert themselves in the coming years and how the currently emerging bull market will affect Stellar. To the current Stellar (XLM) price.