Ethereum's price action may be textbook indecision, yet an analyst said that the asset is moving ever closer to a breakdown.
ETHEREUM COULD PLUNGE LOWER
According to a trader, Ethereum is on the verge of breaking down. He shared the chart below, noting that ETH is trading in a textbook "Chauvashov fork" pattern. The pattern implies a drop to $175 will take place if the formation is broken:
"If this Chuvashov fork breaks, ~$175 is the target. If you want some protection, its probably a good time to buy some put options since volatility is so extremely low and options are cheap."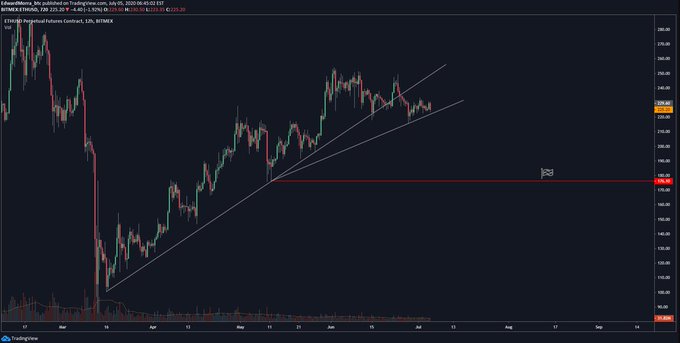 Ethereum price chart shared by cryptocurrency trader "Edward Morra" (@EdwardMorra_BTC on Twitter). Chart from TradingView.com
There are some fundamentals that may also be threatening ETH's outlook.
Former Messari head of product Qiao Wang noted that Ethereum users have been subject to high fees recently. He cited a personal experience, which purportedly resulted in him paying over $10 for a single Ethereum transaction:
"I've changed my mind after using a dozen of Defi platforms. So long as ETH 2.0 is not fully rolled out, there's an obvious opportunity for a highly scalable blockchain to dethrone Ethereum. Paying $10 transaction fee and waiting 15 seconds for settlement is just bad UX."
FATE TIED TO THAT OF BITCOIN
Ethereum's fate is notably tied to that of Bitcoin, though. That's to say, whatever direction BTC trends in the medium term, ETH should follow.
Just look at the Coin Metrics data below of the 180-day Bitcoin-Ethereum correlation, which is nearing all-time highs.
180-day Bitcoin-Ethereum correlation data shared by CoinMetrics. The chart shows that the correlation between the two assets is well in the positive, reaching ~0.9.
Fortunately for holders of the altcoin, the fact that BTC has held the $9,000 region for so long is making analysts optimistic.
One such analyst is Mike McGlone — a senior commodity strategist at Bloomberg Intelligence that often covers the cryptocurrency market.
As reported by Bitcoinist previously, McGlone wrote on July 3rd:"Volatility should continue declining as Bitcoin extends its transition to the crypto equivalent of gold from a highly speculative asset, yet we expect recent compression to be resolved via higher prices."
This came shortly after he said that BTC's recent increase in active users should correspond with a rally towards $12,000.
Notably, Ethereum has also seen a spike in the number of active users, largely due to the decentralized finance (DeFi) craze.
Blockchain analytics firm Santiment, in fact, reported that the number of active addresses is reaching two-year highs. Simultaneously, the number of daily confirmed ETH transactions has begun to tick over one million.
Assuming Ethereum usage also affects ETH's price and if the correlation between ETH and BTC holds, the asset may reject the expectations it falls to $175.