Chart of LINK's price action over the past three months from TradingView.com
This latest leg higher means the asset is up by nearly 400% since the March capitulation lowers under $2.00.
What Analysts Are Saying About LINK's Move Past $7.00
Twitter is currently ablaze with discussion about Chainlink. Analysts, unsurprisingly, are weighing in.
Michael van de Poppe, a cryptocurrency trader, has suggested that LINK is potentially in a "take profit" zone.
Van de Poppe thinks this is the case because $7.22 is the 1.618 Fibonacci Retracement of the previous all-time high established in June. $7.06 is also the 2.618 Fibonacci Retracement of the April highs around $3.65.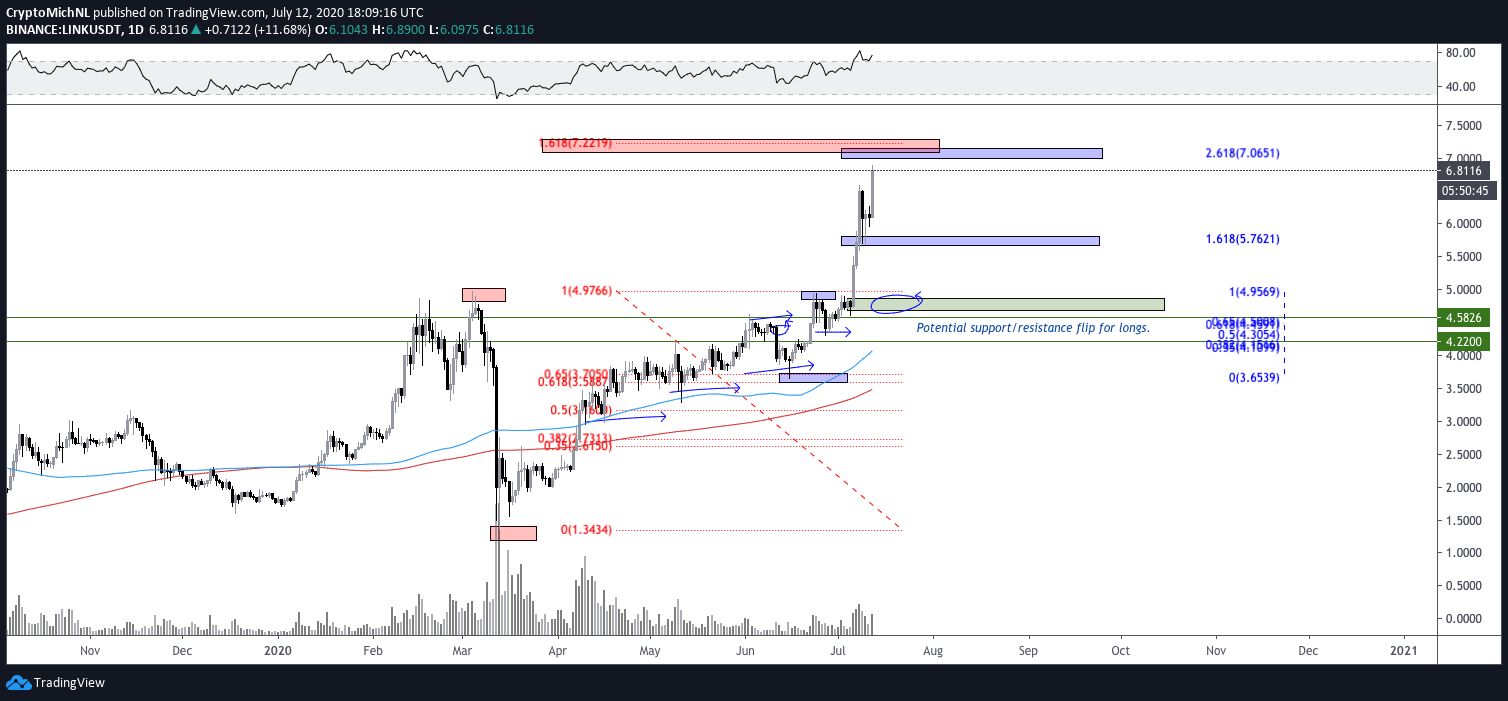 Analysis of LINK's price action shared by trader Michael Van De Poppe (@CryptoMichNL on Twitter). Chart from TradingView.com
Another trader echoed van de Poppe's sentiment, noting that LINK could reverse in the current range, citing his technical analysis.
Mainstream Adoption of Chainlink
Behind LINK's move seems to be a strong uptick in the adoption of Chainlink and LINK.
Just recently, Kris Humphries, a former player for the Dallas Mavericks, Atlanta Hawks, Toronto Raptors, and a handful of other NBA teams, wrote:
"Since my first tweet about #ChainLink on Apr 7, 45+ additional partnerships have been announced, reference data increased from 29 to 31, and price increased by 145%. This is a long-term play, still these short-term wins are impressive."
He made this comment in reference to Chainlink's handful of recent integrations/partnerships. These include integrations in Nexo, Huobi, and China's state-sponsored Blockchain Service Network (BSN).
On-chain data corroborates these trends. Blockchain analytics firm Santiment found last week that the number of active LINK addresses is at highs:
"LINK is continuing to see sky-high daily active addresses, indicating just how active the network has been. The four highest outputs in network activity over the past year for Chainlink have occurred in the past six days."
As of the time of this article's writing, LINK trades for $7.20.
News Source