After peaking at $12,000 this weekend, Bitcoin dove off a cliff, plunging to $11,300 as of this article's writing. The cryptocurrency followed the price of gold lower, which is down around 7% in the past 24 hours.
Bitcoin is still holding above the pivotal $10,500 level but analysts say that the asset is in a "do or die" position. BTC failing to hold current levels could precede a strong leg lower, potentially kickstarting a full-blown bear trend.
BTC's recent price action has not impressed investors, who noted just days ago that the cryptocurrency was poised to see new year-to-date highs.
Bitcoin Is in Make of Break Territory, Say Analysts
According to a cryptocurrency trader, Bitcoin is currently in make or break territory as it slides towards the ever-important $11,000 support. Referencing the chart below, which shows that BTC is effectively on the edge of a cliff, the trader in question wrote:
"Starting to look pretty bad, but given we're still above $11k and around support, it's not all over yet. Bulls really don't want to see these levels fall otherwise it's a short way back in the old range. This is do or die IMO so bulls better do. I'm still leaning bearish."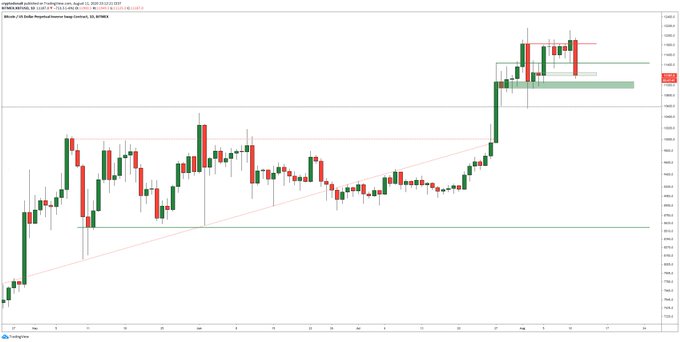 Chart of BTC's price action over the past few weeks with a range analysis/price level analysis by trader DonAlt (@CryptoDonAlt on Twitter). Chart from TradingView.com
Bitcoin bouncing here, though, could indicate that the cryptocurrency remains in a macro uptrend.
Other analysts are especially eyeing the $10,400-10,600 region. That region acted as a point at which three separate BTC rallies have topped in the past 12 months: one in October 2019, one in February 2020, and one just months ago in June.
Bitcoin losing that level would not be good for the bull case, to say the least.
Long-Term Bull Case Still Intact
While Bitcoin's price is exuding weakness in the near term, analysts are certain that the long-term bull case is intact.
Dan Tapiero, the founder of Gold Bullion Int. and a prominent Bitcoin bull, recently commented that the cryptocurrency is poised to go parabolic this cycle:
"Tremendous long term Log Chart of #Bitcoin projects up 5-10x on this run. Just breaking up NOW. Should last a few years as 2.5yr consolidation is fantastic base for catapult up. Break of old highs will have explosive follow through. Time to sit and be patient."
This strong sentiment has been echoed by other market participants, including many in and out of the cryptocurrency space.