Decentralized exchange Serum recently listed its SRM token on major exchanges.
SRM price surged from $0.11 to over $1 in just a few seconds after Binance listing.
Serum's IEO sold the SRM token for $0.11 and raised $660,000.
Serum, a decentralized exchange (DEX), recently got its native token SRM listed on major exchanges such as Binance, BitMax and Uniswap. Just a few seconds after listing on Binance, the token price shot up from $0.11 to over $1 (a surge of 1,029%).
Serum is a non-custodial DEX that will enable cross-chain trading. The project is a collaboration between FTX, a decentralized derivatives platform and the Solana blockchain platform. Sam Bankman-Fried, the CEO of Serum, said that the DeFi exchange will handle its first trade this week. 
Serum's brief IEO on the FTX exchange sold the SRM token for $0.11 and raised $660,000. Approximately 10 billion SRM tokens were minted as the maximum supply. However, the initial circulating supply is 181 million tokens.
Bankman-Fried said that although Serum is operational, it is not yet a "full product." The team is still connecting GUIs, APIs, and wallets. In other words, customers will have to use the platform through a command-line interface for now. The platform will soon receive a standard, easy-to-use web interface.
Serum claims to be the first fully decentralized derivatives DEX and aims to be more decentralized than its competitors. It plans to do so by offering cross-chain swaps without a central party and introduce its own native stablecoin without central backing.
SRM/USDT daily chart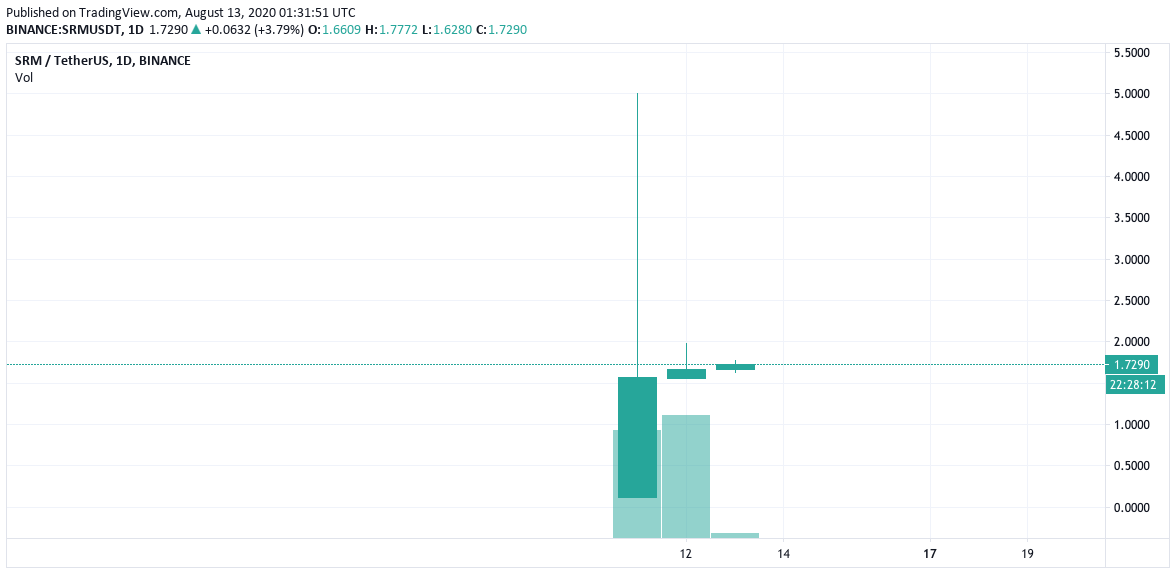 On Binance, SRM/USDT bulls have remained in control for three straight days. During this period, SRM/USDT has gone up from 0.1158 to 1.768
SRM/USDT hourly chart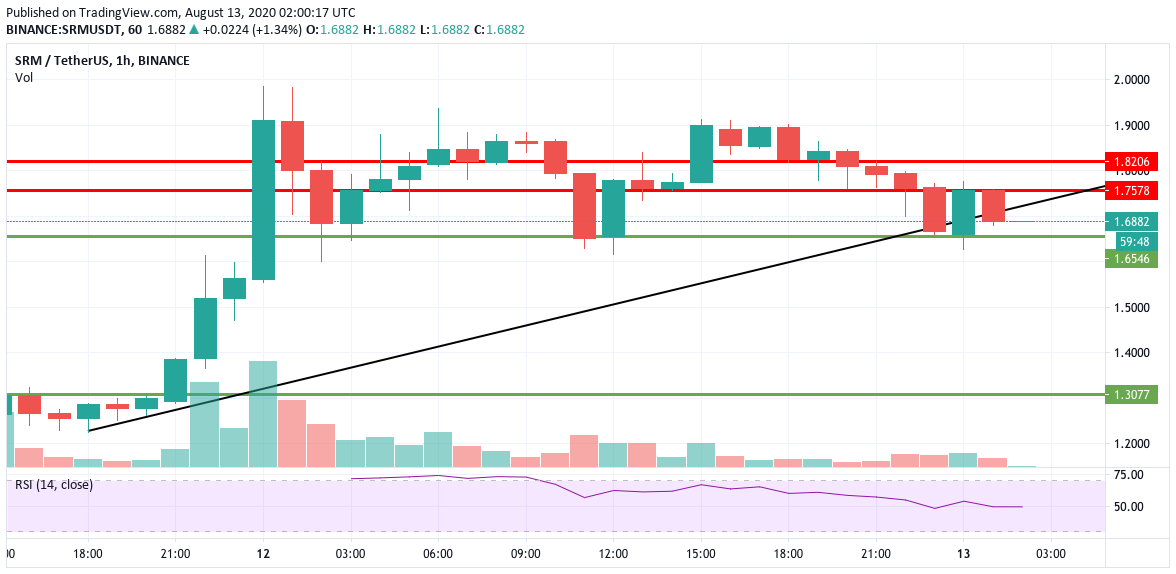 It looks like buyers and sellers are playing a game of tag for control over the SRM/USDT hourly market. Currently, the price has dropped below the pennant formation. Strong resistance levels lie at 1.758 and 1.8206. On the downside, we have healthy support at 1.6546 and 1.31. The relative strength index (RSI )is trending around the neutral zone.