Bitcoin has faced a retracement since hitting the highs of $15,975 last week.
BTC currently trades for $15,400.
Analysts remain confident in the short-term prospects of Bitcoin.
The same trader that in the middle of March predicted that Bitcoin would see a strong V-shaped reversal to $10,000 by May or June is bullish.
He says Bitcoin could hit $17,000 in the coming week.
BITCOIN LIKELY TO MOVE TO $17,000 NEXT
Bitcoin has faced a retracement since hitting the highs of $15,975 last week. The coin currently trades for $15,400, closing above key support levels, though it remains down from the weekly highs.
"Breakout, retest, strong volume sweep down, retraced the entire volume zone and more. More dump would surprise me. Breakout trading time, above red. 15-15.3 would be an ideal place to bid."
Bitcoin rallying to $17,000 from the current levels would mark a 9.5% rally from current levels.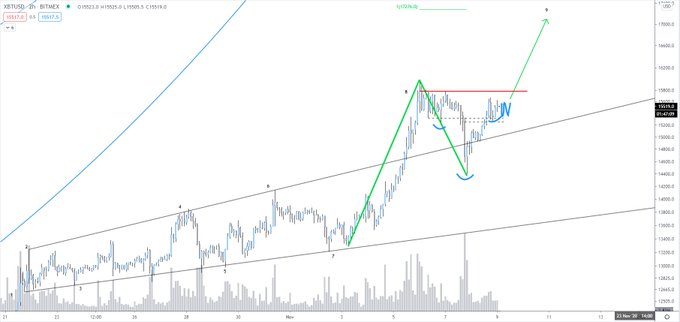 Chart of BTC's price action over the past two weeks with analysis by crypto trader Bitcoin Jack (@BTC_JackSparrow on Twitter).
Source: BTCUSD from TradingView.com
"I think there's a decent chance bitcoin breaches $17k and even into $18k in the next 10 days (next weekly candle). We are due for a decent mid timeframe blowoff and chill for a bit and wicking into the ATH cluster just feels so right… The path to $18k or ATH wick seems the path of least resistance. Nobody wants to sell until then and everybody is buying dips. Easiest way to create market balance is to do it quickly then let the market chop around a bit."
CAUSES FOR CONCERN
The funding rates of Bitcoin futures markets have finally entered the neutral to positive range after hanging in the negative to neutral range for weeks. This suggests an increased amount of long trading activity, despite the rally being led by the spot markets.
Some fear that lots of long-taking may result in a long squeeze if there is a sell-off. This could result in a rapid flush lower that would likely catch many off guard.