Ethereum has recently started to break higher against Bitcoin.
ETH is up around 15% against BTC over the past week.
Its rally has shown analysts that there may be a time for altcoins to rally in the coming weeks or months.
Key technical signs show that Ethereum will continue to rally against Bitcoin.
ETHEREUM IS POISED TO BREAK HIGHER AGAINST BITCOIN, KEY TECHNICALS SHOW
Ethereum has recently started to break higher against Bitcoin. Prior to this, ETH had been strongly underperforming Bitcoin as it pushed past key resistance at $12,000, then $14,000, and beyond.
Previously, most thought that Bitcoin would outperform as it was capturing all the attention and the capital that investors were putting into the cryptocurrency space.
One trader recently shared the chart below, noting how the cryptocurrency is poised to undergo this rally. He pointed to five factors, four technical and one fundamental. They are as follows:
Ethereum recently formed a bullish engulfing candle, engulfing a strong downward candle.
A bullish divergence has formed between ETH/BTC and the RSI of the trading pair.
The 200-day moving average (simple moving average) of the pair has been flipped by the price of the pair, indicating positive price action.
This uptrend is taking place on good volume.
ETH 2.0 (aka ETH2 or Serenity) is expected to launch in the coming weeks. Analysts think that this upgrade will end up driving strong demand for Ethereum.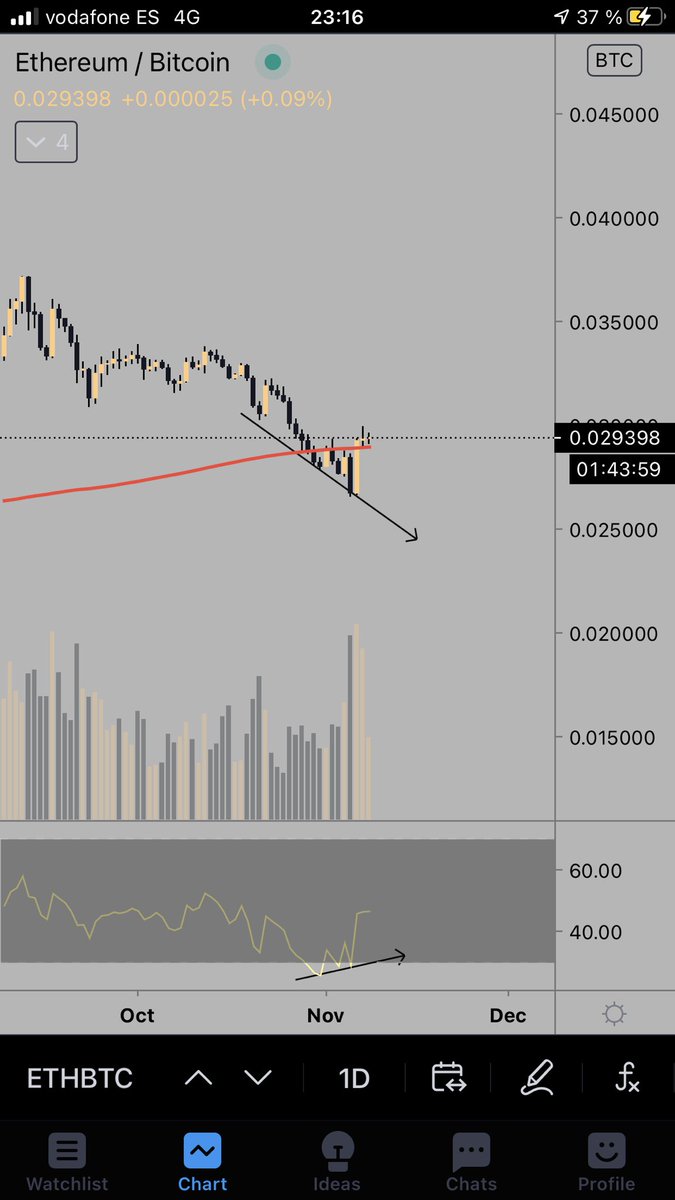 Chart of ETH's price action against Bitcoin over the past few weeks with analysis by crypto trader "Steve" (@Thetradingtramp on Twitter).
Source: ETHBTC from TradingView.com
OTHER FUNDAMENTALS ALSO BULLISH FOR ETH
The Reserve Bank of Australia, the country's central bank, recently announced:
"The Reserve Bank today announced that it is partnering with Commonwealth Bank, National Australia Bank, Perpetual and ConsenSys Software, a blockchain technology company, on a collaborative project to explore the potential use and implications of a wholesale form of central bank digital currency (CBDC) using distributed ledger technology (DLT)… The project will involve the development of a proof-of-concept (POC) for the issuance of a tokenised form of CBDC that can be used by wholesale market participants for the funding, settlement and repayment of a tokenised syndicated loan on an Ethereum-based DLT platform."
Grayscale also just reported the best week ever for its Ethereum Trust, which allows institutions to acquire exposure to the coin.