Ethereum (ETH) infrastructure provider Infura went down a bit more than an hour ago, resulting in a price feed delay of ETH and ERC-20 tokens, as well as some exchanges disabling withdrawals. (Updated at 11:09 and 11:45 UTC: updates in bold.)
"We are currently experiencing a service outage for our Ethereum Mainnet API," said Infura at 8:12 UTC this morning on their website. "Our on-call team is investigating and working to restore service functionality."
They soon released an update stating that they have "identified the root cause and are preparing a fix to restore service functionality."
The status page shows "major" outages, including mainnet filters, archive data, logs, and two others.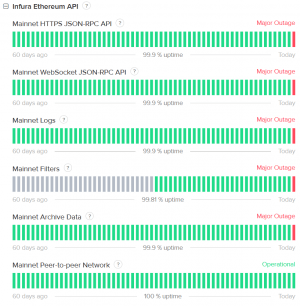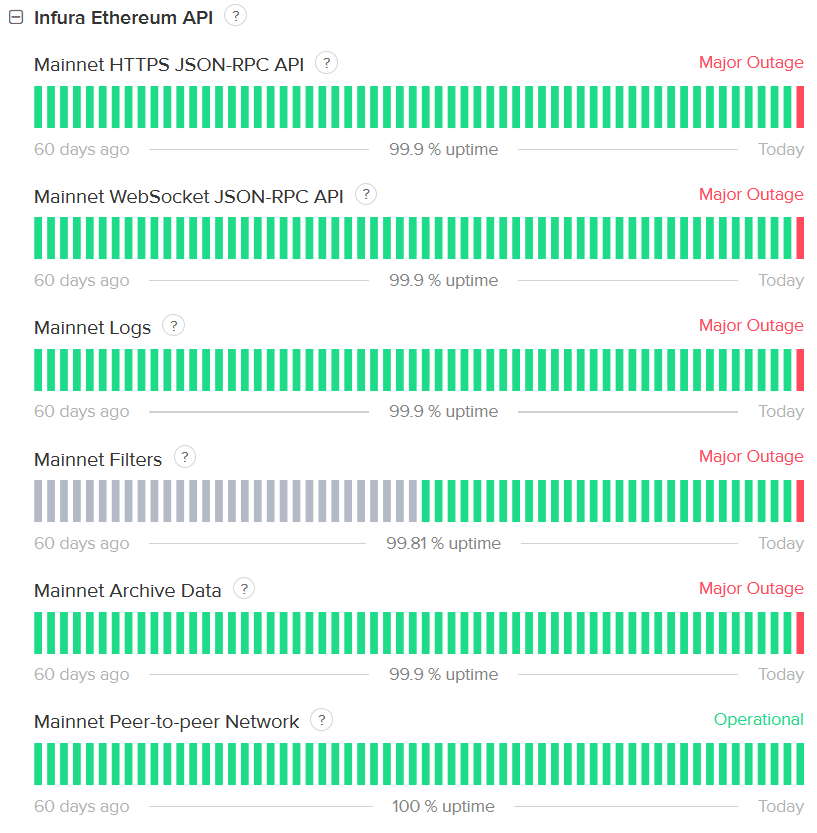 As a result, price feeds for ETH and ERC-20 tokens for certain services are delayed, while major crypto exchange Binance announced a temporary disabling of withdrawals. The CEO of Binance, Changpeng Zhao, said in a now-deleted tweet that the funds are unaffected.
About an hour afterwards, CZ announced that "ERc20 tokens deposit and withdrawals resumed."
At 11:23 UTC, Infura said that they are "continuing to work on the fix to ensure its correctness and completeness." According to this update, the root cause was traced to several components within their infrastructure and which were locked to an older stable version of the go-ethereum client "which encountered a critical consensus bug at block 11234873." This affected several Geth versions, they said, including 1.9.9 and 1.9.13, while the components running 1.9.19 and later were unaffected.
Infura added that it will share a full post-mortem after the incident is resolved.
The story is developing and will be updated as more information become available.
ETH is currently trading at USD 456, having gone up 1.6% in a day and 20.4% in a week.