Bitcoin has begun to surge higher again after multiple days of consolidation under $16,000.
The coin traded as high as $16,500 earlier today.
Analysts are not yet convinced it's clear skies for Bitcoin, though.
BITCOIN COULD SURGE TOWARDS $20,000 ONCE $17,000 IS CLAIMED
Bitcoin has begun to surge higher again after multiple days of consolidation under $16,000. Hours ago, the leading cryptocurrency moved from the $15,900 resistance it was trading near toward $16,500.
The leading cryptocurrency currently trades below a number of important daily levels that acted as support and resistance during the 2017 and early 2018 rally.
The chart depicted on the left shows that Bitcoin interacted with three levels on multiple occasions during the rally of late-2017 and early-2018: $16,173, $16,600, and $17,150.
"Keep an eye on these key Bitcoin price levels (daily/weekly) from the 2017-2018 highs They could likely reject before moving higher But after $17,149, there isn't a lot standing in the way before $19,000+."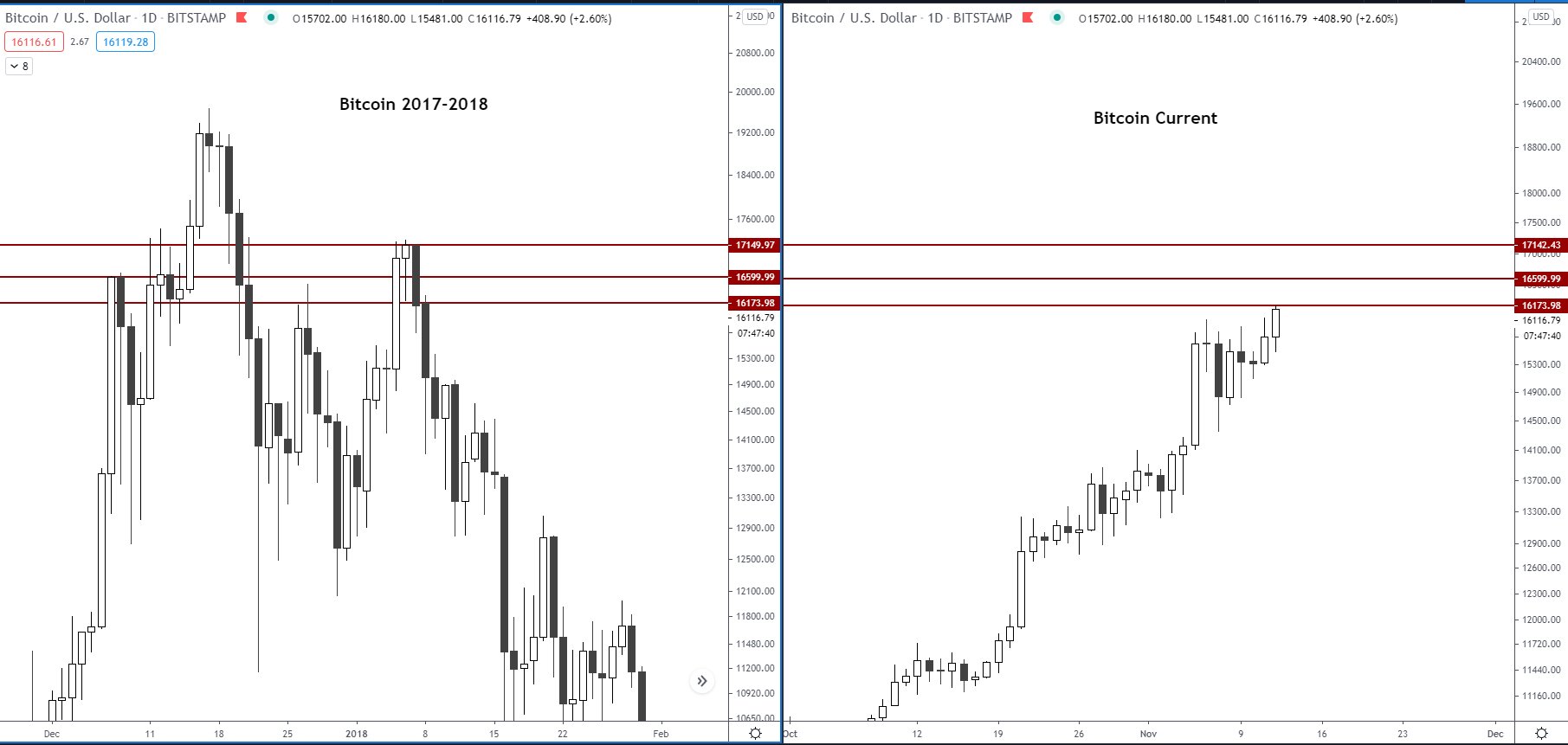 Chart of BTC's price action over the past few weeks with a comparative analysis to 2017 with analysis by crypto trader Josh Rager (@Josh_Rager on Twitter).
Source: BTCUSD from TradingView.com
NEW ALL-TIME HIGHS IMMINENT
Tyler Winklevoss, CEO of Gemini and a Bitcoin billionaire with his twin brother Cameron, recently stated:
"I do think we will see an all-time-high price for #Bitcoin before 2020 is over. Even though the price has climbed from 10k to almost 14k in less than a month, it hasn't really gone on a breakout run yet. When we start to see 3-5k surges then the bulls will be on the run."
Winklevoss was recently quoted as saying that Bitcoin could hit $500,000 in the years ahead. Such a rally would give the cryptocurrency a higher market capitalization than gold has today.
He thinks that Bitcoin will achieve such a rally due to the immense buying pressure that will take place due to monetary inflation. The Winklevoss twin added that the cryptocurrency is fundamentally better than the leading precious metal, which should aid a rally.