Bitcoin just went on a massive rollercoaster as the price came really close to breaching the coveted $20,000 for the first time in history on many exchanges.
Unfortunately, the last mile turned out too challenging to walk, and the price took a nosedive, resulting in hundreds of millions liquidated and billions wiped off the market cap.
Bitcoin Takes a Beating
The last hour was nothing but intense in the cryptocurrency market. Bitcoin almost touched $20,000, getting the entire community overwhelmed as it was preparing to do so for the first time in history on the majority of cryptocurrency exchanges.
That wasn't the case, though, as, like many times before, BTC took the exact opposite direction, crashing around $1,600 in less than an hour.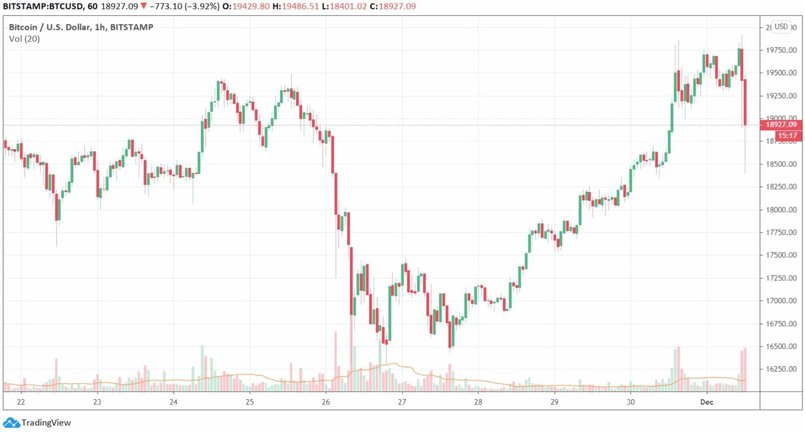 At the time of this writing, the price has recovered to about $18,900, though it reached a low of $18,400 on Bitstamp. The result? Massive liquidations across the board.
Almost $300 Million Liquidated in an Hour
Data shows that this volatility has resulted in massive liquidations across the major exchanges. Right now, the number sits at $293 million in the past hour and $787 million in the past 24 hours.
The largest liquidation that happened in the past hour took place on BitMEX, where someone saw $4.42 million wiped off.
Interestingly enough, the bulk of this volume came from the world's leading cryptocurrency exchange Binance.
Liquidations on Binance accounted for around 50% of the total, followed by Huobi with 25%. BitMEX and OKEx are responsible for about 18% of it all.
At this rate, it's interesting to see how the market will develop going forward. The volatility is astronomical, and the battle between bulls and bears rages on with full force.