Following increased fluctuations taking Bitcoin from $18,300 to $19,300, the asset has calmed and trades above $19,000. Most alternative coins have also remained relatively stagnant on a 24-hour scale after the recent roller-coasters.
Bitcoin Rises Above $19K
The primary cryptocurrency displayed high volatility in the past several days. It went from trading beneath $17,000 to two consecutive all-time highs on some exchanges just a few days later.
However, both records, and especially the second one, were rejected rather vigorously and bitcoin plummeted by nearly $2,000 in hours on Tuesday.
The cryptocurrency managed to reclaim most of its losses since then. In the past 24 hours, BTC reclaimed the $19,000 price tag and even pumped to $19,500 before retracing to the current level of $19,200.
Rather expectedly, BTC's price surges from a few days ago caused a sentiment boost among the cryptocurrency community. The analytics company Santiment pointed out the social media excitement increases but noted that most people anticipate another milestone even more.
The company wrote that "the real euphoria won't happen until $20,000 is breached."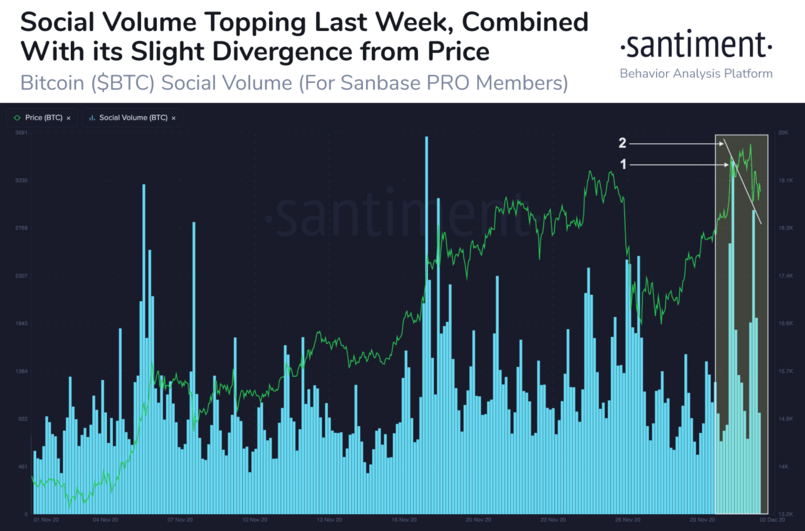 Unusual Stagnation Among Large-cap Alts
Most alternative coins mimicked BTC's highly volatile week as well. They went from yearly-records to losing double-digit percentages in just a few days. However, they have also calmed in the past 24 hours.
Ethereum's most substantial move came with a rise from $585 to $610. Nevertheless, the second-largest cryptocurrency by market cap has calmed since then and hovers just above $600.
Ripple (0.1%), Chainlink (1%), Binance Coin (-1%), Cardano (1%), and Litecoin (1%) have essentially remained at the same spot since yesterday.
Polkadot has increased the most from the top ten coins. As a result, DOT (5%) has neared to $5.5.
The situation among the lower- and mid-cap altcoins is significantly more volatile, though. Decred is the most substantial gainer with a 34% surge.
Elrond (28%), Terra (16%), Compound (15%), THORChain (12%), NEM (11%), Alrogrand (11%), Curve DAO Token (11%), and Band Protocol (10%) have all pumped with double-digits.