Bitcoin will double-down on its bullish performance next year and could top $50,000, said Bloomberg analysts. They justified the optimistic price prediction by the growing adoption and institutional interest, which have led to a much "firmer" foundation than the 2017 rally.
Bitcoin To Reach $50K Resistance In 2021?
The primary cryptocurrency has been on a roll during most of 2020. Apart from the vicious price drops during the mid-March liquidity crisis, bitcoin's value has expanded by more than 160% year-to-date.
In its December BTC report, Bloomberg analysts asserted that the situation will only intensify in 2021, eventually leading to a market capitalization of $1 trillion.
"Bitcoin will maintain its propensity to advance in price into 2021, in our view, with macroeconomic, technical, and demand vs. supply indicators supportive of $50,000 target resistance, implying about $1 trillion market cap. The $10,000 mark has shifted to a critical support level after serving as the crypto's resistance mark since 2017."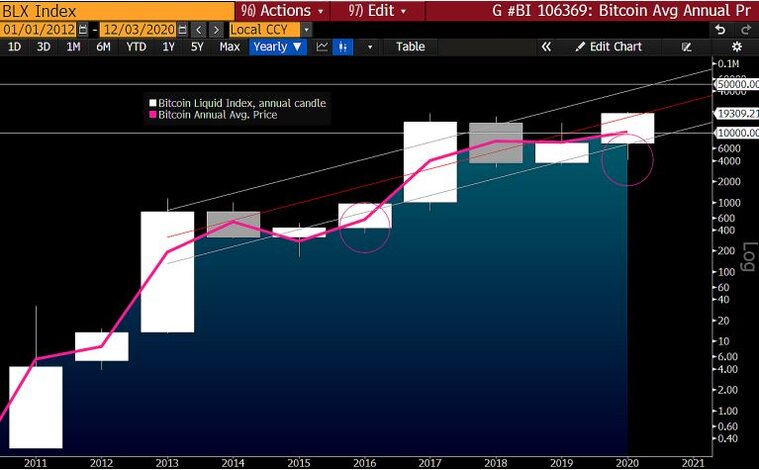 It's worth noting that the popular stock-to-flow model also predicted a similar price tag by 2021's end. The most modest forecast of the model sees BTC topping $55,000 in the next twelve months.
This Time Is Different
With bitcoin reaching its highest price levels previously painted in 2017, the community has been speculating and comparing both rallies. However, the general conclusion is that "this time it's different."
Bloomberg's analysts are also supportive of this narrative. They noted that the cryptocurrency has matured in the past three years, making them assume that it will "keep appreciating but at a slower pace."
They breached the 2020 halving, which saw the rewards miners receive slashed down from 1,800 coins per day to 900. And while the speed at which new bitcoins are created has declined, the demand has only increased, the report reads.
Moreover, prominent investors and institutions are behind the surging demand, the analyst argued. They noted that the Grayscale Bitcoin Trust of the leading digital asset manager Grayscale has registered back-to-back record-breaking quarters.
Companies like MicroStrategy and Jack Dorsey's Square have allocated millions of dollars in bitcoin. Simultaneously, celebrated investors such as Paul Tudor Jones III have bought BTC to fight rising inflation rates, while others like Stan Druckenmiller have praised the asset's merits.
Consequently, Bloomberg's report concluded that the "foundations are firmer than in 2017."