Following delisting, Dash pushes back against 'privacy coin' label
A recent tweet from Dash's official Twitter account has invited criticism that the cryptocurrency, which once advertised its privacy features, is wilting in the face of possible regulatory scrutiny.
On Jan. 1, the US-based Bittrex exchange announced in a tweet that it would be delisting Monero, Zcash, and Dash:
#Bittrex Customers:

The $XMR, $ZEC, and $DASH markets will be removed on Friday, January 15th at 23:00 UTC.

Details: https://t.co/8qAdjuwryJ

— Bittrex (@BittrexExchange) January 1, 2021
The delistings follow a similar Dec. 29 announcement last week that Bittrex would be delisting XRP following a SEC lawsuit against Ripple, prompting speculation that the exchange preemptively delisted the privacy coins in anticipation of a wider regulatory crackdown.
In response, Dash announced in a tweet that they had "reached out to @BittrexExchange to request a meeting," and that referring to DASH as a "privacy coin" is a misnomer:
From a technical standpoint, Dash's privacy functionality is no greater than Bitcoin's, making the label of "privacy coin" a misnomer for Dash. We have reached out to @BittrexExchange to request a meeting with their compliance team. Hopefully this will be rectified soon. https://t.co/QA66OoshPn

— Dash (@Dashpay) January 1, 2021
As recently as 2017, however, archived screenshots from the Dash Foundation website advertise DASH as "the worlds first privacy centric crypto-currency." The current Dash Foundation website instead now says DASH is "the leading payments cryptocurrency."
In a recent tweet about the delisting DashPay CEO Ryan Taylor also minimized the currency's privacy features:
10/ Dash's PrivateSend feature is simply a branded implementation of non-custodial CoinJoin. Don't take my word for it… industry leading experts like Chainalysis and Perkins Coie agree.

— Ryan Taylor (@RTaylor05) January 2, 2021
While the seeming about-face has prompted jeers and criticism on Twitter, proponents have noted that Dash released guidance on the cryptocurrency's privacy features in August. In a blog on the official Dash website, Taylor wrote that "regulators are concerned that exchanges may be unable to comply with KYC / AML regulations when transacting coins with privacy features," because DASH is "often found on lists of coins with privacy enhancements."
However, Taylor wrote that Dash has largely been successful in convincing exchanges and regulators that Dash is not a privacy coin.
"Through a process of education, we have been effective in explaining the technology and convincing regulators that accepting Dash poses no incremental risk compared to Bitcoin."
The clarifications about Dash's core focus follow an announced upgrade to Dash moving to the testnet phase, an upgrade which will include DashPay, a "social crypto payments wallet." DASH is down 3% on the day to $87.71.
Dash price analysis: Dash advances towards $200
Dash price analysis today is bearish.
The next support level is at $176, which was shattered and has since become resistance.
The prices have dropped from $182.9 to $180.7 in the past 24 hours and are presently at $174.7.
The Dash price forecast for today is pessimistic, with the current value of $174.7. The $176 support has been lost, and it has become a resistance area. Bulls are currently attempting to retake this resistance in order to make it once again a support level.
With the third backup at $170.6, we could see a price resurgence if this level is maintained. Furthermore, according to CoinmarketCap data, the 24-hour trading volume of the coin has grown by 15.76%, standing at 279 million USD. The cryptocurrency's market capitalization dropped by 0.77 percent, to 1.8 billion USD.
Today, we expect BTC to grow and for this growth to make it also grow in the short term.
However, if Dash continues to follow our bearish prediction, we could see a fall in price to $163 at best. Only an unexpected bull run would enable the token's price to be above $200 today and tomorrow, which seems unlikely right now.
The 3-day chart predictions are bearish, with the price following a downward trend after it broke over the resistance at $200.
Dash is currently trading for 166.61 USD, losing 3.3% in 24 hours. The hourly MACD stands at -0.221 and the 4-hour MACD at -0.195, both of which are in bearish territory. The price is up 3.9% over the past 30 days and stands 8.4% in the red for its 90 day trading period.
The DASH/USDT price decline has been bearish since October 10, when prices plummeted by 5.8 percent, followed by another fall on October 12th. The costs are now down more than 3%, with the highest level being 182.8 USD.
September was a tough month for Dash, but October began on a brighter note. The price is currently moving lower below the 50-day and 100-day Moving Averages, indicating that the Dash price analysis has become bearish.
Dash price analysis on the 4-hour chart: Tight range
Moreover, the price action dropped down to the lower end of the Bollinger Bands, trying to break out. If these conditions prevail, we can expect a drop in prices for the short term.
Dash price analysis on the 4-hour chart by TradingView
Dash price analysis can also be done using the RSI, which shows a value below the 40-level. This is the region where the selling pressure is higher than the buying pressure. The gradient of the line is positive, indicating that bulls are trying to take the prices higher.
The MACD indicator witnessed a bearish divergence in the short term, creating a reddish histogram while the signal line (orange) is progressing above the MACD line (blue).
Dash price analysis: Conclusion
Our Dash price prediction for today is pessimistic. As the $176 support has been lost, and it has become a resistance area. Our Dash forecast calls to break over the resistance at $200, which would lead to an uptrend to reach prices of about $218 within two days.
Today, our view is that the cryptocurrency will continue its downward trend in the short term, falling to $163 at best. Only an unexpected bullish run would enable the token's price to be above $200 today and tomorrow, which seems unlikely right now.
Dash Price Prediction 2021-2028
Dash price prediction
Dash price prediction is one reason investors consider it when they are talking about crypto investment. It is the same for every cryptocurrency. However, there is something special about Dash's price. Since it made its entrance into the cryptocurrency space, Dash has held the attention of investors and crypto enthusiasts. For some years, it has been around, and Dash crypto has held an impressive performance all this while.
One thing that makes people consider Dash as a viable digital currency is the promise it holds. It is one coin that has found favor in the sight of people. If you are thinking of going with the Dash token in your next investment or are new to the cryptocurrency market and considering the Dash coin, you have to know the Dash price forecast.
We will discuss in this article, the most accurate Dash predictions.
What is Dash?
The history of the Dash crypto coin shows its usefulness in the display and the services it renders to its users. Its origin is rooted in usefulness and efficiency. The founder of Dash network, Evan Duffield, came up with his own cryptocurrency when he thought he could no longer put up with the delay Bitcoin users like himself face when they make transactions. He wanted something faster, and the Dash platform was the answer. His aim, faster transitions, and privacy are the hallmarks of Dash.
Dash has been around since 2014 and has existed in different forms. Originally, it was called in. It was a hard fork of Litecoin. The supply of Dash is lower than that of Bitcoin. It has a hard market cap of 18 million. This points to a further increment in its value.
What are the impressive features of Dash?
Dash has some impressive features that make it a go-to coin for most users. For one thing, Dash is efficient for use. It has a record of 2.5 minutes of mining time in a block. With this feature, you can use Dash every day and not get overwhelmed. Also, the Dash blockchain features the Dash master node that constitutes a second-tier network. This network is situated on top of the first tier network, which has the usual miners.
Another interesting feature of Dash is the PrivateSend, a feature that is created to maintain fungibility. It ensures extra safety for its users by making their transactions private, more than you would have with other blockchains. It does this by swapping the coins between users and disrupting traceability. This is a huge innovative feature.
Unlike the usual provisions, you cannot trace the movement of a transaction, and you cannot access the history of a coin. If you are a user on this platform, you are sure of extra security for your investment, and your trading moves are kept private.
If you are after transaction speed, then Dash also cuts your list of coins to look out for. The blockchain platform on this digital currency is impressive with the level of speed it offers. It has an InstantSend feature that makes your transaction happen in the shortest possible time. You can make transactions almost instantly.
When it comes to features, the Dash forecast is a green light. Many crypto experts think it is a good investment. But, how does the Dash prediction do when it comes to future prices?
Dash price history so far
Knowing that Dash has these features to offers may fire up your interest in this coin. When you get to know the average Dash price prediction so far, you will be ready to decide whether to invest in this coin or not. Here is the price for Dash so far.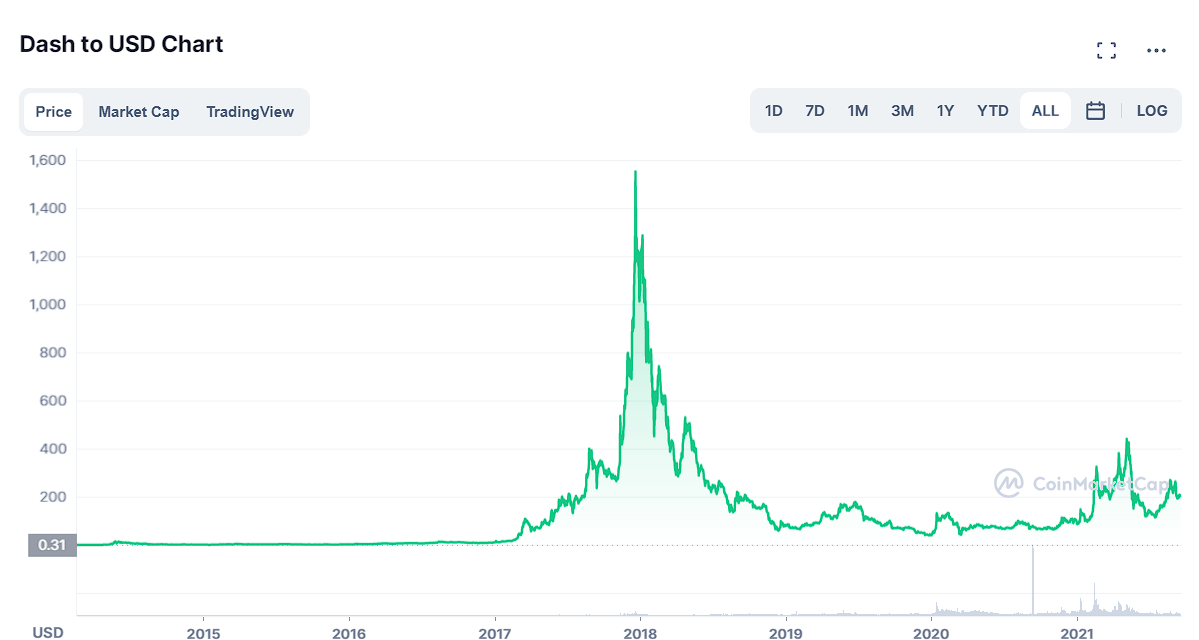 Dash has been around since 2014. However, we can really picture its price-performance from statistics from 2017. Also, its behavior in 2019 will be a reliable area to look at. So far, the coin has had a wide ride concerning its price.
In 2016, Dash was selling at $12. Then in 2017, there was a surprising hike in the average price of the coin. It recorded an amazing 8000% increment leaving many wondering what its performance will be going forward. At the beginning of 2017, the coin was selling at $109. Then there was the crypto market rush and bullish trend in 2017, where the coin performed even better. It sold for an incredibly high price of $1,500 for a coin.
This move in the affairs of Dash coin price is impressive. However, as expected, it is not sustainable. The price of the coin embarked on a downward movement and was sold for $65. The 2018 bear run was not the best year for most digital coins. The coin fell to $40.
This fall in price did not crush the Dash value, as expected. As 2019 was rounding up and 2020 was coming on board, there was an improvement in the coin's value. The coin regained its value and sold for $100. In 2021, it made more progress and sold for $450.
The price of the coin, just like every other digital cash, fluctuates. Presently, the price of Dash coin hovers around $141. According to Trading View, the market opened on the 21st of July 2021 with the Dash/USD trading pair selling at $141.538, although the minimum price kept fluctuating.
Considering the uptrend seen in the past three weeks, we can say that the price of Dash will continue with an uptrend in the long term, and we can see new all-time highs this year, provided that Bitcoin doesn't fall to pieces.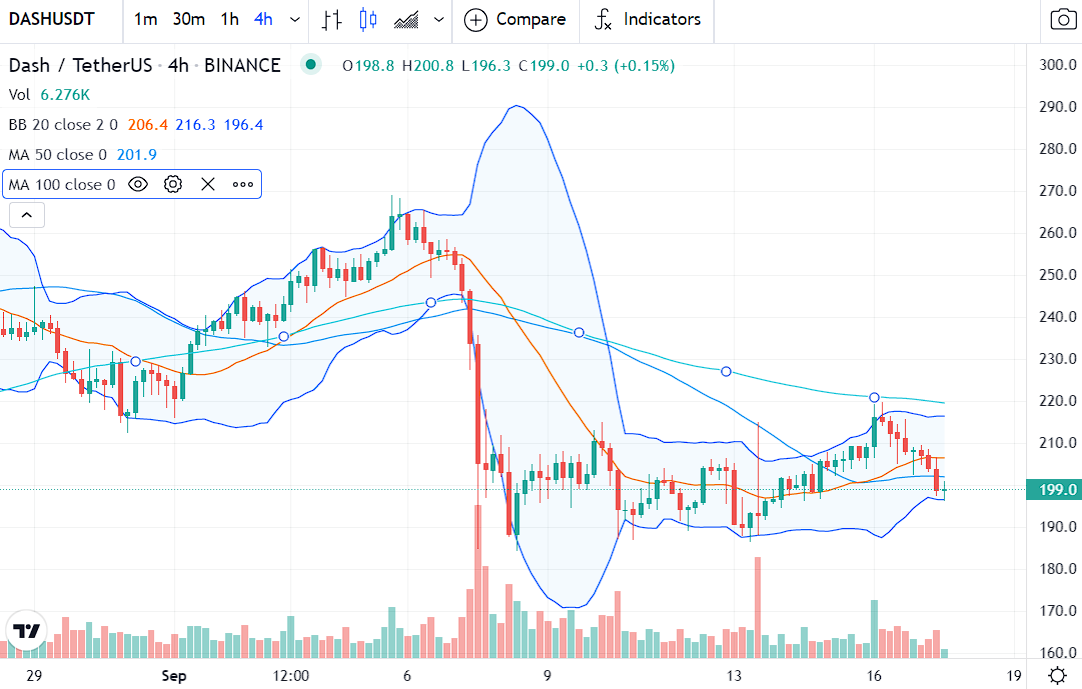 In the above Dash 4-hour chart, we can see that the current price of the crypto is trading at 199 USD, and we can see that the price of Dash in the short term is trading below the 100-day and the 50-day Moving Averages. We can see that the price action has remained near the lower end of the Bolling Band, and it is possible for the price to test support at 198 USD.
Dash is a cryptocurrency that is projected to do well in the future. Its role in digital payment, especially in Venezuela, is one reason why it is a currency that investors are hopeful will do well. With the level of interest in the virtual currency, the technical analysis and Dash forecast is that its value will go up in the coming years. Here is the Dash coin price prediction for 2021, 2022, and beyond.
Dash price predictions
Experts have looked into this cryptocurrency and have predicted the future trend of the coin. Several factors determine the price of the cryptocurrency. Dash is not a digital asset in the same way you would regard Bitcoin as one. However, it brings some functions to the table that make people bid for it. How much it meets people will determine if its price will increase or decrease.
Technical analysis is one of the most reliable ways to predict the price of a digital asset. This way, you can get the coin's price from the Dash chart, which is a more reliable way to know how the coin will perform. Drawing from the technical analysis, here are some expectations for the minimum price of Dash in the future.
Dash price prediction 2021 by TradingBeasts
According to TradingBeasts, the coin could reach a high of close to $280.018 for a coin. It is forecasted that the coin might reach $243.495 by December 2021. The forecast for the rest of the months are in the chart below:

Dash price prediction 2022-2023 by TradingBeasts
According to TradingBeasts, the minimum price of Dash in January 2022 will be around 166.178 USD, while 244.379 USD will be the maximum price. The average price is put at $195.504. By the end of the year, the minimum price of Dash in December 2022 will be around 165.019 USD, while 242.675 USD will be the maximum price. The average price is put at $194.140.
This is represented in the table below: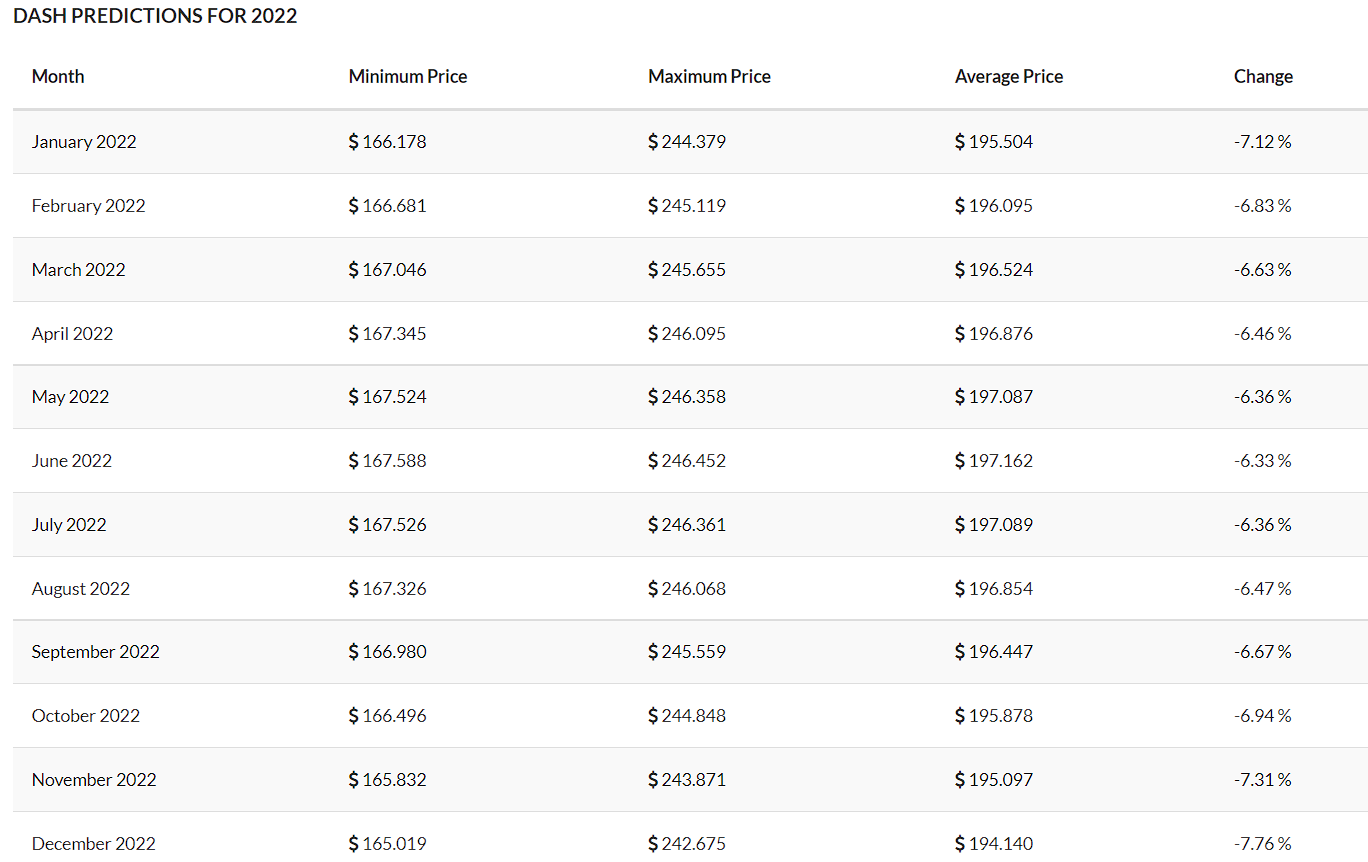 Dash price prediction 2024 by TradingBeasts
Looking forward to 2024, the minimum price of Dash in January 2024 will be around 166.178 USD, while 244.379 USD will be the maximum price. The average price is put at $195.504. By the end of the year, the minimum price of Dash in December 2024 will be around 165.019 USD, while 242.675 USD will be the maximum price. The average price is put at $194.140.
Expert forecasts for Dash
Giving the volatility of cryptocurrencies, it is not easy to forecast their prices. In the case of Dash, some factors come to play in determining its price. Websites, investors, cryptocurrency enthusiasts, and traders like TradingBeasts have shown interest in the coin's price. They have projected into the future of the coin to tell how it will perform.
Wallet Investor forecast Dash
Looking at the price prediction by WalletInvestor, Dash is a coin that will perform well in the long run. They predicted that the minimum price would drop to $43.818 by October 2021. The maximum is put at 192.068 USD. They expressed enthusiasm that the coin can rise to a maximum of $454.335 by December.
This long-term price prediction by WalletInvestor is represented in the graph below: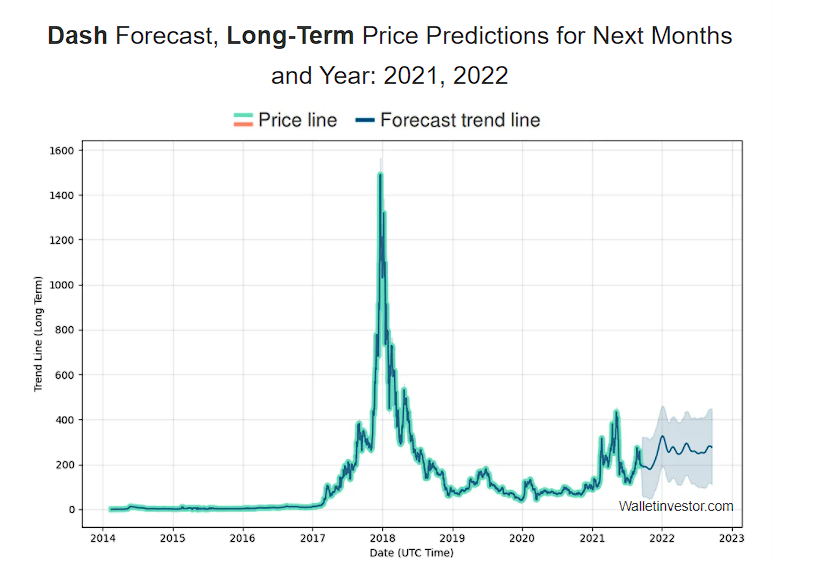 According to WalletInvestor, the price of Dash will reach 603.690 USD by the end of 2026, which makes Dash coins a good investment.
CryptoGround five years forecast
They projected far into the future and predicted that Dash would sell for $1,230.0989 by 2026. This is quite a high price that CryptoGround has predicted for the crypto, and according to them, investors should buy Dash.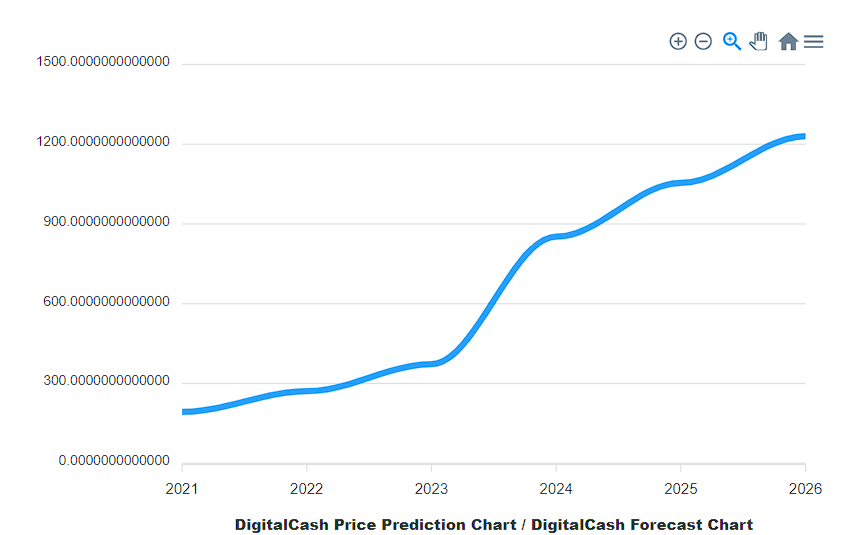 Their forecast for the coin in later years is particularly optimistic.
Why invest in Dash? Before making the great move of investing in any cryptocurrency, it is always advisable to do fundamental analysis and certify that it will not be an investment you will regret. You have to consider if the coin is viable and will bring returns.
Dash is not a coin like Bitcoin that can be likened to digital gold, but it can hold its sway giving the interesting offers it brings to the table. For one thing, Dash has been an impressive solution to some of the challenges that investors face in the digital financial market. When it came into the scene, it was clear that it has become one of the solutions to the challenges begging for solutions.
Some of the issues that Dash has been a great help for are scaling, the efficiency of transactions, and being user-friendly. In economies that have registered some struggles, Dash is a great alternative currency.
If you are curious to know the price prediction of a coin, you are most likely interested in it or are just a cryptocurrency enthusiast. Whatever your motivation is, you must know the ways that this coin will benefit you. This will enable you to take bold steps when investing in it. Here are some of the ways that Dash is making its users smile.
Efficiency of transactions
Dash is a coin that you can use at top speed and still spend less. With little cost, you can have your transaction done in a short time on cryptocurrency exchanges. When it comes to efficiency, one important feature to look out for is the transaction time.
Dash is four times faster than Bitcoin in transactions. Bitcoin will take up to 10 minutes to mine a block. With Dash, you can expect a block mining time of 2.5 minutes on the blockchain. It is a kind of speed expected in this age of decentralized finance.
Dash has an impressive future
Dash is one currency that is marching towards a bright future. From the look of things, Dash promises a two to ten years manifestation of greater things. From the predictions and moving average so far, the coin is expected to do well.
If you are interested in the price forecast of Dash, you may be interested in trading it. It is essential to note that you should have known what its future holds before you trade on a coin. From the predictions so far, it is obvious that the coin will do well. However, there may be risks involved. This is similar to all cryptocurrencies.
Also, you have to consider the level of security associated with the coin. This is a security move everyone ought to make before investing in any coin. Dash is a coin that prioritizes security. It has invested a lot in terms of finance and technical resources.
The level of anonymity and privacy its users enjoy is impressive. When the project was introduced, it was called the Darkcoin because of its focus on anonymity. However, the developers changed the name to Dash.
Another essential factor to consider is the availability of the coin. Dash is a token whose maximum supply is almost 19 million. Just about 9.8 million of this token is in circulation. Its current market capitalization is over $1 billion. This means that there is an impressive chance for the coin to grow.
Advantages of Dash
Dash has some advantages that put it ahead of Bitcoin in terms of the functions it performs. Bitcoin offers privacy to an extend. The need for more client secrecy saw Dash coming into the scene. Beyond privacy, Dash also has some advantages that make people consider investing in it. Here are the main advantages of the coin.
Decentralization
This is an essential feature of every blockchain. Dash also has something to offer in this regard. If you are in a project with other people, you can take all the decisions on the currency without having a leader or someone I tried in your business. As a client, you can manage your funds without having a third party interfering in your business. DASH's decentralized funding system attracts a lot of investors.
If there is one thing that makes people like this platform, it is the level of autonomy it affords them. This feature is the essential advantage of blockchain systems.
Accessibility
This is common to all cryptocurrencies and blockchain platforms. With a system or a smartphone, you can start using the coins. With Dash, this is no exception. With access to the internet and a smart system to use, you can have your transaction running. Dash is accessible to anyone who wishes to trade it.
Another level of its accessibility is its ease of use. It is user-friendly and easy to understand. Navigating the platform and trading on it is not difficult.
Confidentiality
The developers of Dash claim that the system upholds confidentiality as a central feature. According to the, everyone's transaction is confidential. This feature makes it impossible for anyone to decipher the identity of the participants. This feature improved security. The chances of having your identity in the open and risking your security are reduced.
Stability
Dash is a coin that is regulated. This regulation gives something close to the stability of fiat currency. In addition to the algorithm, the system is arranged internally to regulate the number of coins. This move is meant to improve the coin's stability as large volumes cannot interfere with it.
Conclusion
Dash is a fork of Bitcoin. Dash cryptocurrency has been predicted to do well in the market. Several experts have given their opinions on dash price forecasts. Several experts have talked about the maximum price it can sell for in years to come. Its USD predictions are mostly positive.
Before investing in a coin, you should have done thorough homework and be sure of the moves you are making. From the predictions of Dash's price so far, it is obvious that the coin will do well, giving its functionality. However, the final decision lies with the investor and trader. With the right information, you will do well.
Dash Price Analysis: Dash Launched The Retail-Focused DashDirect App to Promote The Adoption
The application will enable users to use their DASH assets to pay for daily purchases in retail chains across the country.
The 24-hour trading volume is at $492 million.
DASH/BTC pair is trading negative by 1.4% at 0.00376438 BTC
The daily technical chart of the Dash displays a bullish trend. According to Pivot points (FIB), Dash's crucial support level is $110.70. Conversely, if it moves up, the necessary resistance level to observe is at $155. If it breaks above, the next one to watch is $198. Thus, while the intraday chart forms a bearish harami candlestick pattern, predicting prices are in a downtrend with medium dependability.
The exponential moving average (EMA) composed of 20,50,200-EMA can be a reliable support for currency price changes. However, investors can observe that the price is moving below the orange line 200-EMA, ensuring a downward trend of DASH price until it stays below the 200-EMA.
The volume of (953) is close to the MA of 20-days (7.27K). selling pressure is low in DASH, causing its price to plunge from the upper regions. Investors may also observe diminishing volume bars in the chart, which indicates a big move is expected in upcoming trading sessions.
The CCI indicator gave a (bullish) signal with 111.64, projecting a buy signal in the coin. Investors may observe an inclining slope from -52 to 111. It may surge in future trading sessions.
Dash, a Blockchain-Based Payment Network, Has launched a User-Controlled Retail Application
The application is called DashDirect and allows users to use their DASH coins to pay for their daily shopping in retail chains across the country. The company stated that DashDirect users could get a discount of up to 12%. Participating retailers and online merchants include American Eagle, AutoZone, Best Buy, Chilis, Chipotle, CVS, DoorDash, GameStop, Home Depot, Subway and Ulta.
"DashDirect is an instant savings retail application that enables DASH cryptocurrency to be consumed in more than 155,000 stores and 125 websites in the United States," said Marshall Greenwald, CEO of CrayPay and founder of DashDirect.
This puts Dash ahead of Bitcoin in its adoption as a payment network. Data tracked by CoinMap.org shows that as of the end of June, the top cryptocurrency Bitcoin by market value was accepted in 22,883 places around the world. The app uses the official Dash wallet to facilitate transactions and transfer money to users.
In addition, users do not need to pay any currency exchange fees. The product was jointly created by Arizona-based financial technology company CrayPay and Dash Core Group and was approved by the Dash Investment Foundation.
Resistance Level: $155, $198
Support Level: $110.70