BITCOIN RECOVERS FROM OVERNIGHT PLUNGE, BUT IT'S IN A "DANGEROUS" POSITION
Bitcoin saw some wild overnight volatility that came about after a flurry of selling activity liquidated long positions and sent its price reeling lower
This selloff was quite intense and caused the aggregated market to face some immense selling pressure that is showing no signs of letting up
One analyst explained that where the market trends next will undoubtedly depend largely on the derivatives market
He notes that funding rates are still quite high and may hamper the cryptocurrency's outlook for the time being
As such, he is calling the crypto's current positioning "dangerous" – despite the strength of its rebound
Bitcoin has seen another massive drop and recovery, which is commonplace during parabolic moves higher.
That being said, from a technical standpoint Bitcoin appears to be building strength, as its recovery from the overnight drop below $30,000 is beginning to pick up steam.
Where the market trends next should provide some serious insight into the aggregated market's mid-term outlook.
BITCOIN REBOUNDS FROM OVERNIGHT PLUNGE AS BULLS VIE TO CONTROL $30,000
Where the market trends in the near-term will undoubtedly depend on whether or not bulls can confirm that the lower-$30,000 region is a strong support zone.
A continued bout of trading above here following the dip below this level would be a promising sign.
ANALYST: BTC FUNDING RATES STILL DANGEROUSLY HIGH 
He notes that although BTC could continue higher in the short-term, it may not be as strong as it looks.
"I'll patiently wait for the moment the funding rate cools down. BTC could go up more, but it's too dangerous."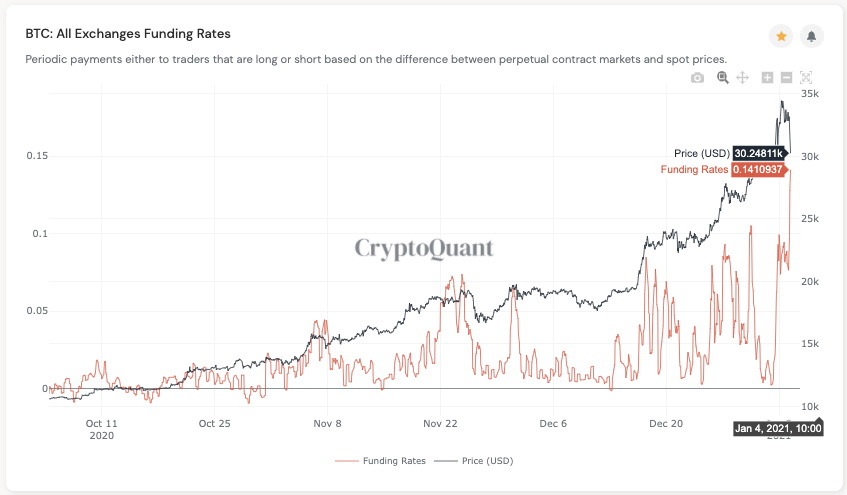 Image Courtesy of Ki Young Ju. Source: CryptoQuant.
The coming few days should shed some serious light on Bitcoin's near-term outlook and whether or not the cryptocurrency will be able to push any higher.