How Phala Network is bringing on-chain privacy to the Polkadot (DOT) ecosystem
The burgeoning Polkadot ecosystem is getting yet another huge use case to its ever-expanding suite of innovative products.
Privacy for transactions
The cryptocurrency space—far, far before its current form—started out with the ethos of financial inclusion and privacy. This meant transacting in a fully private, safe manner while still viewing all such transactions in a publicly accessible and immutable database, i.e. the blockchain.
Somewhere down the line, this use case lost prominence and the blockchain was opened up to much bigger implementations, such as (but not limited to), smart contract services, decentralized identities, oracles, tokenized assets, non-fungible token, art, and a plethora of other features.
Then came Ethereum, with its blockchain-as-an-operating system narrative that allowed developers to build their own use cases atop its blockchain. High-speed blockchains like Polkadot, Cardano, and others followed soon after.
But while the privacy narrative got lost somewhere among all that, a relatively new project is working in that regard on the Polkadot ecosystem. For the uninitiated, Polkadot is among the top ten cryptocurrencies of the world by market cap, providing economic scalability by enabling a common set of validators to secure multiple blockchains.
Ethereum is a one-size-fits-all chain. This doesn't work at scale.

Dev teams use @Polkadot's Substrate framework to build custom chains for a specific use/vertical, such as @AcalaNetwork for DeFi, @PhalaNetwork for Privacy, @chainlink for Oracles, or @hydra_dx for liquidity.

— Dan Reecer 🅰️🕊⚪️ (@danreecer_) January 17, 2021
And bringing privacy to it is the Phala Network, whose founders say is the first confidential smart contract network built on Substrate that aims to provide confidential computation and data protection services for enterprises and users.
The project would serve the whole Polkadot ecosystem as one of the Polkadot parachains, or projects that are commissioned by and run atop Polkadot to better the entire ecosystem.
Benefits of Phala
Phala's two products are the pLIBRA and Web3 Analytics. The former is a confidential computation component built for Libra granted by Web3 foundation (as per a blog in March 2020) while the latter is a tool that analyzes user data and output results without invading personal privacy.
More use cases would be added to and unveiled on the network as it grows to serve more people and their communities.
In terms of technology, Phala applies a Trusted Environment Execution (TEE) design that allows confidential data to run in an isolated and private environment and outputs results alone with authorization.
Can you imagine Kusama without privacy? https://t.co/4ThFTRf2p9

— Phala Network (@PhalaNetwork) January 21, 2021
This allows for two separate, distinct organizations to share sensitive data with one other without worrying about a potential data leak.
Another benefit of Phala is its interoperability features that would allow any two blockchains to interact with each other in a private manner (a difficult problem to solve).
As of today, the Phala Network's PHA token has a 1 billion supply, and its mainnet was released last year. It has a market cap of over $41 million, and its current circulating supply is 142 million (subject to change as token lockups are released).
Polkadot (DOT) Shoots to $45 After Governing Council Passes Motion for Open Parachain Auctions

Polkadot (DOT) continues its rally further gaining Another 6% in the last 24 hours and moving closer to $45. As of press time, DOT is trading at 4.83% up at a price of $43.57 and a market cap of $43.02 billion. The DOT price has gained more than 30% in the last three days after Polkadot announced that it is ready for the parachain launch.
On-chain data provide Santiment reports that following the recent price rally, the euphoria around DOT has skyrocketed significantly as Polkadot (DOT) sets its eye for a new all-time high above $49.25. With this recent price rally, DOT has broken away from the broader altcoin space that has been consolidating for a while now.
Passing the Motion for Open Parachain Auctions
Polkadot said that its parachain auctions will start next month onwards. In a further update, Polkadot said that its governing council has passed the motion for open parachain auctions. however, it's still waiting to be passed via a public referendum. The team also notes:
Referendum 39 is currently up for a community vote, if passed it will schedule the first auction to take place on November 11, 2021 [a little over 26 days]. Reminder for those wishing to take part in auctions, the unbonding period on Polkadot is 28 days.
The official page states that parachains will connect with the Polkadot blockchain by leasing a slot with the Relay Chain for 96 weeks at a time. All the parachain slots shall be assigned through an on-chain auction. The winners of these slots shall be locked un in a bond in DOT for the leasing period.
This development is likely to further incentivize more players to land on the Polkadot blockchain while gaining broader community support. The Polkadot parachains have been long sought by the market and will exponentially increase the scalability of the platform giving rival Ethereum a tough fight.
Crypto Traders Most Bullish on Polkadot, Solana, Polygon and 10 Additional Altcoins: Digital Asset Survey
A new survey unveils that crypto traders are most bullish on 13 altcoins including Polkadot, Solana and Polygon.
The Real Vision Exchange Crypto Survey is designed to track sentiment among investors by allowing participants to scan 30 tokens and choose if they want to have an overweight or underweight allocation for each one. The survey was conducted by Real Vision Bot, which was created by two independent developers and boosted by macro guru Raoul Pal.
Results from voting that happened on the first two days of this week indicate traders prefer an overweight portfolio consisting of smart contract platforms Polkadot (DOT) and Solana (SOL), as well as Ethereum-scaling solution Polygon (MATIC).
The scalable and interoperable ecosystem Cosmos (ATOM) is fourth on the list, and smart contract platforms Terra (LUNA) and Cardano (ADA) appear tied for fifth. Traders also have overweight allocations for decentralized oracle network Chainlink (LINK), Ethereum competitor Avalanche (AVAX), Ethereum-based token Enjin Coin (ENJ) and decentralized exchange Uniswap (UNI) for the sixth, seventh and eighth places, respectively.
Tied in ninth place are cross-border payment solutions Stellar (XLM) and XRP, as well as decentralized storage network (FIL).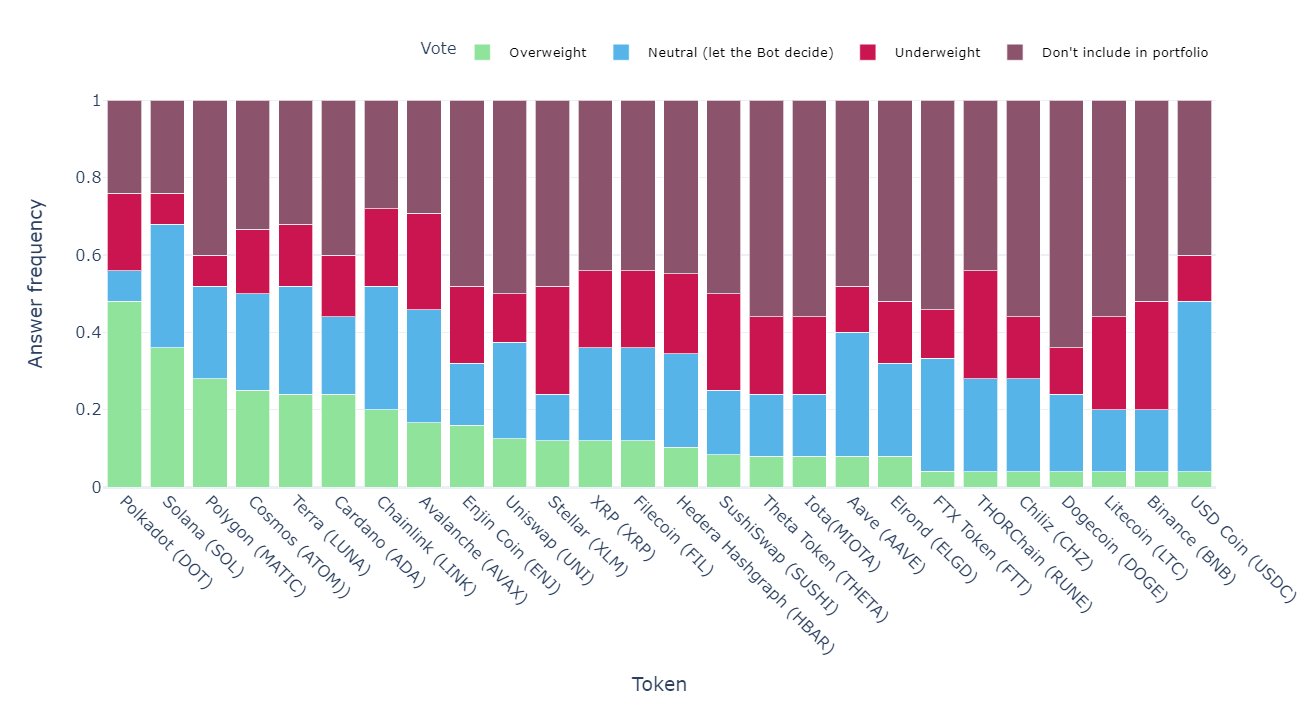 Real Vision Bot clarifies that the participants are not necessarily holding the cryptocurrencies that they voted for.
"They can of course vote according to their own positions, but also just based on their sentiment or forward looking. There are many reasons why the own book might not be 1:1 the preferred allocation."
Bitcoin (BTC) is conspicuously absent from the list. Pal highlights that the community is responsible for that absence.
"It's not us – it's the community who makes the allocation… You guys, to be exact.
Binance to Support the Incoming Polkadot Parachain Slot Auction
Binance exchange will support the Polkadot (DOT) parachain slot auction.
The company plans to start the event in November, this year.
Doing this will help Polkadot achieve its ecosystem development.
Amid the waves blowing around the incoming Polkadot (DOT) parachain slot auction, Binance exchange has also announced that they are ever-ready to support the Polkadot's parachain event.
With this synergy, Binance emphasized that it will soon start its Polkadot parachain slot auction program mainly in November 2021. Additionally, the month set to begin the event by the Binance team moves in line with the proposed Polkadot parachain slot auction date.
Meanwhile, Binance didn't officially give the exact day and time that it will start the event. At the moment, the only news we have is that the team aims to start the parachain event in November.
To clarify, Binance intends to do its part and what it can to help influence Polkadot towards achieving its ecosystem development milestone. In turn, doing this will also push up the growth and adoption of the Polkadot parachain slot project to the mainstream.
Also, for further info about the event, the Binance team noted that they will keep their eyes on it and provide the community with more updates.
Until then, the team assured that the community should expect a separate announcement in no time and more details than what they have disclosed now. In addition, Binance advised that the community should stay tuned as they are bringing more initiatives ahead.