Ethereum Poised To Blow Past All-Time High With DeFi on Parabolic Uptrend, Says VC Investor Spencer Noon
The general partner at crypto venture capitalist firm Variant says that the number of users and the amount of capital deployed in decentralized finance (DeFi), which Noon calls Ethereum's "biggest use case," is a bullish sign.
"There are now more than 1.25 million DeFi users, a figure that continues its parabolic uptrend – a sign that Ethereum's biggest use case is on a path towards product-market fit.
There is now more than $25 billion dollars locked in DeFi, with 21 different projects having more than $100M TVL (total value locked) – a sign that the ecosystem is maturing rapidly and becoming institutional-grade.
More than $20 billion has been deposited into lending protocols, with outstanding loans close to $4.5 billion – a sign that DeFi lending is becoming more battle-tested."
Noon points out that the rapid growth of monthly volumes on decentralized exchanges (DEX) has reached levels that now parallel those of the centralized finance (CeFi) sector.
"Monthly DEX volume stands at more than $30 billion, up ~50x year-over-year – a sector where DeFi is starting to rival CeFi."
Noon goes on to list some of the other reasons he is bullish on the number one smart contract platform, including the increasing amount of ETH leaving exchanges, the growing number of daily active ETH addresses and the untapped capital waiting on the sidelines in the pockets of large investors who have yet to enter the decentralized game.
"ETH is steadily flowing out of exchanges, including more than 530,000 on one day last week (worth ~$740 million) – a telltale sign of accumulation.
Ethereum has nearly 550,000 daily active addresses (90-day MA) – a figure that has doubled YTD and now sits comfortably at ATHs too.
The number of large ETH transactions (>$100k) is 7x smaller than during its 2018 ATHs – a sign that whales and institutions still haven't entered the game."
Ethereum is currently down 4.25% on the week, performing well compared to Bitcoin which is down 10.19% on the week, according to CoinMarketCap.
Ethereum competitor Near launches $800M developer fund as DeFi competition heats up
Smart contract ecosystem Near Protocol has earmarked $800 million for new funding initiatives aimed at growing its decentralized finance capabilities, offering the latest evidence that the highly lucrative DeFi market is still in its infancy. 
The new funding, which includes the $350 million grants program announced by Proximity Labs last week, gives ecosystem developers added incentive to create new product offerings on Near, the company announced Monday.
Roughly $250 million will be allocated to existing ecosystem developers; another $100 million is earmarked for startup grants, with Near planning to fund more than 20 startups at a rate of $5 million each. The remaining $100 million will be spent on so-called regional funds across Asia, Europe and the United States.
Value locked in DeFi protocols has surged 936% over the past year, with Ethereum competitors such as Binance Smart Chain, Solana and Avalanche seeing considerable uptake, according to data from DappRadar. Ethereum projects account for roughly 66% of the total value locked across DeFi, according to industry sources.
Despite Ethereum's overwhelming dominance, the DeFi market is growing at a torrid pace and is currently valued at over $247 billion — leaving plenty of room for competing platforms to capitalize. One year ago, the total value locked in DeFi projects was less than $13 billion.
Near accounts for a tiny sliver of the total DeFi market, but that could soon change as more developers tap into the new funding campaigns and users continue to search for alternatives to Ethereum-based protocols. As Cointelegraph recently reported, Ethereum's competitors have seen an influx of users fleeing the high fees on the ETH network.
$2 Billion Worth of Ethereum Burned Since August
$2 billion worth of Ethereum could have been dumped on the market, but thanks to EIP-1559 it has been burned
Due to the rapid growth of the cryptocurrency market and the popularity of the NFT and DeFi industries, the Ethereum network reaches another milestone: more than $2 billion worth of Ethereum has been burned recently. The significant USD value of the burned tokens is also followed by a recent 15% price increase.
Ethereum burn rate
With the implementation of the EIP-1559 update, the fee-burning mechanism has been introduced to the network. Since then, Ethereum mining rewards are getting burned instead of going directly to miners' pockets.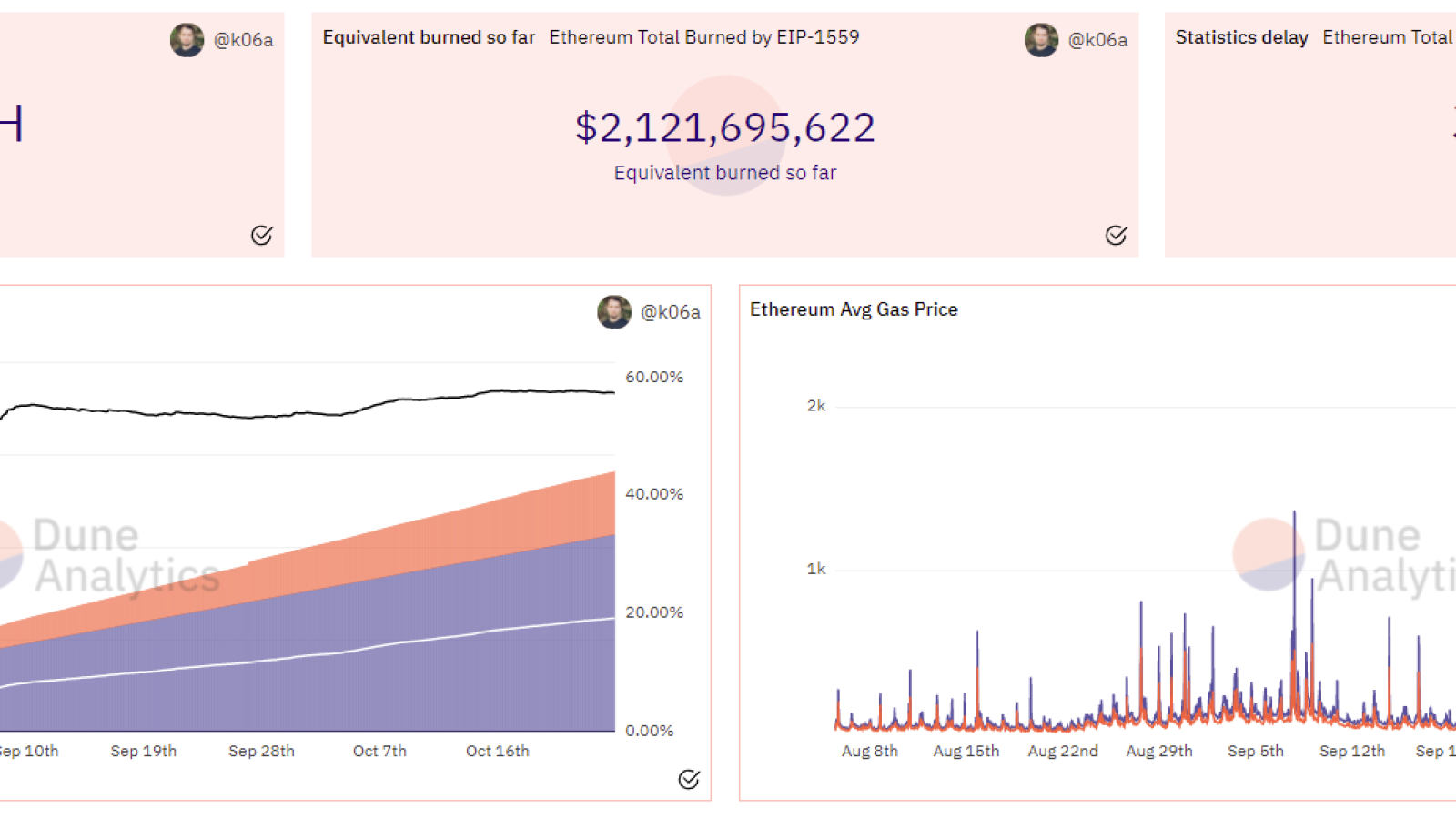 With network load increasing due to the popularity of the DeFi and NFT industries, the burning rate is moving up gradually with 616,000 Ethereum burned while a little bit over one million ETH have been minted.
At the current pace, the Ethereum burn rate remains at 0.58 with more Ethereum burned than earned by miners. If the network remains in the same condition until around the year 2023, Ethereum will become a deflationary coin, which means that the circulating supply will start to decrease progressively.
Effect on the price
While deflationary blocks are not something new, various fund managers and wealthy investors have expressed their feelings about the future of the coin by predicting that it will remain growing due to the constant reduction of the supply.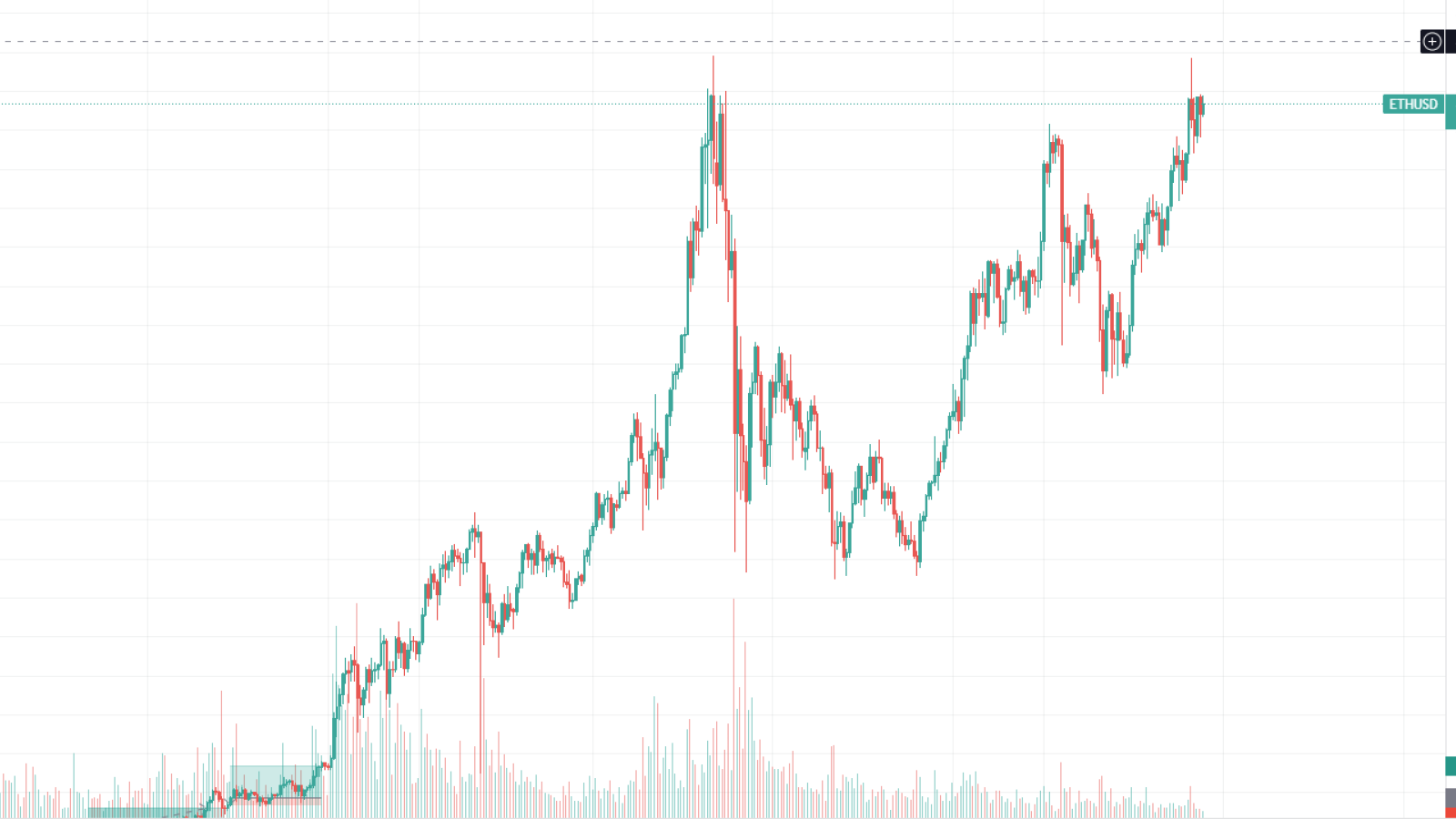 At press time, Ethereum is trading at $4,145, after reaching the previous ATH of $4,380 on Oct. 21. Cryptocurrency traders and investors have not yet moved Ether past the previous high, leaving it hanging close to the local peak.
Ethereum Price Analysis: ETH still holds below $4,200, swift breakout to follow today?
Ethereum price analysis is bullish today.
ETH/USD set a higher low at $4,000 yesterday.
Ethereum looking to break $4,200 today.
Ethereum price analysis is bullish today as another higher low was set yesterday, leading to a move higher overnight. Therefore, we expect ETH/USD to continue higher and break the $4,200 mark later today.
The cryptocurrency market traded in the green over the last 24 hours, with Bitcoin up by 3.36 percent. Meanwhile, Ethereum gained 1.32 percent, while Solana (SOL) is the top performer with an 8 percent gain.
Ethereum price movement in the last 24 hours: Ethereum sets higher low at $4,000, returns below $4,200 resistance
ETH/USD traded in a range of $3,967.12 – $4,175.12, indicating substantial volatility over the last 24 hours. Trading volume has increased by 13.58 percent and totals $16.559 billion, while the total market cap trades around $488.65 billion, resulting in market dominance of 18.82 percent.
ETH/USD 4-hour chart: ETH ready to break $4,200?
On the 4-hour chart, we can see bullish momentum strong today as the $4,200 mark gets tested again.
Ethereum price action has seen a strong performance so far in October. After breaking out of a more than week-long consolidation on the 1st of October, a strong advance followed until the first resistance at $3,650.
Over th next weeks, two further waves higher were set. The first one took ETH/USD to just under $4,000, while the second one all-the-way to the previous all-time high at $4,400.
Since then, the Ethereum price has retraced again. Previous swing highs were retested over the weekend, with support found at $3,900. Yesterday, ETH/USD moved to $4,200, with no further upside seen, leading to another retracement. 
Another higher low was set, pushing ETH back to $4,200 earlier today, which will likely lead to more upside over the next 24 hours.
Ethereum Price Analysis: Conclusion
Ethereum price analysis is bullish as a new high thigh was set yesterday, leading ETH back to the $4,200 local resistance. Therefore, we expect ETH/USD to break higher over the next 24 hours.
While waiting for Ethereum to move further, read our guides on LTC wallets, Gero wallets, and  DeFi wallets.