Ethereum Price Prediction: ETH scarcity will drive the digital asset to $2,000
Ethereum price is fighting to stay above $1,300.
The scarcity of the digital asset continues to increase as a lot of coins have been locked.
ETH faces very little resistance to the upside and can quickly establish a new all-time high.
Ethereum price has been under consolidation after establishing a new all-time high at $1,475 which wasn't quite convincing. ETH dropped to $1,207 but has rebounded and it's currently trading at $1,338.
Ethereum price can reach $2,000 as its scarcity continues to increase
Despite the massive increase in price experienced by Ethereum since August 2020, the number of ETH coins inside exchanges has declined significantly. This percentage has dropped from 26.2% of the circulating supply to only 20.7% currently.

Ethereum supply on exchanges
This metric shows that investors are withdrawing their coins from exchanges to either lock them into DeFi protocols or to hold. The Eth2 deposit contract holds 2.85 million ETH and there are currently 7.09 million ETH locked in DeFi projects, which means close to 10 million Ethereum are locked, representing close to 10% of the circulating supply.

ETH Holders Distribution
Similarly, the number of large holders with 10,000 to 100,000 ETH coins ($13,000,000 to $130,000,000) has increased from 961 on October 2020, to 1,080 currently. Again indicating that whales are interested in accumulating ETH despite its price growing.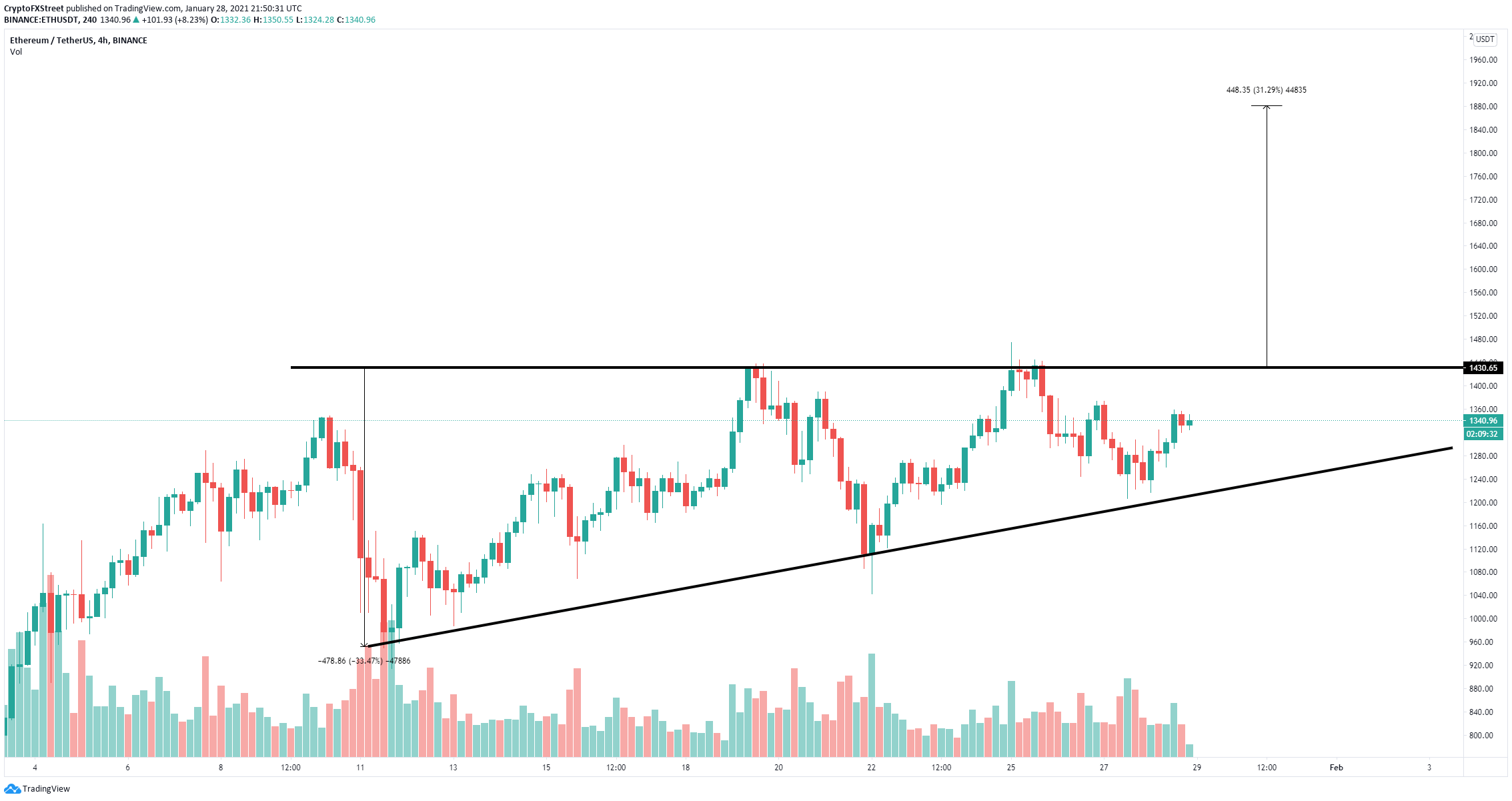 ETH/USD 4-hour chart
On the 4-hour chart, Ethereum has established an ascending triangle pattern with the resistance trendline located at $1,430. A breakout above this point can drive ETH up to $1,900 or higher.

ETH IOMAP chart
The likelihood of Ethereum cracking that resistance level seems quite high according to the In/Out of the Money Around Price (IOMAP) chart which shows very weak resistance above $1,340, but a lot of support between $1,300 and $1,340 with a volume of almost 9 million ETH, purchased by 464,000 addresses.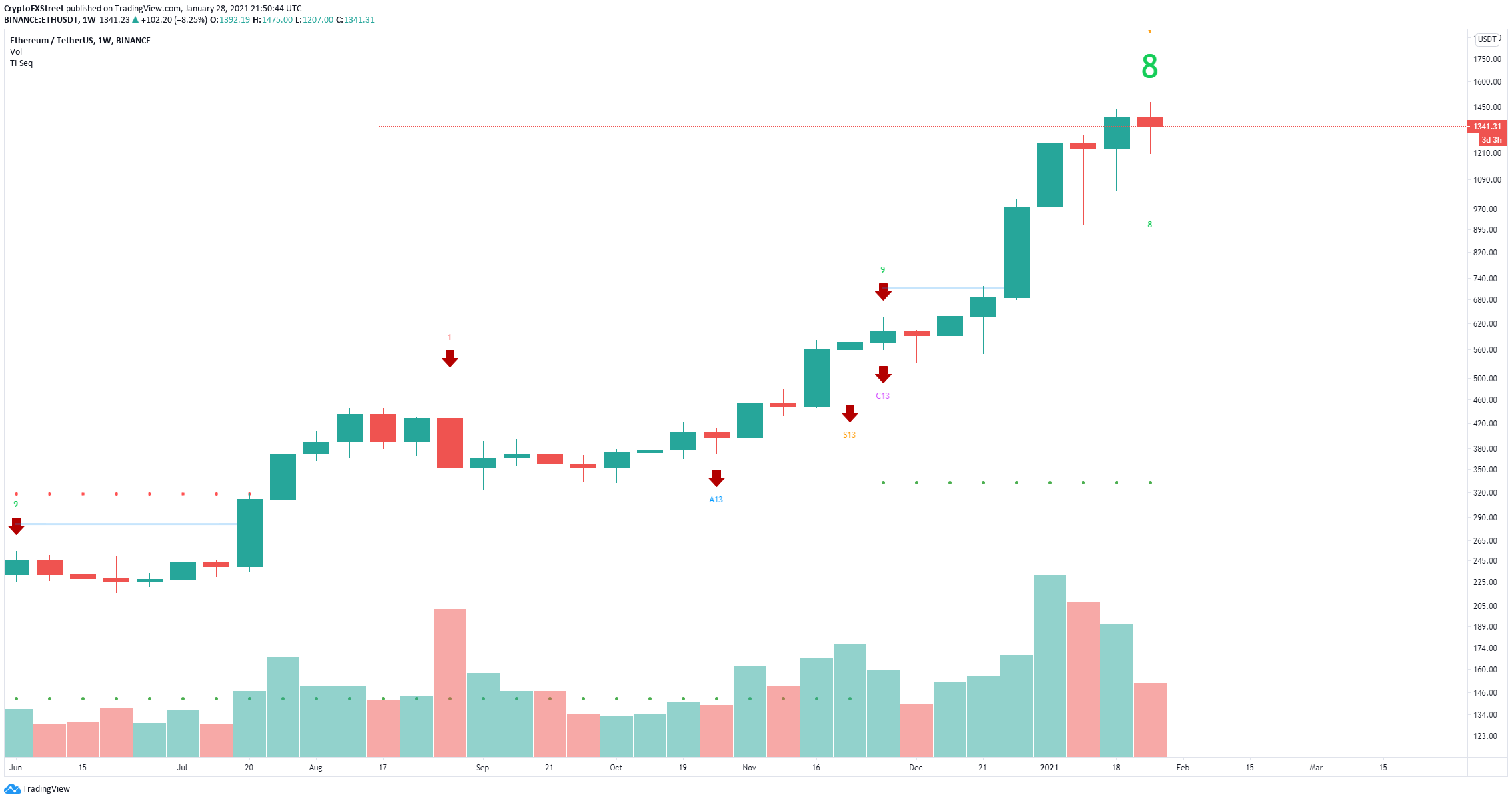 ETH/USD weekly chart
Nonetheless, the TD Sequential indicator is close to presenting a sell signal on the weekly chart. This could stop the bulls from pushing Ethereum to new all-time highs driving it to re-test the psychological level at $1,000.
Here's What Will Trigger the Next Big Ethereum Rally, According to Top Crypto Analyst
A popular crypto trader is predicting what needs to happen for Ethereum's (ETH) price to surge even further.
In the TechnicalRoundup newsletter, the pseudonymous analyst DonAlt says ETH is likely to underperform during a Bitcoin (BTC) breakout but will overperform later if the market rides "a multi-month uptrend."
"As Bitcoin gets sufficiently pumped (very technical term) risk trickles down to lower market cap assets, including Ethereum.
From a technical point of view, the market is in a range between support (low-mid $3000s) and resistance ($4000).
Given the relative strength of the market and the proximity to new all-time highs, a range breakout is more likely than a range breakdown.
Generally, triple tops aren't compelling resistance structures, especially those that form at prior all-time highs."
Ethereum is trading at $4,189 at time of writing, up more than 16% in the past week, according to CoinGecko. The second-biggest crypto asset by market cap hit its all-time high of $4,356 in mid-May.
DonAlt thinks Bitcoin currently offers traders more upside than downside.
"If you long Ethereum and you're right, you'll probably make less money than longing Bitcoin. If you long Ethereum and you're wrong, you'll probably lose more money than longing Bitcoin.
Our conviction on this isn't incredibly high, but the likelihood of a Bitcoin-dominant breakout is one worth considering.
In our view, the time to rotate into Ethereum will come once the breakout dust has settled. A large puke in Ethereum/Bitcoin would be a good time to start looking for punts.
Mars Land NFTs Released on Ethereum, MARS4 Tokens Listed on Bittrex, Sushiswap
Here's how land plot on Mars can be obtained in a new-gen manner through NFT marketplace
Shortly after the release of an eccentric NFT-focused metaverse, the Mars Land project sees its core native utility asset, MARS4, listed by Tier 1 centralized exchange Bittrex and leading DEX SushiSwap (SUSHI).
Here's how NFT instruments allow crypto enthusiasts to purchase land on Mars
The Mars4 team behind Mars Land, a novel digital collectibles project, has modeled a 3D map of Mars' terrain based on the latest NASA data. The total area of Mars' terrain is divided into 99,888 tokenized plots.
Mars4 will be live on @BittrexGlobal in 24 hours‼️🎉

You can already deposit MARS4 tokens HERE 👇https://t.co/MjfjL7pXRX https://t.co/L0j8xBB50P— MARS4_me (@mars4_me) October 20, 2021
Then, the NFTs associated with segments of Mars Land are available for sale as non-fungible tokens. Mars Land NFTs are minted on Ethereum (ETH) blockchain and can be utilized in various digital economic initiatives.
Namely, Mars NFTs can be locked for staking and utilized for liquidity mining; therefore, Mars Land NFTs evolved into a full-stack instrument of passive income for cryptocurrency enthusiasts with various levels of expertise.
Mars Land NFTs are released in batches; 10,000 tokens are listed per epoch. Starting from Epoch 1, 51% of the income generated is redistributed among current NFT holders. By mid-October, there are more than 50,000 NFTs in circulation.
MARS4 listed on CEXes and DEXes: Why is this crucial?
Mars Land adheres to a dual tokenomic design: its architecture includes NFTs and MARS4 dollars. In total, there are four billion MARS4 tokens in circulation.
MARS4 tokens are now available on Bittrex, a veteran centralized cryptocurrency trading ecosystem. Bittrex offers the widest range of assets amidst all CEXes working in the United States.
Also, MARS4 tokens can be purchased on leading Ethereum-based decentralized exchange, SushiSwap (SUSHI). On SushiSwap (SUSHI), MARS4 tokens can be staked as well.
Ethereum Whales with 1 to 10 Million ETH Add 13.9% Coins As Ether Approaches ATH
Large holders of Ethereum have been buying large amounts of Ether on a steady basis since August, an analytics report says
Top Ethereum wallets have been adding Ethereum steadily since August and keep doing so even as the price is approaching the all-time high reached in May.
Top ETH whales buy another 13.9% of Ether
Santiment on-chain data provider has tweeted that Ethereum wallets holding from 1 to 10 million Ethereum have been purchasing massive lumps of Ether in the past three months.
Over this period, they have acquired 13.9% of the Ethereum supply and keep adding more, even though the Ether price has soared to the $4,200 zone, inching closer to surpassing the May all-time high of Ethereum.
🐳 #Ethereum's top addresses have accumulated $ETH steadily since early August, and it's no surprise to see the #2 asset approaching an #AllTimeHigh of its own. In the past 10 weeks, addresses with 1M to 10M $ETH have accumulated 13.9% more to their bags. https://t.co/OUccwGBDKC pic.twitter.com/tJpZiN5B9Y— Santiment (@santimentfeed) October 21, 2021
Non-exchange ETH whales hold 5x more ETH than whales on exchanges
According to a Santiment tweet published earlier in October, the ratio of non-exchange and exchange crypto whales and their ETH holdings now constitutes 5:1.
Crypto whales now hold five times more Ethereum on non-exchange wallets than other whales hold on exchange addresses.
The ETH holdings of the former now total 22.91 million Ethereum compared to only 4.6 million ETH stored on addresses based on crypto exchanges.
Besides, in July, the top 10 Ethereum addresses acquired big amounts of ETH and, back then, they held 20.58% of the second-largest cryptocurrency.
In the meantime, as reported by U.Today earlier, ETH exchange supply has been declining substantially as investors have been withdrawing Ether to cold wallets for long-term storage. This may be one of the main reasons for the growth of the Ethereum price.
Ethereum inches closer to its May peak
On May 12, Ether managed to reach a historic rise, soaring to a $4,362 all-time high. Since then, ETH has dropped twice to the $1,780 low (in June and July). In early August, it surpassed the $3,000 level after the implementation of EIP-1559 (also known as the London hardfork) on Aug. 5.
At the end of last week, Ethereum recovered the $4,000 line and, on Wednesday, it surged to the $4,239 price mark, following Bitcoin hitting an all-time high of $66,930.
Along with the EIP-1559 upgrade, a burning mechanism for Ethereum was rolled out for ETH fees. Since then, large amounts of Ether have been destroyed, which makes the ETH supply smaller and more deflationary, helping its price to rise.
As of Oct. 11, more than 500,000 ETH have been destroyed. Over the past 30 days, around $824 million worth of Ethereum fees have been burned.