Ethereum dev must face jury for allegedly helping North Korea evade sanctions
A New York federal judge has denied an Ethereum developer's motion to dismiss criminal charges over allegations he assisted the North Korean regime to bypass U.S. sanctions.
The developer and former-hacker, Virgil Griffith, is accused of helping North Korea evade economic sanctions by delivering a speech during a Pyongyang blockchain conference in April 2019.
Law360 reported that in his motion, Griffith had claimed the speech he delivered at the Pyongyang Blockchain and Cryptocurrency Conference was protected by his First Amendment right to free speech.
Griffith also requested a bill of particulars, claiming he was unable to prepare for the hearing as the four-page indictment against him was "short and vague," and lacked specific detail outlining his criminal conduct. However, the judge also rejected this request, finding that "adequate notice of the charges against Griffith" had been provided.
The judge cited text messages Griffith allegedly sent to colleagues during the lead up to the conference, stating:
"We'd love to make an Ethereum trip to the DPRK and set up an Ethereum node […] It'll help them circumvent the current sanctions on them."
Another message apparently noted that while Griffith did not know exactly what the purpose of the North Korean administration's interest in crypto assets was, he speculated it was "probably avoiding sanctions."
Griffith's fate must now be determined by a jury.
In January 2019, the U.S. state department denied Griffith's request to travel to the North Korean capital to discuss "the applications of blockchain technology to business and anti-corruption."
Despite the rejection, Griffith successfully sought approval from the Democratic People's Republic of Korea's UN Mission in Manhattan, and was issued a visa one month later.
The Department of Justice announced Griffith's arrest on Nov. 29, 2019, with U.S. attorney Geoffrey Berman alleging that Griffith "provided highly technical information to North Korea, knowing that this information could be used to help North Korea launder money and evade sanctions."
A January 2020 indictment charged Griffith with conspiring to violate the International Emergency Economic Powers Act by seeking to provide "services" to North Korea.
While Griffith has claimed his speech was protected by the act's "information exemption" — characterizing the presentation as delivering "information that one could readily learn from a Google search" — the prosecution claims the speech could empower Kim Jong Un's administration to evade sanctions and launder money.
The judge also noted that the fact Griffith did not receive financial remuneration for the speech may not impact the jury's ruling, stating:
"Even if Griffith's presentation at the conference, taken in isolation, did not qualify as the provision of services, or was exempt under the information exception, evidence at trial may be sufficient to demonstrate his guilt in conspiring to provide services."
Bitcoin extends correction as Ethereum sees 'picture perfect' rejection at all-time highs
Bitcoin (BTC) stayed closer to $60,000 on Oct. 22 after the largest altcoin Ether (ETH) failed to cement new all-time highs.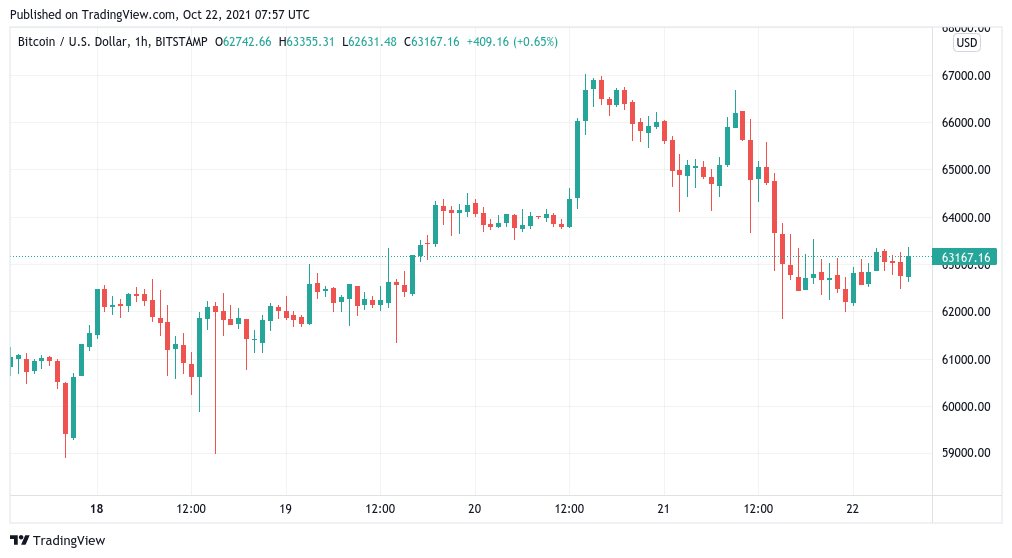 BTC/USD 1-hour candle chart (Bitstamp). Source: TradingView
ETH all-time high? Blink and you'll miss it
Data from Cointelegraph Markets Pro and TradingView ETH/USD just match its record $4,380 on Bitstamp before seeing a harsh rejection.
Traders watched in anticipation as Ethereum appeared to follow Bitcoin to historic new levels, only to face immediate resistance and fall sharply back into a lower range.
Trader and analyst Rekt Capital called the event a "picture perfect rejection."
At the time of writing, ETH/USD circled $4,150, preserving $4,000 as support with the exception of a flash dip which immediately followed the all-time high rematch.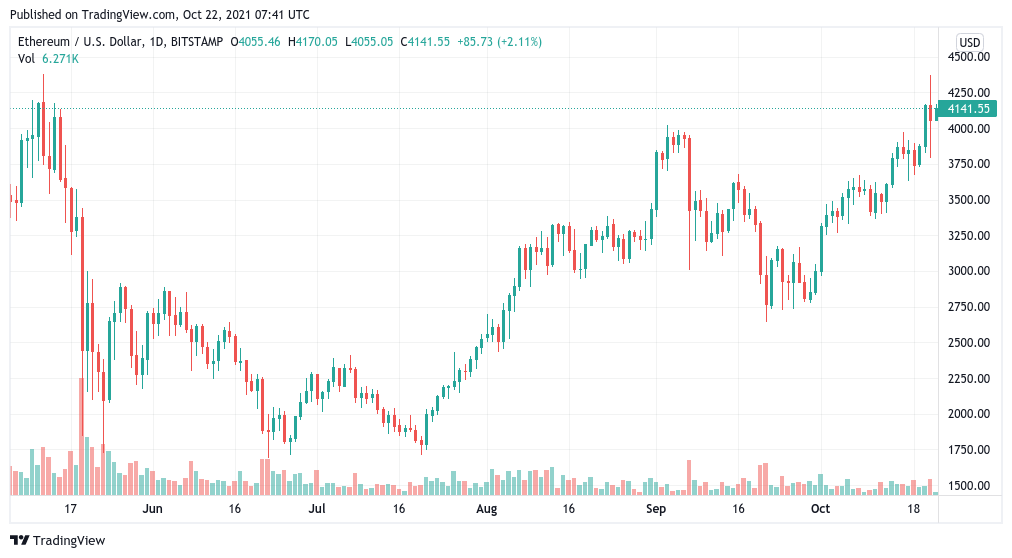 ETH/USD 1-day candle chart (Bitstamp). Source: TradingView
Against Bitcoin, Ethereum fared better, with the ETH/BTC pair having bounced near lows last seen in late July. 
Bitcoin could see "additional topside euphoria"
Having similarly failed to hold significantly higher levels, Bitcoin itself took an extended break as overheated markets cooled their excitement.
Funding rates were returning to normal on Friday, having reached a state reminiscient of the blow-off top from April.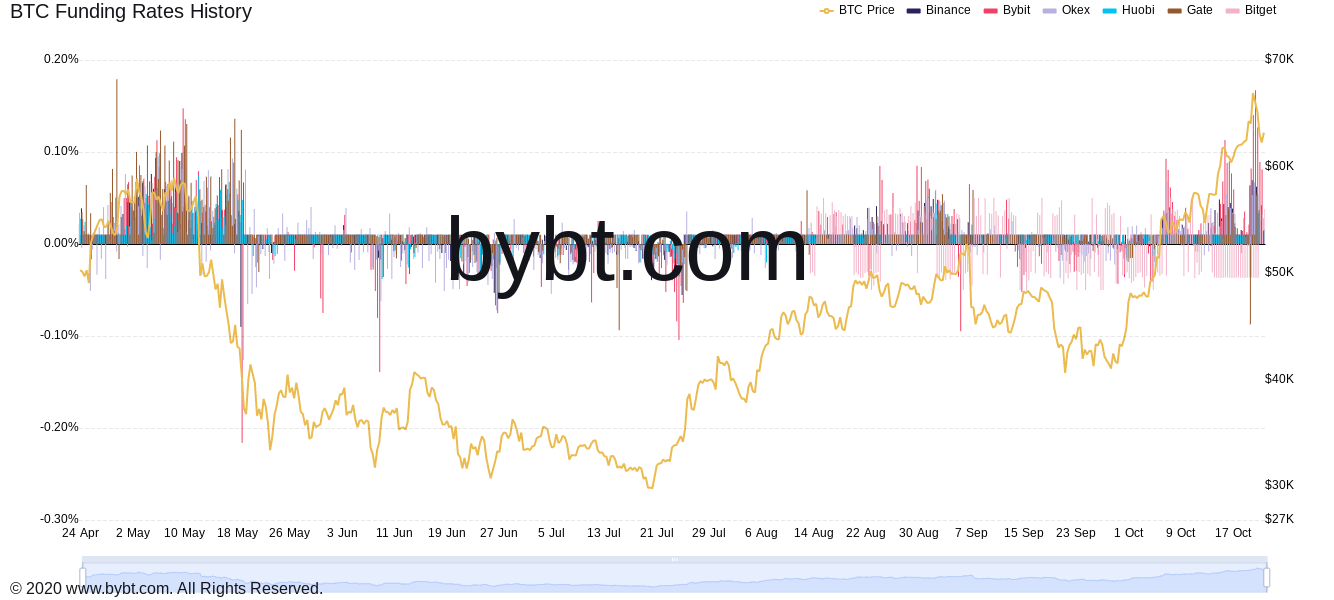 Bitcoin funding rates chart. Source: Bybt
As with open interest, however, these were not as frenzied as the Q2 rush, which produced the $64,900 all-time high in place until this week.
"This means there is possibly still room for additional topside euphoria but we are at levels that are starting to stretch the market," crypto trading firm QCP Capital commented in its latest market update.
Ethereum Forecast and ETH/USD Analysis October 22, 2021
Ethereum are trading at 4188 and continue to move within the framework of a strong rise and a bullish channel. The capitalization of the Ethereum cryptocurrency at the time of the publication of the forecast is $481,387,860,771. Moving averages indicate a short-term bullish trend for Ethereum. Prices went up from the area between the signal lines, which indicates pressure from buyers and a potential continuation of the rise in the asset value from the current levels. At the moment, we should expect an attempt to develop a correction in the value of the coin and a test of the resistance level near the 3345 area. Where again should we expect a rebound and a continuation of the rise in the Ethereum rate with a potential target above 4955.
Ethereum Forecast and ETH/USD Analysis October 22, 2021
An additional signal in favor of the growth of ETH/USD quotes will be a test of the support line on the relative strength index (RSI). The second signal will be a rebound from the lower border of the bullish channel. Cancellation of the option to raise the cryptocurrency will be a fall and a breakdown of the level of 3105. This will indicate a breakdown of the support area and a continued fall in ETH/USD quotes below the level of 2705. With the breakdown of the resistance area and closing of quotes above the level of 4505, we should expect confirmation of the development of a bullish movement in Ethereum.
Ethereum Forecast and ETH/USD Analysis October 22, 2021 suggests an attempt to correct and test the support area near the level of 3345. Where can we expect a rebound and the continuation of the rise of the ETH/USD cryptocurrency to the area above the level of 4955. An additional signal in favor of the rise of Ethereum will be a test of the line trend on the relative strength index (RSI). Cancellation of the growth option for the digital currency will be a breakdown of the 3105 area. This will indicate a continued fall in the digital currency with a potential target below the level of 2705.
Here's What Will Trigger the Next Big Ethereum Rally, According to Top Crypto Analyst
A popular crypto trader is predicting what needs to happen for Ethereum's (ETH) price to surge even further.
In the TechnicalRoundup newsletter, the pseudonymous analyst DonAlt says ETH is likely to underperform during a Bitcoin (BTC) breakout but will overperform later if the market rides "a multi-month uptrend."
"As Bitcoin gets sufficiently pumped (very technical term) risk trickles down to lower market cap assets, including Ethereum.
From a technical point of view, the market is in a range between support (low-mid $3000s) and resistance ($4000).
Given the relative strength of the market and the proximity to new all-time highs, a range breakout is more likely than a range breakdown.
Generally, triple tops aren't compelling resistance structures, especially those that form at prior all-time highs."
Ethereum is trading at $4,189 at time of writing, up more than 16% in the past week, according to CoinGecko. The second-biggest crypto asset by market cap hit its all-time high of $4,356 in mid-May.
DonAlt thinks Bitcoin currently offers traders more upside than downside.
"If you long Ethereum and you're right, you'll probably make less money than longing Bitcoin. If you long Ethereum and you're wrong, you'll probably lose more money than longing Bitcoin.
Our conviction on this isn't incredibly high, but the likelihood of a Bitcoin-dominant breakout is one worth considering.
In our view, the time to rotate into Ethereum will come once the breakout dust has settled. A large puke in Ethereum/Bitcoin would be a good time to start looking for punts.