Retail Investors Flock to Coinbase While It's Preparing For a Direct Listing
As popular trading platform Robinhood run into troubles, retail investors who are looking for new ways to trade, seem to have set their eyes on the US-based crypto exchange Coinbase, while the company is preparing for a direct listing.
There is now a reason to believe that we are seeing retail investors coming into the crypto space, specifically in the US. Coinbase ranks 11th on the US App Store today – up 45 places since yesterday, per the Block data.
https://twitter.com/codingalex/status/1355033029916450816?ref_src=twsrc%5Etfw%7Ctwcamp%5Etweetembed%7Ctwterm%5E1355033029916450816%7Ctwgr%5E%7Ctwcon%5Es1_&ref_url=https%3A%2F%2Fcryptonews.com%2Fnews%2Fretail-investors-flock-to-coinbase-while-it-s-preparing-for-9060.htm
Furthermore, it ranks 4th today among the top free iOS Apple Store apps in the US. It's behind Robinhood, Webull, and Reddit, and it precedes TikTok, Cash App, Zoom, and Fidelity Investments on the top 10 list, as well as its competitor Binance which is sitting on the 21st spot. Coinbase is also 51st on Google Play in the US.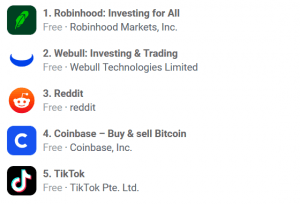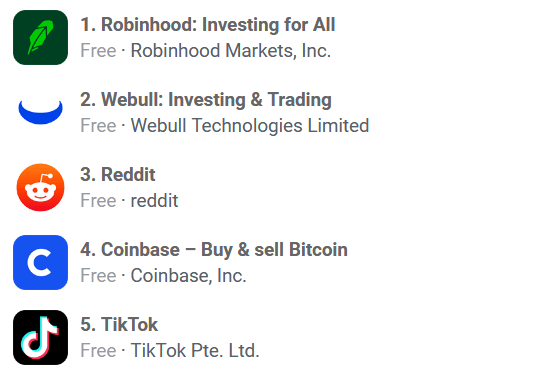 Per Google Trends, search interest in Coinbase has also increased.