Binance Smart Chain Hits 70% of Ethereum Traffic
Binance Smart Chain has emerged as one of the most crucial DeFi products that was championed by the world's leading centralized cryptocurrency exchange, Binance. Its attempt to churn out profits from the explosive DeFi market has led Binance to garner significant criticism. Nonetheless, Binance Smart Chain, for one has staged an impressive growth since its mainnet was first rolled out on the 1st of September 2020.
Five months later, the blockchain has reached 70% of Ethereum traffic, as revealed by the exchange's CEO, Changpeng 'CZ' Zhao.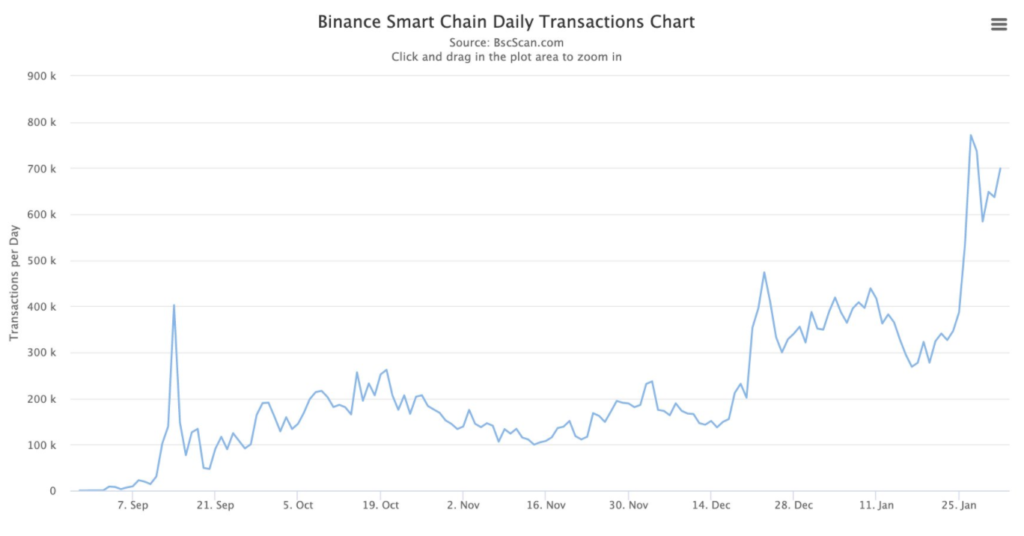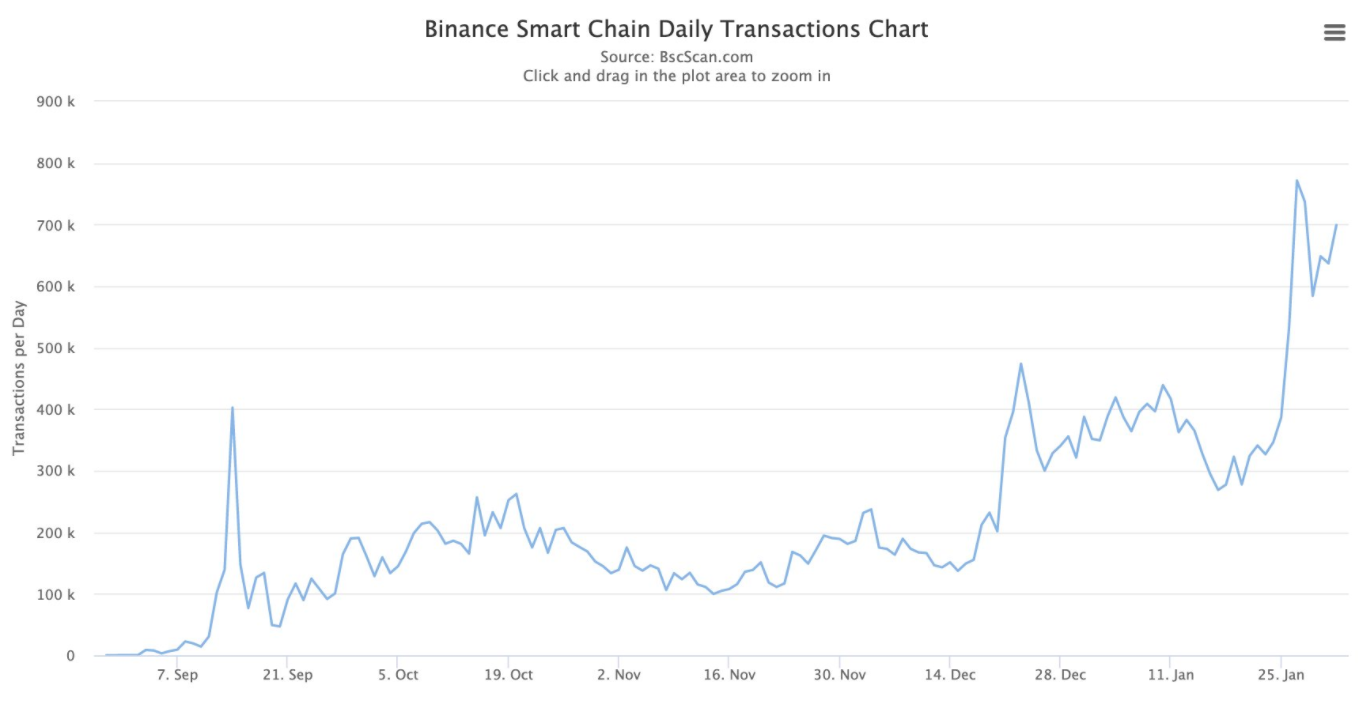 The latest traffic records can be attributed to the cheap and affordable gas fees that have attracted market participants both small and large to utilize the parallel blockchain. Binance Smart Chain is also a home for more than 100 different projects to keep up with the growing user demands and also making it a prime spot for the market players to interact with new projects.
The news comes hours after the crypto platform reportedly added delivery of Ethereum 2.0 staking rewards to BETH holders. This move was touted as yet another way to provide innovation on the BSC ecosystem. It is important to note that BETH is an ETH 2.0 staking token that is issued by Binance on BSC and Ethereum. This was done for users to stake ETH in a 1:1 ratio to receive BETH. The latest addition aimed to further introduce the potential rewards which were previously limited to just holding BETH to get daily airdrops.
Besides, the platform has not only intensified its attempts to onboard new projects but also the network, in general, was seen growing too and the above chart was a testament it. As per the chart, the transaction volume on the Binance-owned public chain outstripped its previous peak to climb to a new high of 771,461 transactions on the 27th of January.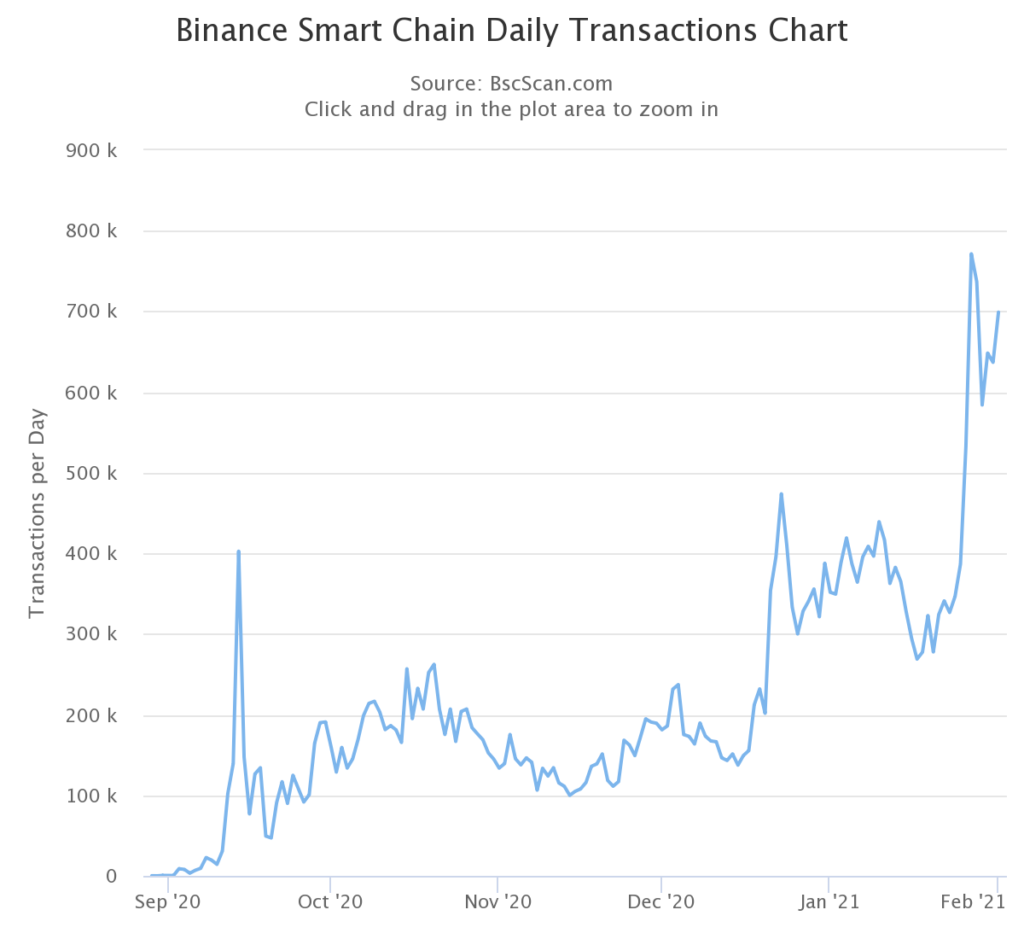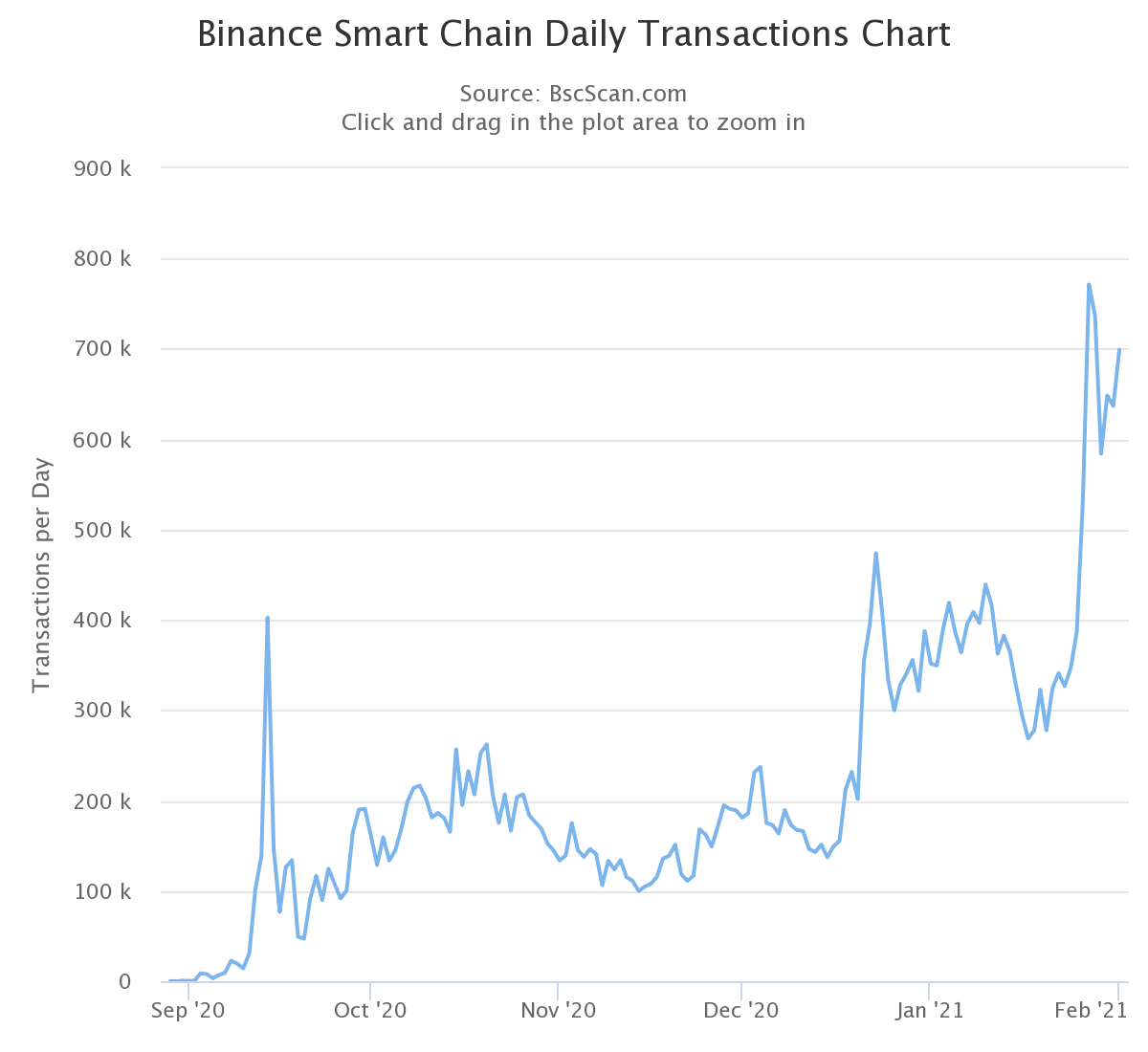 Despite the numbers of transactions retracing to the press time 699,127, the figures were still extremely high. One of the biggest advantages of BSC is the fact it is backed by Binance. Apart from this, other factors such as the blockchain being decentralized, with cheap transaction fees, its EVM compatibility, its capability of producing a block every 3 seconds as well as supporting cross-chain DeFi transfer, have managed to lure in investors that were previously apprehensive.
In addition, the total distinct numbers of address on the Binance Smart Chain has also maintained a consistent uptrend. On the 1st of February, the figures crossed the 1 million mark for the very first time indicating the growing number of users utilizing the network amidst the bull run.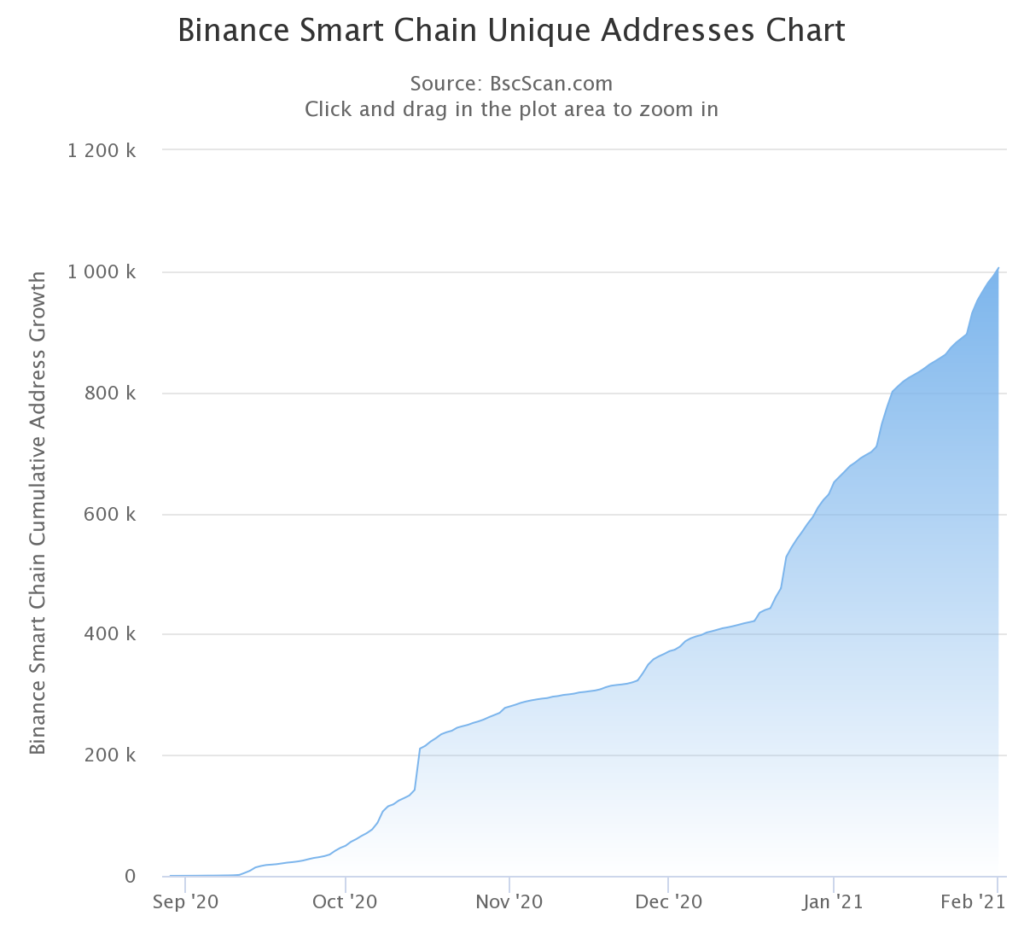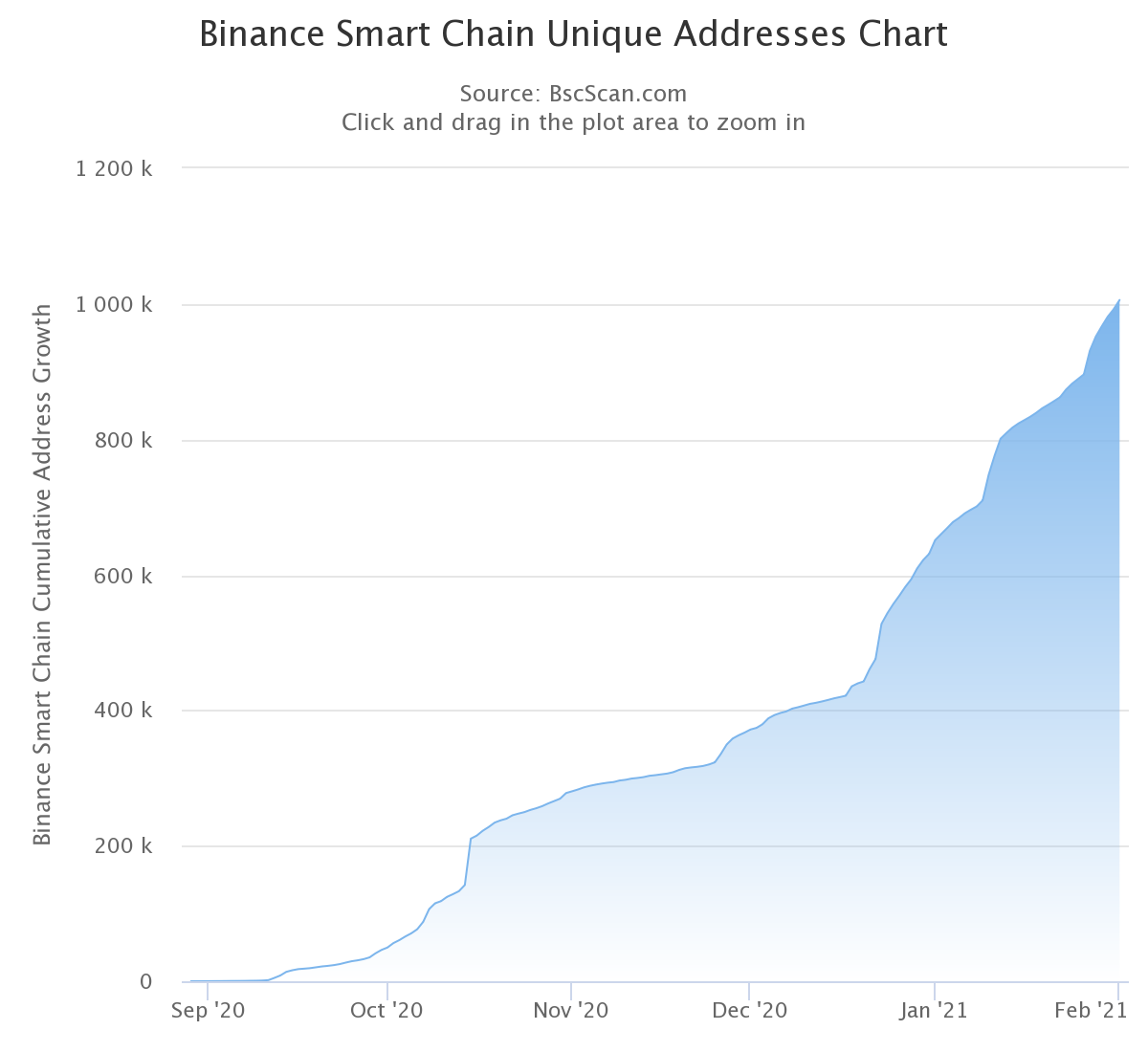 Binance's BNB Token Smashes To New High
After maintaining a steady uptrend over the past month, Binance's native token BNB has exploded past its previous ATH despite the market-wide stagnancy. The 9th-largest cryptocurrency snapped a record high of $52.04 at press time after a price surge by nearly 30% over the week.
Legendary Trader Peter Brandt Challenges Binance with Four Questions about 88% BTC Crash
Here's what is unclear for Mr. Brandt about mysterious Bitcoin (BTC) flash-crash of Oct. 21, 2021
Prominent trader and analyst Peter Brandt has taken to Twitter to ask his four questions in the context of the flagship crypto's 88% dropdown.
What do Binance and Binance.US have in common?
First of all, Mr. Brandt challenged the character of corporate relationships between Binance and Binance.US, its unit focused on American markets.
Questions remain:
1. What is exact corp. relationship @binance w/ @BinanceUS
2. Will firm release T&S with all trades/volume/price?
3. Did firm take opposite side of client fills
4. Will firm change low to reflect actual fills
cc: @GaryGensler @CFTC @SECGov @cz_binance @IBKR pic.twitter.com/huqzZbSGIt— Peter Brandt (@PeterLBrandt) October 24, 2021
Also, Mr. Brandt asks whether Binance is planning to release detailed documents to specify statistics for trades, their volume and prices during the flash-crash.
Then, the trading legend asked about the role of the platform in taking the opposite side of a client fills.
Besides the Binance CEO and co-founder Changpeng "CZ" Zhao, Mr. Brandt mentioned the Interactive Brokers platform, U.S. watchdogs CFTC and SEC and Gary Gensler, the SEC chairman.
Most expensive "trading algorithm bug" ever?
Also, Mr. Brandt attached a screenshot of a tweet by CZ when Binance's boss warned his audience about expected volatility spikes across cryptocurrency markets.
Finally, Mr. Brandt added that he never used Binance for trading.
As covered by U.Today previously, on Oct. 21, 2021, amidst a spending rally, the Bitcoin (BTC) price briefly tanked to the $8,000 level, losing more than 88% in no time.
A similar flash-crash was registered on 26 other low-liquidity exchanges. A Binance.US representative attributed this dramatic plunge to a critical bug in third-party mechanisms by one of the platform's sophisticated institutional clients.
Binance Bitcoin Balances Are Draining: 40,000 BTC Moved Away from Biggest Crypto Exchange
According to CryptoQuant data, Binance cryptocurrency exchange once again faced a massive fund outflow totaling 38,246 BTC. After a significant drop in the Bitcoin balance, the total balance on the sheets is close to 500,000.
In-house redistribution of funds
Previously, Binance.US faced a major bug that led to so-called "slippage"—the difference between the expected price of a trade and the actual execution of an order.
Whenever the order book on the market is too thin and an exchange cannot provide enough liquidity, volatility on the asset tends to rise exponentially, which leads to a massive drop in value.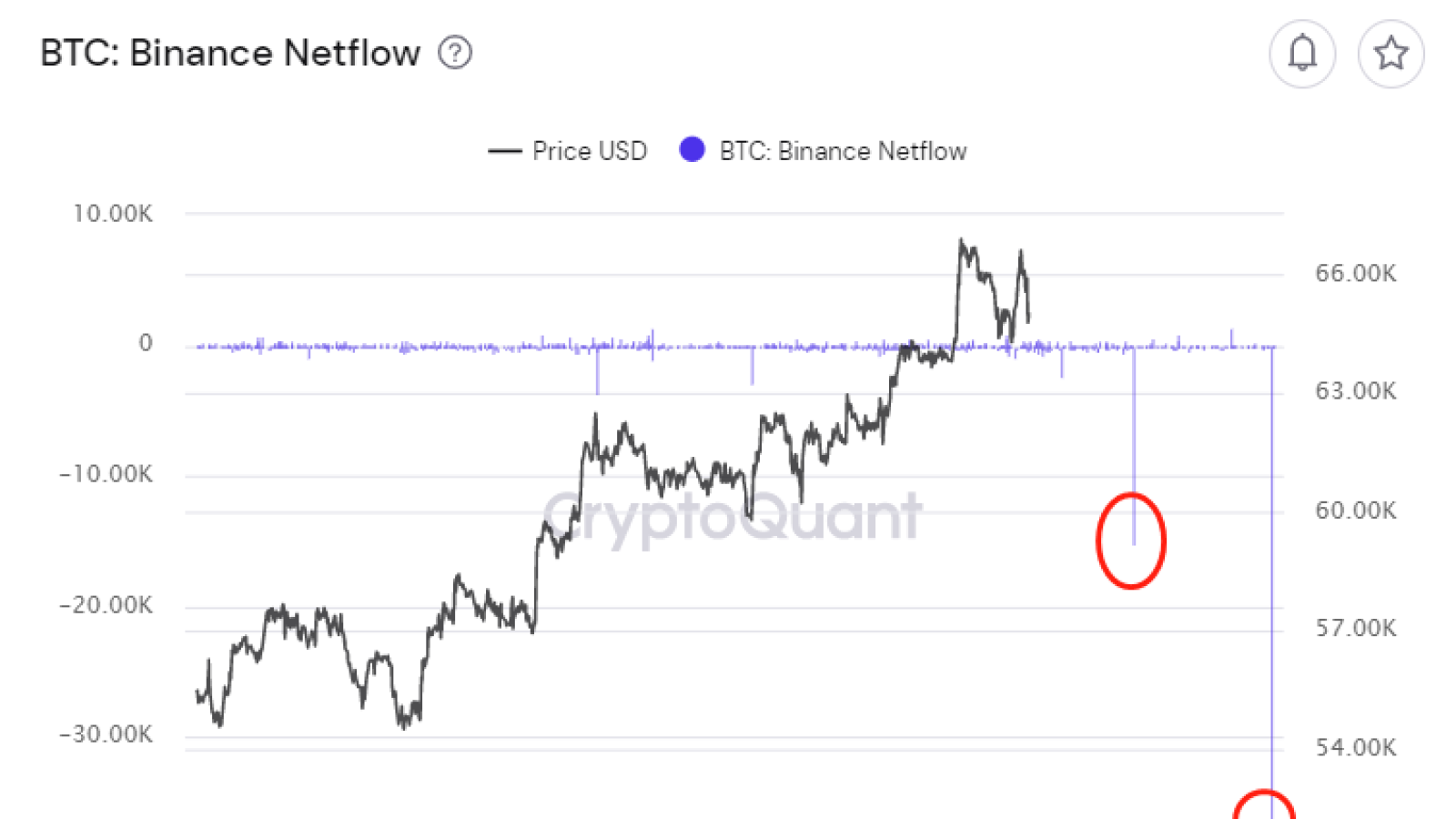 Due to the bug that appeared, the price of Bitcoin on Binance.US has dropped to $8,000, with numerous buy orders being executed on the way down. In order to provide more liquidity to the market on Binance.US, the main platform could have moved some of its funds to the U.S.-targeted platform, which is being counted by on-chain metrics as "outflows."
Natural outflows
With Bitcoin moving past the previous ATH and trading volumes remaining stable, some traders and investors are choosing to move their funds away from exchanges and keep them in their wallets.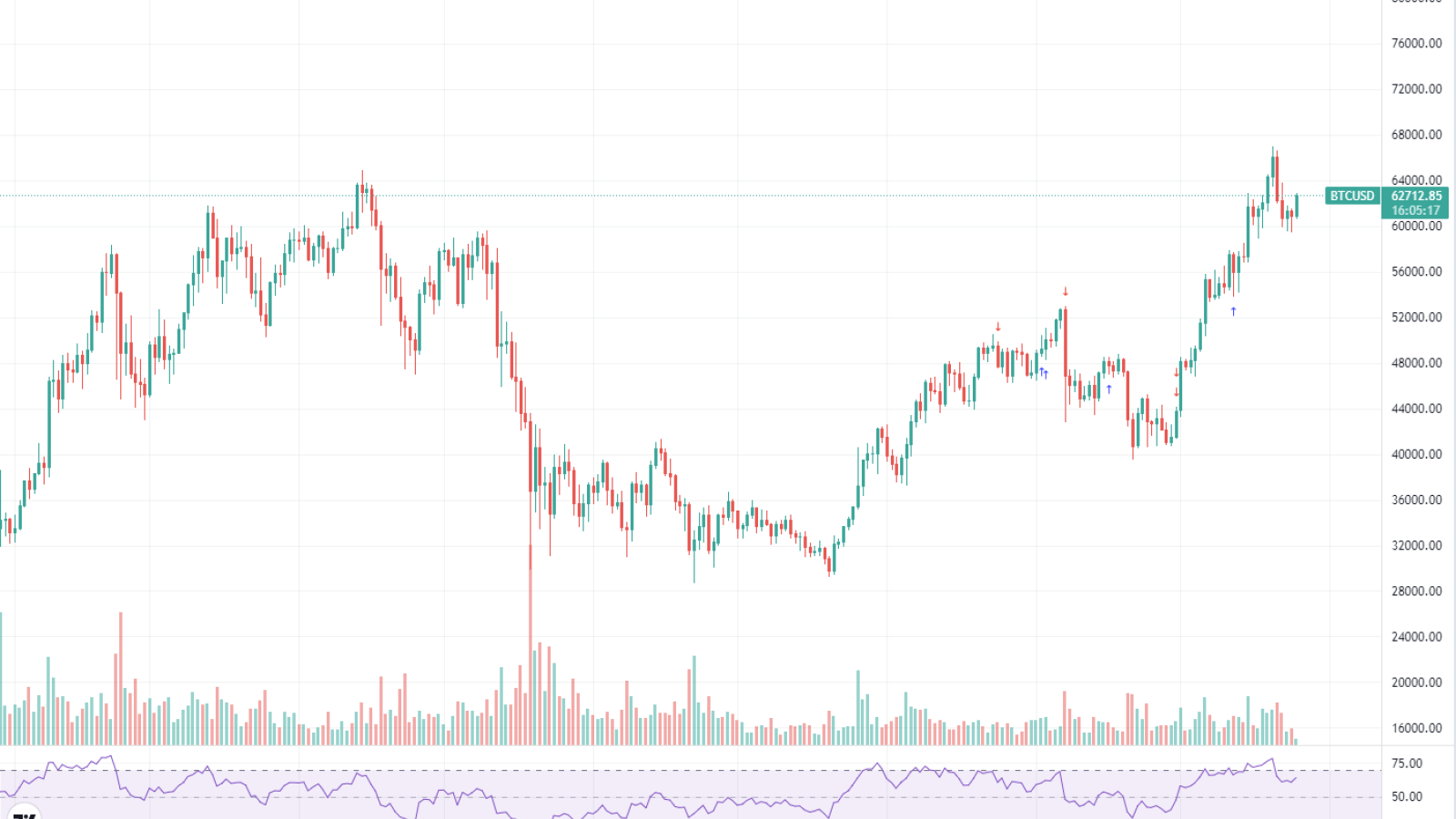 According to volume metrics, no significant selling pressure has been present on centralized exchanges, along with no abnormal trading activities.
Previously, notable exchange inflows appeared back in May, when Bitcoin's price retraced from the previous ATH to $29,000. Most retail investors have moved funds from their wallets to the exchanges to take profit.
Binance Coin Price Analysis: BNB continues to hold above $470, more upside to slowly follow?
Binance Coin price analysis is bullish today.
BNB/USD slowly moved higher overnight.
Closest resistance at $510.
Binance Coin price analysis is bullish today as the $470 support still holds, likely leading to a reversal back to the upside later today. Therefore, we expect BNB/USD to move towards the $510 and end the several-day retracement.
The overall market traded with a slight bullish momentum over the last 24 hours, with Bitcoin gaining 1.3 percent. Meanwhile, Ethereum has gained 3.67 percent, while Shiba Inu (SHIB) is the top performer, with a gain of 40 percent.
Binance Coin price movement in the last 24 hours: Binance Coin holds support above $470
BNB/USD traded in a range of $473.11 – $486.80, indicating low volatility over the last 24 hours. Trading volume has declined by 25.12 percent and totals $1.159 billion, while the total market cap trades around $79.9 billion, ranking the coin in 3rd place overall.
BNB/USD 4-hour chart: BNB ready to move higher?
On the 4-hour chart, we can see Binance Coin Price action consolidating as bulls likely prepare for another push higher.
Binance Coin price action has seen a strong performance so far in October. After setting a new major swing low at $320, a sharp push higher followed on the 1st of October.
BNB/USD eventually peaked at $450, with the following retracement setting a higher low at $395. From there, the market continued higher on the 12th of October, moving to $480 this time.
After another brief retracement, the further upside was seen earlier this week, with a brief move above the $500 mark seen on Wednesday. Since then, Binance Coin price action has retraced to $470 and formed a consolidation as bulls prepare for the next push higher.
Binance Coin Price Analysis: Conclusion
Binance Coin price analysis is bullish today as a new higher high has been established above $470. Therefore, once the current consolidation ends, we expect BNB/USD to push above the $500 again.
While waiting for Binance Coin to move further, read our guides on LTC wallets, Gero wallets, and  DeFi wallets.