DeFi Grows to an Avalanche with Zero Exchange
Decentralized Exchanges have had an interesting and brief history. EtherDelta, Uniswap, 1inch, SushiSwap and now Zero Exchange. And this DeFi wave keeps growing, EtherDelta at its peak had 241 different tokens being traded, Uniswap has a $5B market cap, and after 4 weeks since announcing, Zero Exchange has already attracted over $60M in volume and 8000 users before even launching mainnet.
Zero Exchange has emerged as the next Decentralized Exchange following Uniswap but without the transaction fees. Powered by the Avalanche network's low fee, fast finality blockchain, Zero Exchange uses Chainsafe's Chainbridge solution to make this all possible.
As the first Decentralized Exchange on Avalanche blockchain, Zero promises an end to the ever-increasing fee problem currently experienced by traders on Uniswap and Sushiswap – the two biggest DEX's currently in DeFi, both plagued by Ethereum's growing transaction fees.
Traders are moving from Uniswap and Sushiwap in waves, driven by the 'no-fee' approach to Zero Exchange and its familiar UI. Volume has grown exponentially reflecting the simplicity of swapping one cryptocurrency for another.
The community response has been positive, "every trade on Uniswap costs $30 in fees," which is said to be the most common reason users have been switching to Zero.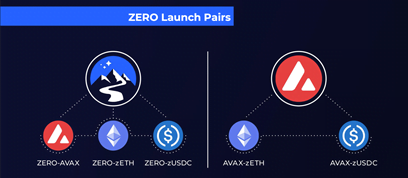 Liquidity for the decentralized exchange is crowd-sourced, users stake their coins into a virtual pool that is managed by a smart contract. With Zero Exchange they earn up to 29,000% APY (variable) according to Zero's Liquidity Mining Program which lets people add their $ZERO and $AVAX to the pool as a form of passive income generation. After reward incentives close, Liquidity Providers are entitled to the 0.3% swap fee that has enabled many users to double-dip into the ETH and AVAX pool with compounding.
The team behind Zero Exchange is anonymous as well as the identities of their relayers (the nodes that make the cross-chain swap possible). When asked about the reason for the anonymity, a representative for the Zero team stated," We feel that at this point in DeFi, the DEX needs to speak for itself."
Despite the questions about who is behind the project and who supports them, Zero Exchange has not raised any money. The team has funded everything out of pocket including an Ethereum airdrop for their ZERO tokens, and an AVAX airdrop to get people started on the new Avalanche blockchain.
Zero Exchange is currently the only Avalanche DEX with future plans to include stop-orders and charting for Q2 as part of its 3rd blockchain integration with Polkadot. We will continue following this story as Zero Exchange evolves into a new generation of Decentralized Exchange, with the promise of cryptocurrency swaps across three separate blockchains.
Open DeFi Notification Protocol Aims to Help Traders Manage Risk

October 21, 2021 — Decentralized public blockchain platform Orbs has announced the launch of the Open DeFi Notification Protocol, a product designed to supply users with free mobile notifications for consequential on-chain events.
The chain-agnostic protocol originated from the DeFi.Org Accelerator, a joint venture between Orbs, cryptocurrency exchange Binance, and wallet provider Moonstake. The Accelerator helps founders launch the next wave of innovation in decentralized finance, providing liquidity, mentorship and exposure to market players.
The Open DeFi Notification Protocol – which is Orbs' newest contribution to the venture – leverages contributions from community members to record events such as accumulated pending rewards, price swings, near liquidations, stop loss, contract upgrades, new governance votes, and more.
In gaining access to such data, DeFi users including traders and liquidity providers can better manage their activities and avoid losses, particularly during periods of market volatility. With a simple 30 minute integration on Github, any DeFi project can furnish its users with free mobile notifications, a feature that may help them gain an edge on rival protocols.
'Transparency is a hallmark of blockchain, yet reliable mobile notifications that can aid the DeFi community are virtually nonexistent,' says Orbs Co-Founder Tal Kol.
'Our talented team has created a user-friendly protocol that functions almost like a reactive DeFi assistant, alerting users to the possibility of impending liquidations, significant price swings, contract upgrades and the like. We are positive it will make a huge impact.'
Although the initial beta version of the Open DeFi Notification Protocol will use a centralized node to track and display the various updates, Orbs intends to launch an updated version that utilizes the eponymous network's set of independent nodes to aid further decentralization.
With the Open DeFi Notification Protocol, users can set up any number of alerts for different defi apps, with the ability to integrate an open-source web component directly within many dApps' frontend architecture. Users simply downloads the mobile app "DeFi Notifications" for iOS or Android and scan their address QR in MetaMask (or the position QR in the app's UI). No registration is required. An example video of the Protocol working with Sushi has already been uploaded to Orbs' official YouTube channel.
'The great thing about the Protocol is that it can work with emerging DeFi projects,' says Tal Kol. 'All that's required is the implementation of a simple JavaScript web3 class, to extract the notification from the on-chain data. This is then contributed via PR to the Protocol Github repo.'
About Orbs
Orbs is a public blockchain infrastructure designed for mass usage applications and close integration with EVM-based L1's and L2's such as Ethereum, Binance Smart Chain (BSC), Polygon, Solana  and Avalanche. The Orbs protocol is decentralized,executed by a public network of permissionless validators using Proof-of-Stake (PoS) consensus and is powered by the ORBS token.
The Biggest DeFi Hacks in 2021
In 2020, around $120 million was lost to DeFi hacks
Decentralized Finance deals with a decentralized ledger and lacks intermediaries, making it quite favorable but also risky. According to DeFi Pulse, there is around $100 billion locked up in DeFi. As the total value increases, so does the crime rate around it. Hackers have taken up the opportunity to loot investors as the business is booming.
Nevertheless, more measures have been taken to ensure the safety of investors' assets. In 2020, around $120 million was lost to hackers. This year, the number is probably going to be much smaller, taking the current statistics. 
Funds are swindled from the system by use of hacks, rug pulls, and system failure. However, these are vital areas that the platforms have decided to put significant concerns on to curb the crime. These are some of the biggest hacks that have taken place this year.
Significant DeFi hacks in 2021
Yearn finance flash loan attack
The attack on the platform happened in February this year. The hackers siphoned $11 million and managed to get away with $2.7 million as profit. They used $8.5 million as fees. The hackers used flash loans which they used to make a collateralized loan. The hacker then made a deposit in Yearns pool, which led to an inflation of DAI.
EasyFi hack
Monday 19th of April this year, a cyptojacking happened to EasiFi. The platform sits atop of the Polygon Network. A loss of $80 million worth of assets was lost to a strategic hack. The hackers took 75 million USD as assets and siphoned 6 million USD from liquidity pools. To recover the loss and prevent future similar attacks, the managing team altered the blockchain network protocol.
PAID Network major loss
The PAID network suffered a significant loss of around 180 million USD. Hackers managed impunity of 3 million USD. As if that's not enough, the hackers minted PAID tokens worth above 180 million USD. It caused inflation in the supply of the tokens, which led to a drop in their value by about 85%. While some argue that the attack might have been a rug pull and not a hack, there are no facts attached to the claim.
Uranium Finance Token migration hack
An attack on the Binance Smart Chain network-based platform, Uranium Finance, happened during a token migration event earlier in the year. It was focused on BSC's automated market protocol. The hacker managed to get away with 50 million USD after taking advantage of a coding error. He liquefied the process without revealing his identity.
Spartan Flash Loans hack
The Spartan protocol is also a BSC-based platform that suffered a hack in May this year. The project lost 30 million USD taken out by flash loans from PanCake. He altered the balance of assets that were locked in the liquidity pool. He withdrew the stolen funds by use of DEXs 1inch and Nerve Finance.
DeFi platforms should heighten their security measures since DeFi hacks perpetrators are busy developing better ways to manipulate loopholes in finance to their favor. 
There's more to DeFi than just providing liquidity
DeFi and liquidity
As the Decentralized Finance market keeps growing' more investors are locking their digital assets with protocols. The DeFi market keeps creating a buzz around the business sector. From a platform with the simple task that enabled the exchange of ERC-20 tokens in a decentralized way called Uniswap to a worldwide utility tool in business. Decentralized finance is now a platform capable of activities on and around sales, yield farms, lending protocols, and staking platforms.
Due to the transformation of the Decentralized Finance market, there have been processes to advance the earlier protocols to be established to fit the current market. The more current protocols are also improved to include more digital assets into DeFi. The process aims to diversify the DeFi market to attract more investors into the digital technology arena.
Derivatives trading
Derivative exchanges have for a very long time a target for regulators. However, investors have bargained hard to have a decentralized option. They desire a platform that centralized regulators and the law do not target. As a result, they came up with protocols; dYdX AND Hegic. They offer regulation services.
DYdX is an exchange that works with the help of the Etheruem network. It gives investors a chance to exchange digital assets DYdX is aimed at availing a legit platform for investors to trade with a wide variety of crypto assets. This will increase the adoption of cryptocurrency in business. Hegic is also an Ethereum-based platform that is aimed at providing transparency during exchanges. It does this with the help of smart contracts and liquidity pools. DYdX and Hegic operate on a peer-to-peer basis, open-source software, and do not involve any centralized entity control.
What more to DeFi- but from liquidity?
Unlike centralized finance, decentralized finance offers investors an opportunity to trade without having to reveal their identity. This is so because a central control entity is not required to keep your information or follow up on an investor's information.
DeFi facilitates crowd loans thanks to parachain auctions. This is done to keep the cryptocurrency ecosystem intact. Investors can hold or trade assets while influencing growth in the platform.
Parachaining is done thanks to Polkadot(DOT) and Kusama(KSM), cryptocurrency ecosystems. They ensure the peer-to-peer lending processes are done accordingly. Users holding KSM and DOT tokens can dedicate their assets to a pool, and their contributions are returned after a period of lock-up or bonding. 
Currently, KSM holds $995, which was contributed to 16 projects. Nevertheless, 88% of the contributions made were from the first 5 projects out of 15. This means that the auctions were a success.
With the current processes incorporated with the earlier ways of DeFi, it is safe to say that the pressure on the online market is deserved hype. The DeFi market is doing well, and investors should be encouraged on the same. The DeFi market is a buzz maker and the future of digital assets and the virtual world.