Ripple defends itself over SEC claims
Ripple, which is facing a series of allegations from the US Securities and Exchange Commission (SEC) about whether or not its XRP product is a security and an investment contract, has hit back in a strongly worded rebuttal.
The firm described the SEC's allegation that XRP purchases were equal to investment contracts as an "unprecedented and ill-conceived legal theory".
The firm itself is listed as a defendant in the case, while two of its senior leaders – Christian Larsen and Brad Garlinghouse – are also named.
Blockchain-powered cryptocurrency provider and online money transfer enhancement service Ripple has continued to hit back strongly against allegations from an American regulator.
Ripple has in recent months been facing claims from the US Securities and Exchange Commission (SEC) about the way that it sold its cryptocurrency, XRP.
It stands accused of selling it as a security without going through the appropriate processes with the SEC first.
The move from the SEC has meant that senior figures at Ripple are also facing charges.
Brad Garlinghouse and Christian Larsen are both charged, as is the company itself.
However, this week, the firm has taken strong steps to rebut the allegations.
In a filing in the US District Court for the Southern District of New York, the company said that it disputes the SEC's claim that XRP is a security.
It also hit back at the suggestion that the virtual currency it sold constituted an investment contract.
It said that those who purchase XRP do not have any long-term ownership claims over Ripple's business.
"Ripple has never offered or sold XRP as an investment. XRP holders do not acquire any claim to the assets of Ripple, hold any ownership interest in Ripple, or have any entitlement to share in Ripple's future profits," it asserted.
Ripple appears to be attempting to site the dispute on the question of whether or not XRP is an investment contract with the ultimate potential benefit being a share in the firm's profits.
"Those determinations are consistent with the economic reality that XRP functions as a store of value, a medium of exchange and a unit of account – not a share in Ripple's profits," the response added.
The extensive response, which was published on Ripple's website, emphasized that Ripple "reserves its rights to request dismissal of the Complaint on any and all grounds".
It went on to describe the global context of regulatory approaches to Ripple at the moment – claiming that financial markets oversight bodies in countries such as the UK have decided to label XRP as a cryptocurrency rather than a security.
"Securities regulators in the United Kingdom, Japan, and Singapore have likewise concluded that XRP is a virtual currency not subject to securities regulation," it said.
It described the SEC's allegation that XRP purchases are an investment as "an unprecedented and ill-conceived legal theory – with neither statutory mandate nor congressional authorization".
Ripple's XRP Price Prediction 2021 | 2025 | 2030: Future Forecast for XRP Price
XRP – Assessing the odds of it climbing past $5 in 2022
It has been a strong year for the collective crypto-market. Any asset in the top 10 would agree with this assertion, but this wouldn't be the case for XRP. While on the rankings it remains 7th, its April 2021 high of $1.966 is yet to be tested again.
From a long-term perspective, every top asset managed a new ATH over the last few months. This list includes Bitcoin, Ethereum, and Cardano. For XRP, however, its 2017 high still stands.
Consistent momentum hasn't been on its side after the SEC fiasco. Alas, structurally, its market might be undergoing a massive shift in the coming months.
However, it is important to note that the direction of XRP's price will still depend on several external factors. The following article will outline the bullish parameters which may trigger its rally.
XRP to return to the top 3?
At press time, XRP was ranked 7th on the charts with a market cap of $52 billion. Binance Coin was at 3rd with a valuation of $82 billion.
XRP hitting $82 billion on the charts would mean a spike of about 60% to $1.75. According to the market structure, this target could be extremely viable.
Taking the example of the 1-day chart – XRP has been consolidating strongly in the liquidity pocket (highlighted in the chart) over the past month. With a prominent symmetric triangle forming at press time, the potential to breach and rally towards its immediate resistance of $1.40-$1.50 is fairly high.
One confirmation can be attained from the fact that lower trading volumes have been met by declining prices, which means any trading volume spike would automatically trigger an incline.
However, XRP's reach might not only be limited to $1.40 or $1.50 anymore. The asset could be looking at the possibility of hitting its 2017 ATH by end of December and continuing its rally next year.
The monthly chart for XRP, considering it explodes in the desired direction, seems to be structurally targeting a massive breach of $10 on the chart.
Now, while such a movement is almost unfathomable, there may be a few narratives slowly swinging in XRP's favour.
Coinbase, SEC, and Warren Buffett?!
SEC started reeling in the pressure on Ripple late last year and in December 2020, it filed an action against the organization and two of its executives. XRP's value tanked during a collective bullish period and then, Coinbase announced its delisting on 19 January.
Its been 10 months since the lawsuit was filed and until now, Ripple has not been found guilty. Over the past couple of months, the momentum has shifted towards Ripple. In fact, the SEC has been ordered by Judge Sarah Netburn to offer clearer explanations as to why the Howie test applies to XRP, and not Ether and Bitcoin.
Jeremy Hogan, a vocal attorney in the XRP-SEC lawsuit, stated,
"UH-OH. The SEC is going to be forced to admit that there is nothing in an of these contracts that created an expectation of profits by purchasers of XRP. That's a big problem for the SEC."
With positive developments slowly surrounding XRP and Ripple, a part of the community believes that it is only a matter of time before XRP is re-listed on Coinbase.
Coinbase — re-list $XRP already.— David Gokhshtein (@davidgokhshtein) October 23, 2021
While both these narratives directly impact the valuation of XRP, the Warren Buffett angle might be one for the long term.
According to reports, Berkshire Hathaway has invested $500 million in Brazil-based NEO bank, which is an existing RippleNet member utilizing its ODL services.
It can be speculated that Buffett saw some form of intrinsic value in Ripple's ODL remittance services. This may have led to this massive investment.
Don't count your chickens before they hatch
Regardless of the enticing narratives, it is essential to understand that such price jumps (if only) for XRP might come over the next few months and quarters, and not weeks.
It is still important to understand market dynamics before investing in an asset that has juggled market and legal volatility for over a year. Hence, as always, Do Your Own Research because this isn't investment advice.
Top 3 Price Prediction Bitcoin, Ethereum, Ripple: Pioneer crypto to retrace briefly while altcoins go higher
Bitcoin price might retreat to $56,000 as investors continue to book profit.
Ethereum price also prepares for a sub-$4,000 pullback.
Ripple price edges closer to a breakout from a bullish pennant pattern.
Bitcoin price continues to move sideways above a crucial psychological level. As long as support holds, BTC is in no trouble, however, if it breaks lower, it will likely drag Ethereum and Ripple along with it. Although this descent is likely to play out in the short term, it may be required to start a second leg-up.
Bitcoin price needs to correct
Bitcoin price is stuck producing lower highs and lower lows since rolling over at the October 21 $67,016 swing all-time high. While this pullback is currently stabilizing above the $60,000 support level, a breakdown could exacerbate the downswing and knock BTC down to the liquidity area, ranging from $52,595 to $56,004.
A dip into this zone will provide an opportunity for the sidelined buyers to jump on the bandwagon for the next leg-up. It will also allow investors to book profits, creating a double pressure of sorts. When this development reaches an inflection point, BTC will trigger a new bull run.
As for the upside, Bitcoin price will first encounter the $70,000 psychological level. Clearing this barrier will open the path to retest the 161.8% trend-based Fibonacci extension level at $77,525, a new all-time high.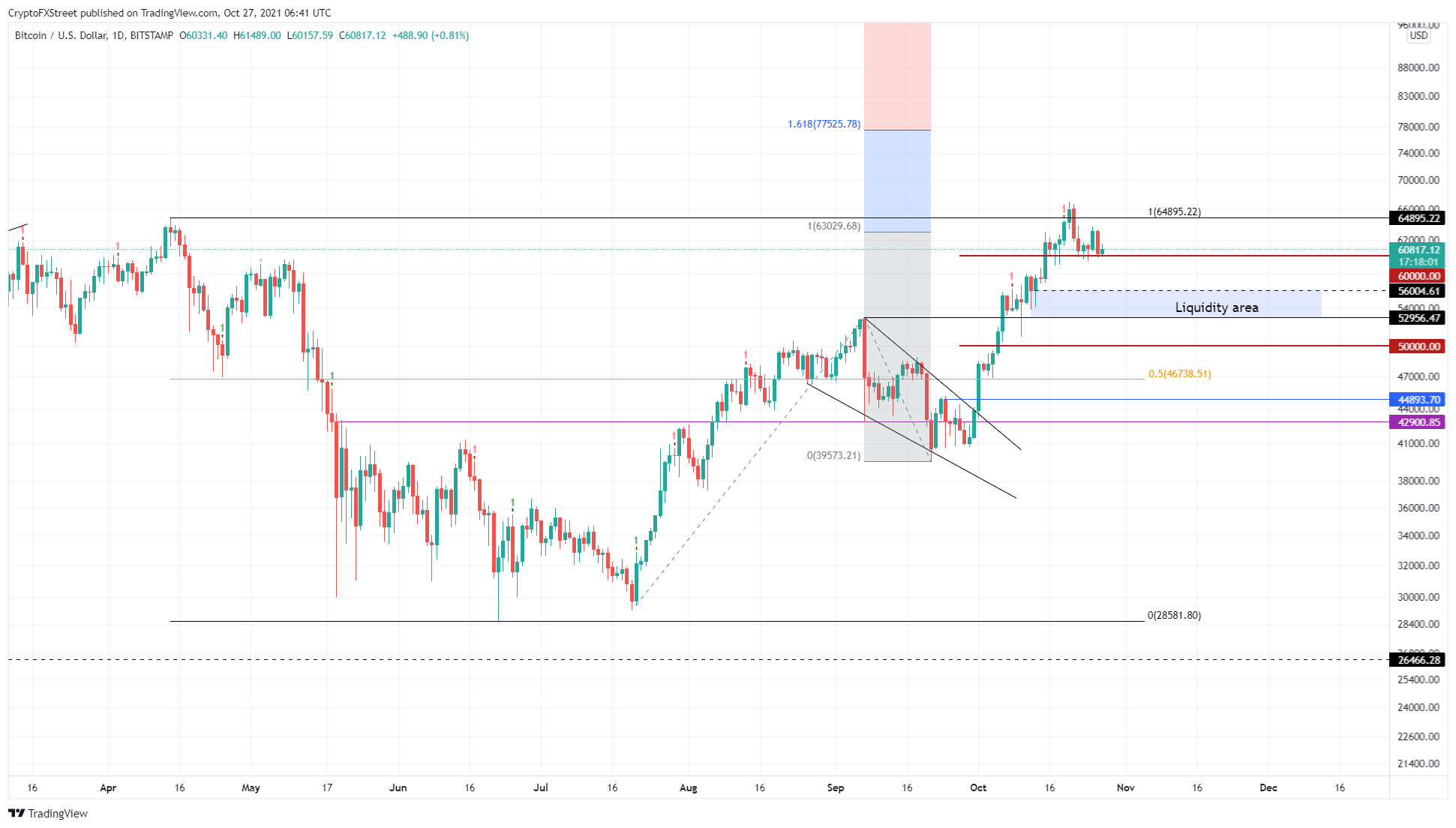 BTC/USD 1-day chart
While things are looking up for the big crypto, a breakdown of the liquidity area's lower limit at $52,956 will put Bitcoin price in a tough spot. While this move does not invalidate the bullish thesis, it will delay it.
In such a case, BTC might revisit $50,000 before restarting the uptrend.
Ripple increases stronghold in Middle-East with on-demand liquidity deployment
Ripple has partnered with financial services company Pyypl to facilitate ODL using its native XRP crypto.
This will allow for instant and low-cost cross-border payments while eliminating the need of costly pore-funded accounts.
---
San Francisco-based blockchain startup Ripple is increasing its stronghold in one of the strongest remittance corridors – the Middle East and North Africa (MENA). On Monday, October 25, Ripple said that it is preparing for the first-ever in-market On-Demand Liquidity (ODL) deployment for the Middle East.
For this, Ripple has partnered Pyypl, an international blockchain-based financial services tech company. This on-demand liquidity deployment will leverage Ripple's native cryptocurrency XRP. It will further help in facilitating instant and low-cost cross-border payments while eliminating the need for costly pre-funded accounts.
Pyypl noted that this is part of the company's larger mission to enable digital payments for a billion smartphone users in Africa and the Middle East. As said, the OLD deployment will help Pyyl to solve one of the biggest issues of pre-funded accounts as seen with traditional cross-border payments.
Pyypl's co-founder and CEO Antti Arponen referred to these legacy accounts as "inefficient use of capital". He further noted that unlocking these previously trapped funds can help to better grow and scale the businesses. Arponen said:
We're excited to be Ripple's first partner of choice to bring the deployment of ODL to the Middle East. This enables our ever-increasing number of users to deliver remittances instantly and cost-effectively. We've also reduced our inefficient use of capital through ODL, and look forward to an exciting rollout of its capabilities across the region.
Unlocking massive opportunities in the MENA market
The traditional players in cross-border payments have been pretty laggard in implementing innovative solutions. Ripple is solving the trillion-dollar challenges of this industry using its ODL services.
Besides, Ripple notes that the Middle East caters to two of the world's three largest remittance corridors with Saudi Arabia and the UAE. Last year in 2020, the Middle East handled combined payments worth $78 billion. Besides, the Middle East has made a rapid transition to digital in the last year as it prepares for the upcoming FinTech revolution. Brooks Entwistle, Managing Director of RippleNet in APAC and MENA said:
MENA continues to be a critical region for Ripple thanks to our outstanding roster of customers, a welcoming regulatory environment and a regional focus on the needed improvements in the current financial system. The establishment of yet another first-in-market ODL launch demonstrates the understanding that digital assets will play a central role in the future of global payments. We are delighted to partner with forward-thinking companies, like Pyypl, to ensure we can continue to break the status quo in the current global financial system to continue delivering the best experience for customers.
Before entering the MENA market, Pyypl has already started its ODL services in the Philippines. Pyypl holds the license from ADGM's Financial Services Regulatory Authority.
The announcement has not had a major impact but Ripple's XRP continues to trade just above $1.10 after gaining around 2 percent in the last 24 hours.