112.5 Million XRP Shifted by Major Exchanges, Jed McCaleb Dumps 12.6 Million XRP
Whale Alert tracking bot has shared data, according to which major crypto exchanges and several anonymous whales have transferred a total of over 112 million XRP
According to data from Whale Alert, an astounding 112,500,000 XRP has been transacted by top-tier crypto exchanges over the past 10 hours.
This is equal to $43,838,688 in fiat.
Bitstamp, Huobi and more wire a gargantuan XRP sum
Whale Alert has posted a series of tweets to show that, over the past 10 hours, around a dozen transactions carrying from 13 million to 27 million XRP were conducted on XRP Ledger.
The participants in those transfers were digital exchanges—Bitstamp (Ripple's ODL corridor on Europe), Binance, Huobi and Kraken.
In some of the transactions, anonymous wallets also took part.
Jed McCaleb's "tacostand" sends away 12.6 million XRP
An analytics website that deals with XRP data, Bithomp, has posted data on recent transactions conducted on the "tacostand" address; that's the XRP wallet of Jed McCaleb, a Ripple cofounder and its first chief technology officer.
Today, Feb. 4, the wallet parted with 12,693,308.88 coins to sell them.
Jed McCaleb resumed selling his XRP stashes in January after pausing them in December of last year, when the SEC publicly filed a legal complaint against Ripple and its two CEOs, Brad Garlinghouse (the current one) and Chris Larsen (cofounder and former chief executive).
They were sued by the securities regulator for allegedly selling unregistered securities (XRP), making over one billion USD on those sales.
Since McCaleb was the other cofounder, he, most likely, decided to pause his XRP sales back then.
Ripple has been regularly sending millions of XRP to McCaleb for his work as the company's first CTO and cofounder. The most recent transaction that carried a mind-blowing 477 million to his "tacostand" wallet took place on Feb. 1.
XRP pushed back to spot five, ADA breathing down its neck
XRP has again turned into the fifth-largest cryptocurrency. Earlier this week, as a result of the pump undertaken by a Telegram group consisting of 200,000 traders, XRP made its way back to third place, surpassing Polkadot and Tether by market cap.
However, later on, XRP pulled back to fourth place. Now, Polkadot has taken that from XRP too. Now, four billion USD in market capitalization value has prevented the coin from being overtaken by Cardano's ADA.
Ripple may stay sideways: Elliott Wave analysis
Ripple, XRPUSD is still good, but now that it didn't manage to break above channel resistance line and that some ALTcoins are already at the resistance, then we have to be aware of more complex correction in wave B/2, until we see broken 1.18 bullish confirmation level. Maybe we will see more sideways price action or maybe even a retest of 1.00 – 0.85 support zone.
Ripple 1h Elliott Wave analysis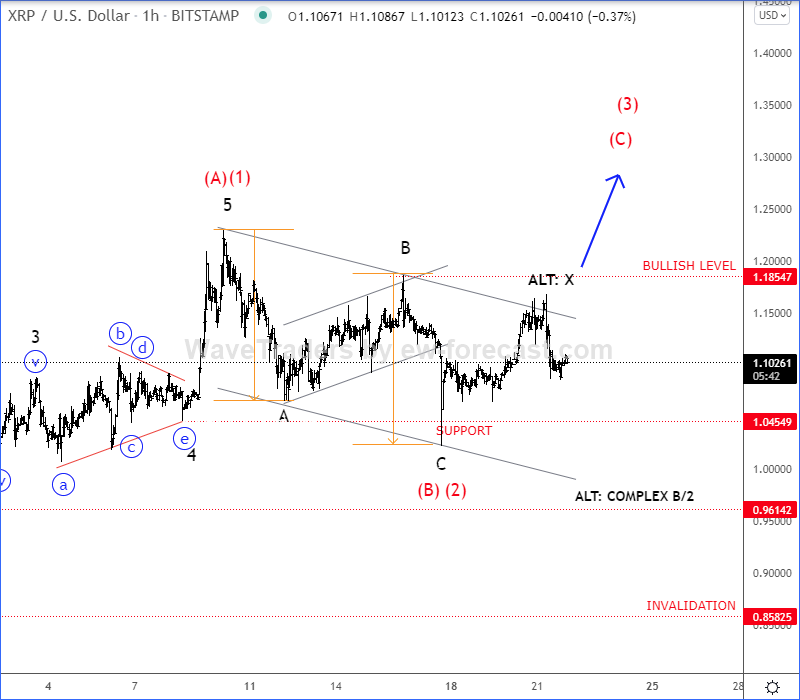 Ripple is nicely recovering in the 4-hour chart as expected and looks like it's trying to break above channel resistance line that can push the price at least up to 1.25 – 1.40 area for wave (C) or maybe even up to 1.5 – 1.7 area for wave (3). Keep in mind that price may also stay sideways., so invalidation level remains at 0.85.
Ripple 4h Elliott Wave analysis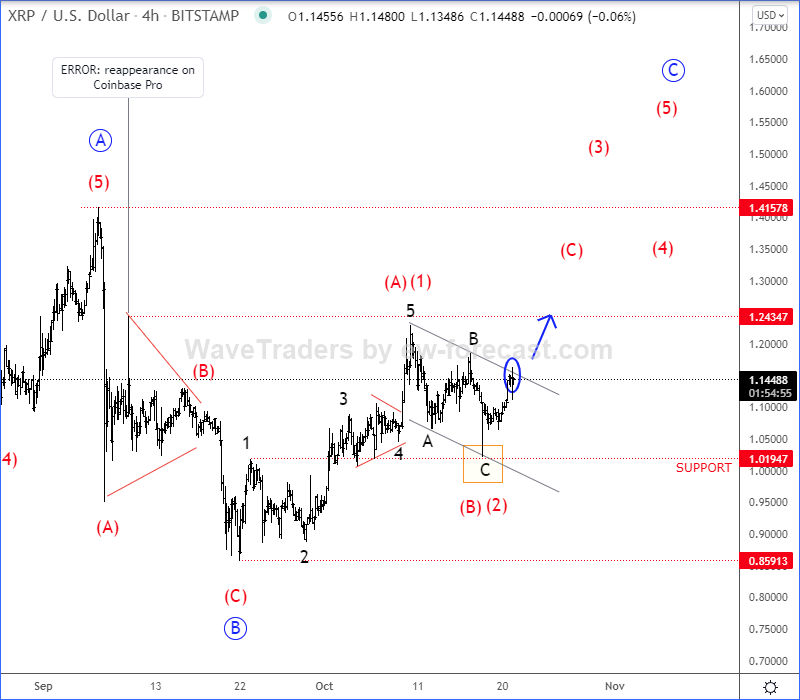 ---
Check more of our analysis for currencies and cryptos in members-only area.
Ripple Forecast and XRP/USD Analysis October 22, 2021
XRP/USD are trading at 1.1195 and continue to move within the correction and bearish channel. The capitalization of the Ripple cryptocurrency at the time of the publication of the forecast is $52,000,913,021. Moving averages indicate a short-term bullish trend for Ripple. Prices are again pushing the area between the signal lines upward, which indicates pressure from buyers of the asset and a potential continuation of the rise in the XRP rate in the market already from current levels. At the moment, we should expect an attempt to develop asset growth and test the resistance level near the 1.1305 area. Further, a rebound downward and the continuation of the fall of the cryptocurrency to the area below the level of 0.8655.
Ripple Forecast and XRP/USD Analysis October 22, 2021
In favor of falling XRP/USD quotes, a test of the resistance line on the relative strength index (RSI) will come out. The second signal in favor of a decline in asset quotes will be a rebound from the upper border of the descending channel. Cancellation of the option of falling cryptocurrency will be a strong growth and closing of quotations above the level of 1.2805. This will indicate a breakdown of the resistance area and a continued rise in XRP/USD to the area above the level of 1.5005. Confirmation of the fall in the digital currency rate will be a breakdown of the support area and closing prices below 0.9705.
Ripple Forecast and XRP/USD Analysis October 22, 2021 implies an attempt to test the resistance level near the 1.1305 area. Where can we expect the cryptocurrency to continue falling with a potential target at the level of 0.8655. An additional signal in favor of a decline in Ripple will be a test of the trend line on the relative strength index (RSI). Cancellation of the option of falling quotations will be a strong growth and a breakdown of the 1.2805 area. In this case, we should expect a continuation of the rise in the digital currency with a target above 1.5005.
Ripple CEO Claims Ether Surpassed XRP Because of SEC
Ether took XRP's second spot because of the SEC, says Ripple CEO Brad Garlinghouse
During his appearance at the DC Fintech Week virtual conference, Ripple CEO Brad Garlinghouse opined that the regulatory clarity that Ether, the second-biggest crypto, has received from the U.S. Securities and Exchange Commission allowed it to surpass XRP:
Within the last few years, XRP was the second most valuable digital asset. As it became given that the SEC had given a hall pass to ETH, ETH has obviously kind of exploded…That clarity has helped.
Garlinghouse adds that market forces are supposed to determine winners and losers instead of regulators.   

In December 2017, XRP became the second-largest crypto but it has since slipped to seventh place.

Ether is now firmly in second place, with its market cap recently surpassing that of banking giant JPMorgan.
Garlinghouse slammed Gary Gensler for refusing to answer whether the rival cryptocurrency is a security, adding that the existing securities laws are outdated:
If laws are so clear, then let's just say the answer to these questions.
He also praised "Twitter sleuths" who are busy dissecting the SEC's case against Ripple.

The Ripple boss has reiterated his oft-repeated claim about the lack of clarity in the U.S. He also said that the company had signed zero new customers in the States due to regulatory headwinds, but this didn't stop the company from expanding worldwide:
We are growing a lot more outside the United States.
China's hostile stance toward crypto also doesn't make a lot of sense in the long run, according to Garlinghouse.