Bitcoin and US Markets Continue Boom As All-Time-Highs in Sight
Crypto markets continue advance as market cap surges beyond $1 trillion.
Bitcoin and Ethereum both up but technical indicators suggest assets are overbought.
Stock market investors are concerned a bubble is forming as asset prices continue to climb.
The prices of cryptocurrencies are moving in tandem with the broader stock market as it was another green day for assets.
Global crypto markets were up 5.6% in the last 24 hours to $1.17 trillion, making it four days straight crypto's total value has stayed about the trillion dollar mark.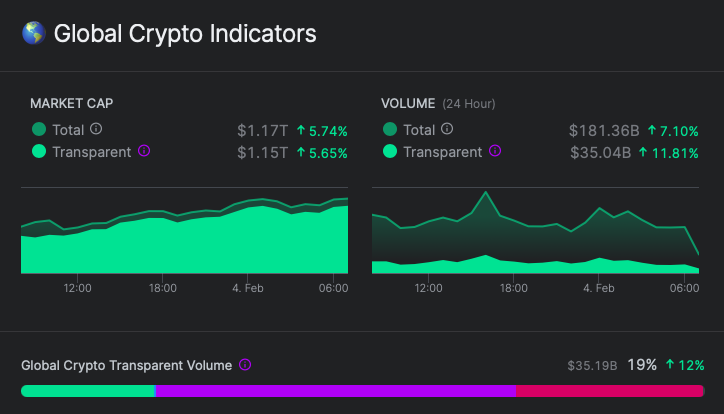 Leading the charge was Bitcoin, with 4.7% gains, putting it just shy of $38,000. It's been 27 days since it hit $40,000. If Bitcoin gains another 7% it will surpass that figure, but some indicators suggest the asset is becoming overbought, according to Market Milk.
Ethereum, which continues its stellar growth is in uncharted territory. The asset is up again, with 8% gains in the last 24 hours, continuing its month long run above the previous highs of $1,000 recorded in 2018.
But technical indicators have been sat in the red for some time indicating Ethereum's position is due for a correction at some point.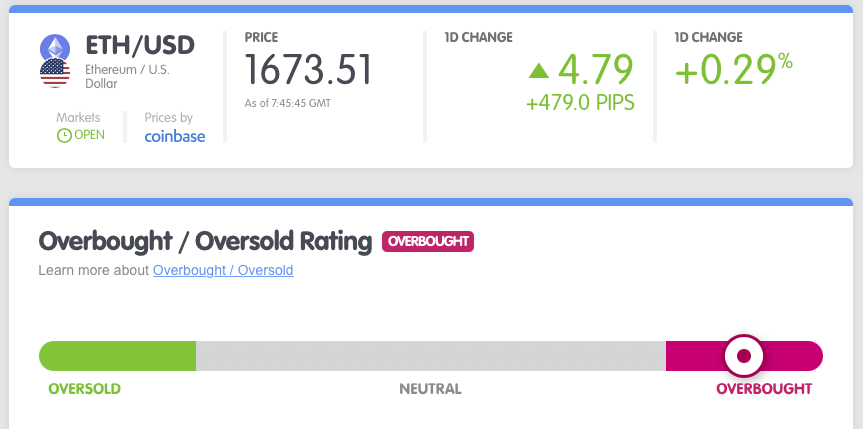 A similar question is being asked of asset prices more broadly, how much room is there left for growth and how much of it is the result of good old hubris?
Markets continue gains as big cap tech stocks exceed expectations
The Dow and S&P 500 were up fractions of a percent in closing while the Nasdaq closed 0.02% down. But digging a little deeper it was a big day for some companies. eBay jumped 10% and PayPal rose 6% as their fourth quarter results came in higher than estimates.
Investors are increasingly turning back to 'fundamentals' – a term loosely referring to how healthy a company is based on earnings reports and other salient metrics – after the GameStop turbulence of last week.
That trend is set to continue today as market watchers will be watching closely to see if Snapchat, Pinterest and Pelton can continue the positive momentum as they all report earnings.
But some investors are beginning to draw comparisons between today's tech boom and that of the 1999 tech-market crash suggesting some sectors are becoming over inflated.
Investment managers have been quick to point out that this time things are different. Most notably because interest rates for banks to borrow and lend was at 6.5% back in 1999, where as today it's zero.
This means that money has and will continue to pour into equity markets as, "there is simply no alternative," Anastasia Amoroso, head of cross-asset thematic strategy at JP Morgan Private Bank told Yahoo Finance yesterday.
Does buying stocks because there's no alternative fit the 'fundamentals' narrative? Time will tell.
The Cycle Started, Mike Novogratz Says – Bitcoin Boom Is Here; Jack Dorsey Boosts BTC's Price
Mike Novogratz is one of the essential names in the crypto space which is celebrating the booming price of Bitcoin.
Check out what he had to share with his followers and Twitter fans:
Crypto wealth is approx 50bps of global wealth. That means if you don't have at least 1/2 percent invested in crypto you are short the global benchmark. Most institutions are still at 0. As they move in, that number will go to 1 then 2 then….
The cycle has started.— Mike Novogratz (@novogratz) October 16, 2021
Someone hopped in the comments section and said this; 'Anyone who has not yet embarked on the crypto band wagon is a simple minded idiot who knows nothing about markets, freedom or wealth creation.'
Jack Dorsey boosts the price of BTC
It's been also revealed that Jack Dorse said that Square could build a BTC mining system – this obviously triggered a more massive price race for the king coin.
At the moment of writing this article, BTC is trading in the green and the king coin is priced at $61,118.15.
CNBC online publication just noted that Square CEO Jack Dorsey said late on Friday the company is considering jumping into BTC mining business.
Dorsey tweeted that the company is considering a "bitcoin mining system based on custom silicon and open source for individuals and businesses worldwide."
Square is considering building a Bitcoin mining system based on custom silicon and open source for individuals and businesses worldwide. If we do this, we'd follow our hardware wallet model: build in the open in collaboration with the community. First some thoughts and questions.— jack⚡️ (@jack) October 15, 2021
Dorsey's goal would be to make crypto mining more accessible. We suggest that you check out the complete thread that Dorsey shared on his social media account in order to learn all the available details.
Pantera Capital's Dan Morehead: Bitcoin (BTC) Already Up 100% in This Bull Run
How big is median increase in Bitcoin (BTC) price in bullish market phases?
As Bitcoin (BTC) reclaims $62,000 level, Dan Morehead, CEO of the first-ever cryptocurrency-focused VC firm in the U.S., shares the comprehensive statistics of the last six bull runs for Bitcoin.
Bitcoin (BTC) price doubled in 87 days: Bull Run 2021
According to the latest tweet by Mr. Morehead, the Bitcoin (BTC) price witnessed a 2x increase in the first 87 days of the ongoing bullish wave.
#bitcoin at $61,000 is 2x from where we mark the start of this new bull market in July.

For perspective, the median bull cycle went up 15x over 300 days.

More thoughts on the state of the market here: https://t.co/g46sxp7Qe6 pic.twitter.com/Iy96sJvZzO— Dan Morehead (@dan_pantera) October 15, 2021
Unlike many other experts, Mr. Morehead identifies two separate "bull run" phases in 2020-2021. During the previous one, between March 16, 2020, and April 14, 2021, it took 394 days for Bitcoin (BTC) to increase its price 13x and print a new all-time high.
According to his infographic, the most impressive rally ended with a 106x increase of the orange coin's price in 2015-2017.
That said, the median Bitcoin (BTC) price bull run lasted for 300 days and increased the "king coin's price" by 15x.
Will Bitcoin ETF mark the top of the BTC cycle?
At the same time, according to "The Next Price Era" letter issued by Pantera Capital on Oct. 6, 2021, the hotly-anticipated approval of Bitcoin (BTC) ETFs is listed amidst the possible "sell the news" events.
Mr. Morehead noticed that the launch of CME Bitcoin Futures and Coinbase direct listing triggered painful bear markets:
Will someone please remind the day before the bitcoin ETF officially launches? I might want to take some chips off the table.
As covered by U.Today previously, similar statements were made by CNBC's Jim Cramer.
The seasoned analyst also revealed his plans to "cash out" 50% of his Ethereum (ETH) bags.
Bitcoin Will Significantly Underperform Altcoin Market As New Crypto Price Era Unfolds: Pantera Capital's Dan Morehead
The founder and chief executive officer of Pantera Capital says that investors can expect altcoins to outperform Bitcoin (BTC) in the long term.
In a recent edition of Pantera's Blockchain Letter, the head of the digital asset management firm outlines Dan Morehead's key quotes from the SALT 2021 conference in New York. During the conference, Morehead said that even though his company has greatly profited from BTC, he emphasized that most future crypto gains will come from altcoin investments.ADVERTISEMENT
"My perspective is: Bitcoin has been amazing – Pantera Bitcoin Fund is up 67,000% since inception. However, I think the majority of future gains will be from tokens outside of Bitcoin. I know that sounds heretical to some people here, but that's my professional opinion."
Morehead compares the rise of Bitcoin and its competitors to that of the tech industry boom during the late 1990s.
"It's like saying in 1998 that [the] majority of future tech gains would come from outside Microsoft.
At the time, Microsoft was worth $218 billion, Apple $3.5 billion, Amazon was $2.2 billion. Google and Facebook were zero – they didn't even exist. In the years since Microsoft did great – it went up 10x. However, 80% of the tech gains in these five stocks came from outside Microsoft.
That's the view I have here – I think BTC is going to go up a ton – like 10x. It's a great investment…[but] I think the broader portfolio is going to outperform."
At time of writing, BTC has a market cap of $1.156 trillion while all altcoins combined have a market cap of $1.327 trillion, according to CoinMarketCap.