Bitcoin price prediction – BTC/USD bulls demolish resistances to pursue $42,000 again
Bitcoin price prediction now features a confident bull trend
BTC/USD price has established new daily highs after touching $39,990 peak
Bitcoin price has broken the bearish descending triangle pattern
Most on-chain metrics and technical indicators paint bullish Bitcoin price prediction
Bitcoin trades above 50-hour moving average
Bitcoin price prediction is now firmly entrenched in a bullish trend that is pointing towards fresh new highs. The BTC/USD pair is now trading within the range of $40,000 resistance level. At the time of writing, the price is trading at $38,686 and is close to the upper Bollinger Band.
The technical indicators are all lining up nicely to support a bullish momentum. The buyers will have to be active to support a fresh buying spree, building more pressure on the thin bearish community. The bearish descending triangle pattern has now subsided after the sharp upmove towards $39,900 broke most intermittent resistances.
Even though the price is trading strictly within a range for the past few hours, the shrinking Bollinger Bands point towards another imminent breakout higher. On the fundamental front, Elon Musk's involvement with crypto has led to the recent surge in BTC price towards $39,990. The move quickly phased out, and the price came back within the tight range. However, a new bull trend was painted on the charts, with short traders being squeezed out. The consolidation has played out nicely for those who accumulated at lower levels.
Bitcoin price movement in the last 24 hours – Bull trend consolidates for the moment
The ephemeral uptrend was sharp and took the price from $33,800 to $36,691. However, the current price range is pretty tight, and traders cannot break out with a clear bullish pattern. The long-term overview has now shifted towards bulls as the current range is also sloping upwards. Nonetheless, the confusion prevailing in the Bitcoin price prediction as subsided with the price pointing upwards
It's inevitable pic.twitter.com/eBKnQm6QyF

— Elon Musk (@elonmusk) July 18, 2020
The BTC/USD is on the verge of charting another course towards fresh new all-time highs. The resistance at $35,000 has been broken confidently. The bulls are now consolidating above $37,500 in a bid to close the price near higher resistances. As the price knocks on $38,700 resistance, the short squeeze has left many bears in shock.
Approximately 700,000 addresses have entered buying phase ever since the BTC price went above $35,000 resistance. The sharp upswing has put pressure on the bears who had things under control near $38,000 resistance level until last week. The bearish descending triangle is a thing of the past, with bulls increasing buying momentum, as is evident in the volume figures.
BTC/USD 4-hour chart – Tight range sloping upwards
The 4-hour BTC/USD chart is pointing towards another bullish Bitcoin price prediction. The buyers are optimistic after the Elon Musk saga. The declining moving averages have flattened out and are now on the verge of a positive breakout. The odds of another upside move have increased considerably, especially since higher resistances have been breached.
The RSI remains at 59 with an upward bias. The MACD indicator is sloping upwards after a concrete breakout that supports a bullish uptrend. The volumes are increasing as more buyers step in near the lower levels. Any massive accumulation by BTC whales can tilt the Bitcoin price prediction firmly into the bullish region.
The recent surge in buying pressure will help BTC bulls breakthrough higher resistances, particularly at $38,800 and then at $40,000. Most institutional investors have continued to maintain their BTC holdings with minimal shift in their portfolio. For example, MicroStrategy recently purchased 295 BTC. Thus, the news on the fundamental front remains reasonably positive.
The 200-day simple moving average is now below the price – a fact that may give solace to the bulls. At the same time, the 200-day SMA is now sloping upwards after the recent sharp uptrend.
Bitcoin price prediction conclusion – Bulls need to hurry things up
BTC bulls will have to close the price above the $38,800 level to strengthen the current uptrend. The current Bitcoin price prediction is dependent on the bullish rally to chart fresh new highs. The bulls will have to close the day above $38,800 resistance to hold the driving seat firmly.
Bearish outlook cannot be ignored since the bears are ready to pounce anytime. Any false breakout near $40,000 resistance can sharply increase selling pressure due to profit booking. A pullback towards $34,800 can lead to more buying.
Disclaimer. The information provided is not trading advice. Cryptopolitan.com holds no liability for any investments made based on the information provided on this page. We strongly recommend independent research and/or consultation with a qualified professional before making any investment decisions.
Legendary Trader Peter Brandt Challenges Binance with Four Questions about 88% BTC Crash
Here's what is unclear for Mr. Brandt about mysterious Bitcoin (BTC) flash-crash of Oct. 21, 2021
Prominent trader and analyst Peter Brandt has taken to Twitter to ask his four questions in the context of the flagship crypto's 88% dropdown.
What do Binance and Binance.US have in common?
First of all, Mr. Brandt challenged the character of corporate relationships between Binance and Binance.US, its unit focused on American markets.
Questions remain:
1. What is exact corp. relationship @binance w/ @BinanceUS
2. Will firm release T&S with all trades/volume/price?
3. Did firm take opposite side of client fills
4. Will firm change low to reflect actual fills
cc: @GaryGensler @CFTC @SECGov @cz_binance @IBKR pic.twitter.com/huqzZbSGIt— Peter Brandt (@PeterLBrandt) October 24, 2021
Also, Mr. Brandt asks whether Binance is planning to release detailed documents to specify statistics for trades, their volume and prices during the flash-crash.
Then, the trading legend asked about the role of the platform in taking the opposite side of a client fills.
Besides the Binance CEO and co-founder Changpeng "CZ" Zhao, Mr. Brandt mentioned the Interactive Brokers platform, U.S. watchdogs CFTC and SEC and Gary Gensler, the SEC chairman.
Most expensive "trading algorithm bug" ever?
Also, Mr. Brandt attached a screenshot of a tweet by CZ when Binance's boss warned his audience about expected volatility spikes across cryptocurrency markets.
Finally, Mr. Brandt added that he never used Binance for trading.
As covered by U.Today previously, on Oct. 21, 2021, amidst a spending rally, the Bitcoin (BTC) price briefly tanked to the $8,000 level, losing more than 88% in no time.
A similar flash-crash was registered on 26 other low-liquidity exchanges. A Binance.US representative attributed this dramatic plunge to a critical bug in third-party mechanisms by one of the platform's sophisticated institutional clients.
Dogecoin Looks Ready To Rip As Bitcoin Finds Critical Support, According to Crypto Analyst Justin Bennett
Crypto analyst Justin Bennett says that Dogecoin (DOGE) could be ready to make a run for its next critical level about 37% above current prices.
The popular analyst tells his 88,000 Twitter followers that DOGE is attempting to break out of a long descending resistance line that it has been up against since May.
"DOGE looks ready (as long as $BTC cooperates).
Just needs to get above 0.27 on a daily closing basis to open up 0.34+."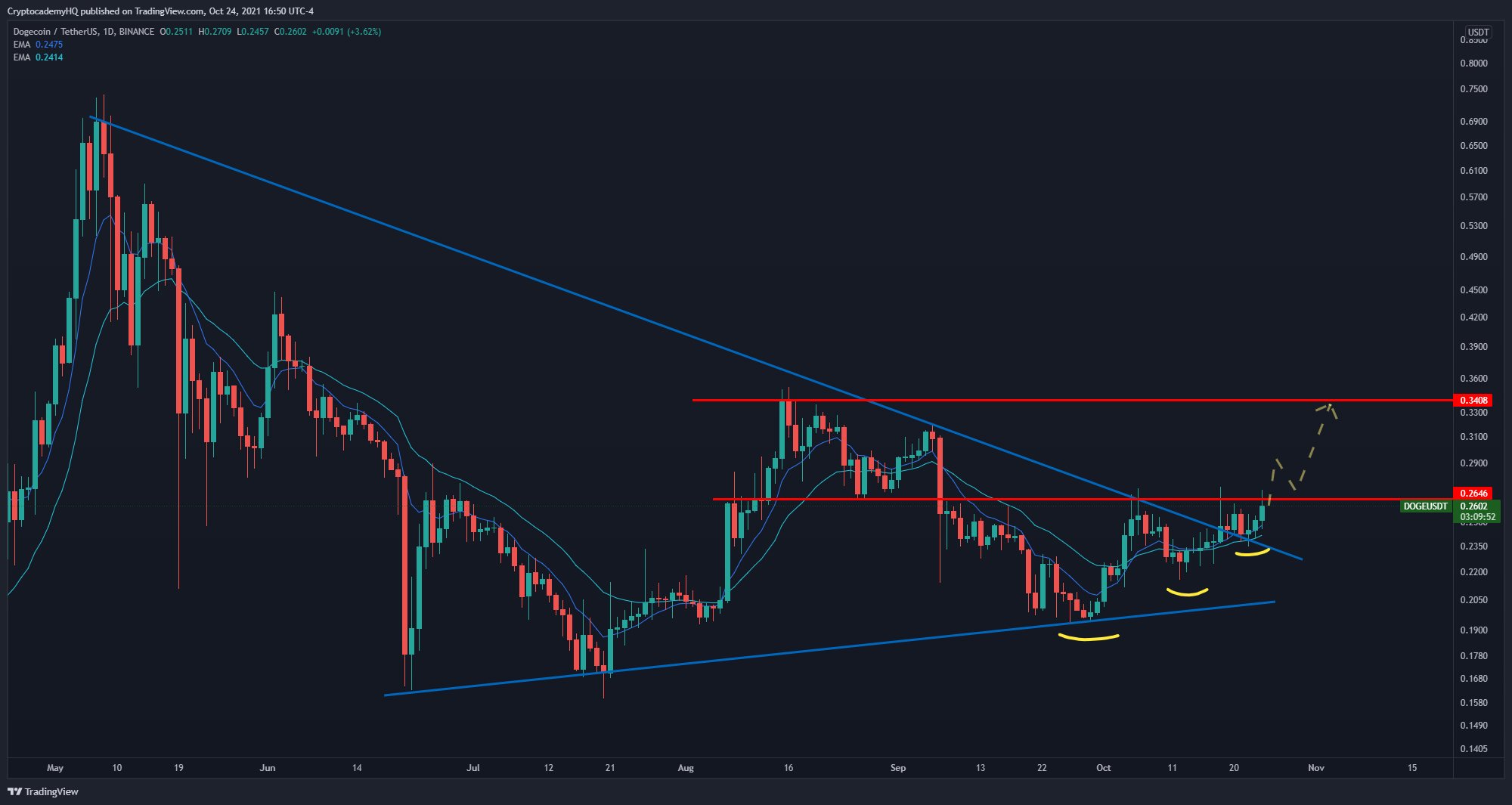 In the near term, Bennett says DOGE needs to turn the $0.26 level into support and close above $0.27 before continuing higher to his initial target of $0.34. At time of writing, Dogecoin is trading at $0.26 according to CoinGecko.
Looking at Bitcoin, the analyst says BTC's ability to maintain the $60,000 level is a major show of strength that could have big implications in the broader markets.
"Although the BTC weekly candle might not look great, it still held above $60k.
That's what I was looking for. Doesn't mean we can't see more pullback before further upside, but it does mean $60k is holding as support on a weekly closing basis.
That's huge."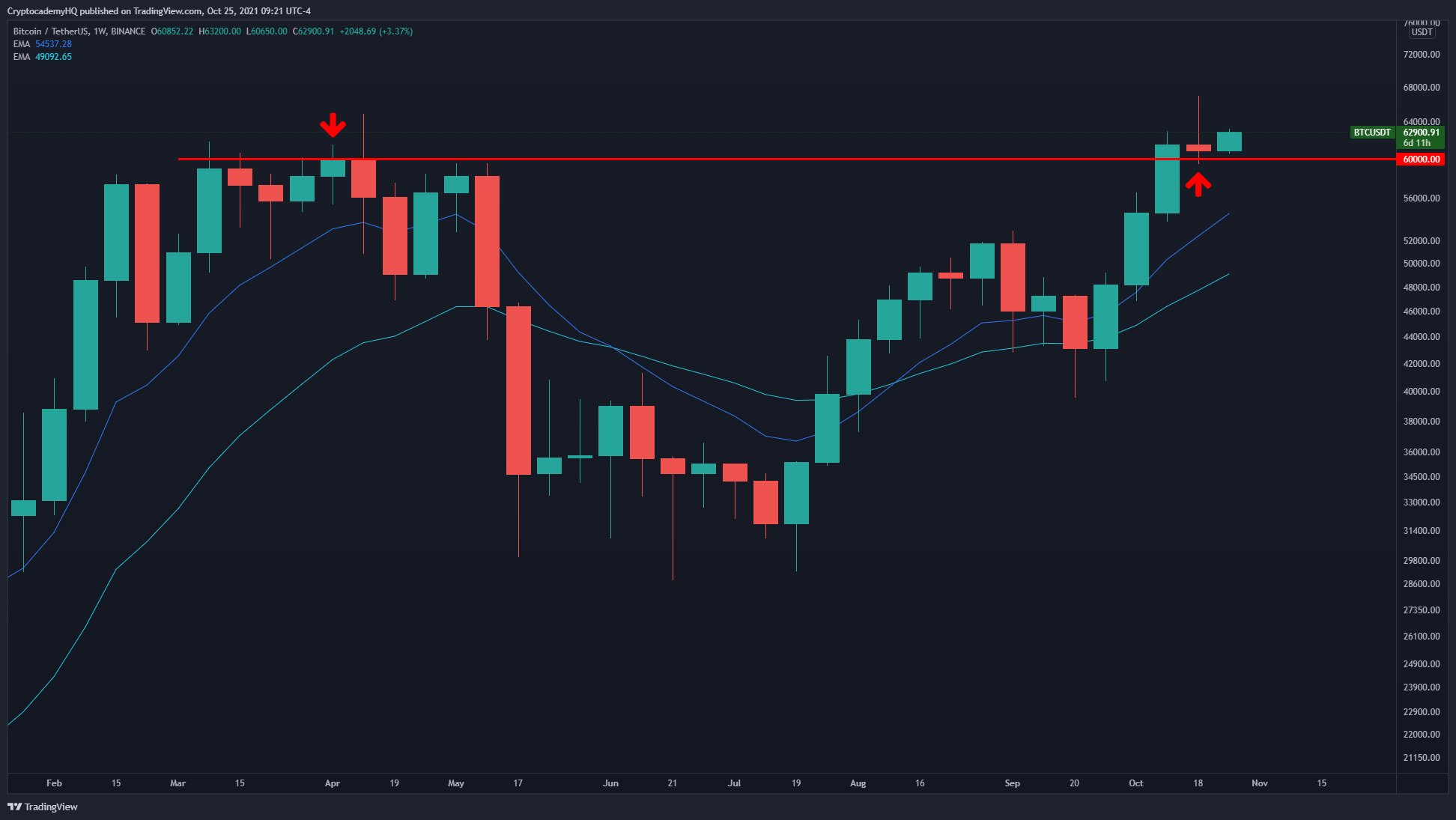 Bennett also has his eye on Bitcoin dominance, which compares BTC's market cap to the rest of the crypto markets. He says it's bounced off a support level and is currently on its way up.
"BTC.D is bouncing from 44.5% support.
Surprise, surprise."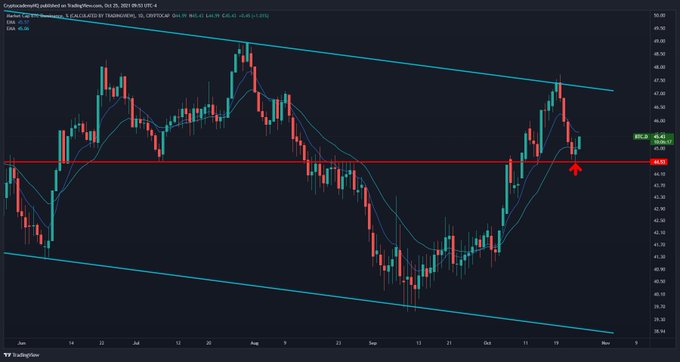 While surging Bitcoin dominance often suggests that altcoins will underperform, Bennett says this may only hold true in the short term. He says if the king crypto is looking healthy, then altcoins might take it as a signal to move up.
"This isn't necessarily a bad thing for altcoins.
Will they suffer if BTC.D heats up again?
In the short term and against BTC, yes.
But Bitcoin strength now is massively bullish for alts over the next few months.
Anybody That Does the Homework Eventually Invests in Bitcoin: SkyBridge Capital's Scaramucci
Founder of SkyBridge Capital believes that anyone who starts looking into Bitcoin seriously will end up buying
Antony Scaramucci, founder and CEO of SkyBridge Capital venture fund that has a branch investing in Bitcoin, has told CNBC that Bitcoin can eventually convert anyone who "does their homework" to invest in it.
He named several billionaires who used to be skeptical on BTC but have been into it since 2020.
Those who do their homework end up investing in bitcoin, Scaramucci says https://t.co/tDL2KPi8wJ— CNBC (@CNBC) October 25, 2021
Ray Dalio, Paul Tudor Jones, etc, have turned to Bitcoin
According to Scaramucci, Bitcoin has the power to attract even its opponents – if they begin to study BTC carefully and "do the homework" they get convinced of the great potential Bitcoin has.
He has referred to billionaire investors, such as Ray Dalio, Paul Tudor Jones and Stanley Druckenmiller – they used to be opposed to the flagship cryptocurrency and now are holding BTC in their portfolios.
Among these former Bitcoin skeptics are Shark Tank's co-hosts – Kevin O'Leary (widely known as Mr. Wonderful) and Mark Cuban, billionaire and owner of the Dallas Mavericks baseball team. He now considers Bitcoin a store of value and believes that Dogecoin is a perfect crypto for payments. The Mavericks online store accepts DOGE for tickets and merch, and, according to Cuban, people are spending thousands of USD in Dogecoin on every month. He also likes Ethereum because of smart contracts.
Here's how much Bitcoin Scaramucci holds
As part of studying BTC, Scaramucci recommended reading the BTC white paper written by Satoshi Nakamoto, the mysterious person or a team of them that created Bitcoin back in 2008-2009.
As for his own crypto holdings, Anthony Scaramucci holds over one billion USD worth of Bitcoin. He believes BTC to be digital analogue of gold.
He also believes that Ethereum and Cardano have a large potential and are going to keep rising in the future.