Dogecoin Price Shoots Up on Elon Musk's 'To The Moon' Tweets
Tesla CEO Elon Musk has just tweeted about Dogecoin three times, sending its price up 20% in the last hour. One Dogecoin is now worth $0.047, up 50% in the last day, and 540% in the last month.
Musk started by tweeting a picture of a rocket shooting past the moon (not particularly far off his typical subject matter) but followed it up with a tweet that said "Doge." He appears to be referencing the common cryptocurrency meme of sending a coin's price to the moon—or skyhigh. And certainly, his tweet has helped in that matter.
Doge

— Elon Musk (@elonmusk) February 4, 2021
Dogecoin's price has been incredibly volatile in the past week. Known for seeing sudden spikes and dumps, Dogecoin saw its biggest pump yet when Telegram groups and other groups inspired by the Wall Street Bets movement started pumping its price, trying to get it to the distant $1 mark. Its price rose as high as $0.08 (when Only Fans star Mia Khalifa threw her money in) only to crash as low as $0.02 shortly afterwards. Since then, its price recovered somewhat until today's pump.
Musk has also removed the mention of Bitcoin from his bio, leaving it blank for now. When he added it, it spiked Bitcoin's price by $6,000, kicking off a new bullish wave of momentum. But removing it had little to no effect.
Musk followed up his tweets by saying, "The most entertaining outcome is the most likely."
This is the same thing he expressed in a recent clubhouse event, where he noted that "fate loves irony," pointing out that "the most entertaining outcome and the most ironic outcome would be that Dogecoin becomes the "currency of earth in the future"
Shortly after his first tweets and Dogecoin's initial pump, Musk then tweeted an image of the scene from the Lion King where Rafiki holds up a young Simba. Only it was doctored to show him holding up a young Dogecoin. He added, "ur welcome."
No highs, no lows, only Doge

— Elon Musk (@elonmusk) February 4, 2021
After this, Musk added a few more tweets: "Dogecoin is the people's crypto," "No need to be a gigachad to own" and "No highs, no lows, only Doge." The tweets are quickly getting a lot of exposure, with the first of these tweets seeing some 30,000 retweets in just 15 minutes.
However, he said at the clubhouse event he clarified that his tweets are meant to be taken as jokes. But then again, he also said he was taking some time off Twitter.
Please note: This article has been updated with Musk's latest tweets—and will continue to be updated if he continues.
SHIB's Advantages Over DOGE Shared by Top Bloomberg Journalist, Bitcoin Critic
Joe Weisenthal, a Bloomberg TV and podcast host who often criticizes Bitcoin, has touched on the difference between Shiba Inu and Dogecoin in his Twitter thread, claiming that SHIB has something that DOGE does not. Here's what he is talking about.
"DOGE is a boomer meme coin"
Weisenthal tweeted that today he dedicated his regular newsletter to Dogecoin. The red thread in it is that, according to the crypto critic from Bloomberg, DOGE has turned into a "boomer meme coin."
He has enumerated the major advantages of SHIB that Dogecoin does not have: the coin is being developed in accordance with a fast-moving roadmap, it has its own decentralized crypto exchange and there are NFTs based on Shiba Inu and advanced capabilities for smart contracts.
Further, the Bloomberg TV host stated it is a lot cheaper to buy than DOGE. He believes that SHIB is about to flip Dogecoin in terms of position in CoinMarketCap's top 10. At the moment, SHIB holds 11th place, preparing to take 10th place away from DOGE, he believes.
Everyone talks about $SHIB like it's just some joke derivative of a joke.

But unlike $DOGE, it has a fast moving development roadmap, its own decentralized exchange, NFTs, and advanced smart contracting capabilities.

And of course it's WAY cheaper nominally.— Joe Weisenthal (@TheStalwart) October 27, 2021
"DOGE's low price is its USP against BTC and ETH"
Joe Weisenthal also stated that, as for Dogecoin, its low price at the moment is a major selling point compared to Bitcoin and Ethereum. The author is a Bitcoin critic, so he does not seem to take into account the more important advantages of Bitcoin beyond its price and does not believe in BTC as a store of value that is overtaking gold now for many institutional investors.
Therefore, he only compares DOGE, Bitcoin and Ethereum by price. However, he adds that the emission of DOGE is much greater than that of BTC and ETH, so cheapness here is not quite a sustainable edge.
SHIB is better than DOGE, according to Eric Wall
According to a recent tweet by Arcane Assets CIO Eric Wall, SHIB is a much better meme cryptocurrency than DOGE. This is due to the fact that SHIB is not linked to Litecoin in mining, unlike Dogecoin.
Besides, he reckons that not being inflationary by nature and being invulnerable to Elon Musk's tweets, as has been proved recently, are also great advantages of SHIB.
On Sunday, the Tesla CEO stated that he holds no SHIB and that he prefers projects in which goods and services are produced for fellow human beings and not focused on making money at any cost. After this tweet, SHIB first plunged about 14%.
However, later the coin started going up despite this tweet and despite the fact that last week the Robinhood CEO avoided giving a direct answer to the question about the much-expected SHIB listing on the platform.
SHIB hits three all-time highs today
The expectation of this event has been spurring the coin's massive rally recently. However, today it has flipped several consecutive all-time highs without getting listed by Robinhood. The latest historic peak reached by SHIB was $0.0000594.
Besides, the petition on Change.org that wants to require Robinhood to list Shiba Inu token has surpassed 326,000 signatures.
At press time, the second-largest meme crypto (with a $22,264,604,220 market cap) is changing hands at $0.00005673, as per data provided by CoinMarketCap.
Dogecoin price to explode 50% as Shiba Inu profits head to DOGE
Dogecoin price is traversing a rising wedge formation, suggesting a short-term correction on the horizon.
A breakdown of the lower trend line is likely to result in a retest of the $0.235 support floor.
A bounce from this barrier will likely propel DOGE by 50% to the range high at $0.352.
Dogecoin price has been on an uptrend for roughly a month, but the ascent seems to have evolved to a pattern that hints at a correction. Therefore, investors need to be aware of a short-term pullback for DOGE, which eventually results in a 50% climb.
Dogecoin price prepares for massive uptrend
Dogecoin price created three higher lows and two higher highs as it rallied 44% from September 29. Connecting trend lines with these swing points reveals the formation of a rising wedge. This technical formation forecasts a 19% descent to $0.207, obtained by adding the distance between the first swing high and swing low and adding it to the breakout point at $0.256.
However, investors can expect Dogecoin price to stabilize around the $0.236 support floor. The profits from the meme coin investors are eventually going to cycle to other dog-themed cryptocurrencies, out of which Dogecoin is a strong contender. Therefore, a potential spike in buying pressure around this barrier will likely trigger an uptrend for DOGE.
If this run-up manages to climb past the 50% Fibonacci retracement level at $0.273, it will confirm the start of a bull rally. In such a case, Dogecoin price will retest the $0.30 barrier followed by the range high at $0.352.
This ascent from $0.236 to $0.352 will constitute a 50% move.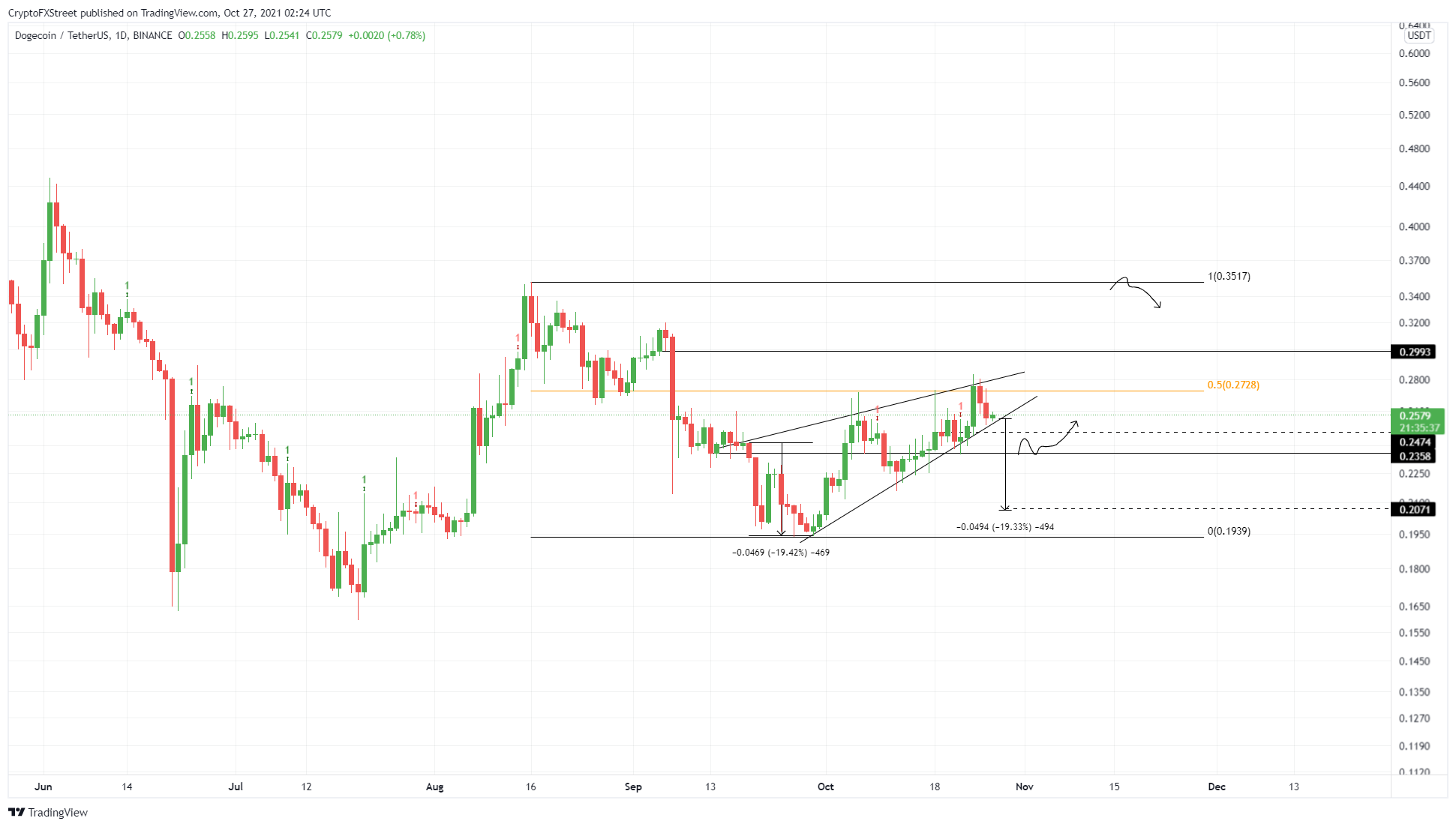 DOGE/USDT 1-day chart
While things are looking dull for the meme coin, a breakdown of $0.236 will indicate weakness among buyers. If the resulting retracement falls below $0.225, the bullish thesis will face invalidation as it would create a lower low.
In this situation, Dogecoin price will retest the intended target at $0.207 and, in a bearish case, the range low at $0.194.
Is Elon Musk a Shiba Inu Holder? Tesla CEO Says He Owns These Three Crypto Assets
Tesla CEO and tech mogul Elon Musk says he owns only three crypto assets.
Earlier this month, Tesla CEO Elon Musk tweeted a photo of his Shiba Inu puppy, which sparked speculation about his support for the surging Ethereum-based memecoin. However, when a Twitter user quizzed Musk about his SHIB holdings on Sunday, Musk said he doesn't own any of the Dogecoin (DOGE) competitor.
None— Elon Musk (@elonmusk) October 24, 2021
SHIB is trading at $0.00004275, up a staggering 49,268,197.7% in the past year, according to CoinGecko. Despite Musk's revelation, Shiba Inu is up more than 14% in the past 24 hours.
Musk also revealed he still holds the same three crypto assets that he said he owned in July.
"Out of curiosity, I acquired some ASCII hash strings called 'Bitcoin, Ethereum and DOGE.' That's it.
As I've said before, don't bet the farm on crypto! True value is building products & providing services to your fellow human beings, not money in any form."
The Tesla chief executive also elaborated on why he's been so vocal about supporting Dogecoin (DOGE).
"Lots of people I talked to on the production lines at Tesla or building rockets at SpaceX own DOGE. They aren't financial experts or Silicon Valley technologists.
That's why I decided to support Doge – it felt like the people's crypto."
Musk is currently the wealthiest person in the world with a net worth of $255.2 billion, according to Forbes.