Institutional crypto fund Grayscale purchases 47,000 ETH in a single day
The crypto investment fund facilitates some of the biggest crypto traders for institutional clients. And its ETH purchases are surging.
Stacking ETH
Crypto investment fund Grayscale picked up over 47,000 ETH yesterday, data from filings showed. The fund additionally purchased over 12,300 Litecoin.
At the moment, Grayscale is one of the only regulated ways for accredited investors in the US to gain exposure to cryptocurrencies. This is made possible via its "Trust" product—a financial instrument that holds a certain amount of spot crypto per share that is offered to clients. This can either be subscribed to or is traded on the over-the-counter market.
This means that every time investors purchase the "Trust" shares on an exchange or subscribe to it, Grayscale has to mandatorily purchase spot crypto on the open market in order to fully back its publicly traded offering.
High demand yesterday for Ethereum led Grayscale to purchase over 47,000 ETH. At press time, this is valued at over $76 million (ETH trades at $1,617), with analysts calling for the asset to reach over $2,000 later this week, and as high as $10,000 later this year.
BREAKING: Grayscale adds 47,000 $ETH worth $76.7 million over the past 24 hours

Chart: @bybt_com pic.twitter.com/pWhjtoTLhq

— Bloqport (@Bloqport) February 3, 2021
Ethereum investor Ryan Sean Adams remarked on the purchases in a tweet. "Public companies staking ETH, there's $4.5b ETH in Grayscale, and ETH futures launch on the CME Monday," he said, adding:
"The institutions are buying ETH. And they're just getting started."
Public companies staking ETH, there's $4.5b ETH in Grayscale, and ETH futures launch on the CME Monday.

Yes.

The institutions are buying ETH.

And they're just getting started.

— RYAN SΞAN ADAMS – rsa.eth 🦇🔊🏴 (@RyanSAdams) February 3, 2021
How Grayscale values Ethereum
In a report yesterday, Grayscale also released its thesis on Ethereum. It saw Phil Bonello, the firm's director of research, and other analysts explore three aspects to value the asset: ETH as money, ETH as a consumable community, and ETH as a cash-generating asset.
ETH! We @Grayscale are frequently asked how to think about the investment case and valuation framework for $ETH. Today seems like a great day to share our framework! https://t.co/Gt4LSTJGZe

— Phil Bonello 👘 (@PhilJBonello) February 3, 2021
The report is only available to accredited investors and follows on the back of a similar report for Bitcoin released in the past year. That one explored Bitcoin as a currency, a store-of-value, and an alternative to gold.
Meanwhile, despite the institutional rush for Ethereum, the asset lags far behind Bitcoin in terms of the assets under management at Grayscale. As of today, the firm locks over $23 billion worth of Bitcoin compared to just $4 billion worth of Ethereum. There's another $96 million locked up in the Trust of Ethereum Classic, the original Ethereum chain.
02/03/21 UPDATE: Net Assets Under Management, Holdings per Share, and Market Price per Share for our Investment Products.

Total AUM: $29.2 billion$BTC $BCH $ETH $ETC $ZEN $LTC $XLM $ZEC pic.twitter.com/vaErnWV03F

— Grayscale (@Grayscale) February 3, 2021
But with the institutions coming quick, the list may look different a few months from now.
Ethereum Whale Bought 276,592,553,073 SHIB, Is Something Big Coming?
An anonymous Ethereum whale decided to go on SHIB coin shopping.
The whale bought 276,592,553,073 #SHIB tokens ($11,510,207 USD).
Investors seemed highly interested in Shiba Inu since the total value locked (TVL) climbed close to $2 billion in June and July. Recently, an anonymous Ethereum whale decided to go on SHIB coin shopping, buying close to an enormous 276 billion SHIB.
On October 26, a Twitter account by the pseudonym Shiba Inu News tweeted the news first. The user said,
Wow… An Ethereum whale just bought 276,592,553,073 #SHIB tokens ($11,510,207 USD). We haven't seen a whale transaction THIS BIG in quite some time. This is massive and sends a clear signal that He/She knows something is coming.
This move comes after Shiba Inu token had an impressive rally from the last few days, surging by over 340% in the past 7 days and reaching a new all-time high of over $0.000046.
The last time an anonymous whale bought an enormous 6.3 trillion coins, a couple of weeks later, the Shiba Inu (SHIB) token went bullish, hitting a new all-time high. So, the Twitter user said that this latest whale might know that something big is coming that's why he or she bought this much SHIB.
Less Than 48 Hours Until Ethereum Altair Update, But 30% of Nodes Are Not Yet Ready
With Ethereum Altair update coming, users are not being dexterous
Ethereum's main network is getting closer to the new Altair network, which means that the absolute majority of the nodes on the network have to update their clients. According to the Nodewatch service, currently around 30% of nodes remain unsynced.
The new upgrade for Ethereum is aimed purely at validators, and it does not change anything for general coin users. The update affects only the beacon chain consensus mechanism. In addition to users, updates will not have any effect on contracts.
If users act as validators, they will need to download the latest version of their software, which they will be able to find in the table on the Ethereum blog, and restart their nodes as usual.
If node holders decide not to update to the latest version of the software and join the upgraded chain, they will be synced with the old chain after an upgrade on Ethereum occurs. While functioning on the incompatible chain, users will not be able to receive proper rewards and realize them on exchanges.
Validators running on the old network will receive penalties for not participating in the upgraded consensus with respect to the upgraded mainnet.
When the Ethereum community has decided which changes should be made to the network, the change is written by the clients functioning on the network. The changes to the beacon chain protocol go live in a specific epoch (the Altair update goes live at epoch 74240).
Any new nodes with the old ruleset will remain abandoned on the old chain without being able to use new functions, participate in the current network or, in general, utilize the cryptocurrency.
Ethereum killer Solana hits $13.65 billion in TVL as SOL price locks in on $300
Solana price is hovering around $208.76 after a new all-time high at $219.27.
A minor retracement to the $185.30 to $204.44 demand zone is likely before a 16% advance.
The total value locked on the SOL ecosystem hits a record high of $13.65 billion.
Solana price seems to be unaffected by Bitcoin as it set up a new all-time high on October 25, and so did the Total Value Locked (TVL) on the SOL ecosystem. With the altcoin currently retracing to a support zone, investors can expect another leg-up to kick-start a new uptrend.
Solana TVL goes through the roof
Solana has been a buzzing ecosystem with NFT projects, yield aggregators, liquidity mining and more. This massive ecosystem, which is set to rival Ethereum, has reached two new milestones, a new all-time high for Total Value Locked and the market value of SOL hitting a record high.
The top six projects on Solana have more than $1 billion in TVL. Saber leads the pack with $2.06 billion worth of SOL locked in its ecosystem.
Moreover, the Ethereum-killer narrative for Solana seems to be working out well, as plenty of projects have jumped ship. As a result, SOL has rallied a whopping 14,665% in 2021, reflecting the demand for an ETH alternative in the cryptocurrency space.
With Bitcoin slowing down, altcoins, especially Solana and a handful of other DeFi coins, are rallying. Moreover, Ignition saw 5,879 projects sign up for the 4th global hackathon on Solana. The prize pool is hovering around $5.1 million with a grand prize of $75,000 and famous faces in the cryptocurrency ecosystem like FTX founder and CEO Sam Bankman-Fried, Coinshares' CSO Meltem Demirrors, Circle founder and CEO Jeremy Allaire and so on judging these projects.
SOL price prepares for lift-off
Solana price rose 43% from October 19 to October 25 and created a new all-time high at $219.27. This run-up was an explosive one with minor retracements. Therefore, investors can expect SOL to undergo a short-term corrective action before embarking on a new leg-up.
The support area ranging from $185.30 to $204.45 is where the pullback finds a cushion and receives enough buying pressure to reverse its trend. Assuming the reversal occurs here, SOL needs to flip the $216.91 resistance barrier into a support floor. Doing so will allow Solana price to take aim at the new all-time high at $238.67 or the 161.8% Fibonacci extension level.
In a highly bullish case, Solana price could extend its run-up to $301 after a 50% ascent to the 261.8% Fibonacci extension level.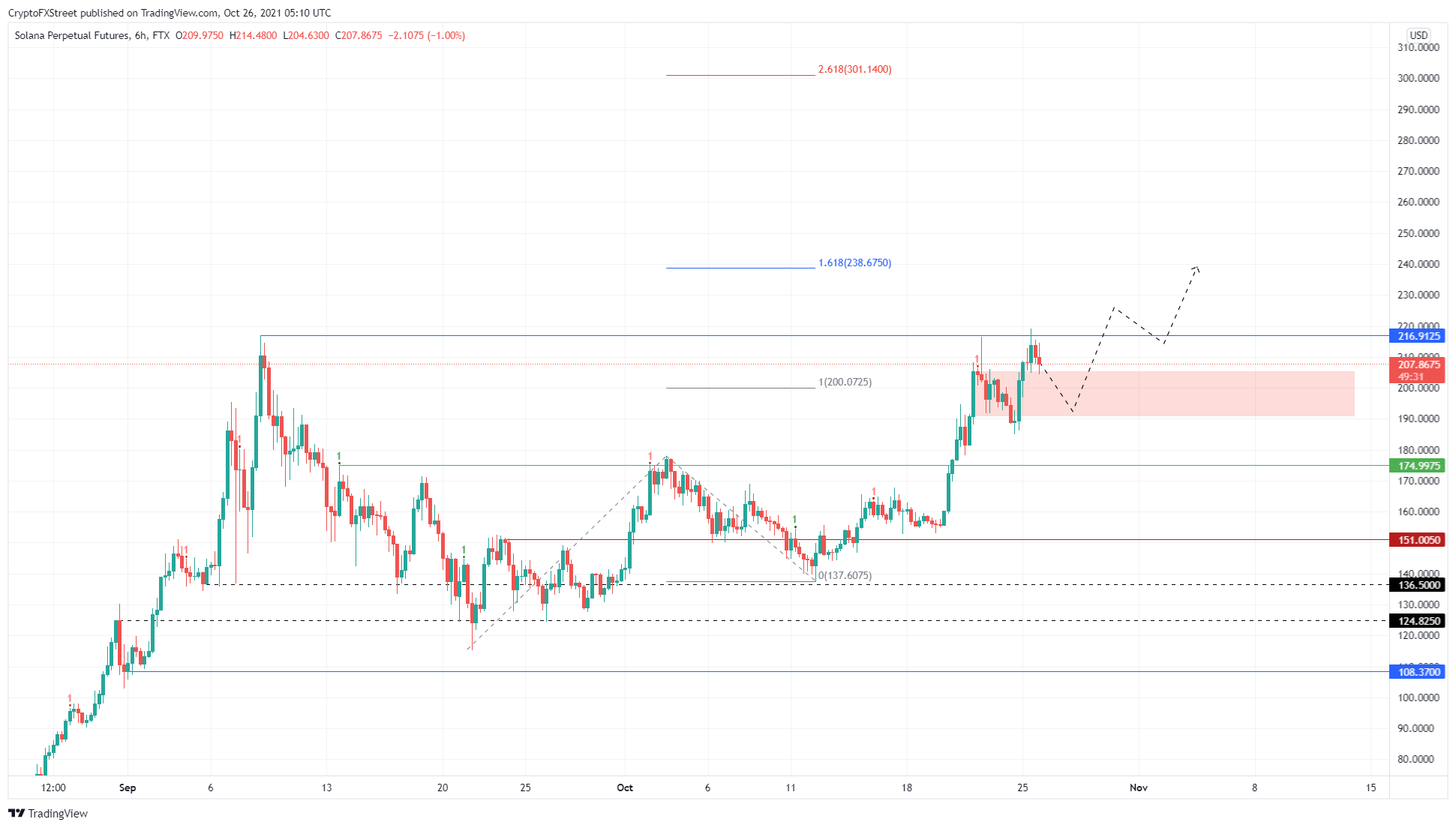 SOL/USDT 6-hour chart
While things are looking good for Solana price, a breakdown of the demand zone ranging from $185.3 to $200.37 will be catastrophic. In this situation, SOL could retrace to the $175 support floor and, in dire cases, $151.05. While this downswing does not invalidate the bullish thesis, it will delay it.