Ethereum hits new historic high and bitcoin exceeds $ 38,000
Both Ethereum and Bitcoin are operating high this Friday (05). ETH reached another historic record of just over $ 1,720. In Brazil, it was traded above R $ 9500. BTC, on the other hand, surpassed US $ 38 thousand at the beginning of the day and then took a slight step backwards.
ETH's market capitalization – the combined price of all currencies in circulation – amounts to approximately US $ 195.9 billion, with a daily trading volume of more than US $ 40 billion.
Ethereum has shown a strong upward trend in recent weeks, rising from $ 640 to its current price in just two months and surpassing its previous record in early January 2018.
Bitcoin, on the other hand, has not broken a record today, but its price has exceeded $ 38,000, potentially preparing the asset to move towards its $ 41,940 high recorded on January 8.
Ethereum on the rise
The price this time is not being driven by the retail market. A document released yesterday by the manager Grayscale shows its product 'Ethereum Trust', a publicly traded product that has an underlying value of ETH, grew by US $ 38 million in just one day, when it was reopened for business. This brings your total assets above the $ 4.2 billion.
Ninos Mansor, a partner at Arrington XRP Capital, said that some catalysts that drove ETH prices up were the increasing adoption of DeFi applications and the huge amounts of ETH blocked in "stake" as the blockchain turns into a POS.
He added that the reopening of the Grayscale Ethereum Trust was a potential "black hole" for the asset. This is because the coins are stuck for long periods of time, which means that they cannot be sold and dumped on the market. Essentially, this could end up reducing the amount of liquidity on the exchanges – which continues to fall.
On the bad side, the rising price of ETH has caused transaction fees to skyrocket. Gas – as the fee is called – is costing $ 17.48 (R $ 94.70), on average, according to the ycharts data platform. Due to the high cost, several traders are complaining about the impossibility of trading with ETH on several exchanges.
Ripple CEO Says the SEC Helped Ethereum to Surpass XRP as No.2 Crypto
Ripple CEO aired his opinion on the crypto market and regulations.
Brad Garlinghouse said the US SEC granted Ethereum regulatory green light.
At the DC Fintech Week virtual conference on October 21, Ripple CEO Brad Garlinghounse aired his thoughts on the state of the crypto market and regulations. Besides, he holds a grudge over the financial regulator's approach to Ethereum.
In addition, Garlinghouse declared that the US Security and Exchange Commission (SEC) granted Ethereum regulatory green light that enabled it to surpass his firm's XRP token.
Likewise, the Ripple boss feels that his firm has been played out. But, at the same time, Ethereum's subsequent success is at least in part down to more favorable treatment by the US SEC. Also, Garlinghouse stated that it is affecting its market. He said,
"Within the last few years, XRP was the second most valuable digital asset. As it became clear the SEC had given a hall pass to ETH, ETH obviously has exploded, and that clarity has helped."
To clarify, XRP was the second-largest crypto asset by market cap in late December 2017. But, currently, it has dropped to seventh place while Ethereum has kept the second spot ever since.
Furthermore, the reason why XRP dropped is the US SEC pursuing Ripple over claims that XRP is unregistered security. In fact, in January, Ripple filed a Freedom of Information Act request with the US SEC demanding to know why it didn't consider ETH security.
As a result, later in July, a district judge allowed the firm to depose a former official who declared in 2018 that ETH was not a security.
Ripple CEO reinstates SEC bias towards ETH, claiming XRP could've been No.2

It is not news that the ongoing XRP lawsuit has got the better of Ripple's XRP token. Ripple CEO, Brad Garlinghouse recently questioned the SEC's bias towards Ethereum, claiming that XRP would've been at the No. 2 position instead of ETH if it weren't for the commission's partial crackdown. Garlinghouse spoke at the DC Fintech Week virtual conference yesterday, arguing that the U.S. Securities and Exchange Commission alleged Ripple's XRP as unregistered security while granting Ethereum a regulatory free pass, which in turn helped ETH shoot through the roof.
"Within the last few years, XRP was the second most valuable digital asset. As it became clear the SEC had given a hall pass to ETH, ETH obviously has kind of exploded and that clarity has helped."
XRP secured the position of the second-largest crypto asset by market capitalization during the latter half of 2017. However, the token has dropped down to seventh place while Ethereum stands strong as No. 2. Furthermore, Garlinghouse claims that the SEC's exclusively aggressive anti-crypto stance to allegedly protect the consumers is in fact anti-investors. Referring to the XRP lawsuit, Ripple CEO emphasizes that "nearly 50,000 U.S. people who hold XRP who are trying to sue the SEC for 'protecting them'".
XRP Holders left with bearish and frozen funds
Earlier this week, Attorney Deaton Filed a Letter Motion on behalf of the XRP Holders (Movants) that contended SEC's extension request, with the main argument concerning the XRP holders' frozen funds because of the consistent postponement of the lawsuit's final verdict. During the ongoing bull run, XRP remains considerably bear because of the regulatory crackdown on Ripple. However, the court has overlooked the community's concern and granted the extension explaining that in lieu of pending motions, extra time will only facilitate both parties to complete pending fact discovery and thoroughly prepare for upcoming expert depositions.
"The lack of liquidity within the United States, coupled with the mass de-listings prevents XRP Holders from trading, selling, transferring, or converting their XRP. It is because of this de facto in place seizure of their property that XRP Holders took the extraordinary step to seek intervention as defendants… Any delay in the underlying action marks yet another day XRP Holders do not have access to their funds.", wrote Deaton.
Playboy Releases Ethereum-Based Rabbitars NFTs, Presale Begins in 2 Days
Playboy has created Ethereum-based Rabbitars NFTs as ERC-721 tokens. The project's website describes Playboy Rabbitars as a "lagomorphic-themed civilization of unique and non-fungible rabbits." There are 11,953 of them, inspired by Playboy iconography, heritage and lore.
The news was shared by Chinese crypto journalist and blogger Colin Wu. He posted a screenshot from the project's website, featuring some of the Playboy Rabbitars.
Playboy launched Rabbitars NFT, which will be officially sold in two days, with a Mint price of 0.1953 ETH. https://t.co/HzCIf6W9nT pic.twitter.com/FaQRskQEQZ— Wu Blockchain (@WuBlockchain) October 22, 2021
The sale will begin in two days at a mint price of 0.1953 ETH ($803). The website explains that in order to become an owner of such an NFT, a user needs to set up a Metamask wallet. However, NFTs will be available for sale both for fiat and crypto.
Those who want to pay in ETH need to load up their wallet at least two days before the sale starts. Presale for ETH will begin on Oct. 24. The public sale for U.S. dollars will start on Oct. 26, and the next day, users will be able to buy Rabbitars for ETH.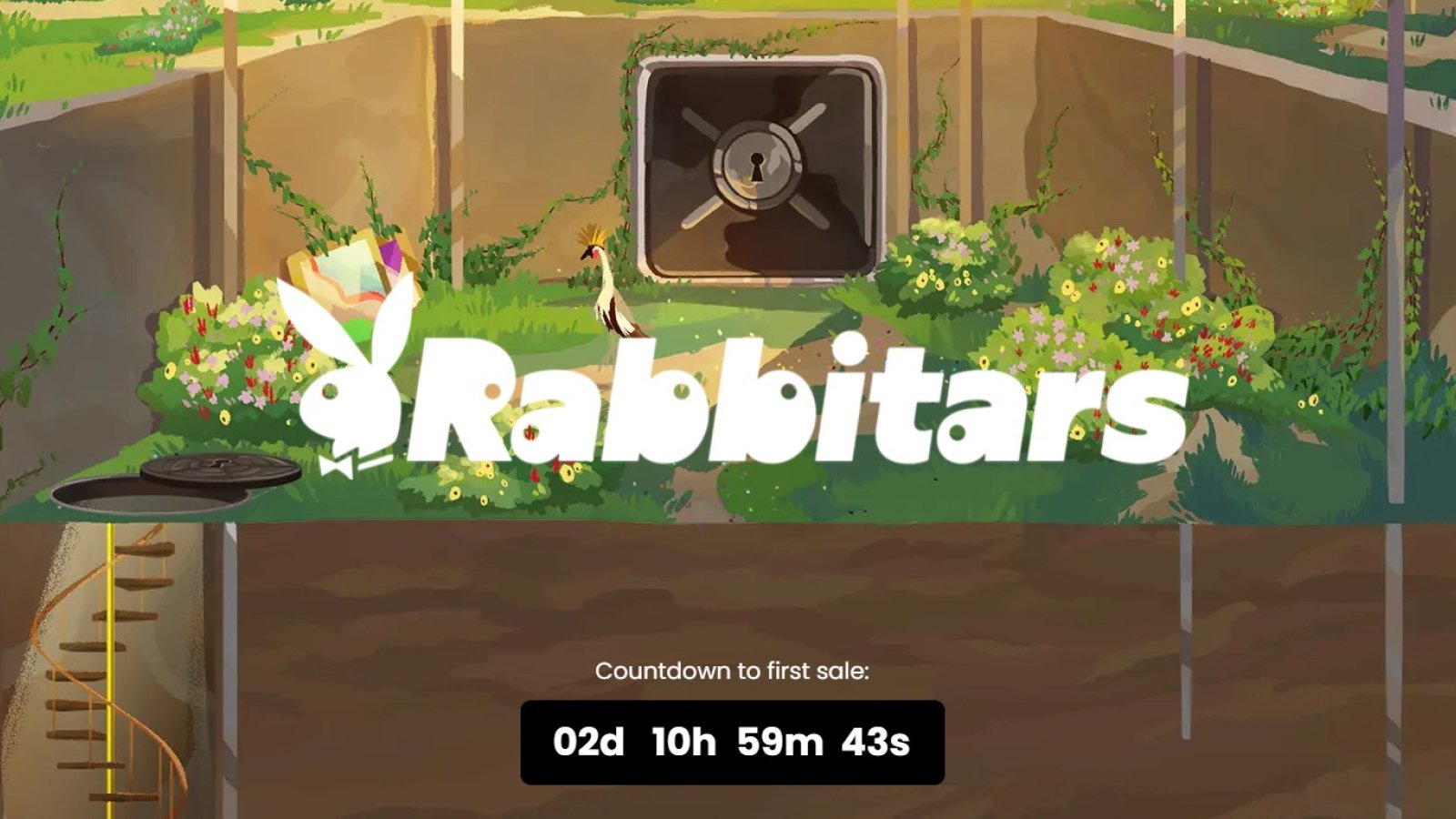 It is possible to order 1-2 NFTs during the presale. At a public sale, one user is allowed to buy up to ten Rabbitars.