Stellar strategist: Circle's USDC issuance opens doors for DeFi
Circle and the CENTRE consortium choose to issue USDC on Stellar because of its rapid growth and features.
The USDC edition on Stellar expands the use cases and enhances the possibility of integrating DeFi applications.
---
Senior Strategist for the Stellar Development Foundation, Lisa Nestor, gave an interview to the Sam Conner podcast. There, she acknowledged that despite the difficulties of 2020, Stellar Lumens was able to grow and "reach very big milestones."
One of the focuses of the interview was the cooperation between Stellar Development Foundation (SDF) and Circle. Nestor stated that the latter has strived to be "a top tier asset issuer." Their integration with the Stellar ecosystem represents the addition of new opportunities for businesses and entrepreneurs operating on this blockchain.
As reported by CNF, Circle and Coinbase are the parent companies of the CENTRE consortium, the issuer of the stablecoin USD Coin (USDC). Last year it was announced that CENTRE would issue USDC on Stellar, Algorand, and Solana to be more independent of Ethereum. The stablecoin was deployed on Stellar on February 2 this year. Nestor stated:
In the end, Circle wants USDC to be as widely used as possible. I think that's their strategy. They want to see a lot of USDC minted, they want to see growth in terms of how it's used, who holds it, how much it circulates. I think of the options they had, Stellar is the fastest-growing ecosystem.
The Senior Strategist for SDF highlighted that the Stellar blockchain can process more USDC transactions at a lower cost. The high cost of fees in Ethereum has become one of the most present problems for the blockchain currently. Members of the crypto community have reported payments of up to $100 for "just using a token."
In addition, Nestor believes that on Stellar there are "many, many use cases" with "exciting" payment opportunities. Conner's data records that in the first week of the cooperation, more than $5 million USDC has already been issued to 555 holders of the asset. Nestor stated that there is a lot of potential for this number to grow in the future:
There is a lot of migration still happening from various applications starting to integrate USDC. Sometimes they may need to upgrade (…) USDC in the US is exciting, USDC anywhere in the world is groundbreaking and I think that's the real opportunity that Stellar brings to the table.
Stellar enters the DeFi ecosystem
Stellar Development Foundation CEO Denelle Dixon said a few days ago that they will prioritize the decentralized finance sector during 2021 and revealed that there are proposals to integrate smart contracts into the Stellar blockchain.
In that regard, Nestor believes USDC could be the hinge that allows the Stellar ecosystem to expand into the DeFi sector. According to her, there is a lot of potential for users to make cross-border payments related to lending, and borrowing. The fact that USDC is a "well-regulated" asset from a company with a "good reputation," Nestor added, makes the decision to use DeFi applications on Stellar easier for everyone.
A New Initiative is Launched by Stellar to Accelerate Blockchain Education
Stellar Development Foundation launched a new initiative with a considerable focus on blockchain education. The new so-called Stellar Next-Gen is focused on helping tomorrow's business leaders and developers.
It's clear that these developers and business leaders will be chosen from those who are interested in blockchain technology and work in the industry. Universities and various education centers will world with SDF in this initiative. The new initiative is toward the goal of SDF to create access to the global financial system for everyone.
Another Opportunity for Blockchain Lovers
Many small teams and junior developers are looking for opportunities to enter the blockchain industry. Many of them have big ideas, and many are looking for some help from experienced teams and companies. Stellar Development Foundation is among the big supporters of new teams and ideas in technology. It has many initiatives and funds for supporting new faces.
The latest announcement from the Foundation is toward this goal, too. Another initiative, this time, focused on blockchain education. Stellar Next-Gen is a new initiative from SDF that works in partnership with universities around the world.
One of the biggest goals of Stellar Next-Gen is to support academic programs and organizations around the world. Some of the examples are Blockchain at Berkeley, University College of London's Centre of Blockchain Technologies, and the National University of Singapore's Fintech Lab. Another goal is focused on underrepresented groups. SDF wants to help communities around the world find easier access to educational material of the blockchain industry. The Foundation sponsors student hackathons to help younger developers.

Creating an inclusive community is among the top priorities of SDF Next-Gen. Denelle Dixon, the CEO and Executive Director of the Stellar Development Foundation, said:
"To build a more inclusive financial system, we have to provide students of all backgrounds the opportunity to learn the ins-and-outs of blockchain technology." They must be empowered to see themselves as part of the solution. This initiative builds on our ongoing work with universities and organizations to make sure the next generation of builders is equipped with the information, tools, and mentorship they need."
The latest initiative from SDF won't be the last program to support new faces in the industry. The Foundation is committed to attracting more developers and ideas to the community, especially the Stellar community. There will be more events and learning programs that are focused on every developer or manager that is interested in blockchain technology.
Stellar to boost network utility with new Matching Fund as XLM edges closer to breakout
XLM price is stuck between $0.342 and $0.318 barriers as it ponders on a directional bias.
Stellar launches the Matching Fund to help early-stage companies interested in building on the XLM blockchain.
A decisive close above $0.342 and $0.355 will open the path for a retest of $0.426.
XLM price has been consolidating since the October 6 rally. In fact, Stellar looks to be on a slow downswing. Due to this development, the altcoin has slid between a stiff resistance level and a stable support floor. Therefore, XLM price needs to shatter either of the barriers to kick-start a move.
Stellar launches the Matching Fund
The Stellar Development Foundation (SDF) has been on a roll as it recently announced the partnership with MoneyGram on October 6 and also revealed the launch of Matching Fund on October 8.
This development from SDF comes as an extension of its strategic venture-style investments to help grow the Stellar ecosystem. Matching Fund falls within the purview of the Enterprise Fund and will invest in or fund early-stage companies that are in the pre-Series B level and are building on the Stellar blockchain.
The blog stated,
The Matching Fund will match up to $500,000 USD in investment made by a lead investor in a company and processes deals through an expedited process.
Moreover, the Enterprise Fund will continue to support investments across all stages but shift to later stage investments up to Series E (pre-IPO).
With Ripple/XRP, its main rival facing the SEC, Stellar/XLM has received a wide birth to make headway in the remittance industry. Stellar is making good use of this freeway as it recently announced a partnership with MoneyGram, who broke off the collaboration after the SEC sued Ripple.
XLM price vies to head higher
XLM price rose roughly 15% on October 6 on the MoneyGram announcement and sliced through the $0.342 resistance barrier. This uptrend set up equal highs at $0.358. However, soon after the local top, Stellar buyers failed to sustain this ascent, leading to a downswing to $0.325.
Therefore, the $0.342 and $0.358 barriers currently serve as resistance barriers, and XLM price needs to overcome these to have any upswing opportunities.
A decisive close above $0.342 will be an initial confirmation that the buyers are interested, but a 12-hour candlestick close above $0.358 will set up a higher high and indicate the start of a new uptrend. In this case, XLM price could rally and tag the $0.426 supply level, constituting a 26% ascent from the current position.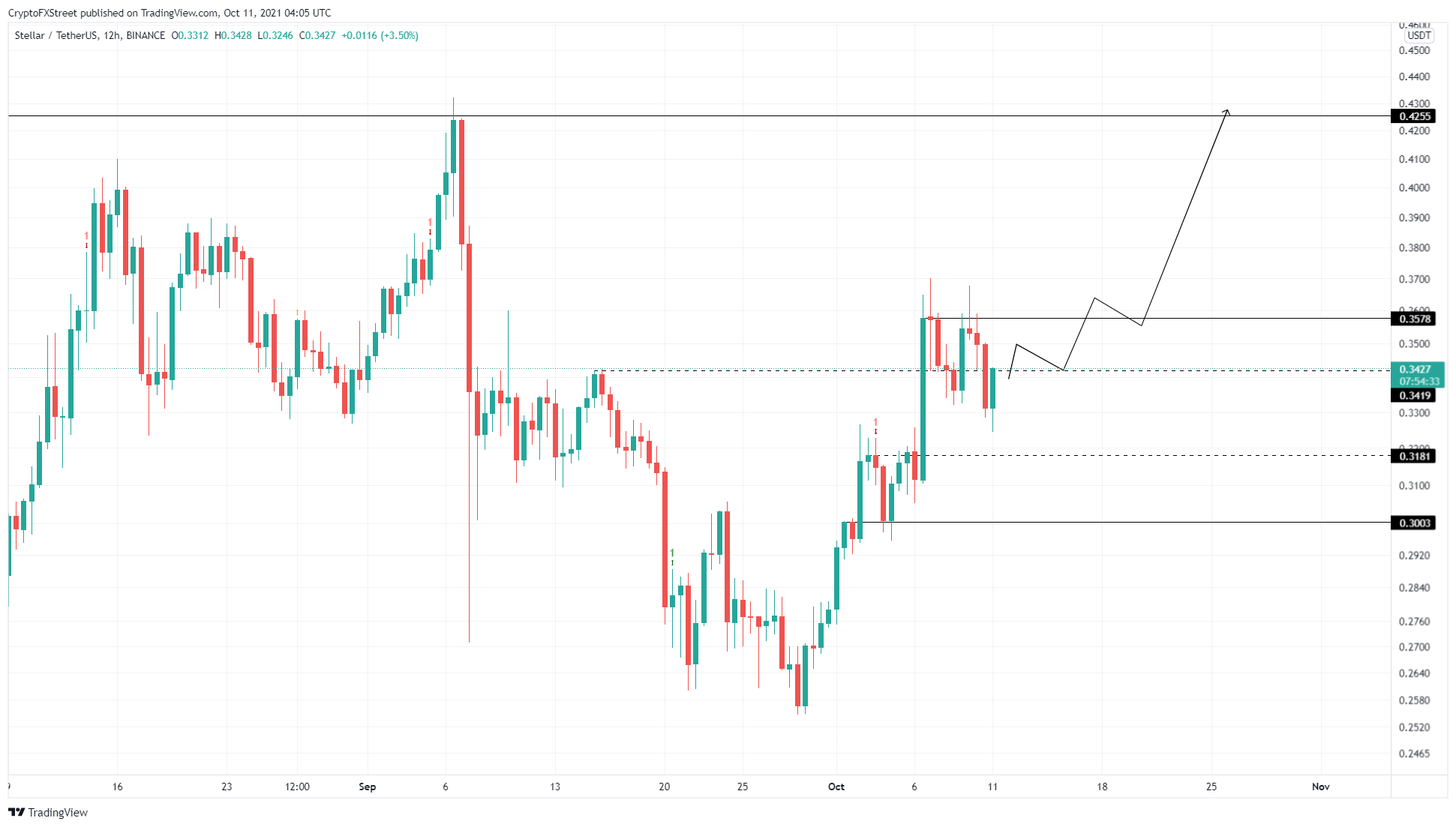 XLM/USDT 12-hour chart
While things are looking good for XLM price, a failure to slice through $0.342 and $0.358 will reveal a weakness among buyers or absence of buying pressure. In such a scenario, Stellar will likely revisit $0.300, a breakdown of which will invalidate the bullish thesis.
Stellar Lumens (XLM) Spikes 12% After News of a Partnership Between Moneygram and the Stellar Foundation
Moneygram has announced a partnership with the Stellar Foundation to use USDC on the Stellar blockchain for instant, cheaper transactions.
International remittance service MoneyGram is once again dipping its toes into the blockchain pool. The company has just revealed a new partnership with the Stellar Foundation on October 6, 2021, to develop a payments bridge that streamlines money transfers and enables near-instant settlement in USDC, a stablecoin pegged to the U.S. dollar developed by Circle.
The announcement, which was released a few hours ago, highlights Moneygram's innovative vision, assuring that the partnership "will revolutionize settlement flows."
Moneygram Has Not Quit On The Blockchain
As explained in the Press Release, Moneygram would use a version of USDC running on the Stellar blockchain as a means to make transactions more efficient. United Texas Bank will serve as a settlement bank between Circle (USDC issuer) and MoneyGram (remittance service provider).
This would be Moneygram's second attempt to leverage blockchain to improve its service. Stellar is a direct competitor to Ripple, born after Jed McCaleb – co-founder of Ripple – parted ways with the company due to conceptual differences and devoted himself entirely to creating his own project.
Stellar Lumens (XLM), Stellar's native token, had an important jump, closing the day with a 12%+ rise also fueled by Bitcoin's extraordinary performance during the day. XLM opened the day at $0.31 and closed it at $0.357 with a daily high of $0.364.ADVERTISEMENT
Moneygram shares, meanwhile, were more conservative. The company has been unable to stop a free fall from its July yearly high and barely posted 0.9% growth – going from $7.6 to $7.69 – with no apparent trend reversal.
Bye Ripple, Hello Stellar
This partnership is a clear signal that Moneygram wants to move forward and shake the bad experience it had with Ripple out of the way.
In 2019, Moneygram and Ripple announced a partnership. Moneygram would use the RippleNet as part of the exchange settlements process for international remittances, also receiving financial incentives in the form of XRP, in exchange for giving Ripple an equity stake in the company.
The partnership lasted nearly two years and ended in March 2021 after the SEC formally initiated a legal proceeding against Ripple, accusing it of using XRP as a way to issue unregistered securities.
In an official statement, Ripple assured that the decision to split was a joint one. Both parties committed to revisiting their relationship in the future after the SEC dispute was elucidated.
We are proud of the work we were able to accomplish in a short amount of time, as well as the impact we were able to achieve in bringing this first-of-its-kind product to market. Together, we processed billions of dollars through RippleNet and On-Demand Liquidity (ODL).
But now that Stellar entered the game, perhaps Moneygram would not want to wait for Ripple in order to achieve its goal of becoming a blockchain-friendly corporation.