The institutionalization of BTC: Mining may be more profitable than buying
For years, institutional investors have been watching Bitcoin from afar with bewilderment and amusement, but with little to no participation. Although they were attracted by the high returns, they were scared away by Bitcoin's infancy, lack of rules and the myriad headlines warning of hacks, bankruptcies and scams. In its early years, Bitcoin (BTC) lacked the on- and off-ramps required for most institutional investors, making it virtually impossible to get approved by any corporate investing mechanism.
Pre-2017 Bitcoin investing
But a strange thing happened in the rally of 2017. As institutions were saying it's too risky at the corporate level, many of the insiders were buying Bitcoin personally in every way they could.
They purchased Bitcoin through exchanges, Bitcoin ATMs and participation in initial coin offerings. Many of these individuals become passionate, even obsessive, about Bitcoin, and with them, Bitcoin began digging its roots into the financial world.
Post-2017 bear market
During the bear market that followed the 2017 rally, a huge number of Bitcoin products were created and launched specifically for institutional investors. Publicly-traded Bitcoin mining companies started providing investors with exposure to the most fundamental part of the industry.
Bitcoin holdings were securitized so that investors on major exchanges could freely speculate on Bitcoin's price without setting up and using Bitcoin wallets. Companies started taking on debt to buy and hold Bitcoin because speculating the long term appreciation on Bitcoin is worth more than the interest on the debt.
Bitcoin's response to COVID-19
When Bitcoin fell and bounced off its approximately $4,000 low in March of 2020, the global COVID-19 pandemic was just getting started. Governments around the world largely followed the same strategy — lock people down and print more money. Lockdowns, quantitative easing and fiscal stimulus were normalized before markets could fully digest what was happening.
Markets became inefficient pricing mechanisms not because participants were acting in bad faith but because participants were acting only on faith — on faith that things couldn't continue like this for much longer.
As cash came in daily, the market reacted almost daily without looking for valuable parking spots for their capital. The market was competing with itself on how much and how fast capital could be parked. What does a logical person invest in as nearly every economy and industry in the world shrinks and world equity prices are soaring to record highs
Buying and holding Bitcoin in 2020
This time, everything was already in place for investors when they began to pay attention again. There were securitized products, on/off ramps, precedence, experience and many passionate supporters inside major institutions. Most important of all were the on/off ramps. For the first time in cryptocurrency's history, investors were able to use their normal tools and exchanges to invest in Bitcoin safely, easily and without any special approval. With proper mechanisms in place, companies and investors did what most investors should do: buy and hold.
In the real world, the simplest solutions are usually the best. This makes intuitive sense as it seems to embrace other seemingly natural laws of life, such as the 80/20 rule or the inevitability of death and taxes.
This is true in Bitcoin as well. While there are many ways to make large amounts of money off Bitcoin, mining, day trading, speculating, etc., for most people around the world, regardless of who or where they are, the best investment strategy has simply been to buy and hold Bitcoin.
The reason for this is clear: Anybody can buy and hold Bitcoin, but almost nobody can beat the market forever. The industry is simply growing at such a tremendous pace that no one can keep track of everything that is happening now, let alone forecast the future. You have to live and breathe crypto for a chance at beating the market odds. Even so, we have seen true legends in this space completely wiped out by thinking they can do better than just holding their Bitcoin.
Why BTC mining is more profitable than just holding
In the history of Bitcoin, mining has been the clear exception to the rule of "buy and hold." If you can create a scenario with the optimal blend of cheap energy and efficient mining hardware, Bitcoin mining will be a profitable activity in almost any economic scenario and at any Bitcoin price point.
To prove this, we ran an opportunity-cost comparison with buying Bitcoin or buying a Bitcoin miner the day it was announced from Bitmain, operating it at $0.06 and selling enough Bitcoin to pay your electricity bills.
In every scenario, you end up with more Bitcoin from mining than holding.
This one simple economic incentive has in just seven years bootstrapped the Bitcoin mining industry into a $5-billion industry today; done right, mining is one of the most predictable and safe ways to turn your Bitcoin into more Bitcoin.
Of course, "done right" assumes one very important thing: that you will reliably and consistently operate this equipment. This is often a lot easier said than done. Bitcoin mining can be highly technical: the equipment is sparse and highly varied in its quality, performance and condition. Also, like any piece of equipment, it needs the right operating environment and skilled operators and systems to run well and cost-efficiently.
From the network's perspective, Bitcoin doesn't care how well or cost-effectively you mine. One terahash coming from a desert is equally valuable and indistinguishable from one terahash coming from snowy Quebec. But you as the owner will surely notice the cost difference on your bottom line, one thing is for sure: No one is in the mining business because they want less Bitcoin.
It doesn't take a genius to make money mining in a bull market, however, it does take a genius to plan for and survive a bear market. When we brought Bitfarms to the Toronto Stock Exchange in 2018, we were surrounded by a number of large peers, most of whom did not survive to this point. Those of us who did survive the bear market have come out stronger, more experienced and better operators with operations and equipment ready to capitalize on the 2021 Bitcoin rally and survive whatever market that follows it.
Legendary Trader Peter Brandt Challenges Binance with Four Questions about 88% BTC Crash
Here's what is unclear for Mr. Brandt about mysterious Bitcoin (BTC) flash-crash of Oct. 21, 2021
Prominent trader and analyst Peter Brandt has taken to Twitter to ask his four questions in the context of the flagship crypto's 88% dropdown.
What do Binance and Binance.US have in common?
First of all, Mr. Brandt challenged the character of corporate relationships between Binance and Binance.US, its unit focused on American markets.
Questions remain:
1. What is exact corp. relationship @binance w/ @BinanceUS
2. Will firm release T&S with all trades/volume/price?
3. Did firm take opposite side of client fills
4. Will firm change low to reflect actual fills
cc: @GaryGensler @CFTC @SECGov @cz_binance @IBKR pic.twitter.com/huqzZbSGIt— Peter Brandt (@PeterLBrandt) October 24, 2021
Also, Mr. Brandt asks whether Binance is planning to release detailed documents to specify statistics for trades, their volume and prices during the flash-crash.
Then, the trading legend asked about the role of the platform in taking the opposite side of a client fills.
Besides the Binance CEO and co-founder Changpeng "CZ" Zhao, Mr. Brandt mentioned the Interactive Brokers platform, U.S. watchdogs CFTC and SEC and Gary Gensler, the SEC chairman.
Most expensive "trading algorithm bug" ever?
Also, Mr. Brandt attached a screenshot of a tweet by CZ when Binance's boss warned his audience about expected volatility spikes across cryptocurrency markets.
Finally, Mr. Brandt added that he never used Binance for trading.
As covered by U.Today previously, on Oct. 21, 2021, amidst a spending rally, the Bitcoin (BTC) price briefly tanked to the $8,000 level, losing more than 88% in no time.
A similar flash-crash was registered on 26 other low-liquidity exchanges. A Binance.US representative attributed this dramatic plunge to a critical bug in third-party mechanisms by one of the platform's sophisticated institutional clients.
Dogecoin Looks Ready To Rip As Bitcoin Finds Critical Support, According to Crypto Analyst Justin Bennett
Crypto analyst Justin Bennett says that Dogecoin (DOGE) could be ready to make a run for its next critical level about 37% above current prices.
The popular analyst tells his 88,000 Twitter followers that DOGE is attempting to break out of a long descending resistance line that it has been up against since May.
"DOGE looks ready (as long as $BTC cooperates).
Just needs to get above 0.27 on a daily closing basis to open up 0.34+."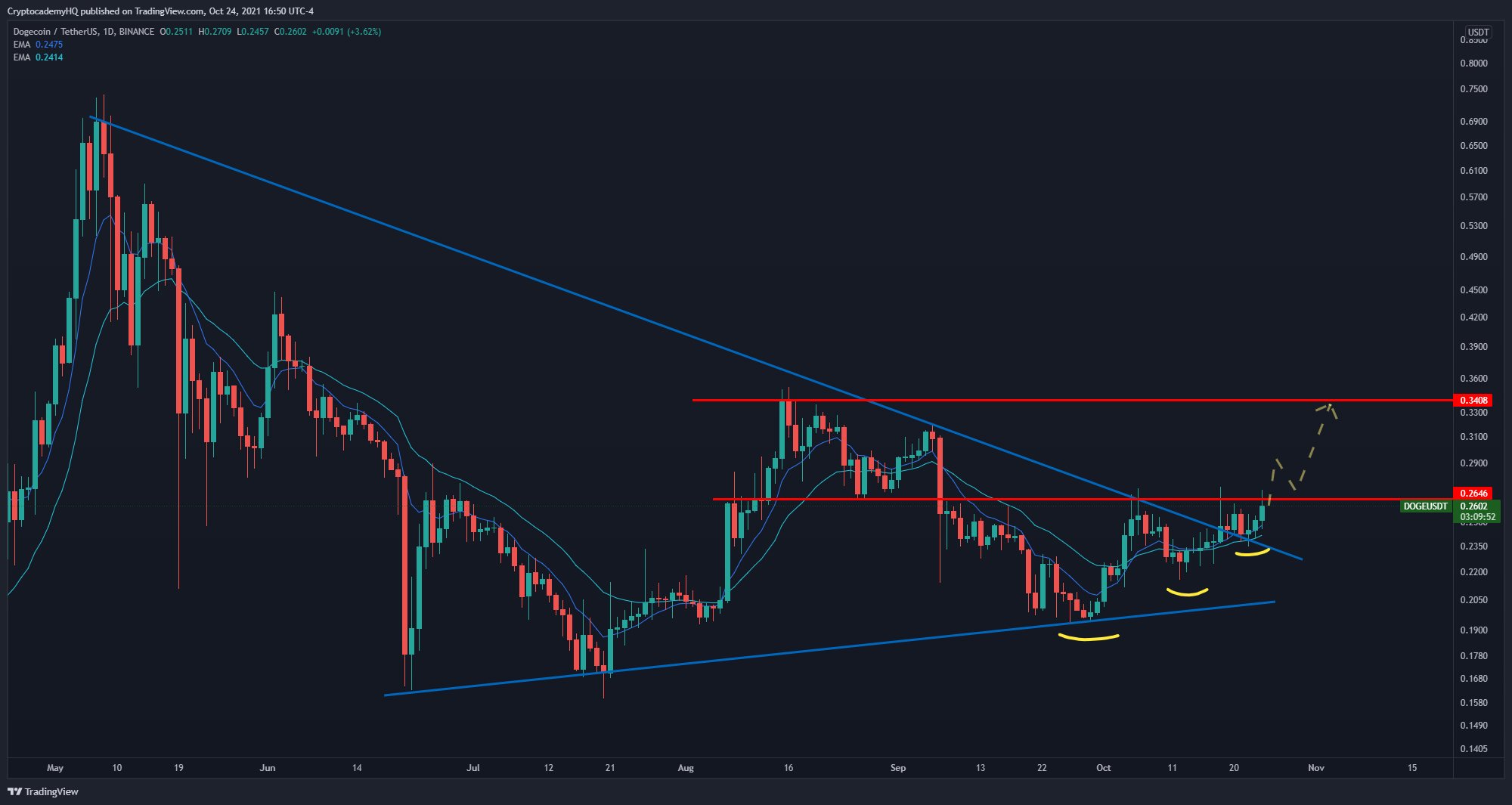 In the near term, Bennett says DOGE needs to turn the $0.26 level into support and close above $0.27 before continuing higher to his initial target of $0.34. At time of writing, Dogecoin is trading at $0.26 according to CoinGecko.
Looking at Bitcoin, the analyst says BTC's ability to maintain the $60,000 level is a major show of strength that could have big implications in the broader markets.
"Although the BTC weekly candle might not look great, it still held above $60k.
That's what I was looking for. Doesn't mean we can't see more pullback before further upside, but it does mean $60k is holding as support on a weekly closing basis.
That's huge."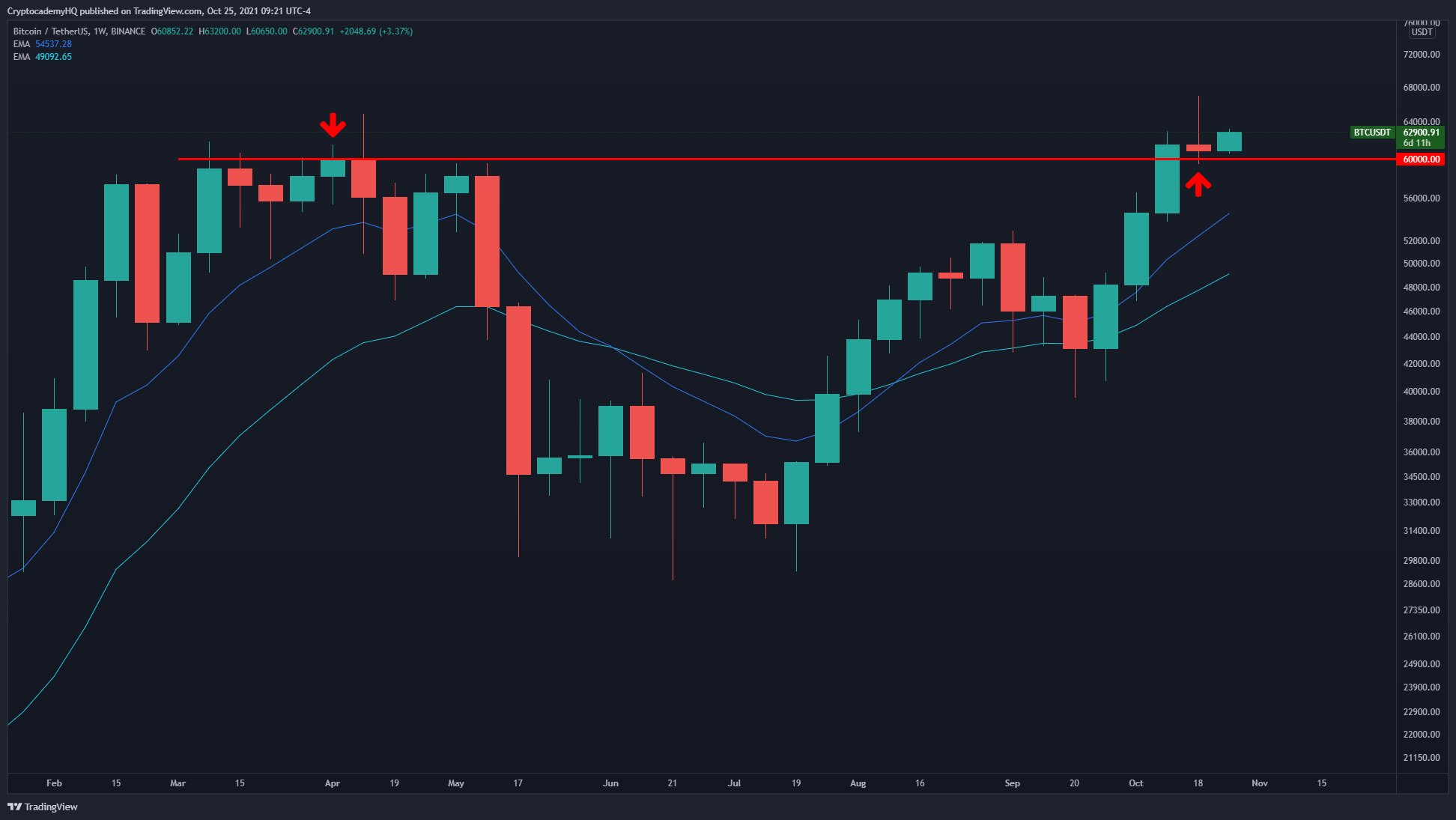 Bennett also has his eye on Bitcoin dominance, which compares BTC's market cap to the rest of the crypto markets. He says it's bounced off a support level and is currently on its way up.
"BTC.D is bouncing from 44.5% support.
Surprise, surprise."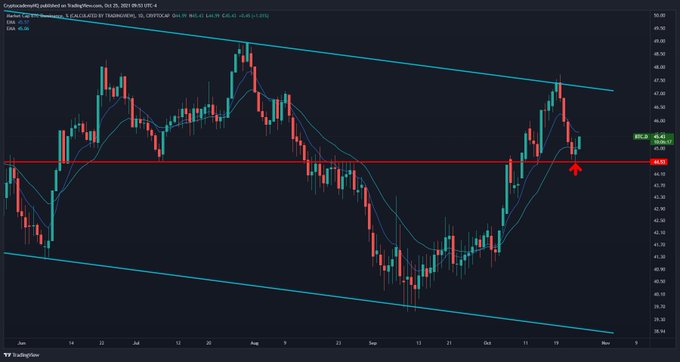 While surging Bitcoin dominance often suggests that altcoins will underperform, Bennett says this may only hold true in the short term. He says if the king crypto is looking healthy, then altcoins might take it as a signal to move up.
"This isn't necessarily a bad thing for altcoins.
Will they suffer if BTC.D heats up again?
In the short term and against BTC, yes.
But Bitcoin strength now is massively bullish for alts over the next few months.
Anybody That Does the Homework Eventually Invests in Bitcoin: SkyBridge Capital's Scaramucci
Founder of SkyBridge Capital believes that anyone who starts looking into Bitcoin seriously will end up buying
Antony Scaramucci, founder and CEO of SkyBridge Capital venture fund that has a branch investing in Bitcoin, has told CNBC that Bitcoin can eventually convert anyone who "does their homework" to invest in it.
He named several billionaires who used to be skeptical on BTC but have been into it since 2020.
Those who do their homework end up investing in bitcoin, Scaramucci says https://t.co/tDL2KPi8wJ— CNBC (@CNBC) October 25, 2021
Ray Dalio, Paul Tudor Jones, etc, have turned to Bitcoin
According to Scaramucci, Bitcoin has the power to attract even its opponents – if they begin to study BTC carefully and "do the homework" they get convinced of the great potential Bitcoin has.
He has referred to billionaire investors, such as Ray Dalio, Paul Tudor Jones and Stanley Druckenmiller – they used to be opposed to the flagship cryptocurrency and now are holding BTC in their portfolios.
Among these former Bitcoin skeptics are Shark Tank's co-hosts – Kevin O'Leary (widely known as Mr. Wonderful) and Mark Cuban, billionaire and owner of the Dallas Mavericks baseball team. He now considers Bitcoin a store of value and believes that Dogecoin is a perfect crypto for payments. The Mavericks online store accepts DOGE for tickets and merch, and, according to Cuban, people are spending thousands of USD in Dogecoin on every month. He also likes Ethereum because of smart contracts.
Here's how much Bitcoin Scaramucci holds
As part of studying BTC, Scaramucci recommended reading the BTC white paper written by Satoshi Nakamoto, the mysterious person or a team of them that created Bitcoin back in 2008-2009.
As for his own crypto holdings, Anthony Scaramucci holds over one billion USD worth of Bitcoin. He believes BTC to be digital analogue of gold.
He also believes that Ethereum and Cardano have a large potential and are going to keep rising in the future.