Whales Shift Whopping 330,000 ETH After Ethereum Hit New ATH of $1,756
Cryptocurrency tracker Whale Alert has detected several gargantuan transfers of Ethereum, while ETH reached a new all-time high, surging above $1,700 for the first time.
Whale Alert crypto tracking service has spotted around a dozen lumps of ETH transferred by anonymous holders between wallets with unregistered owners and also from and too crypto exchanges.
The total amount equals slightly under 300,000 Ethers, which is 560,813,714 in USD.
Whales shift $560,813,714 in ETH
According to Whale Alert, almost a dozen transactions, both gargantuan and small ones, have been made over the past twenty hours, carrying a total of 330,000 ETH.
This happened while ETH hit a new all-time high of $1,756 around fifteen hours ago.
Image via Twitter
Ethereum hits a new all-time high, Bitcoin soars above $39,000
On Friday, February 05, the second largest cryptocurrency soared above the $17,700 level for the first time ever and reached an all-time high of $1,756.
One of the factors that was likely to drive this surge was the launch of ETH-based futures on CME, the exchange that provides services for financial institutions.
Bitcoin has also been showing an uptick. Earlier today, the world's biggest cryptocurrency, referred by many as "digital gold", soared from the $37,837 mark above $38,000 and the on to the $39,548 level, where it is sitting at press-time.
Analyst Predicts Monster Uptrends for Ethereum and Aave, Says Red-Hot Solana Could Run Hard
A popular crypto strategist and trader is predicting strong uptrends for Ethereum (ETH) while saying that explosive altcoin Solana (SOL) could continue its impressive performance.
The pseudonymous trader Smart Contracter tells his 176,000 Twitter followers that he's keeping a close watch on Ethereum against Bitcoin (ETH/BTC) because he believes the trading pair remains bullish after it broke out from a large inverse head and shoulders pattern (IHS).
"ETH/BTC is still huge IHS breakout after a three-year base. It may have been somewhat boring the last few months but make no mistake about it, this is re-accumulation in a monster uptrend."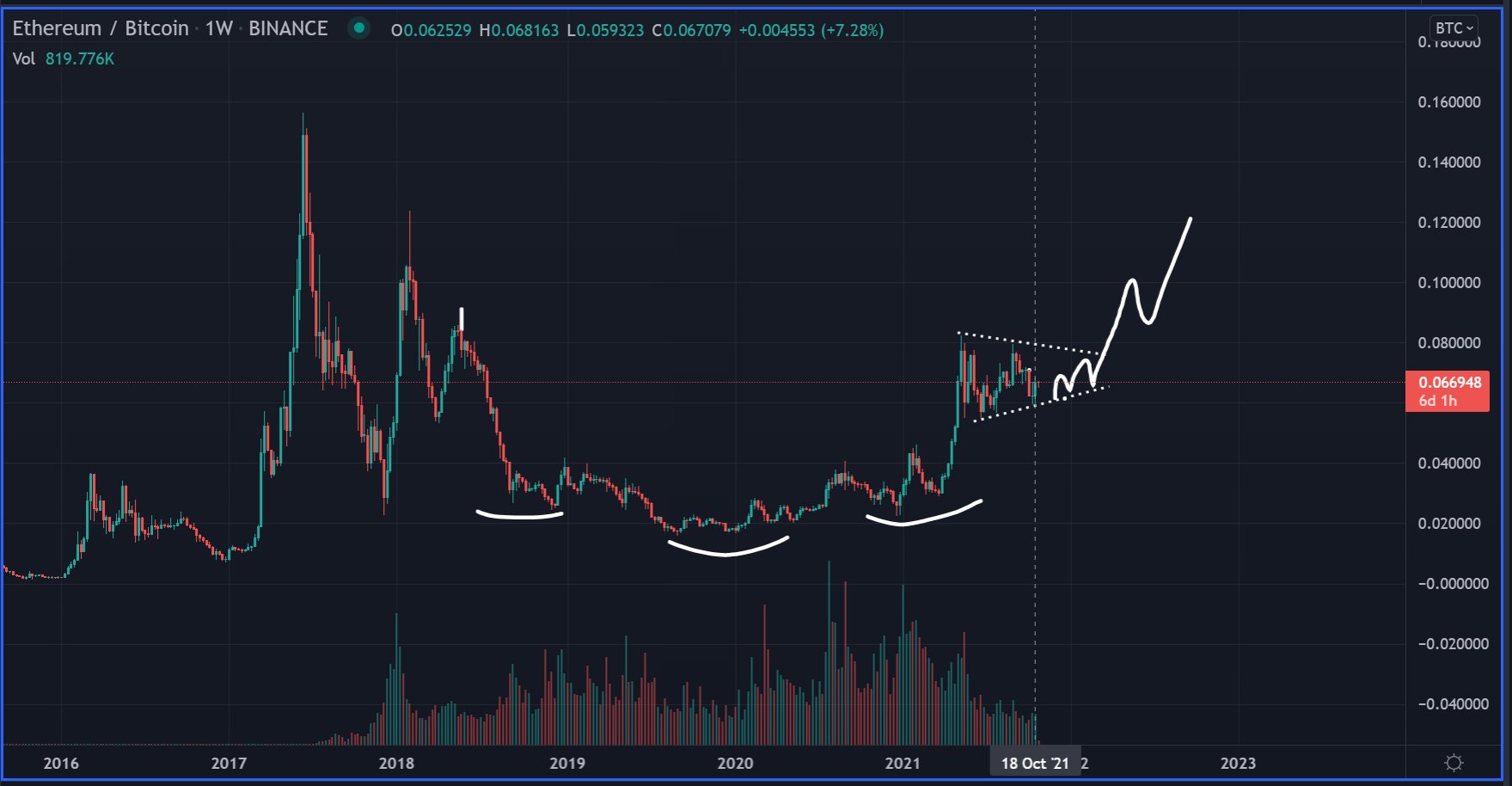 An inverse head and shoulders pattern is a bullish technical pattern that marks the beginning of a new uptrend. According to Smart Contracter's chart, ETH/BTC is currently consolidating within a bullish continuation pattern and can climb as high as 0.12 BTC, worth $7,287 at time of writing.
Next looking at the leading smart contract platform against the US dollar, the crypto strategist says ETH is now en route to $5,000 after it took out a diagonal resistance.
"I think today is the day we get a proper $ETH [all-time high] breakout."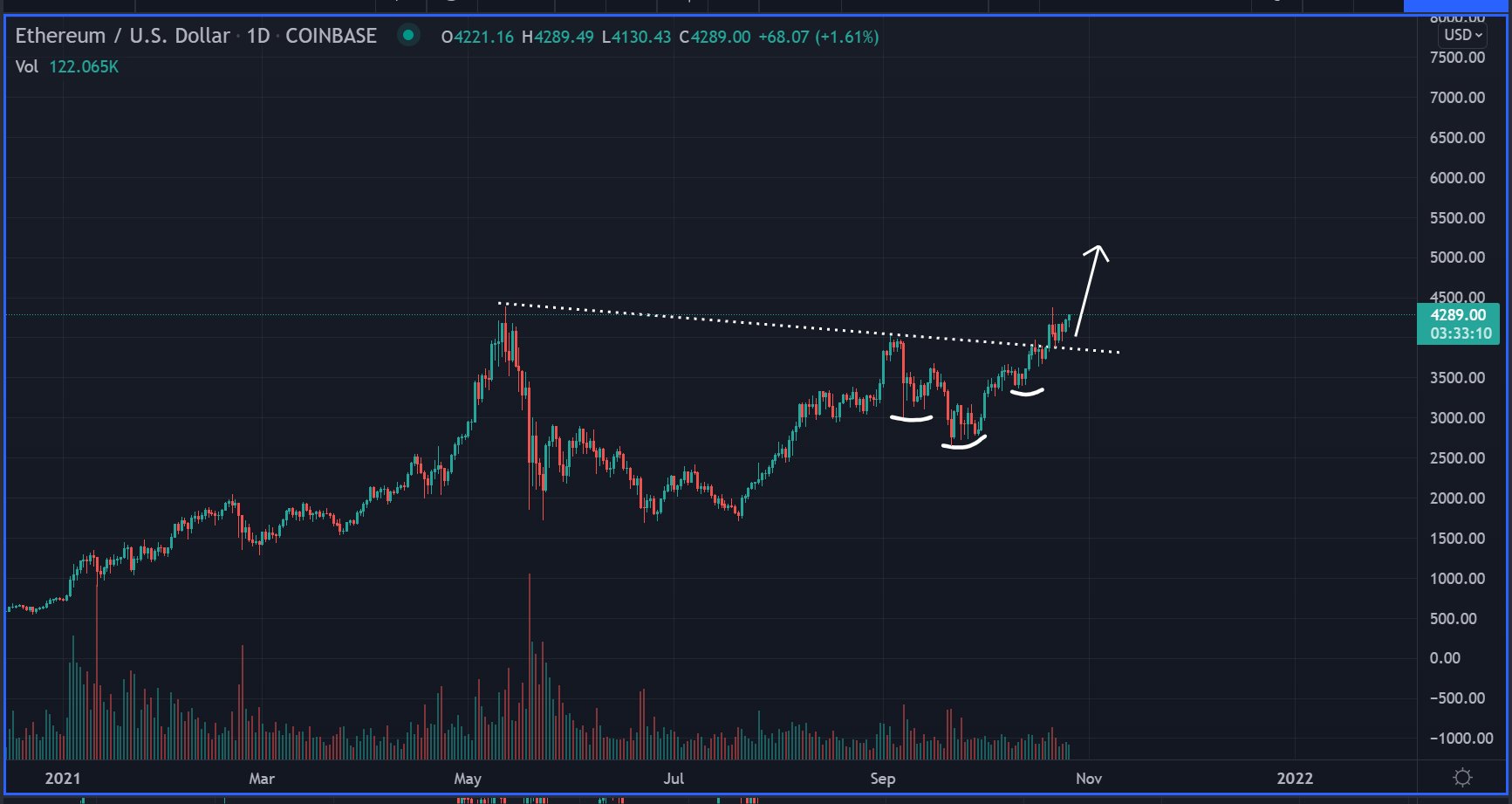 Next is lending and borrowing protocol Aave (AAVE), which the trader believes is ready to ignite an epic rally after printing a bullish higher low setup.
"Aave putting in a solid weekly higher low here. With blue chips like CRV already moving, I'm going to assume other blue chips have bottomed and are not far behind. [Decentralized finance season] is near and Aave is an old favorite of mine."
The trader uses the Elliott Wave theory, a technical analysis approach that predicts future price action by following the psychology of market participants that tends to manifest in waves. According to Smart Contracter's chart, AAVE can soar close to $900 before completing its five-wave cycle.
As for Ethereum competitor Solana, Smart Contracter predicts a strong rally for the red-hot altcoin after it breached two diagonal resistances on the 12-hour chart.
"Got SOL low key breaking downtrends of two different degrees. This bad boy runs hard when it gets going and it's only just getting started here."
In the short term, the crypto strategist predicts that Solana can revisit its all-time high of $218. In the long term, Smart Contracter says he sees Solana igniting a massive rally to $900 as he believes SOL is following in the footsteps of Binance Coin's (BNB) epic surge earlier this year.
"Monthly reminder $900 SOL is not a joke. It's gonna happen."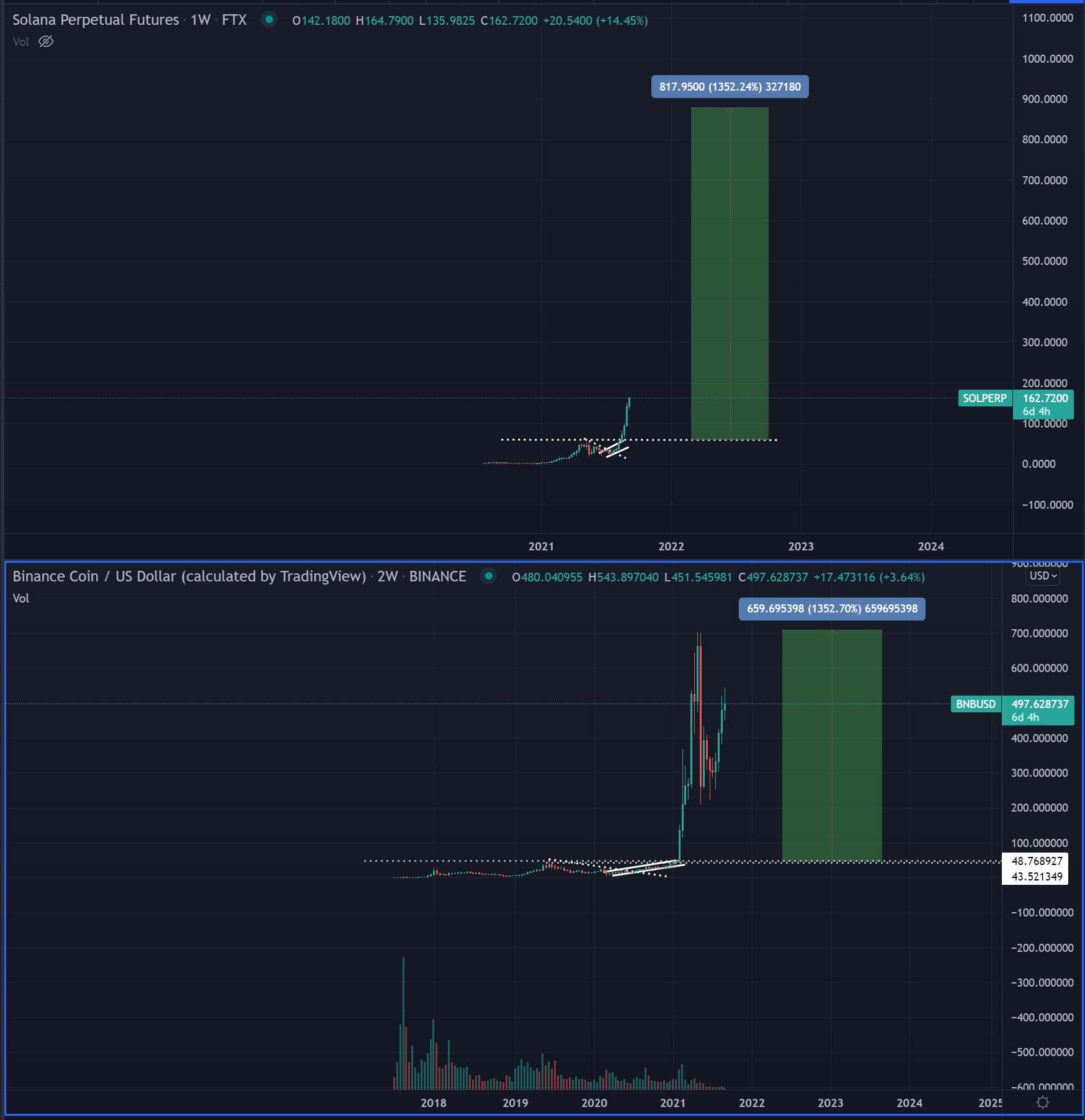 Ethereum founder Vitalik Buterin strongly supports Layer 2 solutions for scaling
Vitalik Buterin called the need for urgent scalability for Ethereum and the need to implement rollups.
The Ethereum founder called Layer 2 the safest way for scaling while preserving decentralization.
---
Ethereum founder Vitalik Buterin has come in support of Layer 2 scaling solutions for the Ethereum blockchain network. Buterin shared his views during his latest speech at the 2021 Shanghai International Blockchain Week.
The recent support from the Ethereum founder comes just at a time when developers are already working for the launch of Ethereum 2.0 Proof-of-Strake (PoS). Buterin noted that Ethereum 2.0 surely offers scalability and earlier phases of the upgrade are already approaching it. However, the base layer scalability for applications will come in the last phase of the upgrade.
During his speech, Buterin also admitted that Ethereum needs to be more scalable urgently. This demand for scalability comes amid the explosive growth of non-fungible tokens (NFTs) and decentralized finance (DeFi) on the Ethereum blockchain network.
Thus, Buterin added that Layer 2 is the future of Ethereum scaling. He also called it the safest way to scale Ethereum while preserving the core ethos of decentralization. Some of the popular Layer 2 solutions for Ethereum are Polygon Hermez, ZKSync, Loopring, Arbitrum One, and Optimism.
As the Ethereum 2.0 upgrades take place progressively, there's a significant amount of work underway to make Ethereum more secure, scalable, and sustainable. The Beacon Chian upgrade last year in December was a milestone event. The Altair upgrade coming to Ethereum later today will also bring new features to the Ethereum Beacon chain.
Ethereum's mainnet merge along with the Beacon chain's proof-of-stake system will mark the end of the existing Proof-of-Work Ethereum network. This will likely happen sometime in the next year of 2022. Furthermore, another multi-phase upgrade Sharding will happen in 2022. Sharding improves Ethereum's scalability and capacity using parallel running shard chains.
Vitalik Buterin speaks about Rollups
During his speech, the Ethereum founder also spoke about another Layer 2 solution dubbed Rollups that handles transactions outside the main Ethereum chain. Later, these Rollups post the transaction data on Layer 1. Vitalik Buterin further added:
The Ethereum ecosystem is all-in on rollups as a scaling strategy for the near and mid-term future… optimistic rollups, which are simpler and easier to build were likely to be preferred in the short-term.
The Ethereum founder also noted that the ZK rollups have a complex implementation but offer higher security. Buterin added that this solution is preferable for the long term. Once the ZK rollups are ready on Ethereum, even enterprise applications will be able to leverage it.
The Ethereum founder also requested application developers to start working actively on rollups and moving to its use quickly and safely. Buterin added that the Ethereum ecosystem is betting completely on rollups as a scaling strategy for the near and the mid-term. He added that optimistic rollups are simpler and easier to build and preferred in the short term.
Ethereum Price Analysis: ETH spikes below $4,000 as the overall market falls
Ethereum price analysis is bullish today.
ETH/USD saw heavy selling this morning.
Ethereum supported by the $4,000 mark,
Ethereum price analysis is bullish today as the overall market saw heavy selling this morning. Therefore, we expect ETH/USD to recover some of the loss later today.
The overall market saw heavy selling over the last 24 hours, with Bitcoin down by 5.85 percent, while Ethereum lost 4.46 percent. Meanwhile, Shiba Inu (SHIB) and Aave (AAVE) have moved against the overall direction, with a gain of 23 and 29 percent, respectively.
Ethereum price movement in the last 24 hours: Ethereum falls to $4,000 after failing to move above $4,300 overnight
ETH/USD traded in a range of $3,960.37 – $4,299.15, indicating strong volatility over the last 24 hours. Trading volume has increased by 55 percent and totals $24.35 billion, while the total market cap trades around $475.6 billion, resulting in the market dominance of 19.2 percent.
ETH/USD 4-hour chart: ETH finds support at $4,000
On the 4-hour chart, we can see further downside rejected for the Ethereum price action as the $4,000 support is still strong.
Ethereum price action has struggled to see further upside over the past week. Retracement followed after a several-week rally that resulted in a retest of the $4,400 all-time high on the 21st of October.
After an initial move to $3,900, support was later found at $4,000, leading to another move to $4,200 on Monday. Yesterday, ETH/USD struggled to move past the $4,200 mark, resulting in a reversal to the downside.
After the initial drop lower, a sharp spike lower followed this morning. Ethereum price quickly moved back to the $4,000 support, with further downside rejected. Overall, ETH/USD will likely hold the support, meaning we can expect a recovery over the next 24 hours.
Ethereum Price Analysis: Conclusion
Ethereum price analysis is bullish today as we can expect recovery after a strong selloff over the last hours. Therefore, as long as the $4,000 support holds, we expect ETH/USD to see further upside later today.
While waiting for Ethereum to move further, read our guides on LTC wallets, Gero wallets, and  DeFi wallets.