Bitcoin's Drop Below $48K Triggers $1.98 Billion Liquidations
Bitcoin has so far failed to breach the coveted level of $50K. The crypto-asset has been targeting the said level for quite some time now. But the latest abrupt drop was more damaging than investors had previously assumed.
As a result of the market correction, over $1.89 billion worth of cryptocurrency futures positions were liquidated over the past day. While Bitcoin [BTC] took a plunge near $47K, Ether [ETH] fell close to $1,680 and it was from these two coins where most of the liquidations stemmed from.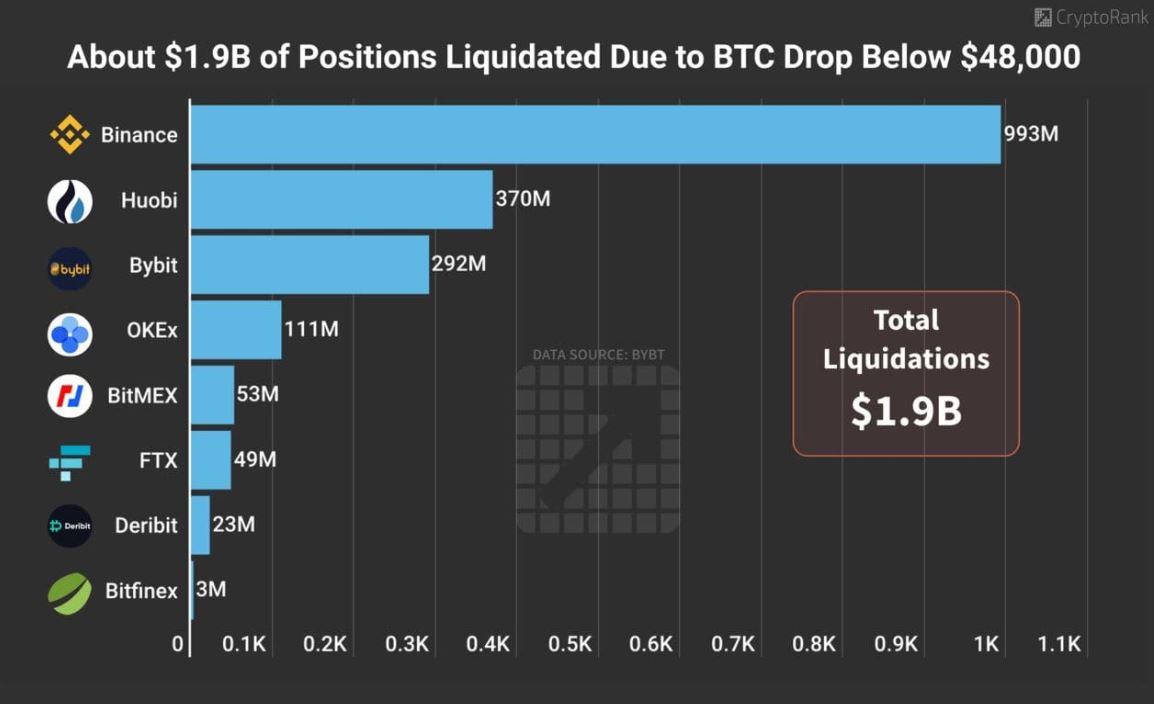 Besides, large liquidation also originated from other crypto-asset such as XRP, EOS, and Litecoin. Investors may have increased their risk appetite. But the over-leveraged position did little good for the market participants of certain trading platforms.
According to an analytics platform, CryptoRank, the impact of the pullback was seen the most by Binance which dominated the charts as it recorded a massive liquidation of $993 million.
In addition, $370 million was liquidated on cryptocurrency exchange Huobi Global, followed by $292 million on Bybit's platform.
Bitfinex, on the other hand, saw the least liquidation of just $3 million worth of positions. The platform's CTO Paolo Ardoino explained,
"BITFINEX HAS ALMOST 1B IN OPEN INTEREST BUT EXTREMELY LOW LIQUIDATION RATE COMPARED TO ITS COMPETITION. FINEX SEEMS TO HAVE TRADERS THAT USE LEVERAGE SLIGHTLY MORE CAREFULLY."
Why the slow-down in Bitcoin's Price Movement?
Bitcoin's price appeared to have recovered a little after adding nearly $400 dollar in the last 2 hours. Even as the crypto-asset was consolidating above $48,000, its price looks a little less optimistic than last week.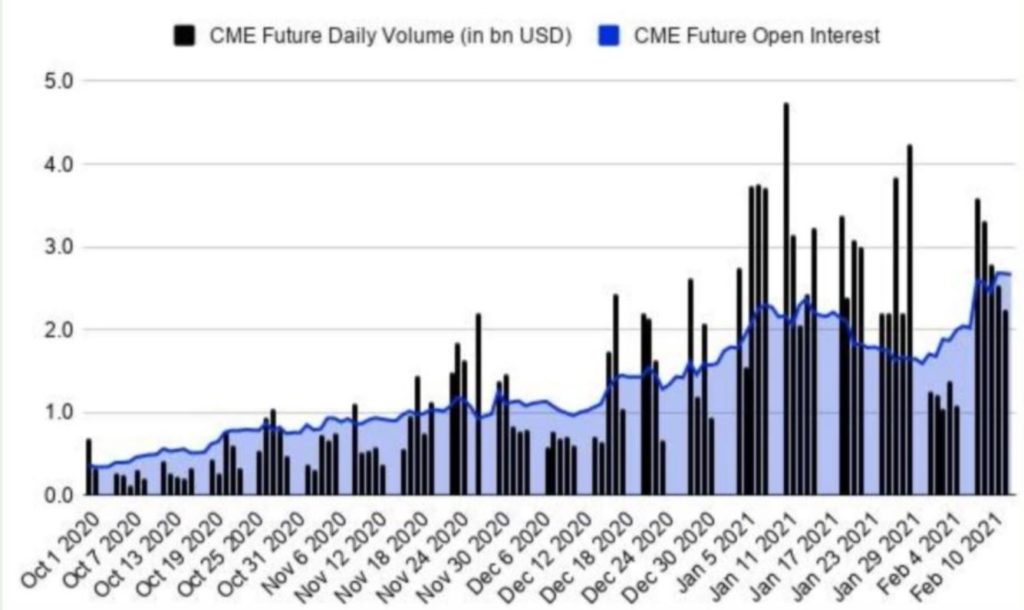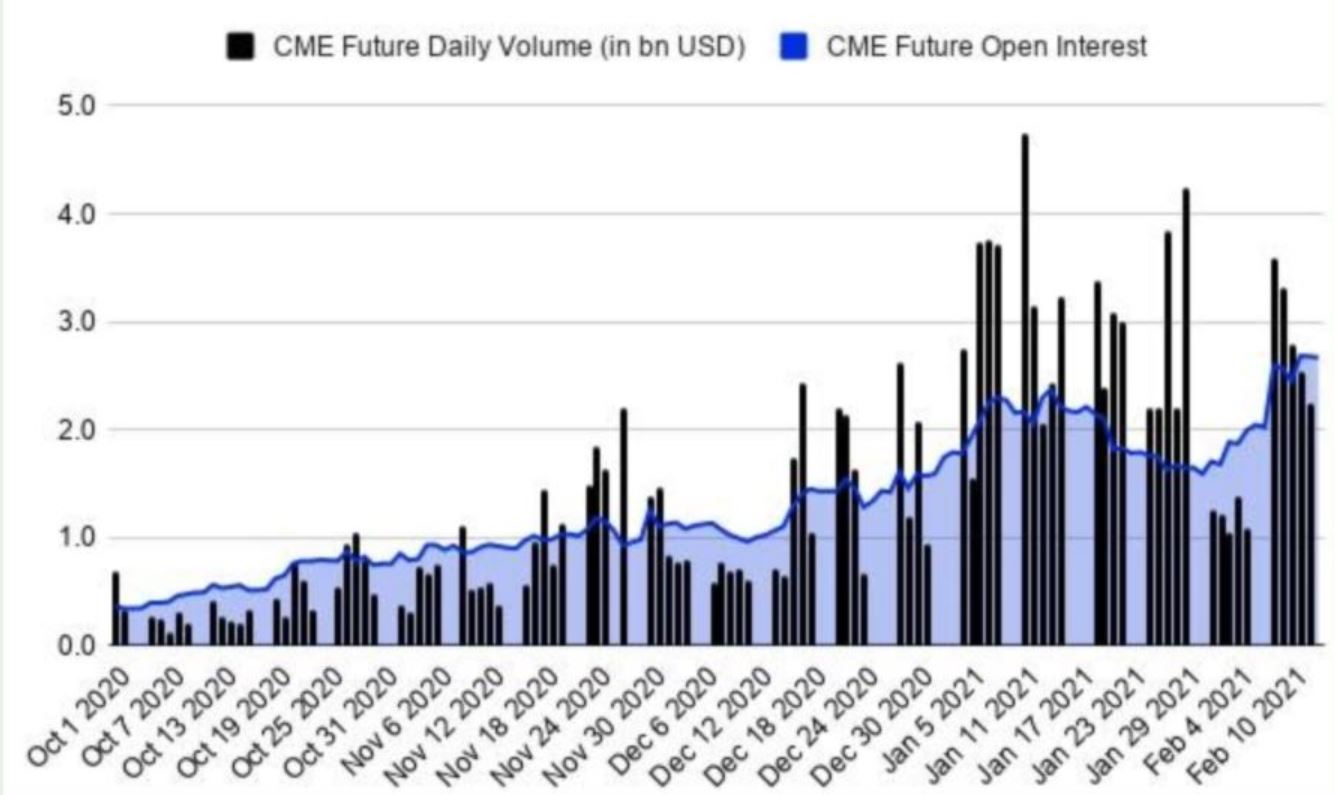 If the recent Bitcoin uncharted report is to be considered, the spot demand of institutions was declining as opposed to 2020's accumulation. The total number of withdrawals maintained an uptrend from exchange platforms, indicating that some users were still adding BTC to their portfolio.
Institutions had slashed their spot positions in December last year while rising demand for futures was seen the very next month evidencing that investors were now more comfortable risk in the market.
As Bitcoin's future/spot ratio started to rise in the charts, so did the open interest which recently hit a fresh high of $16 billion. However, the latest price action came as a surprise to many. Here's Why-
When BTC was trading a little over $49.2K, it was found that Coinbase Premium was already in the negative, and the current buying power at that time did not come from the exchange. This was according to analyst and CEO of CryptoQuant, Ki Young Ju who noted that $50K, with this factor at play, looked pretty tough.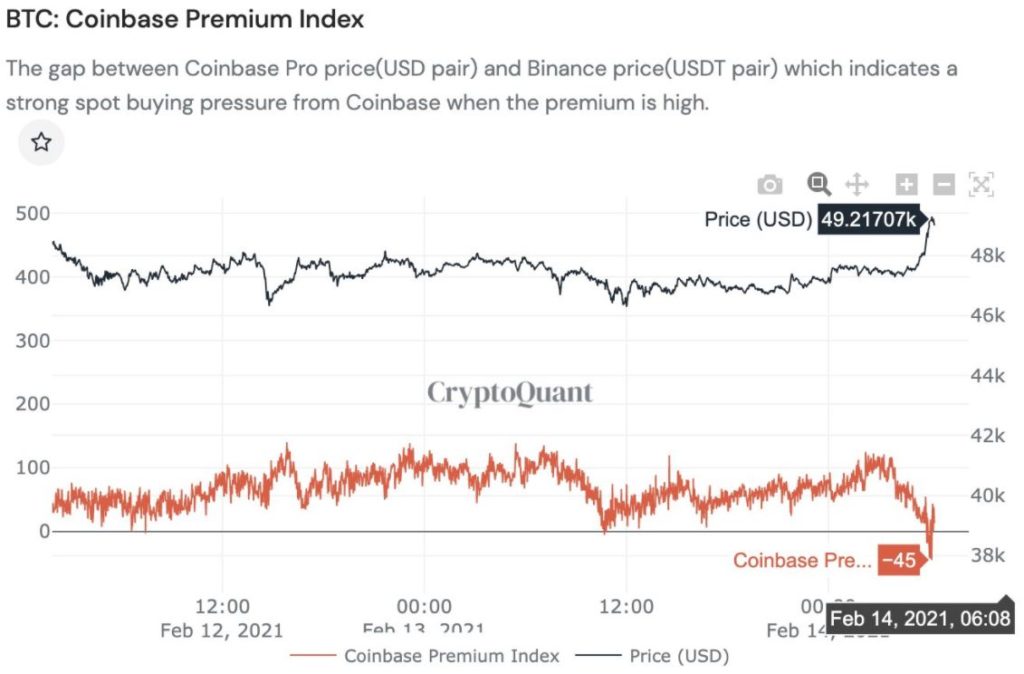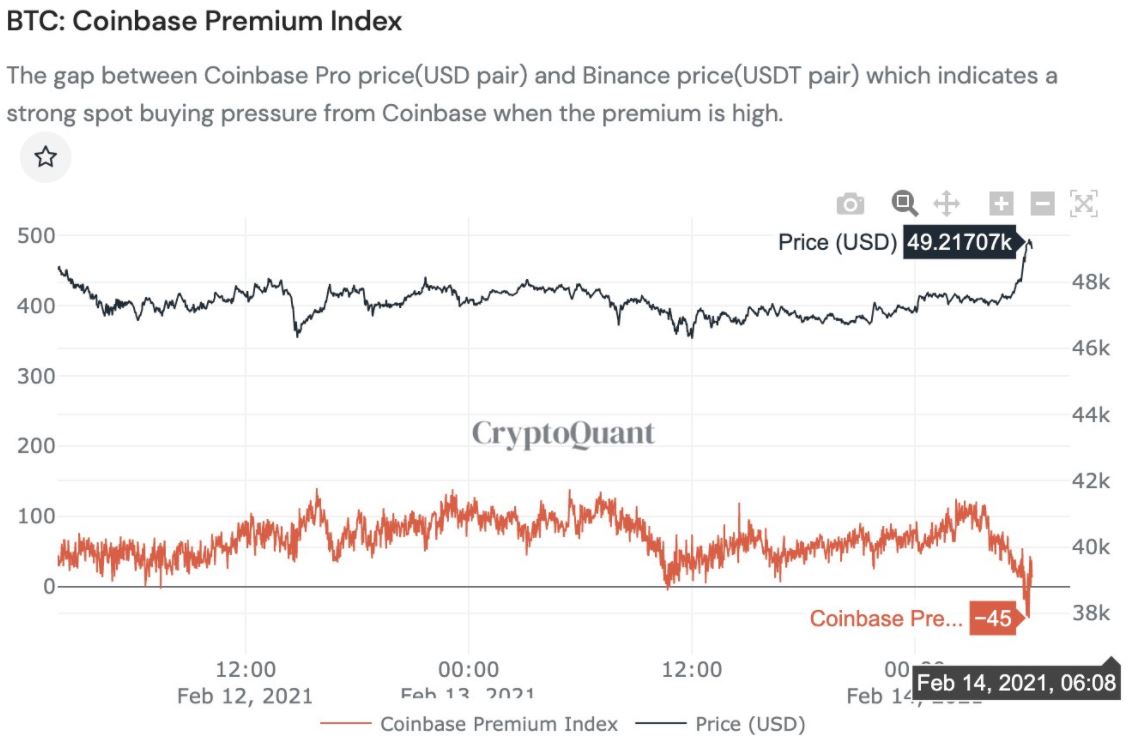 Recovery Hints In The Offing?
Despite the less bullish scenario, the analyst believes that now is the best time to buy crypto. Ki Young Ju went on to assert that,
"IF YOU'RE A LONG-TERM INVESTOR, NOW IS THE TIME TO BUY BTC. NOT SURE HOW MANY CORRECTIONS WOULD BE ALONG THE WAY, BUT THE ON-CHAIN INDICATOR SAYS THERE ARE ENOUGH STABLECOINS IN EXCHANGES COMPARED TO BITCOINS TO GET ANOTHER LEG UP."
Bitcoin Drops as China Declares Crypto-Businesses Illegal
China declared that cryptocurrency-related businesses are illegal
Bitcoin, Ether, and stablecoin Tether do not qualify as legal tender in China
BTC drops in price as the announcement went out
Once again, China reiterated its antagonistic stance on Bitcoin and the cryptocurrency industry as a whole.
In an announcement, the People's Bank of China (PBOC) mentioned that BTC, ETH, and USDT are not legal tenders in China. They added that these cannot be used in the currency market.
Additionally, the central bank deemed all crypto-related businesses as illegal. This includes overseas exchanges serving residents within China and derivative transactions.
Following the news, Bitcoin's price fell by almost $2,000 as the news circulated. This has been a common pattern whenever China FUD comes out.
Earlier, China also reiterated its stance on crypto trading and mining while testing the Digital Yuan. According to the PBOC, it will continue releasing regulatory pressure over the crypto trading industry.
Despite the negative news, many analysts remain bullish on Bitcoin and the cryptocurrency industry as a whole. According to analyst Lark Davis, this is not new and will happen again in the future.
In a tweet, Davis mentioned that "The year is 2025, #bitcoin has just corrected from 400k to 250k on China banning BTC fears."
Can Bitcoin Surpass $6,000,000? Ethereum and Polkadot Creator Details Possible Future of Crypto
Early Bitcoin developer and co-founder of Ethereum and Polkadot, Gavin Andresen, is outlining a future where BTC rises to a staggering $6,000,000 per coin.
Gavin Andresen, who took over as Bitcoin's lead maintainer from founder Satoshi Nakamoto in 2011, just published a new blog post detailing how BTC's theoretical evolution could look.
Andresen describes a "possible" scenario where Bitcoin hits a price tag of $6,000,000 by 2061, transaction fees 326x higher than they are now, and the blockchain is used chiefly by whales.
"Imagine: it is the year 2061. The BTC price is six million US dollars – equal to about a million 2021 dollars because of inflation.
Miners are being rewarded 0.006103515625 BTC per block, plus transaction fees of about 5 BTC for 4,000 or so transactions ($7,500 per transaction).
But most BTC transactions don't happen on the BTC network. Most BTC is locked up in multi-signature outputs secured using multiparty computation and mirrored on another chain as 'wrapped' tokens."
In his scifi scenario, Andresen says those who do remain on Bitcoin's network will be incentivized to keep it alive.
"The transactions that do occur on the main BTC network are high-value, mostly between super-whale-size holders…
These whales maintain the BTC network forever. They are the miners and the transaction creators; they don't care how high transaction fees go, because they receive as many fees as they pay."
However, Andresen says that by 2100, even those users would likely leave the blockchain.
"In the year 2100 the whales notice that the mining reward is basically zero… Eventually, there are zero new BTC being produced on the BTC network, and zero BTC circulating on the BTC network. There is nothing left to secure, and the chain stops."
Top Analyst Maps Bitcoin and Cardano Price Trajectories, Warns Best Entry Point for ADA May Be Gone
Top Analyst Maps Bitcoin and Cardano Price Trajectories, Warns Best Entry Point for ADA May Be Gone
Crypto trader Michaël van de Poppe is looking at what's ahead for Bitcoin (BTC) and the smart contract platform Cardano (ADA).
The analyst tells his 420,000 Twitter followers that the best entry point for Cardano may be gone after the asset bounced off a key support level at $1.86.
"If you want to get into Cardano, this was the region where you would want to get into it, and the higher low that might be created.
So based on the daily timeframe, the best entry might be gone, but you're still getting a better entry than the ones who have been buying around $2.80."
Van de Poppe is now looking to see if ADA can turn resistance at the $2.37 level into support.
If the markets correct further, he is keeping an eye on the $2.15 level as a potential buy zone.
"When you're looking at the four-hour time frame, I think you're getting the exact same view as what you have right now on Bitcoin and [Ethereum], actually. So you're going to look for an entry point which is around the fact of $2.15, so anything in this region might be a good entry point if we get a corrective move."
Looking at the Bitcoin pair, van de Poppe thinks that ADA will most likely consolidate briefly after retesting support at its previous all-time high.
"We can see that we've had a beautiful retest of the previous high here too, and therefore some consolidation is most likely going to take place before we're going to have new impulse waves.
So both the USDT and BTC pair are looking for continuation, and I think that's just great, and I think that's just what we want to see with the markets right now."