Uniswap Reaches $100 Billion in Trading Volume, Marking Major Milestone for DeFi
Uniswap has become the first decentralized exchange to reach $100 billion in trading volume.
Uniswap has become the first decentralized exchange to reach $100 billion in trading volume.
The cumulative trading volume of automated market maker Uniswap has surpassed $100 billion. It became the first decentralized exchange to reach such a milestone as noted by Hayden Adams, the protocol's founder, in a recent tweet.
Image by defipulse.com
Uniswap passed the $50 billion milestone in mid-December. It started effortlessly logging $1 million per day last month.
According to a Twitter poll posted by Adams, Uniswap is widely expected to reach $1 trillion in either 2021 or 2022.
In January, decentralized exchanges logged over $55 billion worth of trading volumes. Notably, Uniswap accounted for almost half of the record-breaking figure.
Currently, the number one decentralized exchange is the fifth place by the total value locked followed by its archrival SushiSwap, according to DeFi Pulse data.
Uniswap, however, remains the target of vampire attacks. 1inch.exchange protocol recently conducted yet another airdrop in an attempt to steal Uniswap's lunch.
UNI is up 360 percent in 2021
After its collapse in September, UNI, the native token of the Uniswap exchange, has been on a tear since the start of 2021, soaring by over 360 percent.
The 400 UNI giveaway would now be worth over $8,000, far exceeding the value of U.S. stimulus checks.
Together with Aave (AAVE), UNI is moving closer to entering the CoinMarketCap top 10.
Uniswap (UNI) gains nearly 50% in 24 hours as China's latest crypto purge boosts DEX tokens
Uniswap (UNI) prices staged a solid rebound after crashing last week in the wake of China's decision to intensify its anti-Bitcoin (BTC) and cryptocurrency rhetoric.
UNI price gained 14.90% on Monday to reach an intraday high of $26.26. UNI/USD's climb came a day after it dropped to a monthly low of $17.63. As a result, it churned out more than 48% profits for the dip buyers within the last 24 hours.
Adoption FOMO
UNI serves as a governance token inside Uniswap's decentralized exchange (DEX) ecosystem. As a result, its holders get to vote on matters that help steer the future direction of the DEX platform.
Additionally, UNI holders could also receive a potential revenue share in the future. For the uninitiated, Uniswap's governance contract contains a so-called "fee switch"; if activated, it will enable UNI holders to earn a part of the protocol's fees.
Some users already generate revenues by contributing to Uniswap's pools of assets, earning between 0.05% and 1% of the value of each trade in the current version.
Therefore, the prospect of Uniswap growth as a DEX could also mean a higher adoption curve for UNI. And so it appears, China's intensifying crackdown on the crypto industry has boosted the tokens appeal among speculators.
The People's Bank of China (PBoC) and other government agencies deemed crypto transactions illegal in an announcement made public on Friday. Meanwhile, they also targeted offshore cryptocurrency exchanges, warning that it is illicit to provide online trading services to Chinese residents.
The move served to fix a loophole that remained in place after the PBoC banned all regional financial institutions from offering services to crypto companies. During this time, China-based traders had continued to use off-shore cryptocurrency trading platforms, such as Huobi, Binance and OKEx.
BREAKING: #Huobi and #Binance, the 2 largest crypto exchanges in the world, have now fully suspended all new users from Mainland China after the Chinese government declared #Bitcoin trading illegal. pic.twitter.com/ILExeMmgBU— Mr. Whale (@CryptoWhale) September 26, 2021
But decentralized trading platforms like Uniswap are attempting to steer clear of governmental jurisdictions by replacing the custodial asset model with a non-custodial one based on smart contracts and multi-signature technology. 
As a result, the recent bout of buying in Uniswap markets has appeared in sync with similar rallies across its top rivaling DEX tokens, as shown in the Messari index below.
Overall, the DEX index containing 60 assets was up 10.27% around 12:05 UTC, calculated on a 24-hour adjusted timeframe. Meanwhile, the gains of 13 centralized exchange tokens, including Binance Coin (BNB) and FTX Token (FTT), came out to be only 0.77% in the same period, suggesting traders' sudden FOMO for their DEX rivals.
UNI technicals
UNI prices have been trading lower inside a parallel descending channel that appears to be the "handle" of a classic cup-and-handle technical pattern.
The setup emerges when an asset forms a rounding bottom (cup) while correcting after a solid move higher. After completing the formation, it trends lower in a descending channel range — which typically leads to a breakout to the upside.
In rising so, the asset sets its bullish target at a distance equal to the cup's depth.
UNI ticks almost all the boxes when forming the cup-and-handle pattern in recent sessions. The Uniswap token is now eyeing a breakout from its descending handle channel range, with a profit target set at $17.83 above the cup's resistance level at $48.54.
Uniswap (UNI) explodes by 30% thanks to China's hostility towards cryptocurrencies – Explanations
The cryptocurrency market is broadly up on Monday, but there is one crypto that stands out significantly from the rest this morning, Uniswap (UNI), now the 12th largest digital currency on the market.
It shows a gain of 30% over 24 hours and nearly 10% over a week, making it the best performing cryptocurrency in the Top 50 at the time of writing, after peaking at $ 26 in the night from Sunday to Monday.
And while other cryptocurrencies are essentially rebounding against a backdrop of profit taking following their fall last week, Uniswap's outperformance can be explained by recent statements by Chinese authorities, who reiterated and strengthened their opposition to cryptocurrencies last Friday.
China's hostility to cryptocurrency boosts Uniswap (UNI)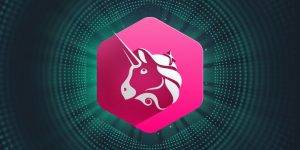 Indeed, Uniswap is a decentralized exchange platform, which means that it facilitates peer-to-peer exchanges without intermediaries. Uniswap is therefore one of the tools that could make it possible to circumvent the Chinese ban on activities linked to cryptocurrencies.
"The big rotation in everything decentralized is there and it's all thanks to China's latest and arguably most aggressive crypto ban," said Denis Vinokourov, head of research at Synergia Capital, according to Coindesk.
Recall that on Friday, the PBOC, the central bank of China, declared all cryptocurrency-related activities illegal, prohibiting offshore platforms from serving Chinese customers. Moreover, Huobi, which operates in the country, announced that it has already taken measures to comply with the new regulations, by suspending the registration of new users in China, which has led to a plunge in its share price.
Uniswap Technical Analysis (UNI): The daily context remains bearish
From a graphical point of view, it should be noted that while the rise of Uniswap over the weekend is encouraging, it was not enough to significantly improve the profile of the cryptocurrency.
Indeed, as seen on the daily chart below, Uniswap is still in a bearish channel that has been visible for around 1 month. For now, the upper bound of this channel seems to have stopped the upward movement, and a correction could follow.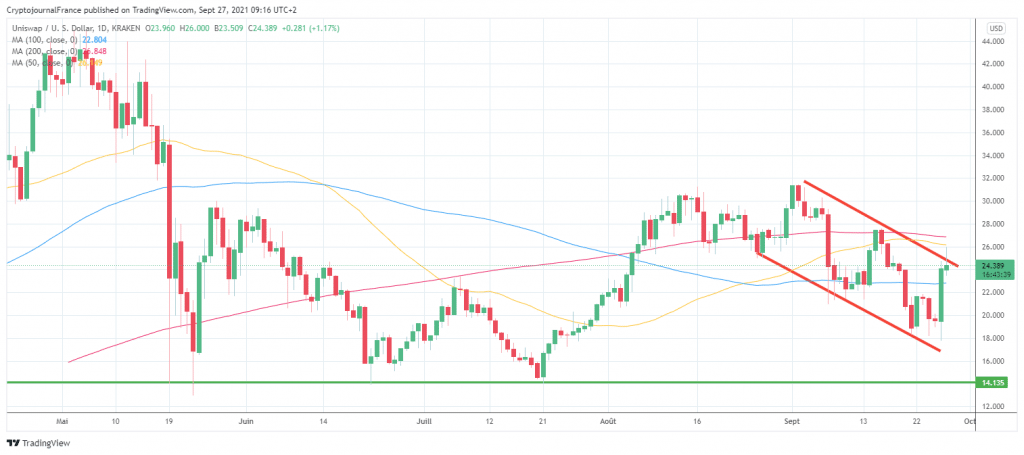 To attest to a top exit the channel Uniswap (UNI) must cross the $ 27 threshold, which would also correspond to a crossing of the 200 day moving average. If, on the contrary, a correction materializes, it will be noted that a fall to $ 20 would offer an ideal buying opportunity.
Uniswap Price Analysis: UNI retests $18.3 support, prepares for a rally higher?
Uniswap price analysis is bullish for today.
UNI/USD saw another rejection above $18.3 support yesterday.
Uniswap currently prepares for another rally.
Uniswap price analysis is bullish today as the market has rejected further downside at $18.3 for the second time this week. Therefore, we expect UNI/USD to reverse and look to set a higher high early next week.
The overall market traded mostly in the green over the last 24 hours. The market leader, Bitcoin, is up by 1.24 percent, while Ethereum has gained 0.13 percent. Cardano (ADA) is the top performer right now, with an increase of 8.66 percent.
Uniswap price movement in the last 24 hours: Uniswap saw another spike to $18.3
UNI/USD traded with a moderate amount of volatility over the last 24 hours. Trading volume has declined by 32.07 percent and totals $312.8 billion, while the total market capitalization trades around $11.76 billion, ranking the coin in 14th place overall.
UNI/USD 4-hour chart: UNI set to reverse?
On the 4-hour chart, we can see the Uniswap price currently gathering momentum before another push higher is likely seen tomorrow.
Uniswap price action has traded with a strong bearish momentum this month. After peaking around the $31 mark, we saw a rapid decline on the 7th of September, followed by several days of consolidation and a rally to $27, where a lower high was set.
Last week, another drop lower began, resulting in a further loss of more than 30 percent. Support was found above $18.3, with a clear rejection followed by a move above $21.5 previous support turned resistance.
However, yesterday, bears took over the momentum again, sending UNI/USD back to the $18.3 support. Another rejection was seen above the support, indicating that the Uniswap price action is ready to reverse and move higher early next week.
Uniswap Price Analysis: Conclusion
Uniswap price analysis is bullish as the $18.3 prevented further downside once again yesterday after a quick spike lower. Therefore, we expect UNI/USD to reverse and look to set a higher high early next week.
While waiting for Uniswap to move further, read our guides on Decentralized Exchanges, NFT Crypto, as well as Bitcoin Memes.