Charted: Polkadot (DOT) Rallies 10%, Why It Could Clear The $30 Hurdle
Polkadot's DOT remained strong above the $25.00 support zone against the US Dollar. It is now trading nicely above $28.00 and it may soon surpass the $30.00 resistance zone.
DOT started a fresh increase after a minor correction towards the $25.00 support against the US dollar.
The price is trading nicely above the $28.00 support and he 100 simple moving average (4-hours).
There was a break above a major bearish trend line with resistance near $27.50 on the 4-hours chart of the DOT/USD pair (data source from Kraken).
The pair remains in a strong uptrend and it could soon clear the key $30.00 barrier.
Polkadot's DOT Eyes More Upsides
After testing the $30.00 resistance, DOT started a downside correction, similar to bitcoin. There was a break below the $28.00 and $27.50 support levels. The price even spiked below the $25.00 support level.
However, downsides were limited and there was no close below the $25.00 support. The price recovered nicely and it settled above the $27.00 level. There was a strong increase above the 50% Fib retracement level of the downside correction from the $30.25 high to $23.38 low.
There was also a break above a major bearish trend line with resistance near $27.50 on the 4-hours chart of the DOT/USD pair. The pair is now trading nicely above the $28.00 support and he 100 simple moving average (4-hours).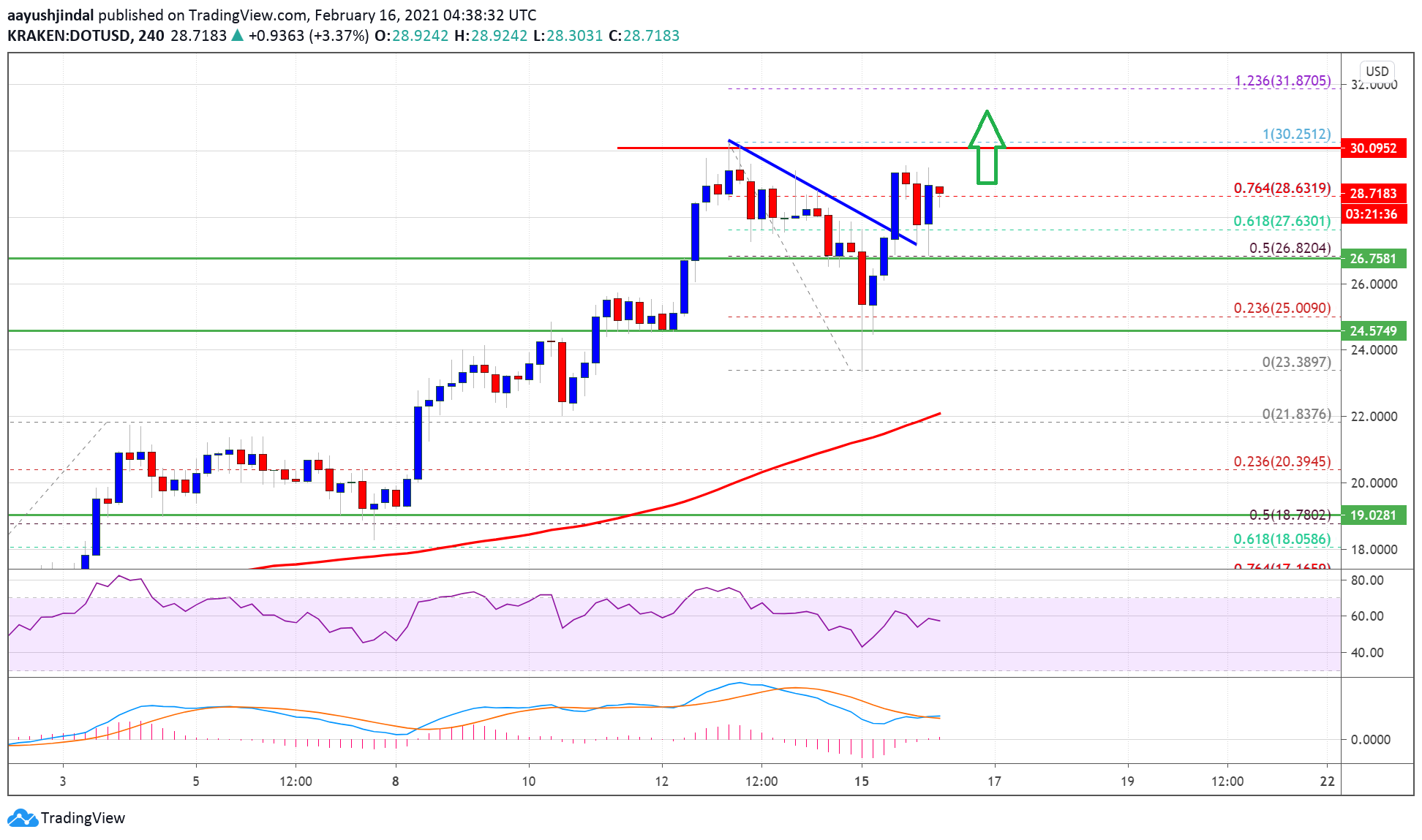 Source: DOTUSD on TradingView.com
It is also trading above the 76.4% Fib retracement level of the downside correction from the $30.25 high to $23.38 low. Therefore, there are high chances of more upsides above the $29.00 level. The bulls are likely to aim a fresh break above the $30.00 resistance in the near term.
Dips Supported?
If DOT price fails to continue higher above $29.00 or $30.00, there could be a short-term downside correction. The first key support is near the $28.00 and $27.80 levels.
The next major support is near the $27.50 level and the broken trend line. Any more losses may perhaps open the doors for a move towards the $26.50 support zone in the coming sessions. The main support is still near the $25.00 level.
Technical Indicators
4-Hours MACD – The MACD for DOT/USD is gaining momentum in the bullish zone.
4-Hours RSI (Relative Strength Index) – The RSI for DOT/USD is still above the 50 level.
Major Support Levels – $28.00, $27.80 and $27.50.
Major Resistance Levels – $29.00, $30.00 and $32.00.
Genesis tests end-of-day pricing for institutional crypto futures product
Cryptocurrency brokerage firm Genesis Global Capital has announced the completion of a first-of-a-kind trade that will pave the way for new institutional crypto futures products.
Genesis has executed the first-ever over-the-counter (OTC) block trade of a Basis Trade at Index Close (BTIC) transaction using Bitcoin futures contracts issued b Chicago Mercantile Exchange (CME). The trade was made in collaboration with derivatives market maker Akuna Capital according to a Sept. 26 announcement.
This is the first time a BTIC has been used for cryptocurrencies as it is more commonly used in equities markets. This form of trading allows investors to buy and sell futures contracts with prices based on the end-of-day close of the index.
CME Group Global Head of Equity Index and Alternative Investment Products, Tim McCourt, said that the product was the next step in offering greater exposure to CME's Bitcoin derivatives and Ethereum futures, with the Ether contracts having launched in February. He elaborated on the advantages of this new trading vehicle, explaining:
"BTIC enables market participants to more efficiently trade the basis while providing a regulated marketplace for real-time price discovery and enhanced trading precision for institutional participants who want to optimize holdings between the futures and spot markets."
Genesis provides liquidity to CME Group for its BTC and ETH futures and options products.
In May, the CME launched micro Bitcoin futures which are contracts worth 0.1 BTC. The offering was designed to allow institutional traders to hedge their risks to crypto assets.
By the end of June, the product had surpassed a million traded contracts suggesting that there is a high demand for smaller positions in crypto among institutional investors still testing the waters. This latest product is another example of diversifying the options for well-heeled investors to gain exposure to crypto markets.
Huobi outlines plan for Chinese investors after halting crypto trading
The uncertainties sparked by China's blanket ban on crypto trading have taken a downturn as homegrown crypto exchanges such as Huobi take proactive measures to protect and return existing investments residing on the mainland. 
Speaking to Cointelegraph in this regard, Du Jun, co-founder of Huobi Group, said that the crypto exchange wants to ensure the safety of the users' assets as part of its social responsibility:
"Customers will be able to transfer their assets to other exchanges or wallets over the next few months. Specific measures and operating rules will be outlined in future announcements."
Citing a possibility of a communication gap with Chinese investors amid the ban, the crypto exchange is also working on other ways to protect customer assets until the users can move them to offshore exchanges or wallets.
Chinese investors amounted to more than 30% in terms of trading volumes prior to the crypto ban, but as Jun suggests, Huobi has seen increased adoption in the Southeast Asian and European markets. However, the exchange expects that "any short-term impact on Huobi revenues will be mitigated as our global business continues to grow."
While observing the ban on crypto trades and mining as imposed by the People's Bank of China and other Chinese regulatory authorities, Jun plans to double down on Huobi's compliance efforts and continue to build compliant operations on a global scale.
Crypto exchanges in mainland China, including Huobi, began stopping new customer registrations soon after a new crypto ban became effective on Friday. Huobi later announced that all Chinese accounts from the mainland will have been closed down by 24:00 UTC+8 on Dec. 31, 2021. 
Historically, China has been responsible for the lion's share of Bitcoin (BTC) mining. Given the lack of support from the ruling government, Chinese miners have continued to move off-shore into crypto-friendly jurisdictions.
According to a recent Cointelegraph report, the latest ban marks the Chinese regulators' 19th attempt to curb Bitcoin and cryptocurrencies in the past 12 years. While the decision to ban crypto trades in China caused a few unwary investors to momentarily panic-sell, Bitcoin's price continues to show bullish signals, given the proactive support from crypto exchanges and users across the globe.
Binance Suspends Spot Trading and Fiat Channels in Singapore

Binance.com, the global cryptocurrency exchange platfrom announced the suspension of spot trading, fiat purchase channels, liquid swap, and fiat deposit functions. The suspension would come into effect from 26th October. The exchange also requested Singapore users to withdraw their tokens and cease their trades by the effective date. The exchange in its official press release said,
"As the market leader, Binance constantly evaluates its product and service offerings. We will be restricting Singapore users in respect of the Regulated Payments Services in-line with our commitment to compliance. Users in Singapore are advised to cease all related trades, withdraw fiat assets and redeem tokens by Wednesday, 2021-10-26 04:00 AM UTC (12:00 PM UTC+8) to avoid potential trading disputes."
Changes to Binance Offerings in Singaporehttps://t.co/tNscWF7zxd— Binance (@binance) September 27, 2021
Binance's trouble in Singapore began after the Securities Commission in the country put Binance.com under Investor Alert List. In the wake of the first regulatory action, Binance ceased certain product offerings in the country before suspending key crypto trading features altogether. It is also important to note that Binance's Sister company in Singapore has applied for a regulatory license and has been granted an exception until a decision is made on its filing despite the global platform facing regulatory scrutiny.
Binance Continue to Face Regulatory Setbacks
Singapore was considered to be the next home for Binance after facing regulatory scrutiny from nearly a dozen countries. However, the recent series of events suggest Singapore regulators are also going after the global exchange despite harbouring its sister company. The world's leading exchange's regulatory troubles seem to meet no end as more countries continue to enforce action against it.
The crypto exchange has taken several decisions to mend its ways with regulators over the past couple of months, right from suspending derivative offerings in several countries to on-boarding regulatory experts. However, that hasn't changed much, now the crypto exchange plans to establish a centralized headquarters and also looking for a change of CEOs if that can help.