EOS Price Prediction 2021 – How High Will EOS Price Reach?
EOS is a cryptocurrency that runs on EOS.IO protocol. It is a platform built especially for developing decentralized apps. It enables the hosting and execution of applications in its own platform.
Are you curious about how high can EOS reach?
This article aims to provide brief information regarding EOS price prediction for 2021 and beyond. All your thoughts will be clarified at the end and you will have clear information, whether EOS price crash or rise.
Let us try to have some basic knowledge on EOS.
Overview
| | |
| --- | --- |
| Cryptocurrency | EOS |
| Token | eos |
| Price | $ 4.6600 |
| Market cap | $ 4,473,070,690.0000 |
| Circulating Supply | $ 952,373,438.2811 |
| Trading Volume  | $ 4,334,241,631.0000 |
| All time high | $ 22.7100     April 29, 2018 |
| All time low | $ 0.5024     October 23, 2017 |
What Is EOS?
Inherent to the leading blockchains such as Bitcoin, Ethereum, and Litecoin, EOS was developed to solve problems such as speedy transfers. The EOS blockchain is infused with many frameworks and protocols, according to Block.one, aimed at accelerating the transaction speeds on the network.
EOS claims to process millions of transactions, making it the fastest blockchain technology, while Ethereum will only process 30 transfers per second against Ripple's which is considered the fastest blockchain with 1,500 transfers
EOS.IO. is a blockchain protocol. The native cryptocurrency of which is the EOS coin. EOS is software that sets up personalized blockchain architecture to allow decentralized applications to be scaled horizontally and vertically.
Authentication, profiles, files, asynchronous communication, and application scheduling are provided by the EOS platform across a broad variety of CPU cores and clusters.
EOS Technical Analysis
2017
EOS entered the crypto market with a trading price of $1.01 in July. As it was new to the market EOS failed to gain the attention of the investors and the price started to decline. Dramatically, EOS started to grow as it reached $2.95 in November. Interestingly, EOS spiked to $11.39 by December. At the end of 2017, EOS traded at $8.69.
2018
With a steady recovery in price, EOS started the year 2018 with a trading price of $9.44. The price drastically rose to $18.16 by mid-January as the market turned to invest in EOS. Later, the price declined to $13.49 by the end of January.
Shockingly, EOS plunged to $4.59 by mid-March and further started to recover. EOS broke its previous price records by recording a new All-Time-High of $21.14 by the end of April. Later, the price started to drop. Surprisingly, EOS's price declined to $1.91 as the crypto market crashed. At the end of 2018, EOS was exchanged at $2.61.
2019
EOS started the year 2020 with a trading price of $2.57. The price steadily started to improve after the price crash. With certain price variations, EOS swelled to $8.46 by June. Further the price started to plunge as the bears occupied the market. EOS traded at $2.64 at the end of 2019.
2020
EOS entered the year 2020 with a price of $2.57. Later the price moved to a significant resistance level in February with $5.27. EOS failed to maintain the stability of its price, as the price dropped to $1.90 in the mid March due to the Covid-19 outbreak and this resulted in the fall of many altcoins. EOS was trading between the range $2 and $3 with certain fluctuations throughout the year. EOS traded at $2.58 to end the year 2020.
EOS Price Prediction 2021
On a bearish note, EOS initiated the year 2021 with a trading cost of $2.63. If the bulls conquer the market, EOS might escalate. The price may intensify further if the marketers facilitate their investment in the token. By the end of 2021, they might trade at a higher price of $20.
EOS Price Prediction 2022
EOS may start the year 2022 with $22.75 and could swell further. EOS might target the advancement of transparency for its platform and could also concentrate on the enhancement of its protocol. The currency might hit a high of $45 to end the year 2022.
5 Years EOS Price Prediction
EOS might collaborate with certain startups for the enrichment of its blockchain infrastructure as well as the transaction speeds in the next 5 years. The price may slump if the community suffers from huge selling pressure. EOS might reach as high as $160 by the end of 5 years.
EOS Market Prediction
Let us consider the publications and personalities, and their statement regarding the EOS price prediction, which will give us a better idea:
1) WalletInvestor
 Investing in EOS could turn out to be a favourable investment for investors, according to WalletInvestor, They claim that it will hit $911 in 2023.
2) DigitalCoinPrice
According to DigitalCoinPrice, EOS will trade between $6.29 and $7.39 by the end of 2021.
 3) TradingBeasts
According to TradingBeasts, By the end of 2023, EOS price may reach $4.83.
Our EOS Predictions
EOS resumed the year 2021 with a price of $2.63 and anticipated to escalate further. EOS could even reach high market capitalization as it is a great enabler for building decentralized applications that support developers and engineers. It might attain more users and investors by strengthening its scalability. By the end of 2021, the currency might be exchanged at a higher value of $25.
FAQ
What Is EOS?
EOS is a platform that is designed to allow developers to build decentralized apps (DApps)
Can EOS be mined?
No, EOS cannot be mined as the number of tokens are fixed.
Can EOS reach $20?
Yes, EOS might reach $20 in the future.
Who are the Founders of EOS?
The EOS platform was developed by the company Block.one, and its white paper was authored by Daniel Larimer and Brendan Blumer.
Is it worth buying EOS?
Yes, EOS can be worth buying as its price might likely increase.
EOS Price Analysis: EOS briefly spikes to $5.10 but finds rejection
EOS price analysis is bullish on today's chart.
EOS/USD got rejected at $5.10
EOS is trading bullishly on our 24-hour EOS price analysis following a sharp increase to the $5.10 mark, where the bulls were rejected and pulled back to $4.856. Therefore, we are anticipating that buyers will regain momentum and rally against rejection in the course of the day.
The overall cryptocurrency market is trading in the bullish region with market leaders BTC and ETH both gaining around 1 percent. Cardano is the best performer of the day with a 24-hour positive change of 12 percent. We are expecting the general cryptocurrency market to post further gains in the course of the upcoming week. 
EOS price movement in the last 24 hours: EOS dashes to higher daily high
EOS/USD traded in a range of $4.574 – $5.080, indicating low volatility over the last 24 hours. Trading volume has decreased by 18 percent and totals $1.23 billion. Meanwhile, the total market capitalization trades around $4.651 billion, ranking the coin 34th place overall.
EOS/USD 4-hour chart: EOS to rally overnight?
On the 4-hour EOS price analysis chart, we can see the EOS price rejecting further downside as bulls prepare for another rally higher.
EOS/USD 4-hour chart. Source: TradingView
EOS price action traded with strong volatility over the past week. After a rally to the $31 mark, EOS/USD could not reach further upside and retraced to $28.5.
From there, a lower high was set around $4.70, with a strong decline over the following days. EOS/USD lost more than 30 percent from there until support was found at $4.00. Rejection for further downside was seen over the following days, with EOS moving to the $4.50 mark.
EOS Price Analysis: Conclusion
EOS price analysis is bullish for the next 24 hours as the market retested the previous low and currently prepares to rally higher again. As long as the previous low holds, we expect EOS/USD to move above the $5.08 current high and see further upside over the weekend. 
EOS price analysis: EOS/USD to spike to $5 in the next 24 hours
5-day price analysis chart began off with the bears controlling the market.
The RSI is at 60, and it points towards the overbought region.
The MACD line repeatedly crossed over the red line on the four-hour price analysis chart.
EOS price analysis: General price overview
5-day EOS price analysis chart began off with the bears controlling the market. Strong pressure from the buyers caused the price to trade in an upward momentum facing slight bear resistance and picking off the bullish trend.
The Bollinger bands are wide most parts of the five-day price analysis chart, suggesting the coin is bullish in most trading sessions.
The EOS/USD pair maintained its upswing yesterday. However, the coin was in a powerful bear trend during yesterday's EOS price analysis. This bearish movement reversed when the EOS/USD daily price analysis chart began, pushing prices upward and forming head and shoulder trends to the intraday highs at $4.7. It encountered
Sellers control the cryptocurrency space; as a result, most of the digital assets are trading in a bearish trend.
Source: Coin360
The largest digital currency, BTC, is trading a few dollars above $45K at a drop of more than one percent. Before the recent price dip occurred, Bitcoin was trading in a bullish trend, and it had surpassed its target of $50K. Bitcoin's closest competitor ETH trades at $3.2K recording a more than three percent price drop from yesterday's price. EOS/USD is also trading in the same trend recording a drop of more than one percent setting its price to $4.7.
EOS/USD price movement in the last 24 hours: bullish signal
EOS began the daily rice analysis chart in bullish momentum. The bulls caused the prices to move in an upward forming cup and handle trends. The Balance of Power indicator remained positive in most parts of the daily price analysis chart, suggesting the bulls' pressure is so intense, and sellers seem too weak to battle the bullish trend.
Four-hour price analysis chart: Bull dominance
The RSI is at 60, and it points towards the overbought region. If the buyers manage to pass the 70 mark, the bears will have hard work of curbing the bullish trend that will set in.
On the four-hour price analysis chart, the MACD line has repeatedly crossed through the red line. This shows that buyers have been attempting to push back the bears for a long time before finally overcoming solid support that is aiding the rise.
EOS price analysis: Conclusion
The buyers have invaded the EOS/USD market, causing the price to surge in a slight bullish momentum.
The EOS price is an upswing, with the price action structure turning bullish again after a higher low was established near $4.5 in early trading hours. As a result, we anticipate that EOS/USD will rise over the weekend and attempt to break past the $5 current swing high.
Derivatives data shows pro traders turning bullish on EOS price
Retail traders turned their backs on EOS, but derivatives data shows pro traders maintaining a bullish perspective for the short-term.
EOS rallied in May after Block.one, a blockchain software firm, announced a $10 billion funding round to build an EOS-based crypto exchange platform called Bullish. The EOSIO development company revealed that it had raised capital from Peter Thiel and Mike Novogratz, as well as hedge fund managers Alan Howard and Louis Bacon.
In light of the 'bullish' news, the recent $6 local top stands 60% below the $15 high reached on May 12, and this leaves investors with little reason to celebrate. At the moment, retail traders are not comfortable using leverage for bullish positions and professional traders have been neutral-to-optimistic since mid-July.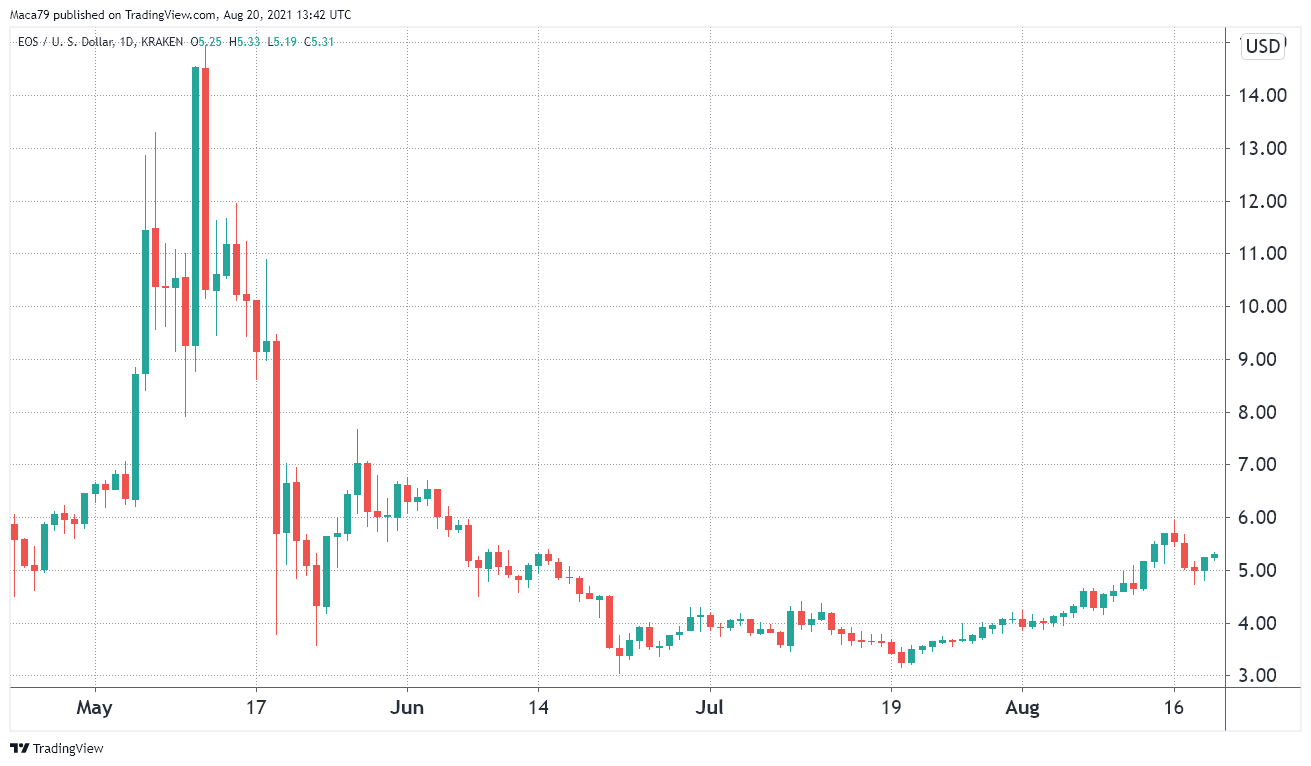 EOS price in USD at Kraken. Source: TradingView
Analysts also pointed to a May 2 report commissioned by Block.one that suggested an increase in the inflation rate from 1% to somewhere between 1.2% and 3.8%. The new issuance rate would be necessary to increase financial incentives for voters and block producers.
However, the lack of deliveries and partnerships caused EOS to quickly lose steam, and the price fell to a low at $3.04 on June 22. The bearish trend ended on June 23, as the little-known 'Bullish' exchange said it would be going public on the New York Stock Exchange via a special-purpose acquisition company, or SPAC.
A positive and lasting trend initiated as the 'Bullish' exchange released its private alpha version on July 27 and promised a full launch later in 2021. The project also mentioned that it would have spot trading, margin trading, and liquidity pools.
Finally, on Aug. 19, EOS announced free access to live pricing data using real-time market information provided by AlgoTrader. The Swiss-based startup oracle includes multiple assets from various exchanges and can create synthetic instruments, derivatives, and stablecoins.
Retail traders were momentarily bullish
To understand whether traders are leaning bullish as EOS price holds the $5 support, one should analyze the perpetual contracts futures data. This is the retail traders' preferred leverage instrument because its price usually perfectly tracks the regular spot markets. There is also no need to manually roll over contracts nearing expiry, as required on quarterly futures.
In any futures contract, trade longs (buyers) and shorts (sellers) are matched at all times, but their leverage varies. Consequently, exchanges will charge whichever side is using more leverage at a funding rate to balance their risk, and this fee is paid to the opposing side.
Neutral markets tend to display a 0% to 0.03% positive funding rate, equivalent to 0.6% per week, indicating that longs are the ones paying it.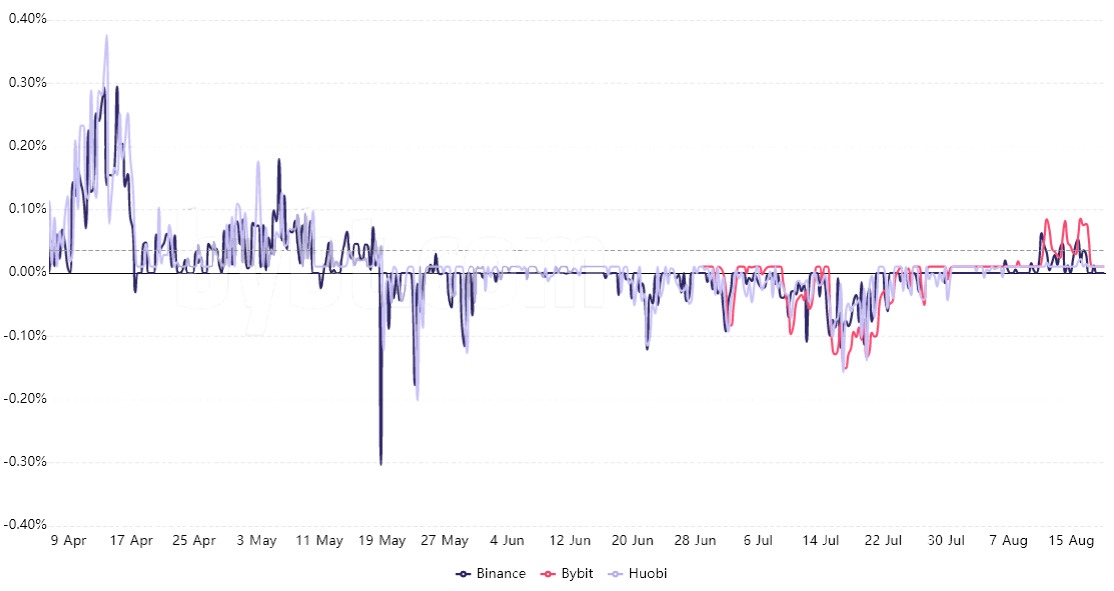 EOS perpetual futures 8-hour funding rate. Source: Bybt.com
Data reveals a modest excitement building up from Aug. 8, which lasted less than 10 days. The positive funding rate shows that longs (buyers) were the ones paying the fees, but the movement seems reactive to the price increase and faded as EOS failed to breach the $6 resistance.
Data shows pro traders have a bullish bias
It is also useful to analyze the premium quarterly futures contracts, as whales and arbitrage desks trade such instruments more frequently. In the fixed-month contracts, eventual demand imbalances are reflected by a price difference versus regular spot markets.
Healthy markets should display a 0.5% to 1% premium, which is equivalent to 3% to 6% annualized. If the futures contract's premium is nonexistent, it is a bearish indicator because investors are not comfortable creating long positions using leverage.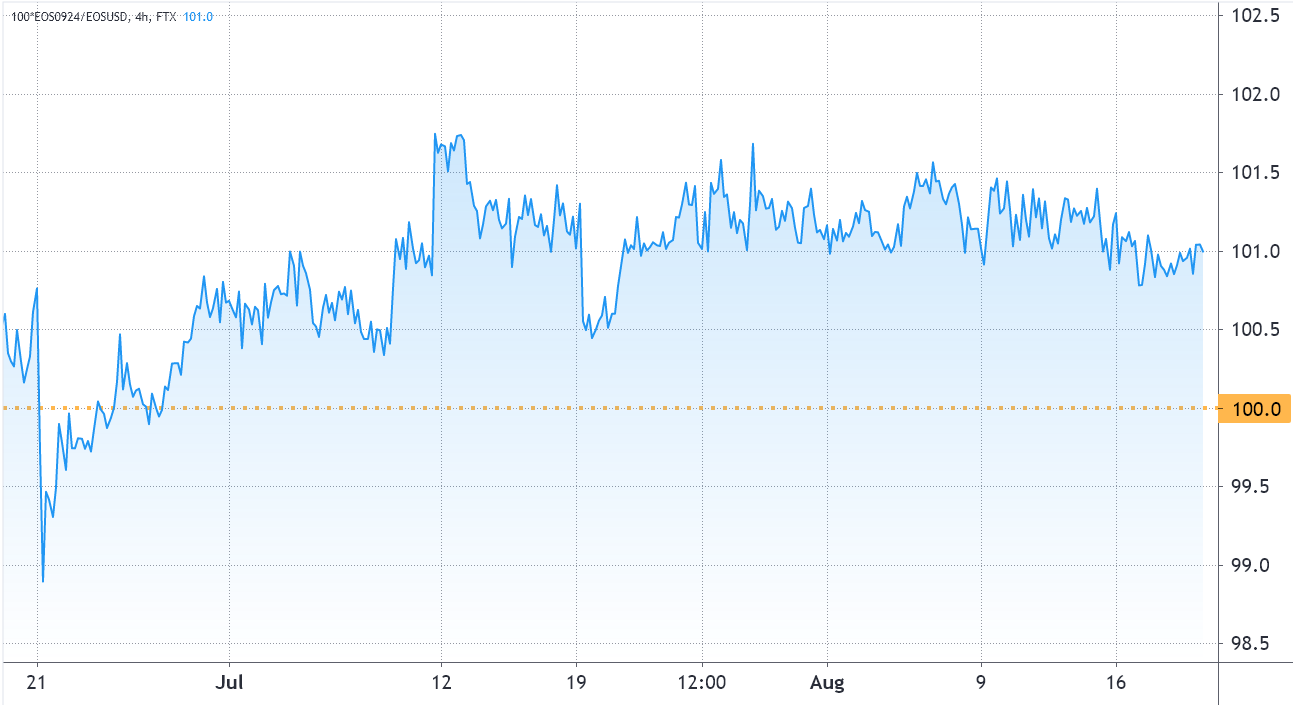 EOS Sept. futures contracts premium at FTX. Source: TradingView
There has been no change in the 6% annualized premium this time despite EOS's price movement. However, data shows that professional traders have been slightly bullish since mid-July, while retail traders were primarily flat apart from a brief 10-day period.
Although it remains unclear how the 'Bullish' exchange launch might impact the price of EOS, derivatives indicate that whales and arbitrage desks positively reacted to the news and have kept the bullish stance ever since.