Justin Sun Denies Paying Celebrities to Promote Tron
YouTuber Marques Brownlee provided details of an email that asked him to promote Tron without disclosure.
A "Tron partner" claimed that Lindsay Lohan, NeYo, Lil Yachty, and other celebrities have already taken the deal.
Tron founder Justin Sun denied that the campaign behind these tweets was associated with the Tron Foundation.
Marques Brownlee, a popular YouTuber with over 13.5 million subscribers, revealed today that he was offered a "compensation" to promote the
Tron
 cryptocurrency without disclosure—and that several other celebrities have taken this deal already.
So I get this email. So this one said they just wanted a tweet and that they already have participation from Lindsay Lohan, Amanda Cerny, NeYo, Lil Yachty, and more," Brownlee said in his video today.
In a follow-up email, he was told that this campaign is for the Tron cryptocurrency that "they're, I guess, paying people to tweet about," he noted.
"But the more I read into this email, the more sketchy it is. They mention they're often referred to as the 'Ethereum killer'—whatever you say—and that they need to make it look like it's not a sponsored tweet," said Brownlee.
Above all else, it is illegal to promote something without disclosing that you are actually being paid to do so, per the Federal Trade Commission's regulations.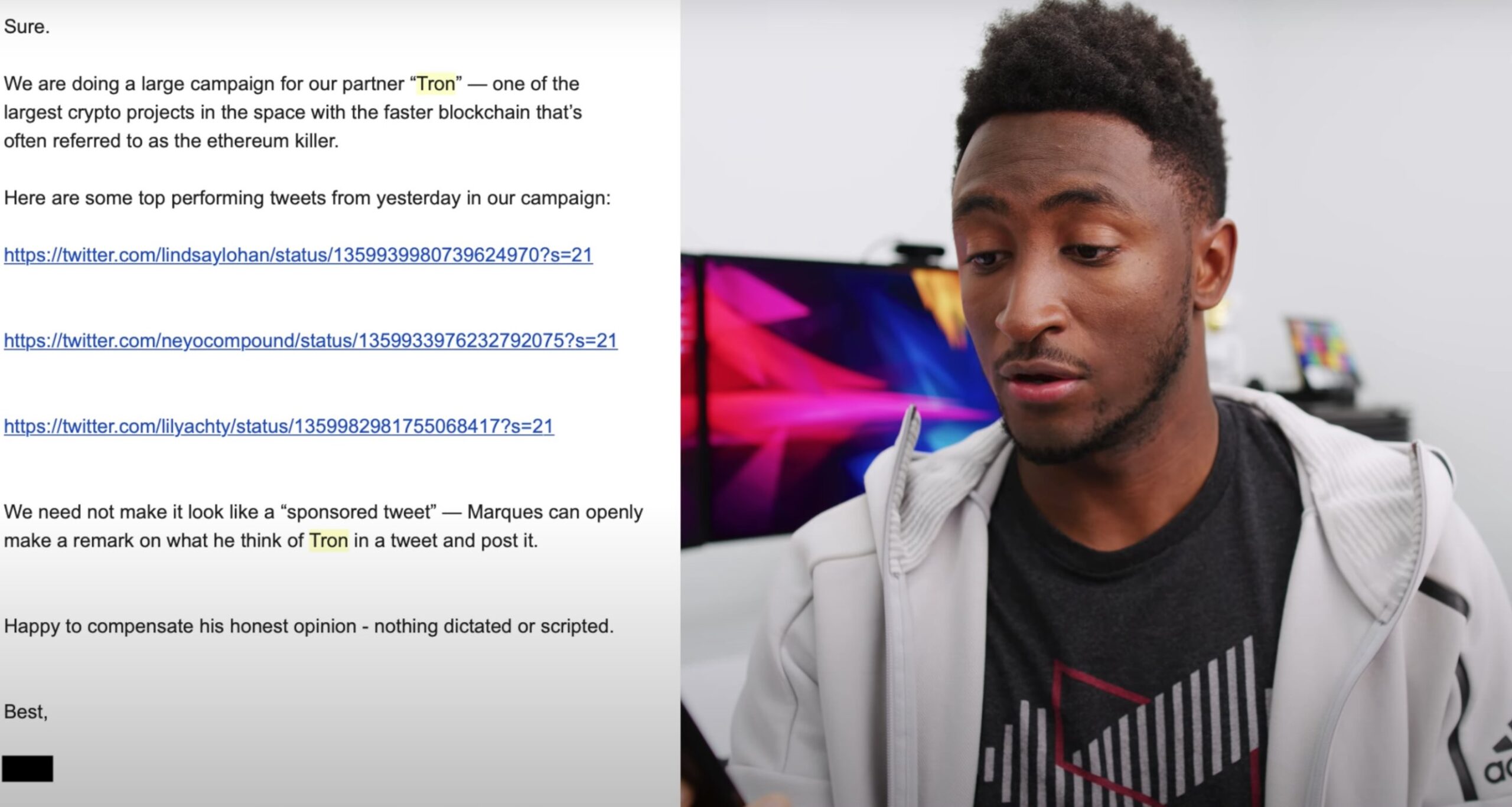 According to a screenshot of the email, the sender claimed to be a "partner" of Tron and said that several celebrities have already participated, linking three "top performing (sic) tweets from yesterday in our campaign" from Lindsay Lohan, NeYo, and Lil Yachty.
Exploring #DeFi and already liking $JST, $SUN on $TRX. Super fast and 0 fee. Good job @justinsuntron

— Lindsay Lohan (@lindsaylohan) February 11, 2021
We need not make it look like a 'sponsored tweet' — Marques can openly make a remark on what he think (sic) of Tron in a tweet and post it," said the email, adding, "Happy to compensate his honest opinion – nothing dictated or scripted."
Tron denies the accusations
Shortly after Brownlee's video began making the rounds, Sun took to Twitter to deny paying celebrities for undisclosed advertisement.
"There have been rumors lately of third party celebrities being paid to promote TRON. TRON Foundation is not involved in these activities. Nor is the foundation aware of the actors behind this," Sun wrote.
There have been rumors lately of third party celebrities being paid to promote #TRON. #TRON Foundation is not involved in these activities. Nor is the foundation aware of the actors behind this.

— Justin Sun 🅣🌞 (@justinsuntron) February 16, 2021
At the same time, just last week Sun himself told Bloomberg that he plans to hire more celebrities that would help promote Tron.
"Sun said he would hire more celebrities and artists to better position Tron as a 'meme-friendly' coin," the outlet reported.
In his reply today, however, Sun asserted that if any celebrities receive payments for promoting Tron, they are required to disclose that.
He added, "TRON Foundation believes that transparency is key. If any celebrities are paid to promote TRON, we require them to disclose."
Justin Sun Launches the World's Third Cryptocurrency ETN
Justin Sun, founder of TRON, published an open letter to the community on September 20, 2021, regarding the upcoming listing of TRX ETN in 14 EU countries including Germany, France, the Netherlands and Switzerland.
According to the letter, VanEck TRX ETN (VTRX) has been officially approved by Deutsche Börse Group and is available for trading on Xetra from September 21, 2021.
The approval from Germany will exempt VTRX from the approval of other EU regulatory authorities, and VTRX will be listed as compliant security in 14 countries including Germany, France, the Netherlands and Switzerland.
This marks TRX (VTRX) as the third mainstream cryptocurrency – after Bitcoin and Ether – that has been listed on the traditional financial market of Europe.
(1/4)📢BIG NEWS everybody was waiting for!

⚒️VanEck $TRX ETN (#VTRX) is officially listed on the world top stock exchange @DeutscheBoerse, representing $TRX as the 3rd mainstream crypto #ETN following #BTC  and #ETH issued by @vaneck_us, a world-renowned fund management company pic.twitter.com/yktg10WAis— Justin Sun 🅣🌞 (@justinsuntron) September 20, 2021
Justin Sun introduced blockchain as a 'value network' to China in 2012, which established him as an early evangelist and practitioner of blockchain. Later in 2017, he founded TRON.
Today, TRON has built a comprehensive ecosystem spanning from underlying protocols and smart contracts, to NFT and metadata storage, boasting over 54 million users and $50 billion worth of crypto assets across the globe.
Moreover, the TRON-based USDT (TRC20-USDT), with a circulating supply as high as $36 billion, is now the world's largest stablecoin in circulation, accounting for more than 50% of the global market.
Not long ago, TRON also inked a strategic partnership with Valkyrie Investments to launch Valkyrie TRON Trust. As the first institutional fund targeting TRON's crypto ecosystem in the US, the initial size of this trust is over $50 million, and it plans to file to go public in 2022.
Justin Sun also announced in his latest open letter to the community that BTTC, a layer 2 scaling and cross-chain solution, is scheduled for launch on October 30, 2021.
By then, a closed loop of both layer 1 and 2 networks with sound cross-chain connectivity will take shape, delivering both a robust underlying network of global settlement layer and a heterogeneous, scalable cross-chain network – BitTorrent Chain – that features high throughput and full compatibility with EVM. This solution will usher in a new era of connecting all chains.
According to available resources, the listing of VTRX has been stringently reviewed and approved by Deutsche Börse Xetra, fully complying with the financial regulatory requirements in Europe.
Further, with the support of Clearstream under Deutsche Börse Group, TRX ETN is expected to be available for trading in the pan-European market on major European exchanges in London, Paris, Amsterdam and more.
This marks another milestone of TRON – the forerunner in the global public chain sphere – in pursuing globalization and compliance under Justin Sun's leadership.
Justin Sun on TRON (TRX) Grand Vision with Crypto ETFs
TRON is an ambitious project dedicated to building the infrastructure for a truly decentralized Internet.
TRON have established dual headquarters in the Americas and Asia Pacific. With the establishment of more overseas offices in preparation and their team in rapid expansion. They offer employees opportunities to go on international business trips and to work on overseas posts. With TRON, users will be exposed to the most cutting-edge blockchain technology.
Since the TRON Foundation was founded, it has upheld its original faith of decentralizing the internet, working hard to change the world with technology.
With TRON, Users are able to reduce costs, enjoy convenience, and build fortunes by using different DApp functions deployed in TRON. Developers have a vast range of rights including deploying DApp in TRON net, expanding business and gaining traction as influencers and thought-leaders. Network witnesses demonstrate support for TRON and its abundant returns.
Justin Sun Expressed: This Report titled "TRON Crypto ETFs", issued by TRON Research, reveals the significance of TRX ETN listing on DeutscheBoerse, and also includes TRON's grand vision, cross-chain, industry comparison, etc.
Community response: Positive developments happening …. Things are moving in the right direction.
Stable coins, DeFi, NFT, Dapps, Trust Funds, ETFs, Layer 2 solutions, More Accounts opening, More organic growth in coin burn, Partnerships and endorsements.
The Report TRON Crypto ETFs points to a world inside bubbles which consists of All money, stock markets, physical money, Gold Market Cap, USD in circulation, Apple, Amazon, All cryptocurrencies, Jeff Bezos, Bitcoin, and Bill Gates.
The paper covers all the details about TRON ranging from the supply mechanism: deflation versus inflation, Web 3.0 ecosystem, cheaper, faster and energy efficient, industry's leading user ecosystem, most popular protocol for cross-border transfer, king of stable coin supply (USDT), next generation global payment system, creative destruction by order of magnitude, smart contract and DeFi Ecosystem, revitalizing BitTorrent Ecosystem, BTTC – Cross Chain Layer 2 Scaling solution, APENET – connecting artists and token economy, and more.
The report has been written and released by TRON Research.
For clarity, ETN per investopedia, "Exchange-traded notes (ETNs) are types of unsecured debt securities that track an underlying index of securities and trade on a major exchange like a stock. ETNs are similar to bonds but do not have interest payments. Instead, the prices of ETNs fluctuate like stocks."
An ETN is issued by financial institutions, which bases the return on a market index. The ETNs are a type of bond. At maturity, the ETN will pay the return of the index it tracks. However, ETNs do not pay any interest payments like a bond.
Deutsche Börse are creating trust in the markets of today and tomorrow.
Tron Exchange-Traded Product To Be Listed on Europe's Biggest Stock Exchange
Open blockchain platform TRON (TRX) will join mutual fund VanEck as part of an upcoming listing on the Deutsche Börse German stock exchange.
The new product is an exchange-traded note (ETN) called VanEck Vectors TRON ETN (VTRX). It will debut on Europe's largest stock venue tomorrow, with further expansion to Zurich, Paris, and Amsterdam expected.
The TRON (TRX) protocol was founded in 2017 by Chinese-American tech entrepreneur Justin Sun, and aims to allow content creators to sell directly to their consumers.
Martijn Rozemuller, CEO at VanEck Europe, explains the firm's motivation for establishing the TRON partnership.
"Ethereum continues to grow in popularity, but younger platforms such as TRON also offer many advantages, such as lower transaction costs or faster processes, and by adding them to their portfolio, an investor increases the diversification, which lowers the overall risk."
With the new TRON listing, VanEck will have three different crypto ETNs on the Deutsche Börse, including one for Polkadot (DOT) and another for Solana (SOL). The firm also has Bitcoin (BTC) and Ethereum (ETH) ETNs that trade on other European exchanges.
TRX is currently trading at $0.094872 at time of writing, down 10% on the day according to CoinGecko, as part of an overall dip that has affected the crypto market.