When it comes to assessing the potential value of a project, one simple metric stands out above all else — market capitalization. Early-stage projects with significant potential but a relatively low market capitalization represent the most potentially lucrative opportunities, since they have the potential to achieve considerable growth.
But it takes a discerning eye to separate the hype jobs from the projects with genuine prospects. Here, we take a look at three projects we think have the fundamentals, community, and products necessary to explode in the near future.
PROPHECY ($PRY)
Unlike many other blockchain protocols which are typically just a copy and paste of something else — with a few extra features slapped on top. Prophecy is an entirely original platform built around a novel consensus mechanism known as Proof-of-Committed Decay (or PoCD) — which essentially stimulates the Prophecy economy to remain as liquid as possible while ensuring that the supply of PRY tokens is closely balanced to demand to prevent loss of purchasing power.
But here's where it gets even more interesting. Prophecy isn't just providing a sound monetary unit in the PRY token, or a next-generation economic protocol, it's also building an entire range of products that leverage this technology to provide a range of use-cases to PRY holders. The first of these is already live now — 'Prophet Pools' — which essentially yield pools that accelerate the earning process to a matter of hours or days.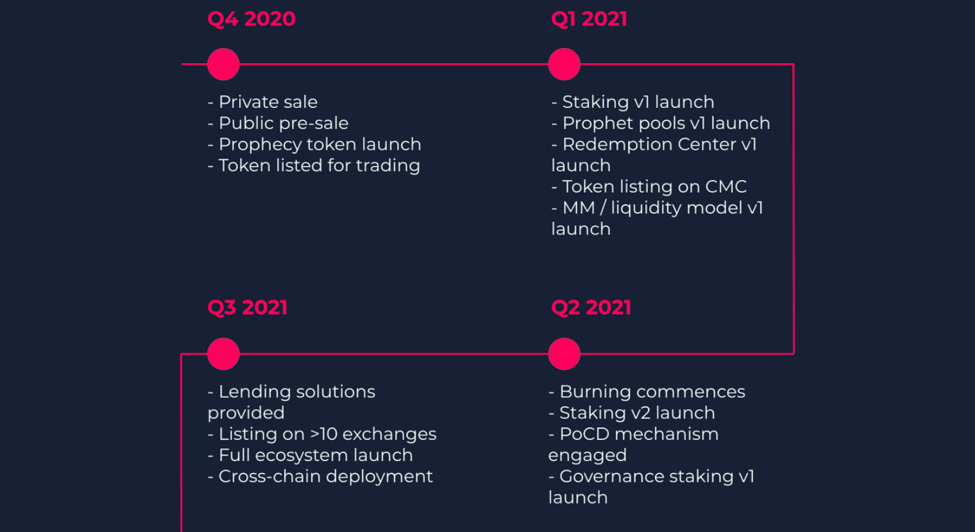 In total, the team behind Prophecy plans to release more than eight different financial solutions in the next year alone — indicating big things may be in store for this project. And with a tiny market capitalization of just under $2 million, its strong fundamentals and the rapid pace of development make it one worth watching.
EASYFI ($EASY)
They're frequently used by DeFi traders looking to leverage their long-term positions and borrowers aiming to extract liquidity from their assets. On top of this, lenders can use them to earn a safe return on their assets.
The modern decentralized lending platform EasyFi resolves both of these challenges by leveraging Polygon's (formerly Matic Network's) layer 2 technology to reduce transaction fees to a bare minimum while enabling borrowers to take out undercollateralized loans thanks to its TrustScore integration.
⚡Wake up World….to the power of #Polygon⚡

Many congratulations to our ecosystem & tech partner #Polygon (formerly @maticnetwork)

Super excited for our friends at #Matic on their pivot to become #Ethereum's Internet of #Blockchains – the next chapter in scaling #ETH!

— @easyfi.network (@EasyfiNetwork) February 10, 2021
With a small market cap of around $24 million, EasyFi is just a fraction of the size of larger, but arguably weaker solutions. And with transaction fees now becoming a major burden to a huge proportion of cryptocurrency users, it wouldn't be surprising if it sees a massive influx of users in the near future — potentially driving its market capitalization up considerably as a result.
RAMP ($RAMP)
As a stablecoin issued on the Ethereum blockchain, rUSD can then be used to participate in the extensive Ethereum DeFi ecosystem — without having to exchange the cross-chain assets they deposited as collateral.
If you're in DeFi, check out my partner $RAMP:

– Get a stablecoin in exchange for staked assets
– Deploy that stablecoin into DeFi protocols for additional income streams
– Staked assets redeployed into staking/yield farming to generate passive income

There's even more ⬇️ pic.twitter.com/opa5epUtRi

— The Crypto Dog📈 (@TheCryptoDog) February 9, 2021
RAMP has been around for less than six months, but in that time it has managed to generate quite the community and still has a relatively low market cap at ~$30 million. But with the potential to unlock the value of almost $1 trillion worth of cryptocurrency assets, we think there's plenty of room for further growth.